Designer Tadashi Shoji is busy expanding his fashion brand beyond red carpet gowns and evening wear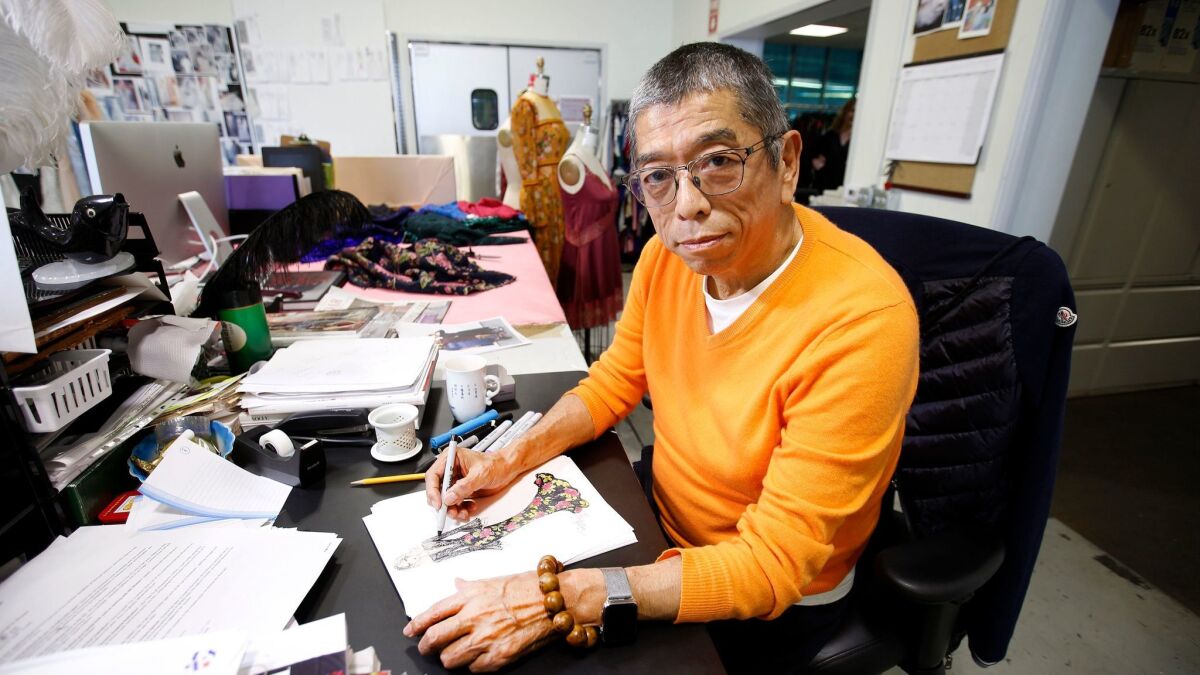 At work in his Vernon atelier, fashion designer Tadashi Shoji dons a vibrant orange Ralph Lauren cashmere sweater, navy Abercrombie & Fitch sweatpants, cow-print Galet loafers and an Apple Watch, a high-low outfit that might as well serve as commentary on his fashion philosophy, which emphasizes comfort and accessibility. Since launching his eponymous brand in 1982, Shoji has made a business of catering to women of all shapes and sizes, offering flattering styles from 0 petite to 24 "queen size" — the designer's term for plus sizing.
---
Red carpet appeal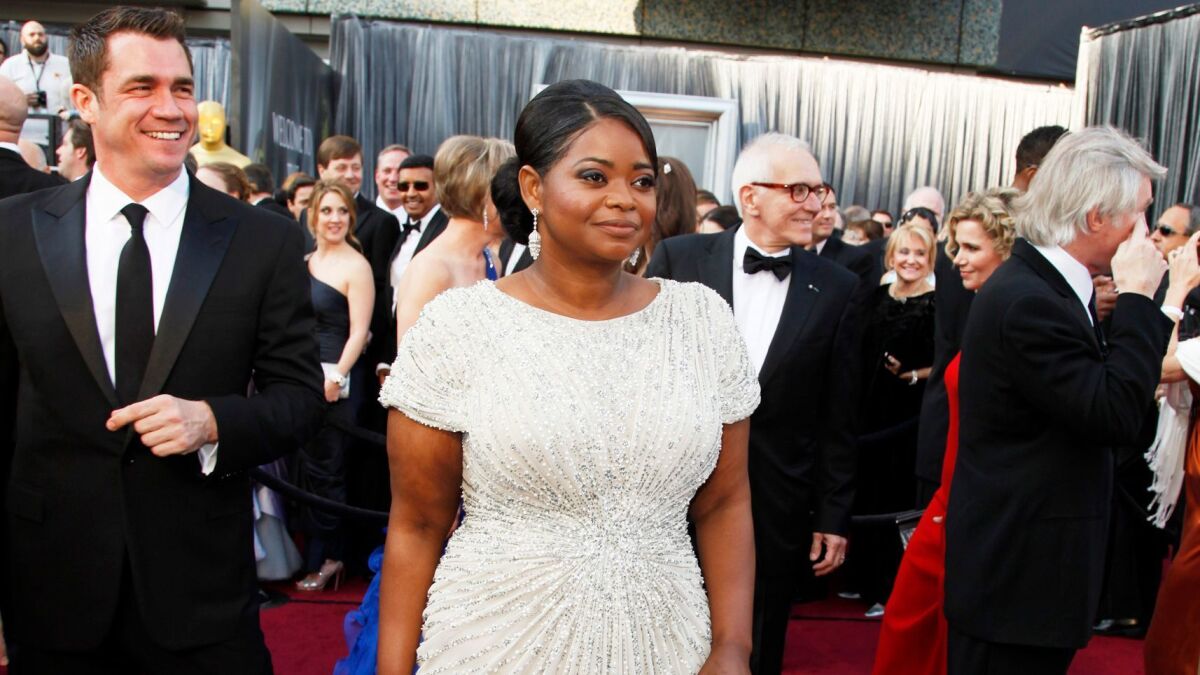 The brand's lacy, feminine dresses and tops have made red carpet appearances of late on stars from Academy Award-winning actress and "Hidden Figures" star Octavia Spencer (who has worn the brand since 2010) to fashion's latest "It" girl, budding model-actress Paris Jackson, daughter of the late Michael Jackson.
Shoji's brand has a five-year plan to add 18 new boutiques in the Middle East through partnerships with Chalhoub Group and the retail division of Al Mana Group, led by Wissam Al Mana, the estranged husband of Janet Jackson. (Tadashi Shoji currently has nine boutiques, including five in the U.S. with locations at South Coast Plaza and the Glendale Galleria in the L.A. area. A Pennsylvania store and two in Texas are scheduled to open by year's end.)
At the time of our meeting earlier this spring, Shoji said he had yet to meet Paris Jackson (her gowns were pulled through a showroom by stylist Sonia Young), yet his recent connections to the king of pop's daughter and sister seem to bring the designer's story full circle. (While attending Los Angeles Trade-Technical College in the 1970s, Shoji worked as an assistant to famed costume designer Bill Whitten to outfit the Jacksons and other celebrities.)
We caught up with Shoji just before he left for Shanghai, where he works and lives for seven months of the year, to talk about his rapidly expanding company.
---
Fit is everything
"I want to make every woman feel beautiful; that's been my intent since the beginning," said the 69-year-old designer, who employs three pattern-makers in his Vernon corporate office, in addition to 16 pattern-makers in the Shanghai atelier, where 99% of the line is produced. "We invest a lot of time on fit, so each piece looks great on the woman's body, whether she is petite or regular or queen size. We have fit models in all sizes, and they sit down, bend and walk around in every piece to be sure it feels comfortable. We use stretch Lycra jersey often on the outside [under lace] and also inside as lining, rather than rigid fabric lining like many big-name designers. And flattery is about visual illusions, little details like where we place the straps. I create a waistline that curves up slightly instead of being a straight line, which helps the stomach and waist appear smaller."
---
Expanding his brand
This year marks the label's addition of sunglasses (a collaboration with New York eyewear brand Haze) in January, a debut fragrance in March, shapewear and the official launch of bridal gowns in April, lingerie and sleepwear slated for late summer, and an extension into totes, wristlets and bucket bags planned for fall that builds on a line of clutch evening bags.
Shoji worked for 1 ½ years with Grasse, France-based master perfumer Jacques Chabert (the man behind scents such as Guerlain's Samsara and Chanel's Cristalle) to develop his new Eau de Rose parfum (from $27 for a .34 oz. rollerball to $135 for a 3.4 oz bottle) and body creme ($55). With a heart of Bulgarian rose and notes such as bergamot, rhubarb, jasmine, cedar wood, frankincense and oudh, the scent was inspired by Shoji's childhood memories of rose gardens blooming in the spring in Sendai, Japan, where he was born and raised.
"Rose gardens are my 'scent muse." The smell of roses makes me feel happier," said Shoji, whose fall 2017 ready-to-wear collection includes rose-embroidered lace and rose-print jacquard pieces. The designer, who has lived in Pasadena for 17 years, has served as the official designer for the Tournament of Roses queen and court since 2004.
---
Adding lingerie and shapewear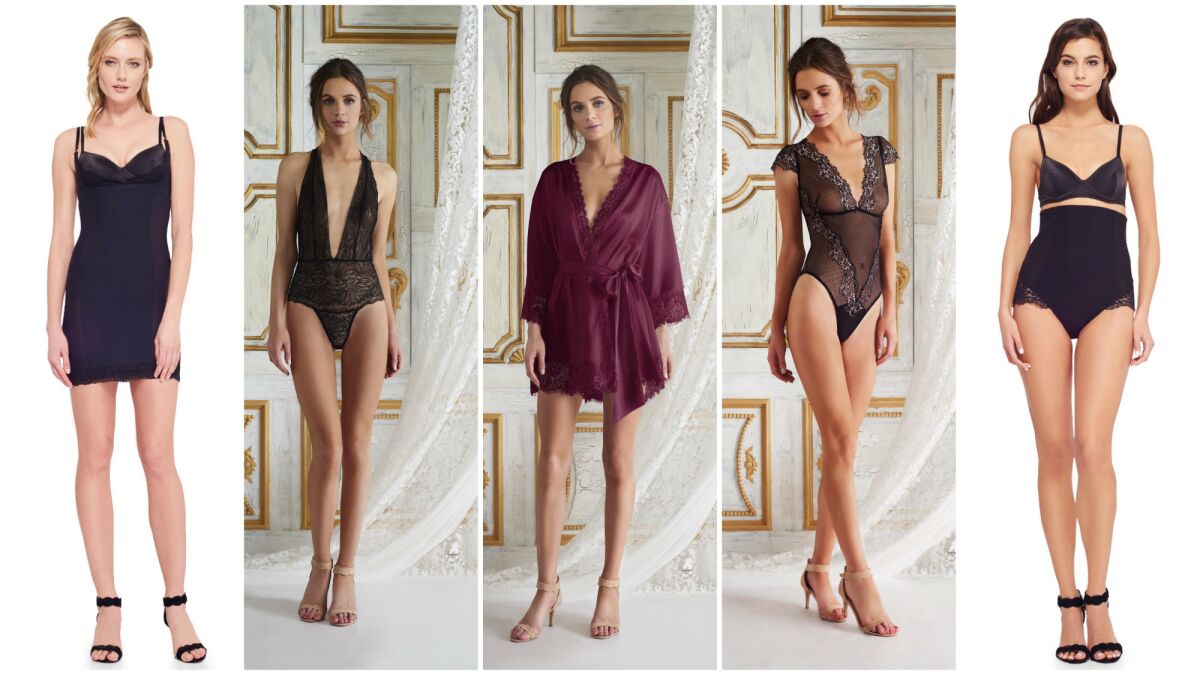 Given the brand's signature lace as well as spring styles with corsetry detailing, an extension into lingerie seems only natural. The new line ($50-$200) consists of lacy bodysuits, bralettes, panties, camisoles, slips, chemises and robes that can be worn in the boudoir and beyond, to complement Shoji's feminine apparel.
It also made sense to address "what to wear under" with figure-enhancing, lace-embellished shapewear ($80-$150), including slips, high-waisted panties, and bodysuits designed with Lycra mesh fabric to slim and smooth. Initial offerings will be in nude and black, but there are plans to expand into color and pattern.
"We were selling shapewear, but the customer kept telling me she wanted it to look sexier, so she could take off her dress in front of her husband and still look good," Shoji said.
---
Tackling the desires of brides
A new, affordable collection of bridal gowns ($400 to $1,200) evolved after the Anthropologie-owned bridal e-tailer BHLDN had success selling Shoji's white dresses to brides. Styles in the line range from lacy confections to minimalist dresses and bohemian-inspired frocks.
"We do our own embroidery and cutting and sewing in the Shanghai atelier, and that really cuts down the price compared to other designer brands," Shoji said. "Bridal is always so expensive, and nowadays young brides are often independent and paying for everything for their wedding. So why spend so much money on a dress when you could put it toward a house?"
ALSO
David Foster leads singers and musicians in festive session at 2017 Milken Institute conference
Cartier looks to L.A. — and a few famous friends of the house — to help relaunch its Panthère watch
Paris Hilton, Jamie-Lynn Sigler, Kris Jenner and Tommy Hilfiger turn out for star-studded Race to Erase MS gala
---