Tommy Hilfiger, Gigi Hadid dip into the '70s for a 'fun and youthful' fashion show in Venice Beach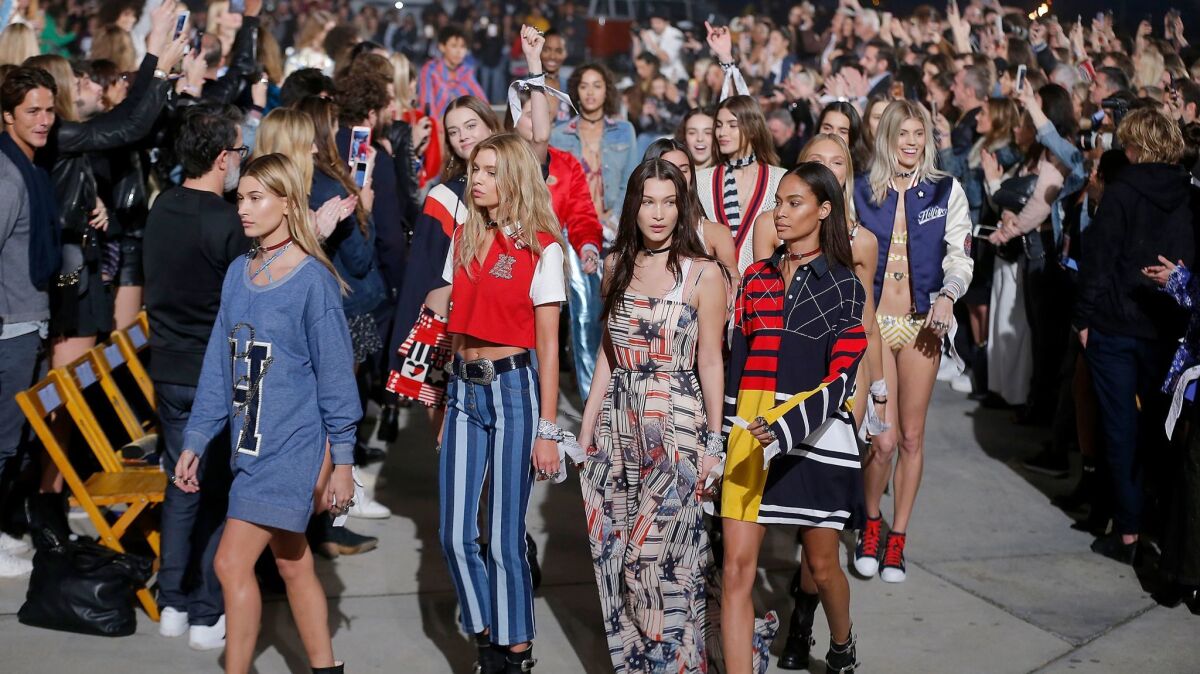 As a West Coast sequel to his consumer-driven, see-now, buy-now fall fashion show and carnival on a New York pier, designer Tommy Hilfiger staged a self-described "multimedia fashion music festival" in Venice Beach on Wednesday, replete with a hodgepodge of food trucks, roving musicians and roller skaters, topped off with performances by Fergie and R&B musical duo Lion Babe and a 35-foot-tall Kamikaze carnival ride as backdrop.
While 2,000 of the 3,000 guests were consumers, the star-studded crowd included Lady Gaga, Tobey Maguire, Laura Dern, Kris Jenner, Rachel Zoe (fresh from her runway presentation on Monday night at the Sunset Tower Hotel) and models Kaia and Presley Gerber and Lucky Blue Smith.
Showing in L.A. for the first time, Hilfiger unveiled his free-spirited spring 2017 collection, including the second Tommy X Gigi collaboration designed with Malibu native-supermodel-Hilfiger muse Gigi Hadid.
"I'm inspired by the Southern California lifestyle and cool fashion vibe that I really believe is dominant and spreading throughout the world," Hilfiger said before the show began. "This collection also has a scent of the '70s. It's fun and youthful."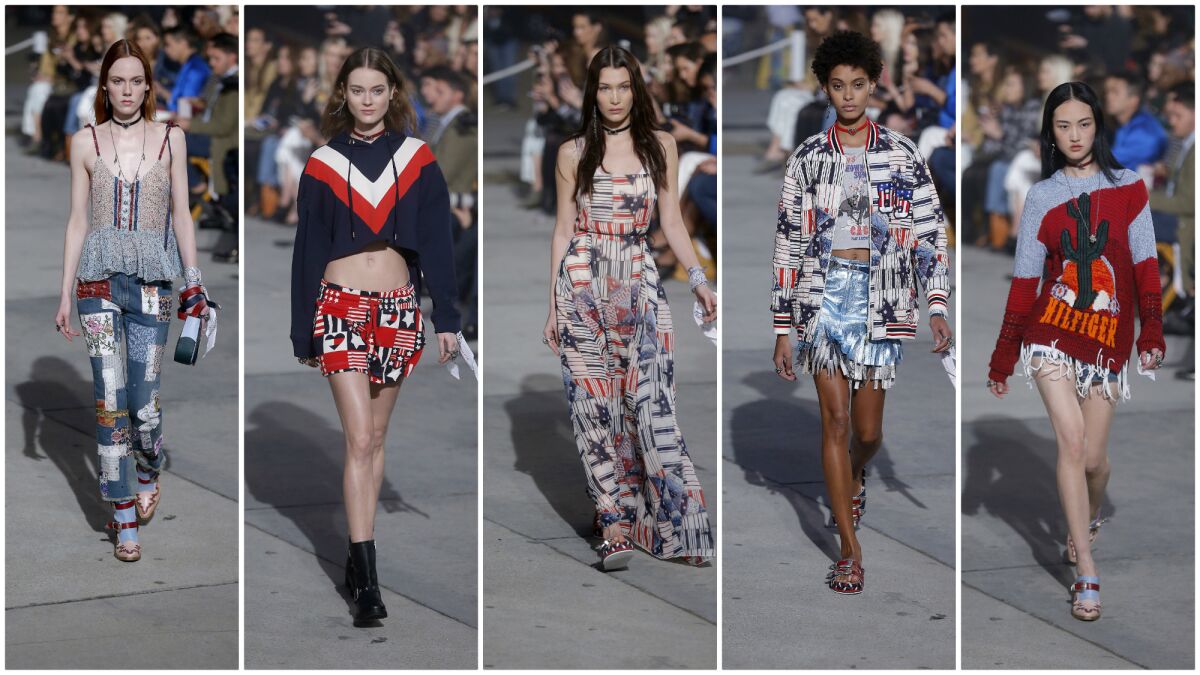 Hilfiger's all-American style was reinvigorated with vibrant stripes, patchwork patterns, metallic leathers, denim in all shapes and forms (adding a new twist to bomber jackets), Western-inspired ankle booties and belts, and playful patches for DIY charm.
All looks (including four crowd-sourced designs) were instantly shoppable via Tommy.com, live stream, social media and retail outlets in 70 countries. The company also debuted a 3D image recognition app, Tommyland Snap: Shop, enabling consumers to purchase looks by snapping photos of runway models or products — considered a first for any fashion brand.
"We're quite ahead of the game with social media and technology; it drives the business in a way that is unprecedented globally," Hilfiger said. "During last season's see-now-buy-now show, we had 2.2 billion impressions, a 900% increase to Tommy.com, and hundreds of thousands of new fans and visitors. It really pushes our brand into the future."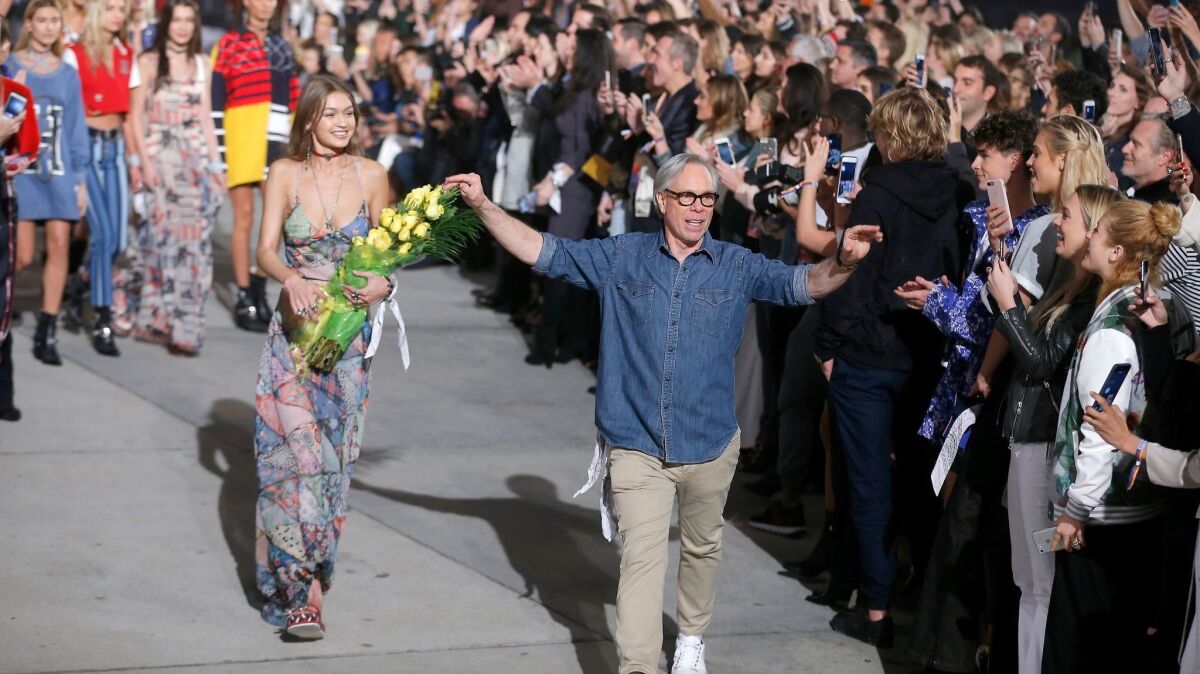 ALSO
Alana Hadid, half-sister of Gigi and Bella, launches an eyewear line with their father Mohamed
That '70s runway show: A Rebecca Minkoff showcase of groovy girl power at the Grove
Pop-up exhibition in West Los Angeles features Len Steckler's rarely seen '60s-era fashion photos