Jennifer Hudson, Sofia Vergara, Tom Ford have An Unforgettable Evening at Women's Cancer Research Fund gala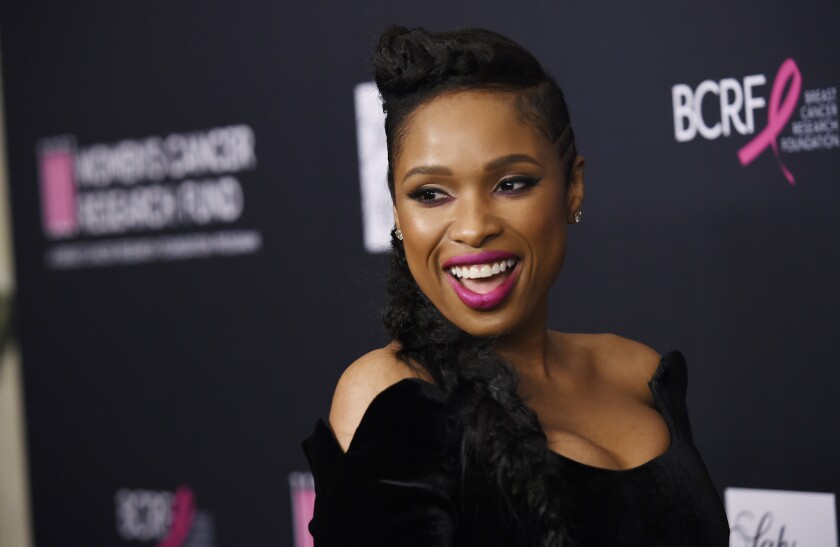 From onstage at the An Unforgettable Evening gala, the night's emcee James Corden reminded the audience that the venue, the Beverly Wilshire Hotel, had been the backdrop for the Julia Roberts/Richard Gere movie "Pretty Woman," calling the film classic, "a movie about a rich businessman who pays a woman to join him in his hotel room and then eventually becomes the president of the United — Oh, no. Sorry. That's another story.
"I hate to break it to you," the comedian and talk show host continued. "Donald Trump is not here tonight, but he says if he were outside, he would run in here and fight off cancer himself."
---
The event
Academy Award-winning actress and singer Jennifer Hudson and four-time Emmy and Golden Globe nominee Sofia Vergara were the honorees at the Feb. 27 gala, which included a powerful 11-song medley by Pitbull.
The affair, which was presented by Saks Fifth Avenue with additional support from de Grisogono and Alleven, raised more than $1.5 million for the Women's Cancer Research Fund, a program of the Breast Cancer Research Foundation.
The honorees
Following her introduction by Tom Ford, Jennifer Hudson burst into song before saying a word. "I had to sing that," she said, "because I don't speak often, and I'm always singing. So to calm myself to be able to speak, I had to sing myself a little song."
On ascending the podium, Vergara, wearing multi-carat de Grisogono diamond and emerald earrings, followed suit, belting out a note in jest. But then the "Modern Family" actress, who is a cancer survivor, said she felt honored to help WCRF continue raising awareness for cancer research, inspiring others and advancing cancer research.
The crowd
At the star-powered affair, honorary chairs Rita Wilson, Steven Spielberg and Kate Capshaw joined Lisa Kudrow, Julie Bowen, Joe Manganiello, Lori Loughlin, Jennifer Tilly, David Walton, Jessica Hart, Majandra Delfino, Alex Pettyfer, Tamara Mellon, Monique Lhuillier and WCRF co-founders Quinn Ezralow, Marion Laurie, Kelly Chapman Meyer and Jamie Tisch.
The performance
After a thunderous burst of applause following his first number, "Don't Stop the Party," Pitbull thumped his heart and thanked the audience for having him.
"We appreciate the love, we appreciate the support," said the multi-platinum international star. "Would somebody have ever thought a first-generation Cuban American would be able to be in a room like this tonight … a room full of folks that understand what hard work is, sacrifice is, and struggle is?"
The quote
Touching on today's "remarkable times," Rita Wilson said, "Here in 2018 when it appears that time is finally up, I am reminded of the words of the legendary suffragette Elizabeth Cady Stanton, who once said these wise and timeless words, 'The best protection any woman can have is courage.' ''
Continuing, she emphasized, "Courage — that is a word too many of us, even in this room, grew up associating with men, rather than women. As you've seen in recent days, in our business and in the students in Parkland, Fla., courage comes in every shape and size and gender, and all ages, too."
The numbers
Tickets for the 450 guests began at $1,500, with tables for 10 ranging up to $150,000.
Please consider subscribing today to support stories like this one. Get full access to our signature journalism for just 99 cents for the first four weeks. Already a subscriber? Your support makes our work possible. Thank you.
For fashion news, follow us at @latimesimage on Twitter.
---