Can Vanity Fair's Radhika Jones keep the party going?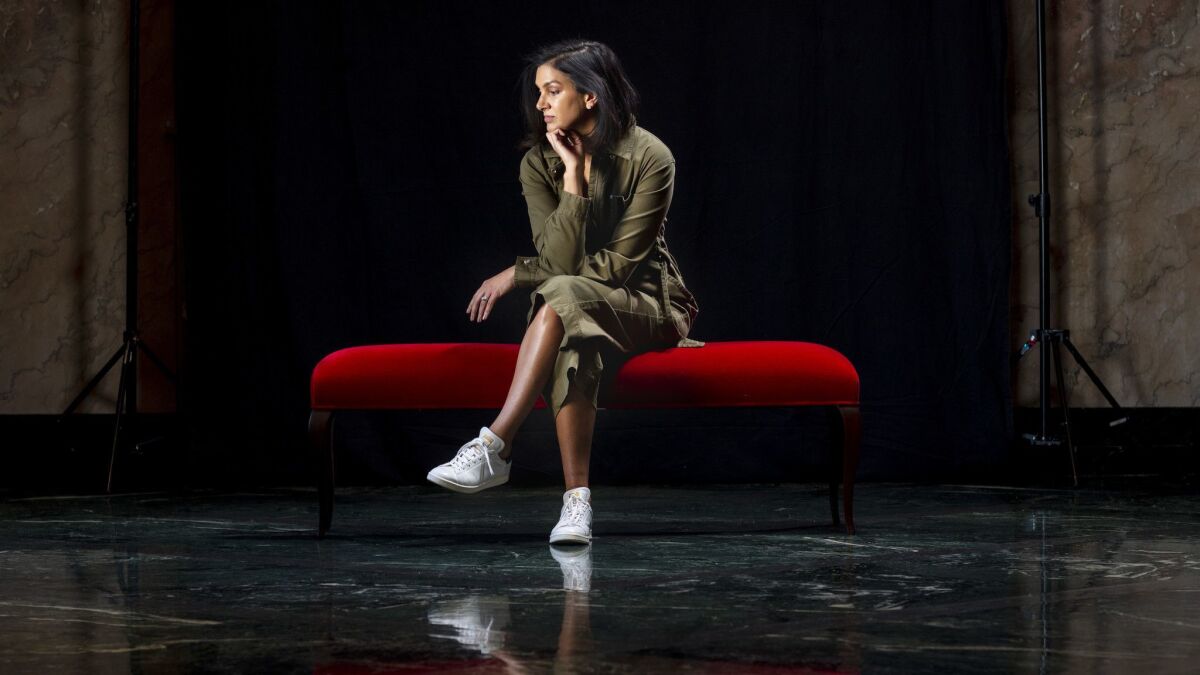 It was a Sunday afternoon in West Hollywood, the host-less Academy Awards were one week away, and Vanity Fair editor Radhika Jones had arrived in Los Angeles for the rollout of events and meetings and parties that would culminate in the magazine's heralded Oscar dinner and party, to be held at the Wallis Annenberg Center for the Performing Arts in Beverly Hills the following Sunday night.
Jones sat down with a reporter in the Tower Bar at the Sunset Tower Hotel and ordered tea. Jones, who is 46 and just under 6 feet tall, was wearing a Proenza Schouler knit dress, vintage deco beads and Prada black leather kitten heel slingbacks; for Oscar night she'd wear Valentino.
This will be Jones' second time as host of Vanity Fair's swank soiree. Last year's party, she said, was a bit of a blur, as she had only recently replaced outgoing editor Graydon Carter, a surprise choice after better-known names (Adam Moss, Janice Min, GQ's Jim Nelson, Vice's Josh Tyrangiel) had been floated in the press as the betting favorites.
As the Oscars ceremony played on large TVs, Jones found herself at the head of an intimate dinner table that included director J.J. Abrams, novelist Chimamanda Ngozi Adichie, Google Chief Executive Sundar Pichai and their spouses. Also seated around the room were Amy Adams, James Corden, Donald Glover and Shonda Rhimes and a bunch of people who are likely to turn up in the pages of Vanity Fair. (The event was notably free of old-guard Hollywood types, like Warren Beatty and Annette Bening and Tom Hanks and Rita Wilson, all of whom had been a regular part of the Carter retinue.)
"It's like a dream dinner party," said Jones, who had overseen the Time 100 Gala when she was that magazine's deputy managing editor from 2013 to 2016. "You're watching the Oscars with some of the people in the world who are the most knowledgeable about all of the work that goes into these films."
Now she has a year of editing Vanity Fair under her belt; a year of plowing ahead with her vision for the magazine despite the murmur of detractors; a year during which Hollywood came unglued by #MeToo and was still trying to put itself back together.
Vanity Fair is likewise in a moment of reinvention, at a time when Condé Nast is bloodied from $120 million in losses in 2017, and what many in the industry believe was an equally grim 2018, and looking to sell such titles as Brides, Golf Digest and W. Along with Carter, the celebrated man-about-town editor-restaurateur-producer, the company has said goodbye to two other marquee editors, Glamour's Cindi Leive and GQ's Nelson, both replaced by lesser-known and much younger successors; combined the U.S. and U.K. editions of Condé Nast Traveler; and converted Teen Vogue and Glamour into web-only publications. This past November, the company announced the departure of Chief Executive Robert A. Sauerberg Jr., the person who was expected to lead the company's turnaround. The company is still looking for his replacement.
Carter had been earning $2 million as editor of Vanity Fair; reports at the time of Jones' hiring in November 2017 put her salary at $500,000. A Condé Nast insider, however, insisted this week that that figure was absurdly low and that Jones' total compensation is in the seven figures. And while neither Condé Nast, a privately held company, nor Jones will confirm reports that Vanity Fair's editorial budget was cut by $14 million upon her arrival, Carter's high-level (and highly paid) masthead editors were an immediate casualty of the changeover. Jones let go of about 20 people on Feb. 14 and 15, 2018, in what was promptly dubbed the "Valentine's Day Massacre" within the Condé Nast offices at 1 World Trade Center in New York. Among those ousted: managing editor Chris Garrett, deputy editor Aimee Bell, and editor-at-large Cullen Murphy, as well as Beth Kseniak, the fearsome longtime gatekeeper to the Vanity Fair Oscar party. More departures, through firings and resignations, came a few months later. Longtime contributors such as Michael Lewis, the bestselling author of "Moneyball" and "The Big Short," also departed, as did the creative director for fashion, Jessica Diehl, who had styled the Caitlyn Jenner cover, and the masthead was shed of aging socialites like Reinaldo Herrera and Louise Grunwald.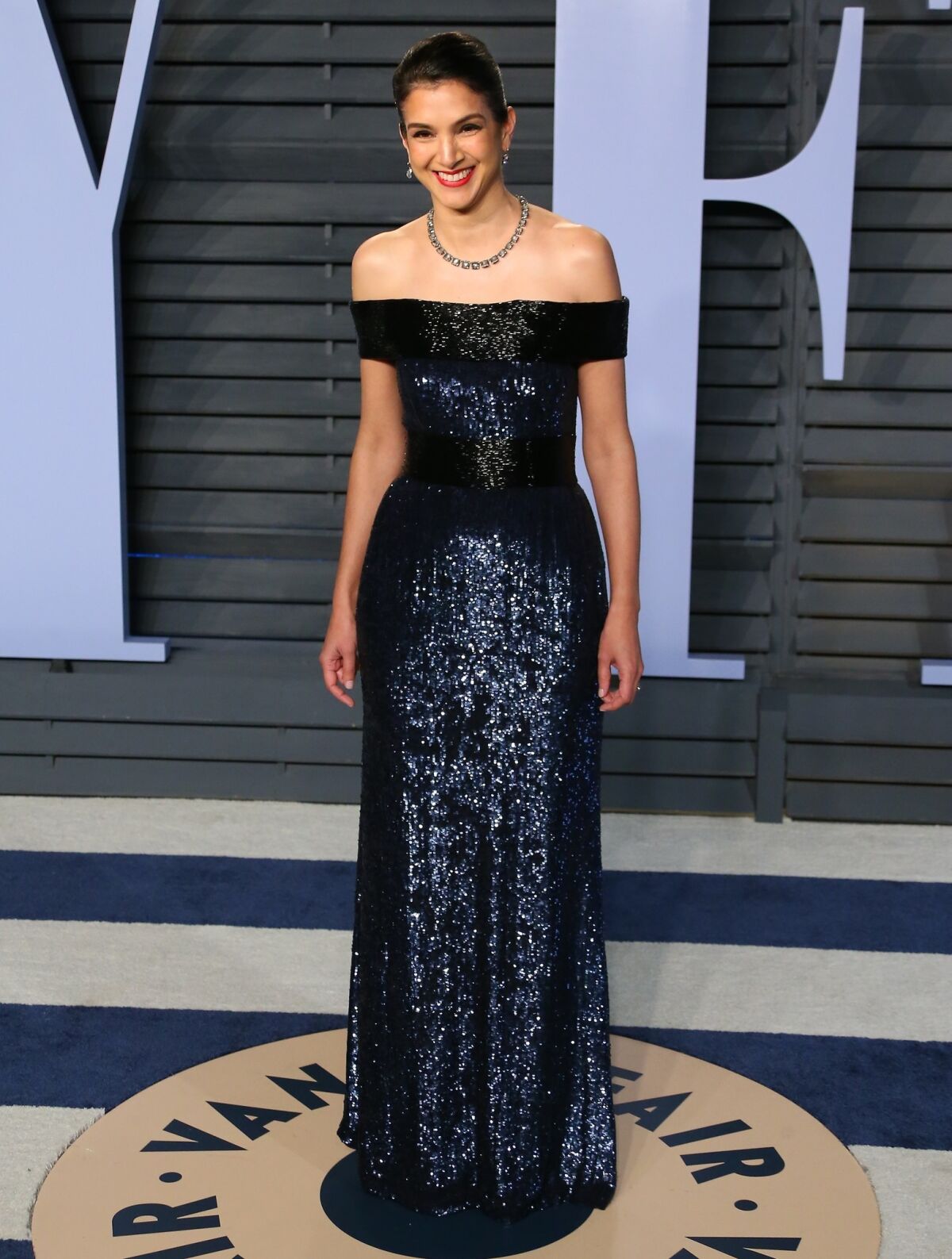 With her first issue, which came out in March 2018, Jones made clear that she was trying to tap into the new woke Hollywood, by her cover choice of Lena Waithe, the openly queer black Emmy-winning writer, producer and actor. Waithe was profiled by the author Jacqueline Woodson and photographed by Annie Leibovitz in a simple white T-shirt, rolled up to show off the elaborate tattoo on her right arm.
"What I realized when I took the helm at Vanity Fair is that I wanted to prioritize putting people on the cover who hadn't been on the cover before," said Jones.
"Ever since Radhika put Lena Waithe on her first cover, it was clear that hers would be a very different Vanity Fair, reflecting a very different Hollywood — and a very different moment in our culture," said Anna Wintour, Vogue editor in chief and artistic director of Condé Nast. "We live in a moment of profound transformation — inclusive, progressive and with much challenging of the status quo, thank goodness — and Radhika has wholeheartedly embraced that."
"Radhika is a visionary because she has the ability to see things others can't," said Waithe. "She's a game-changer in every sense of the word, and it's an honor to be in her orbit."
An email From David Remnick
Condé Nast editors used to be chosen by Si Newhouse, the company's inscrutable, unpredictable chairman, whose choices were awaited like white smoke wafting above St. Peter's Square. "The suspense about VF is now making me a basket case," Tina Brown wrote in her diary on Sept. 10, 1983, as she was angling for the editor position. "I went to see wonderful Dr. Tom Stuttaford for sleeping pills …" Newhouse died at 89 in October 2017.
Without Newhouse, the company had to find a new way of choosing editors, and fast. Carter, who had succeeded Brown when she moved to the New Yorker, had announced that September that he was leaving the magazine after 25 years, a revelation that landed him on the front page of the New York Times. The search to fill Carter's handmade Crockett & Jones cap-toe oxfords fell to Wintour and Sauerberg. Also stepping in was David Remnick, the editor of the New Yorker. Among Remnick's top candidates was Jones, who was then the editorial director of the books department at the New York Times.
"David reached out to me by email," said Jones. "I was home with my husband, Max. In his email David said that he was advising a little bit on the search and was Vanity Fair something I would be interested in? So I showed the email to Max, to make sure I was reading it correctly. And Max confirmed it, and I wrote David back and said, 'Yes, absolutely. When shall we talk?' And my recollection is that he said, 'Now is good.'
"I wrote my memos and I made a little PDF for Anna of photography that I like," continued Jones. "And I think they knew where I was coming from." Six weeks after that initial email from Remnick, she was given the job.
Hollywood, a crucial Vanity Fair franchise along with New York and Washington, D.C., remains a steep mountain for any new editor to scale. The younger crowd of celebrities no longer need the star-making stagecraft at which Graydon Carter and Tina Brown excelled. Between the time a celebrity sits down for a magazine interview and the article appears online, that celebrity may have posted 10 or 100 or 1,000 times on Instagram and Twitter, communicating directly to their fans, moving the conversation forward or sideways as they wish.
"Graydon quit while he was ahead," said Allan Mayer, co-chief executive of the public relations firm 42West. "The days are over when getting on the cover of Vanity Fair was the ne plus ultra of public recognition. Now it's more like the icing on the cake." (Carter recently announced that he was getting into the newsletter business, with a weekly email product called Air Mail that he said would be like "the weekend edition of a nonexistent international daily.")
One thing hasn't changed, apparently. "Vanity Fair's Oscar party is still a big deal," Mayer added. "It's an obligatory stop for the winners, and it's the party where you know you'll see a good chunk of the A-list."
And Jones seems to recognize, as both the editor of Vanity Fair and the host of what's still a hot ticket on Oscars night, that she must embrace, even if just slightly, the celebrity that goes with the job. Earlier this month she looked self-assured and glamorous in a red Victoria Beckham dress and Louboutin heels as she sat down with a charmed Stephen Colbert, who called Vanity Fair "one of the most vital periodicals we have left in America."
"Thank you for saying that," she replied.
The staying power, of the party and the magazine, may depend on whether the new generation of Hollywood sees Vanity Fair, or any magazine, as integral to their personal brand. Criticism has arisen in some media quarters that Jones has dulled down a previously fun and decadent (if annoyingly Anglophiliac) magazine and that Vanity Fair's unrivaled status as the bicoastal bible of higher gossip and swashbuckling breaker of news (e.g., the former Bruce Jenner proclaiming "Call Me Caitlyn" on the July 2015 cover, photographed in a satin merry widow by Annie Leibovitz; Tina Brown putting a pregnant and naked Demi Moore on the cover in 1991) is in parlous decline.
The current Hollywood issue, often the most anticipated issue of the year under Carter, features a standard business-magazine profile of HBO Chief Executive Richard Plepler and a lengthy piece on former Trump White House aide Hope Hicks that rehashes much of what had been written elsewhere. (One of its few revelations was that Hicks had recently been spotted at a 6 a.m. exercise class at an L.A. fitness studio, wearing "a navy moisture-wicking turtleneck and a headband, as if she were dressed for a brisk winter run at Deerfield.")
But the magazine's cover does demonstrate Jones' commitment to diversity. Of the 11 young actors featured on the pull-out cover, seven are people of color: Chadwick Boseman, Yalitza Aparicio, Rami Malek, Regina King, John David Washington, Tessa Thompson and Henry Golding. In an oral history of Vanity Fair's first Hollywood cover, in 1995, which featured 10 actresses including Nicole Kidman, Gwyneth Paltrow, Uma Thurman and Jennifer Jason Leigh, Angela Bassett remarked, "I was the only woman of color in that room. You're that one in the room. Just that one."
"I'm making an aspirational magazine for a modern audience, for this moment in our culture," said Jones. "Our subscriptions are up, our social engagement is up, and I feel the magazine is more relevant to more people than it has been in a while."
According to Condé Nast, Vanity Fair had over 20.2 million monthly "unique visitors" in 2018, an increase of 14% from 2017, and added 870,000 followers on Instagram. (Figures from the Alliance for Audited Media show that newsstand sales dropped 14% in the first six months of 2018, to 101,834 copies per issue, but that overall subscriptions rose by 2%, to 1.13 million.) The magazine's two websites, Vanityfair.com and the Hive, the latter edited by Jon Kelly, a former Carter assistant, are well regarded in media circles, thanks to frequent news-making contributions from Gabriel Sherman, Nick Bilton and Joe Pompeo.
"The idea that the cover of Vanity Fair, as well as what's inside, is increasingly reflecting who we are and what we are becoming as a country is a healthy and necessary evolution," said Remnick. "I have every confidence that the vector for Radhika and Vanity Fair is straight up."
'I just wanted to be called Elizabeth'
Jones grew up in show business. She was born in New York City. The family lived in Queens. "My father had been a folk singer in Cambridge," she said. Later, he became a road manager. "He took Duke Ellington and Thelonious Monk and Sarah Vaughan around the world."
Jones' father met her mother in Paris, where she had gone to learn French after growing up in Mumbai. She was managing VIP relations for Air India, and he was booking a trip to India for a jazz band. "She met my father across the counter," Jones recalled. "They connected and got together, and they married in Paris and moved to New York."
The family moved to Cincinnati when Radhika was 3. "We lived in a neighborhood called Hyde Park," she said. "It was a wonderful neighborhood to be a kid." She did gymnastics and played soccer and read C.S. Lewis' Narnia books and Madeleine L'Engle's "A Wrinkle in Time" books, over and over.
She said she wasn't aware of any racism directed toward her because of her Indian heritage. "I did have an uncommon first name," she said. "At the beginning of every academic year, starting around third grade, I would steel myself for the teacher to say my name. I just wanted to be called Elizabeth."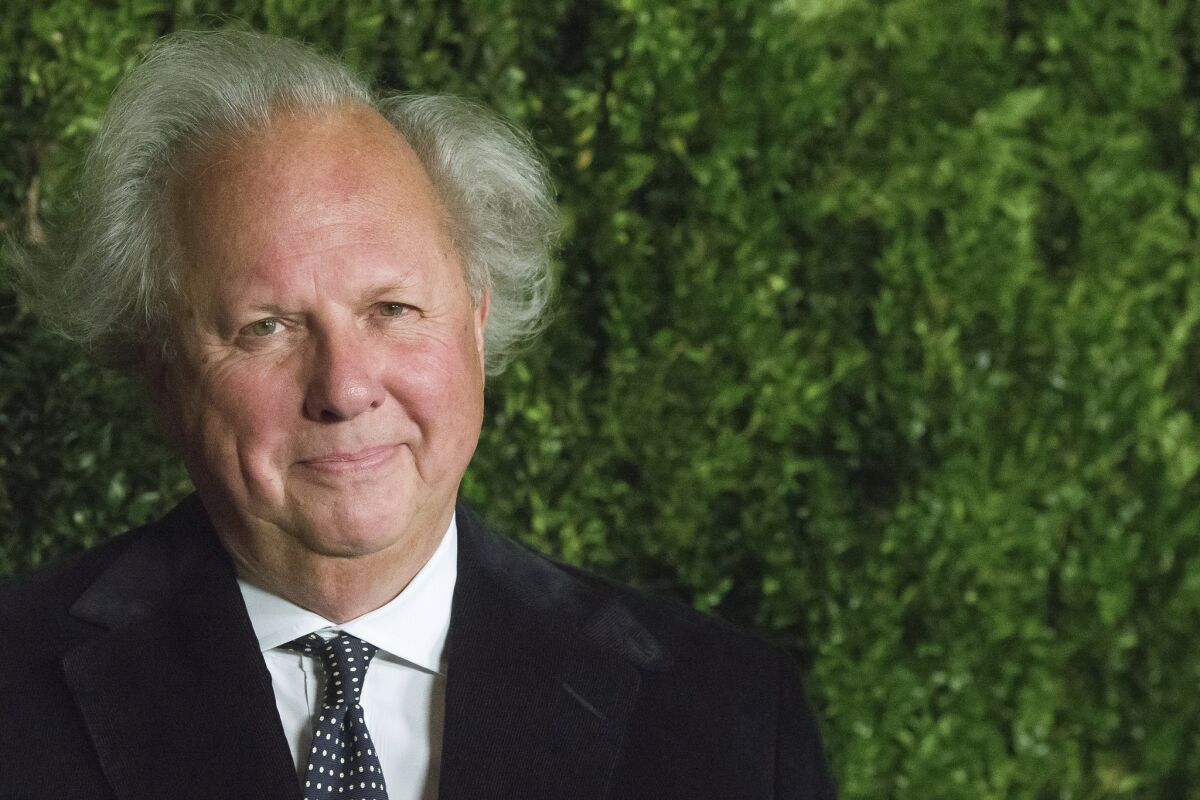 When she was 12, her parents bought a house in leafy Ridgefield, Conn. "I was a shy kid," she said. "That's kind of also when I shot up. I think I grew about 6 inches in a year. I was a little bit all over the place. I sort of lost my center of gravity, not maybe literally but metaphorically. I had had the same friends since I was a young child. And suddenly I was the new person. I'd never been the new person before. I went through that year in a little bit of a daze. And it took me a long while to warm up to it."
She said she went without a boyfriend in high school and was still shy and bookish when she got to Harvard in 1990. "I ended up living in Adams House, which was kind of the artsy and theater students," she said. "So I ended up finding my niche in theater. I worked on theater productions, and by the end I was producing plays. I liked being backstage. I feel like that's my preferred view. That's what college is, right? You sort of find your home."
During her junior year she fell in love for the first time. "We met at a party at Adams House," she said. "I was a junior. He was a senior." He was Yermolai Solzhenitsyn, a son of the Nobel Prize-winning Russian novelist Aleksandr Isayevich Solzhenitsyn, who was living in Vermont after being exiled from the Soviet Union. One day Yermolai took Radhika up to meet the family. "I remember there was a big snowstorm," said Jones. "And Alexandr Isayevich worked in a little studio adjacent to the main house. And he came in and he had this biblical beard — he looked like someone out of a Tolstoy novel — and he had very bright eyes. And we sat down to dinner, and they all spoke Russian at the table. I was sort of transfixed. It was like watching a foreign film. Or being airlifted into this place, and it was incredibly stimulating in this funny way."
Yermolai, who had studied Chinese (while Jones studied Russian), eventually moved to Taipei. After graduation, Jones joined him there. "I had graduated with an English degree and into a recession. So I needed something to do," said Jones. "And I spent three years abroad, one year in Taipei and two in Moscow. It cured my shyness; I mean, you've got to get around. I really loved Moscow, and I got a job at the Moscow Times, this English-language newspaper. I was a copy editor at the paper and also the arts editor and also the restaurant critic. I loved being there, and I was truly independent. I think I called my parents once a month."
Jones came back to the U.S. in 1997 and studied for a PhD in English and comparative literature at Columbia University while working at Grand Street, the literary magazine then edited by Jean Stein.
Around the same time, there was a crisis involving her father. The family — she has an older sister and a younger brother — would travel to India almost every Christmas. In 2004, upon arriving back in Connecticut, both of Jones' parents had a bad case of flu. A few days later, her father was unable to move one of his legs. Then he couldn't move the opposite arm. "My mother took him to the hospital," said Jones, where he was diagnosed with the autoimmune disease Guillain-Barré syndrome. "His diaphragm collapsed and he couldn't breathe. Luckily he was already at the hospital, so they intubated him. He lost 80 or 90% of the muscle capacity in his face. It doesn't affect your brain, but he couldn't speak and he couldn't move his body. He was on a respirator for at least four or five months. We got him a spot at Mount Sinai."
Her mom took a pied-à-terre. Among her siblings, Jones, in Brooklyn, lived the closest and ended up spending a lot of time at the hospital. "My mother was amazing. She has this incredible force of will and spirit. The only way he was going to get back to breathing on his own was if he would basically try to wean himself off the respirator — which is terrifying. And it was hard for us kids. I mean it was hard for us to be hard on him, to coach him in that way. I learned a lot watching my mother. She was very encouraging, like, 'I know you can do this.' He was in and out of hospitals and rehabilitation places for at least two years. And he kept his optimism and sense of humor. He recovered a good amount of muscle strength. If you spoke to him now, you wouldn't know that there had ever been a time that he couldn't speak."
After Grand Street, Jones worked as managing editor of the Paris Review and in 2008 was hired by Time magazine, where she curated the "100 Most Influential People" issue and its accompanying black-tie gala. The guests included Michelle Obama, Julia Louis-Dreyfus, Ariana Grande, Aziz Ansari, Eli Broad and Guo Pei.
"Working with Radhika was like being in a graduate seminar with someone who raised everyone's game," said Time's former managing editor Nancy Gibbs. "She didn't try to take over the room; she would watch and listen and then offer the insight, just the right solution, to whatever problem we were trying to solve. There was a power in her reserve — like people leaned forward to hear what she had to say."
Back at the Tower Bar, asked what she thought the first time she walked into Carter's vast Vanity Fair office — now hers — with its vertiginous 41st-floor views that seem to reach all the way to Pittsburgh, Jones said, "I thought of the final scene of 'Working Girl.' "
She then rose to leave; a car was waiting. Her husband, Max, an architect, and their 4-year-old son, Finn, were skiing in Park City, Utah, and would be joining her in Los Angeles in a few days. Also waiting for her, on Twitter, was reaction to the news that she hadn't renewed the contract of longtime contributor James Wolcott.
"Vanity Fair & I have reached the relationship stage colloquially known as 'splitsville,' " Wolcott tweeted. "In short, I'm out."