The trendiest shoe of the summer comes from SoCal skate parks, not New York runways
The hottest shoe of the summer isn't from a luxury brand like Gucci or Louis Vuitton or a cool, on-the-rise label like Vetements. It's an old footwear stalwart from Costa Mesa-based Vans — one you might already have in your closet. The action sports brand's Checkerboard Slip-On, which has been offered since 1977, is being embraced by celebrities and cool kids from Frogtown to Bushwick.
First made famous by Sean Penn playing stoned surfer Jeff Spicoli in the 1982 cult film "Fast Times at Ridgemont High," the sneaker received a major public endorsement last year. It came from musician Frank Ocean, who paired the slip-on with a navy suit and white dress shirt while attending the last White House state dinner of the Obama administration. "You can't think. You just have to do things," Ocean told reporters at the event, explaining his daring stylistic choice, one that Vogue called "a bold, rebellious choice."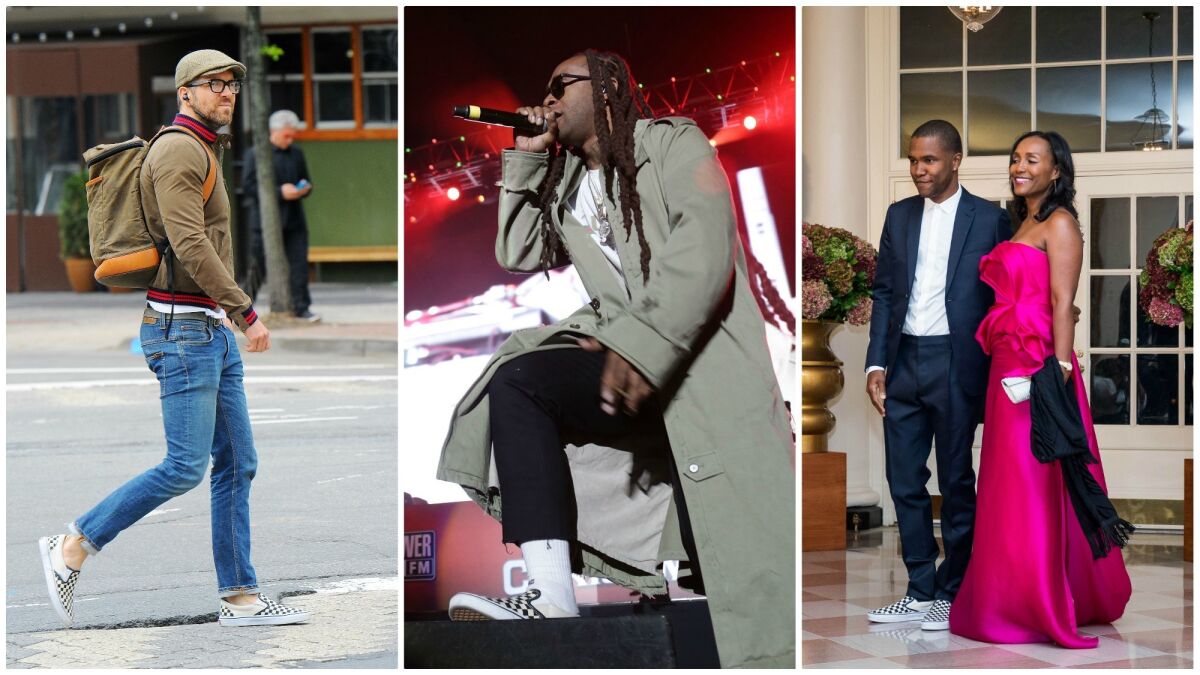 Much like the Adidas Stan Smith, the Birkenstock Arizona sandal and Vans' own Old Skool style before it, Vans' Checkerboard Slip-On ($50, www.vans.com) is the latest in a string of casual, easy-to-wear footwear options that have been rediscovered and popularized recently after years at the fringes of the shoe market.
"It's remained part of the pop-culture consciousness," says Andrew Luecke, co-author of the recent book "Cool: Style, Sound and Subversion," which chronicles the history of subcultures and street styles.
"Even when it hasn't been that popular, it's there, in people's minds, with the associations of Southern California surfers and skaters — and this kind of cultural memory is important in creating trends," he says. "People know it. They may love it for nostalgic reasons, and so when it surfaces as fashionable again, it's easy for people to embrace, even comforting, like going back to being a kid."
Add to that the fashion industry's recent obsession with Southern California style — exemplified by the recent pilgrimage of international brands to show in Los Angeles as well as online luxury menswear retailer Mr Porter's recent Made in California collection — and you'll notice that this Vans trend is at its tipping point. Just ask celebrity fans including Justin Bieber, Ryan Reynolds, Brooklyn Beckham or Ty Dolla Sign.
"We've seen a lot of fashion brands referencing skateboarding and streetwear as a source of inspiration in their latest collections and have used the checkerboard motif throughout their lines, bringing the pattern back to the forefront," says Mark Haskins, vice president of global product design for footwear at Vans. "The checkerboard pattern [on the shoe] is a trademarked intellectual property of Vans, and the fashion industry loves iconic design. And the Checkerboard Slip-On is an absolute original classic."
The shoe first came into existence when Vans co-founder Paul Van Doren's son, Steve, noticed that young people were drawing in the checkerboard pattern on the sidewall of their sneakers themselves and decided to do it for them. But it wasn't until being featured in "Fast Times at Ridgemont High" that the shoe went mainstream. Now a new generation is making it their own.
Because the style is easy to wear, versatile, unpretentious and perhaps a deal at $50, there are all the trappings of a full-fledged seasonal trend.
"The Checkerboard Slip-On remains one of our most popular styles and continues to be one of the top 10 purchased styles globally," Haskins says.
And really, it doesn't hurt that the shoes are so easy to put on.
"Just slip your foot in literally, which makes them perfect for the beach or cocktails in the city," says Luecke. "They can do it all. Also, with that canvas construction and rugged vulcanized rubber sole, they're the kind of shoe that ages and breaks in so well. Vans' slip-ons can tell a story, you're personal story, and communicating that personal story is really what style is all about."
Fashion Videos
For fashion news, follow us at @latimesimage on Twitter.
---