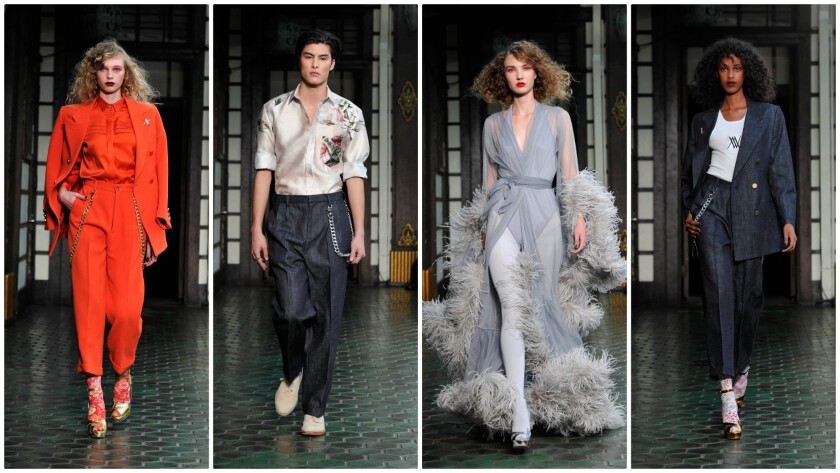 Deputy Fashion Editor
If in a late-night bout of channel surfing you happened upon a Turner Classic Movies presentation of a Works Progress Administration-funded movie starring a '40s-era Marlene Dietrich and a '70s-era John Travolta, it might have looked something like the Wolk Morais runway show that unfolded at Yamashiro restaurant in Hollywood Monday night.
The latest creations from the L.A.-based design duo of Brian Wolk and Claude Morais were dubbed "collection five" in the label's ongoing effort to transcend seasonal dressing. Pieces on the runway included sharp, strong-shouldered, double-breasted suits; high-waisted trousers with gold, chain link suspenders; and diaphanous dressing gowns in '40s-inspired silhouettes and a color palette heavy on the tangerine, teal and burgundy.
"We wanted to play with all these kinds of Hollywood archetypes and antitypes," Wolk told us before the show, "[so] all of the suits were actually made by a men's tailor whether they're women's or men's. We threw away all the conventions; all of the suits are cut in the same way — classics men's suits for girls and for boys. We wanted to throw that all away and smash up all those gender archetypes … and we couldn't imagine a more cinematic backdrop."
"We are really embracing our love of cinema," added Morais, "It's TCM [Turner Classic Movies] all the way."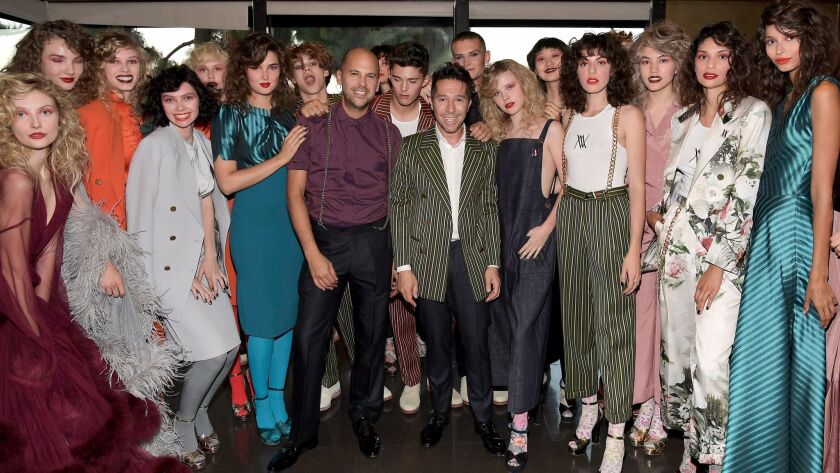 For women, that meant the aforementioned double-breasted suits in fabrics ranging from light-as-air crepes and silks to heavyweight denim (most of them worn over white, monogrammed tank tops), denim overalls ("inspired by wartime," Wolk explained, referring to World War II), and a couple of riffs on the jumpsuit silhouette, a Wolk Morais favorite. A memorable trompe l'oeil version, from afar, looked like a silk floral-print top paired with a separate pair of generously cut trousers. Also in the mix were statement-making tulle dressing gowns that flounced and bounced with ostrich or marabou feathers, custom made by L.A. designer Catherine D'Lish.
The menswear, which in past collections seemed an afterthought, felt better represented this time out thanks to the boldly striped, double-breasted, peak-lapel suits that were doing double duty, with a few floral-print, button-front shirts and baggy denim trousers thrown in for good measure.
Additional details — on both sides of the closet — included gold and silver chains that served as suspenders, watch fobs and bracelets, and gold suit buttons so eye-catching that they could have doubled as jewelry.
Speaking of jewelry, many of the Elizabeth Stewart-styled looks was finished off with a pop of red, white and blue thanks to cloisonné pins in the shape of Wolk Morais' interlocking MW logo emblazoned with "Teen Cancer America," to raise awareness about the show's charity partner. This summer, when the pins become available via Teen Cancer America's online boutique, they could end up raising funds for the charitable organization as well.
For more musings on all things fashion and style, follow me at @ARTschorn.
ALSO:
Wolk Morais collection 4 melds Old Hollywood with Fairfax Avenue street style
Wolk Morais collection 3 pays homage to L.A.'s well-heeled nightlife
Dior gets dusty and delicate, wild and woolly in the canyons of Calabasas
---