Jewelry designers see piercing phenomenon as big business
The piercing paradigm has changed, with secondary holes becoming so commonplace that jewelry designers are beginning to consider them a sales opportunity.
Until recently, secondary piercings were a sentimental bonding exercise amongst young women or an opportunity to add some pizazz.
But now, many girls receive piercings without emotional pretense — considering a new hole as routine as buying a T-shirt. Drop in on any dinner table full of twentysomething New York girls, and you'd be hard-pressed to meet an attendee without a fleet of secondary piercings.
The trend is international. Multiple piercings are the norm in Paris, London and Berlin. Even in conservative-leaning Seoul, South Korea — where tattoo artistry is illegal without a doctor's license — multiple piercings on style-conscious twentysomethings can be spotted across the city.
Brands like Alison Lou, designed by Alison Chemla, are counting on the omnipresence of second holes for sales. This follows the rise of luxury piercing jewelry brands like Maria Tash and BVLA — which brought a high-end angle to a onetime subculture form of adornment.
"I've even noticed [the change] in myself, and I'm such a wimp. It's not a big deal anymore. Now I feel like if I'm at lunch with friends on Sunday, we'll be like 'let's go get a piercing.' It's not a forever thing — you can take an earring out and it will close up. It's just like buying any other piece of jewelry — it's that extra something, I think people just place it wherever," Chemla said.
Piercing artist J. Colby Smith said of shifting attitudes toward piercings: "I think it's become a lot more acceptable. It's not just a scary thing, everyone has a second hole, a third hole — it's just trickled down and doesn't seem as big a physical investment."
Piercing's prominence has also permeated fashion design — with J.W. Anderson using the adornment practice as inspiration for his popular Pierce bag, while buzzy Lower East Side-based designer Sandy Liang has decorated her denim collections with earrings.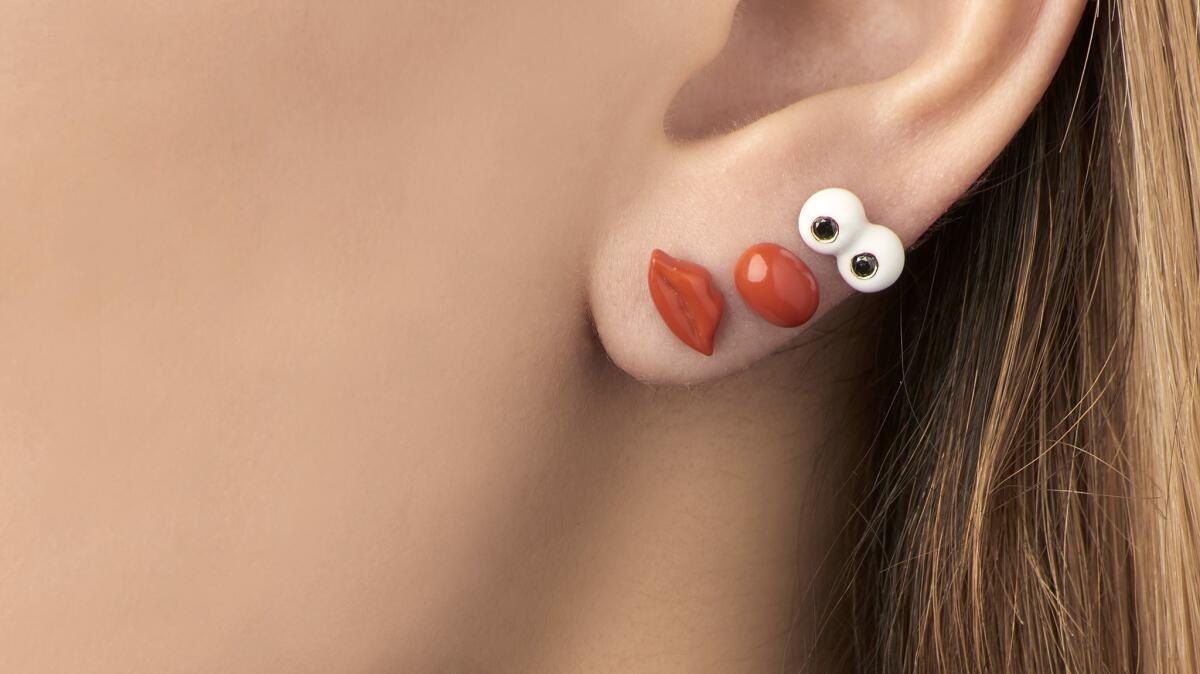 Chemla only sells her studs as singles, not as pairs — and attributes 40 percent of her sales to the single earring category. That percentage, she says, has been "slowly increasing with the number of piercings we have been seeing."
Jewelry designer Jennifer Fisher sells her earrings in single form, too. She launched the singles category on her site in June 2014, and says the category increased her overall earring sales by 40 percent. "It used to be pair of hoop earrings and now they buy five at a time. Most girls have four piercings and a cartilage piercing, it seems like the norm now," Fisher observed.
"Last week I had a girl in my studio with only two holes, and my staff was like 'Wow, only two?' If you have only two now, it's like you're special. I feel like so many people have pierced themselves everywhere that they've run out of space," Fisher added of the phenomenon.
Laura Freedman, owner of the Broken English jewelry boutique chain, attributes 20 percent of her stores' sales volume to multiple piercing earrings. "We started jumping in sales and noticed secondary piercing, third piercing jewelry — it's just bread-and-butter. It flies off the shelf. It's a huge market for us, we sell a ton — it's definitely a category that stores shouldn't miss out on," she said.
The Broken English boutiques are a retail partner for the Maria Tash label — a brand that was recently called upon by Liberty and Saks Fifth Avenue to install temporary piercing salons in their department stores. Freedman also noted Chemla's line, as well as Celine Daoust, Anita Ko and WWAKE as strong performers in the multiple piercing category.
Late last month, Alison Lou hosted a piercing party at its Upper East Side boutique — a retail activation where approximately 30 shoppers purchased earrings to be pierced with onsite. Many girls were observed telling the party's piercing artist to stick their latest stone "wherever there's room," left on their lobe.
Said Colby Smith: "It really seems like piercings are contagious. I'll see myself working my way through offices or groups of friends."
Fisher has noticed girls purchasing the same hoop style in graduated sizes, created a coordinated look up the ear: "It's not just about fine tiny studs. Especially in summer, girls are coming in wanting to layer hoops — even giant hoop earrings."
Chemla feels there is more consumer demand for second-hold earrings than with traditional lobe pairs. "When I'm designing earrings, I always consider the earrings I'm making as second hole studs. I feel like it's definitely something people are looking for all the time — more for second hole studs than regular hole earrings," she said.
The designer has begun creating sets of coordinated earrings for that purpose — in effect creating an outfit for the ear. One such set is anchored with a bouquet of enameled gold flowers on the lobe, with tiny flowers trailing upward. Another ensemble allows shoppers to purchase pieces of Mr. Potato Head anatomy — re-creating his signature expressions on their ears.
Colby Smith says he predicted this trickle-down of piercing jewelry to the designer tier. "It's safer now for them to invest [in this category]. I always knew it would shift that way.
"For me, having more holes is a way to wear more jewelry. Generally speaking women like jewelry — so really it's a no-brainer. We just needed it to become a little more socially acceptable, and I knew the floodgates would open."
Fashion Videos
ALSO:
It's all about celebrating Hollywood's wonder women (and a few guys) at Women in Film's Crystal + Lucy Awards
At Made LA, Snoop Dogg and Wiz Khalifa make the traditional runway show disappear in a puff of smoke
Meet Bethany Yellowtail, a Native American fashion designer who's inspiring a whole generation of women