Levi's is about to roll out the fourth installment of its limited-edition Pride collection for 2017. The collection's inspiration, "Fight Stigma," underscores Levi's commitment to fighting for and protecting the rights of the LGBTQ community.
The Pride offering features T-shirts ($29.50), trucker vest ($78), denim shorts ($69), a baseball cap ($18) and bandanna ($18).
One T-shirt and tank style, for example, has the "Fight Stigma" logo on the front and an LGBTQ timeline of historical moments that the company's design team develops. Each season Levi's pulls from that timeline and a moment inspires that year's collection.
Another Pride T-shirt carries the rainbow batwing and the Levi's logo, while the trucker vest in dark wash denim has the "Silence = Death" rallying cry. The Pride bandanna has a paisley print and Levi's rainbow batwing embroidery.
"Fighting stigma on any level is important. And we feel that it's our responsibility to stand up for the issues of our time," said Grant Barth, Levi's chief merchandising officer. "Levi's has always been on this journey; doing the right thing, standing up for the values and giving everyone a voice."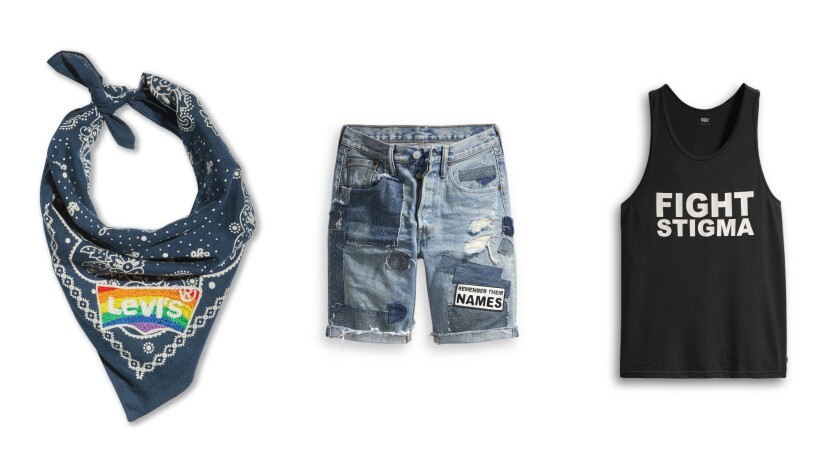 Levi's has a long history of supporting the LGBTQ community. In 1982, then-chief executive officer Robert Haas joined employees in the Levi's lobby and handed out informational pamphlets about HIV/AIDS to concerned employees. That same year, the Levi Strauss Foundation became the first corporate donor to the first AIDS clinic in the world. In 1987, Levi's added AZT to its health-care coverage plan, and the following year, Levi's employees added their panel to the AIDS Memorial Quilt, as a tribute to the loss of their colleagues and friends. Levi's and the Levi Strauss Foundation have contributed more than $70 million in grants to HIV/AIDS organizations in more than 40 countries.
After rolling out in Australia this month and Asia in March and April, the collection will launch in the Americas and Europe at the end of May, in time for June Pride month. It will be available on levis.com and at select Levi's retail locations beginning in May. A portion of the proceeds will benefit the Harvey Milk Foundation and Stonewall Community Foundation. All shirt sizing will be gender-neutral. The jacket's sizing is XS to XXL, and the shorts range from waist size 24 to 36.
ALSO
Buzz Aldrin becomes the first astronaut to walk at New York Fashion Week: Men's
Riccardo Tisci / Versace deal rumored to be imminent
---