For election day, Melania Trump's designer vote goes half American, half French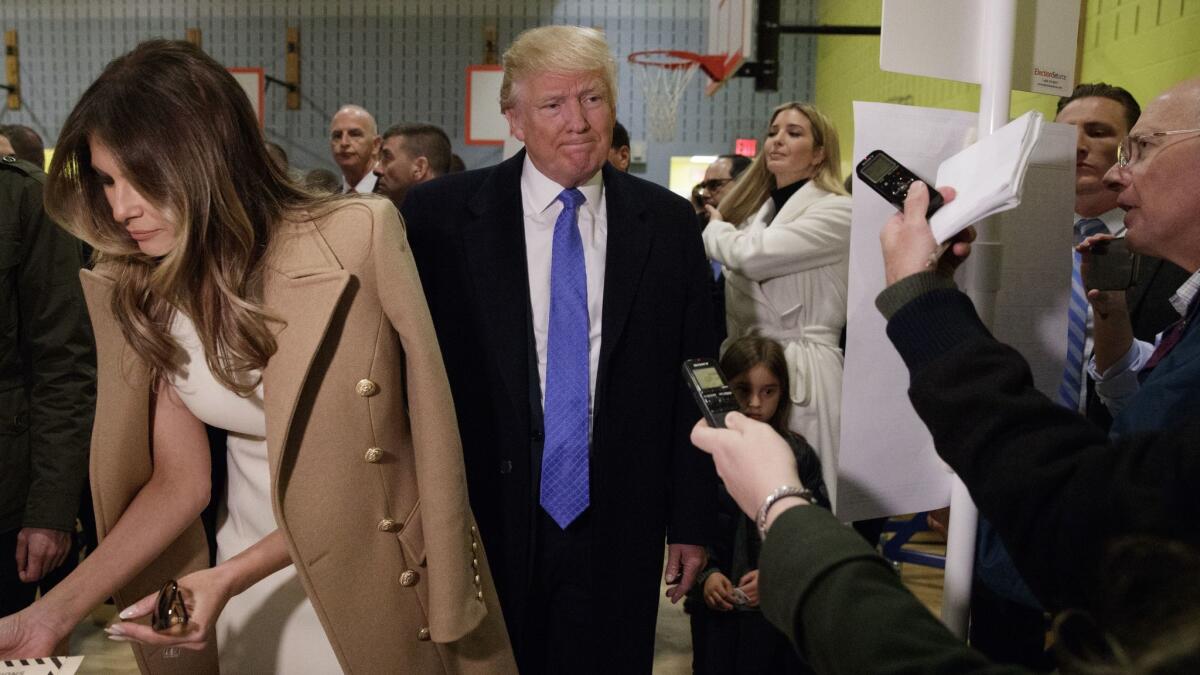 Politics aside, Melania Trump has offered voters in both camps a designer tutorial. Unlike her husband Donald's opponent Hillary Clinton, who has been a Ralph Lauren loyalist as of late, the former model has stitched together an assortment of designer labels for her public appearances.
For her trip to the voting booth with the Republican nominee, the Slovenian-born Melania wore a sleeveless ecru Michael Kors dress for their descent down the escalator at Trump Tower. By the time she and her husband had their ballots in hand standing on the indoor basketball courts at Public School 59, Melania was wearing a camel gold-buttoned Balmain coat capelike on her shoulders.
Hillary Clinton once again kept things tonal, wearing a Ralph Lauren khaki-colored jacket with taupe insets on the lapels and pants for her trip to the voting booth at the Douglas G. Grafflin Elementary School in Chappaqua, N.Y. For Monday night's pre-election night rally in Philadelphia, she appeared to wear the red Ralph Lauren pantsuit she'd worn to debate Trump at Hofstra University earlier this fall.
Clinton also wore a Ralph Lauren Collection creme-colored wool crepe curved-front jacket with horn buttons and matching wool crepe pants for last month's final debate.
Lauren is one of numerous New York designers who have extended their support for the former Secretary of State. Diane von Furstenberg, Tory Burch, Elie Tahari, Joseph Altuzzara and Prabal Gurung are among the others, as well as foreign-born non-eligible voters like Georgina Chapman and Rag & Bone's Marcus Wainwright.
Known to make all of her fashion choices and purchases by herself, Melania Trump bought the dress at Michael Kors' upper Madison Avenue boutique and the Balmain coat via Net-a-porter, according to her spokeswoman. Donald cast his ballot wearing a Brioni suit and a bright blue tie from his signature collection.
Melania is not drawing party lines when it comes to her designer choices. Aside from personally contributing to Clinton's campaign, Kors was front-row at the "Made for History" fashion show hosted by Chelsea Clinton, Huma Abedin and Anna Wintour in TriBeCa in September. (Kors isn't new to the party, having presented Hillary Clinton in 2013 with the inaugural Michael Kors Award for Outstanding Community Service through God's Love We Deliver.)
The Balmain camel coat Trump wore earlier appears to be the $3,669 virgin wool coat with embossed buttons that Olivier Rousteing designed for fall.
For last month's final presidential debate, Melania chose a Ralph Lauren "Sheryl" jumpsuit accessorized with one of her own wide black belts, despite Clinton's fondness for Lauren's pantsuits. Twitter went ablaze with comments and criticism when she wore a hot pink Gucci pussy-bow blouse and cigarette pants to the second debate. She showed her former model status at the first one, too, wearing a black ruched off-the-shoulder Dolce & Gabbana dress from the fall runway.
Melania credits her designer mother Amalija Knavs for instilling her own interest in design.
For her now much-critiqued speech at the Republican National Convention, The Donald's better half wore a cotton silk off-white Roksanda "Margot" dress, which she bought herself. For the final night of the RNC, she wore a similar design from Fendi — a silk and wool dress with hand-embroidered mink and crystal detailing that she bought via Net-a-porter. Watchers are still in the dark about what her election night designer choice will be, but like the presidential race itself that will soon be determined — hopefully.