Meet Shudu, fashion's first avatar supermodel
In February, Fenty Beauty reposted an Instagram of a South African model named Shudu wearing one of its plush matte lipsticks. The image shows her posing in front of an orange backdrop with her hands touching her head, her manicured fingernails matching the "Saw-C" shade on her lips.
The picture is undeniably striking — no wonder it got a repost from Rihanna's wildly successful makeup brand — and as it began to draw interest, a game-changing piece of news was unearthed: Shudu isn't human.
The notion of an avatar is commonplace among gamers — think "Mario Kart," which was released in 1992, or "Call of Duty," which came out in 2003 — but it's fairly new to fashion. Louis Vuitton cast a video game character for its spring 2016 campaign, and just last month, a figure named Lil Miquela made headlines in Highsnobiety, the Financial Times and New York Magazine following an Instagram "hack" by her frenemy, Bermuda.
Lil Miquela is rumored to be a computer-generated image — much like Shudu — though her representative declined to confirm this. Miquela, her friend Blawko, Bermuda and Sophia, an artificially intelligent robot who is also a Saudi Arabian citizen, are welcome in the sphere of Instagram influencers. But when it comes to high fashion, Shudu represents an entirely new reality.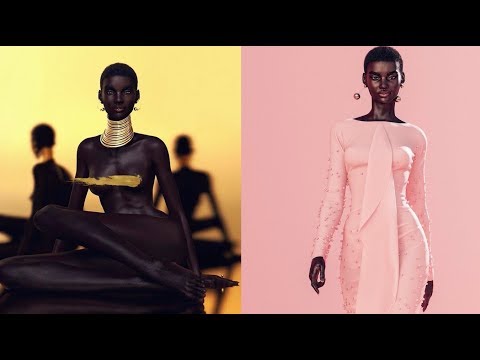 "Shudu is a digital supermodel, a very glamorous and amazing woman. But she's 3-D," says Cameron-James Wilson, a 28-year-old British fashion photographer who has shot the likes of Gigi Hadid and Pia Mia and is making a name for himself as Shudu's creator.
Wilson made Shudu in the beginning of 2017 using a program called Daz 3-D. The model was just one of many creations he made — "aliens, planets, everything" — and in April of that year he shared her first Instagram post. Shudu now has more than 120,000 followers, up from 60,000 in March; Wilson himself has more than 14,000.
As a 3-D model, Shudu further blurs the line between digital and reality. She can't talk, nor is she artificially intelligent, but with Wilson's help, she has a message to share. Through modeling both established designers and up-and-coming ones — graphic T-shirt brand Soulsky, for example — Shudu, Wilson hopes, will bring empowerment and diversity to the fashion industry, where both of these are so often called into question.
Shudu isn't the first digital model to walk the Internet, nor is she the only virtual creation on Instagram. With Lil Miquela making her editorial rounds, the buzz around virtual influencers has already begun. Who are they? What do they do? Shudu is, though, the first digital creation to so accurately resemble a breathing, feeling woman — so much so it's debatable whether Fenty Beauty knew she wasn't one. The brand has since taken down its repost and representatives declined to comment.
Shudu is, among other things, ageless, beautiful and fascinating — all of which make her perfect for fashion. Right now, the Kendall Jenners, Kaia Gerbers and Bella and Gigi Hadids of the world reign over the runways. But could the "It" girls of tomorrow be Shudu and others like her? And what would be the ramifications for fashion houses and retail?
As a 3-D model, Shudu can interact with other avatars and has already posed with two: the digital version of an Australian model named Ajur (@ajurofficial) and the avatar of a model named Nfon Obong.
Shudu is, more than anything, an extension of Wilson. Her Insta feed only has 21 posts — not a lot for an account that's been active for over a year. By contrast, Lil Miquela and her creator post regularly, sharing pictures in which Miquela wears designer clothing, eats with her influencer friends and attends real-life festivals like Coachella.
Some have called Shudu an influencer, but Wilson doesn't see her as one. It would be hard for Shudu to pose in designer brands as often as Miquela does because, well, Shudu doesn't have many clothes. Like a baby, she came into existence naked and when she wants to get dressed, clothes have to be made for her — digitally.
"In order for Shudu to wear garments, she needs to be able to put them on, just like you would in the real world," Wilson says. "You have to digitize the outfits. A program that is very widely used to do that is called Clo. It's an amazing program that simulates fabric true to life. It fits exactly like it would fit her if she was a real person."
If all of this sounds a bit "Westworld," consider the fact that gamers pay for digital garments for their avatars — $10 for a pair of shoes or $40 for a whole outfit, for example. And though Shudu is an avatar — a non-playable character, to use gaming terms — she's not meant for the gaming world. Wilson made her with fashion in mind.
Getting Shudu dressed for her WWD shoot took over a month, on and off. The process, which you can read more about here, was made possible through a program called Clo. In our shoot, Shudu is wearing the digital replications of dresses by Cushnie et Ochs, The Great Eros and Noon by Noor.
When asked for her thoughts on Shudu and the implications she may have on the modeling sphere, Carly Cushnie of Cushnie et Ochs said, "I think that the creation of Shudu should be appreciated as the beautiful piece of digital artwork that it is, but certainly not a sign of where the industry is headed. We're making such strides in the fashion industry in the way of diversity and inclusion, and we have such amazing real models to work with — ones who definitely cannot be replaced by a digital version."
Wilson, though, sees Shudu as a platform to uplift and bring awareness to various issues in fashion, including diversity.
"[Shudu] brings to the table a lot of topics and discussions about representation, even if it is of a critical nature," he says. "I want her to support developing economies and industries and be a vessel for that. With diversity, it's important to focus not just on what we see, the models, but also top-down diversity, where we focus on bringing diversity to creative directors, to fashion designers, to many different people because that way it will be more everlasting. That's what I want to see: a big change."
The criticism he alludes to happened online in March, when it was widely discovered that Shudu wasn't human. People began researching her and found that Wilson was her creator.
"A white photographer figured out a way to profit off of black women without ever having to pay one," wrote one Twitter user.
"Just one look at the images screams racist white guy fantasy," shared another.
Some critics, like the Twitter user quoted above, might say that Shudu is problematic for fashion because if hired for work, she'd potentially be taking jobs away from real-life models. This would likely have the most effect on dark-skinned models, who are already severely underrepresented in fashion.
When asked if this concerns him, Wilson says, "I don't think Shudu or other 3-D models take anything away. When you look at a company like Clo, they employ [90] people and that's a very small part of the 3-D industry. Eventually, if this catches on, people will be more and more employed. OK, one model might not be employed, but maybe 50 other people are [working] in order to take that kind of space. You have to be very lucky to be a model. You have to be born genetically beautiful in every way and pretty much perfect. What kind of world would be better: one where somebody who works hard, who's a talented artist can create a model or somebody who's born lucky?"
Wilson adds that so far, he hasn't made money off of Shudu. "Everything she's done up to this point has been off of my own back and a labor of love for me," he says.
He does see her partnering with brands, but only if it aligns with her message. And from a brand's perspective, Shudu is an excellent partner. She can age backward, forward or not at all. She can change anything from her hair to her body type quicker than any human could. She embodies a new concept of time and beauty — one that exists in an alternate world in which you can create the virtual version of you that you wish the real world could see.
As a photographer, Wilson has been taught to take away imperfections using tools like Photoshop. As a virtual designer, he had to add imperfections to make Shudu look as human as he could.
"As soon as you start to retouch a photo, it becomes fantasy, it's not real," he says. "We need to get it out of our heads that just because something is labeled as a photo makes it any more real than a digital creation. In some ways, digital creations can be more accurate to real life because you have to put in so much realism."
Like the two models Shudu previously posed with, we might all one day have our own digital counterparts. Years down the line, models could send their 3-D versions to work for them without ever physically leaving their beds. Designers could hold all-digital fashion shows. Customers could log onto their favorite web sites and let their avatars try on clothes for them.
With the power to create, the possibilities are endless.