L.A. Affairs: Three strikes, and online dating is out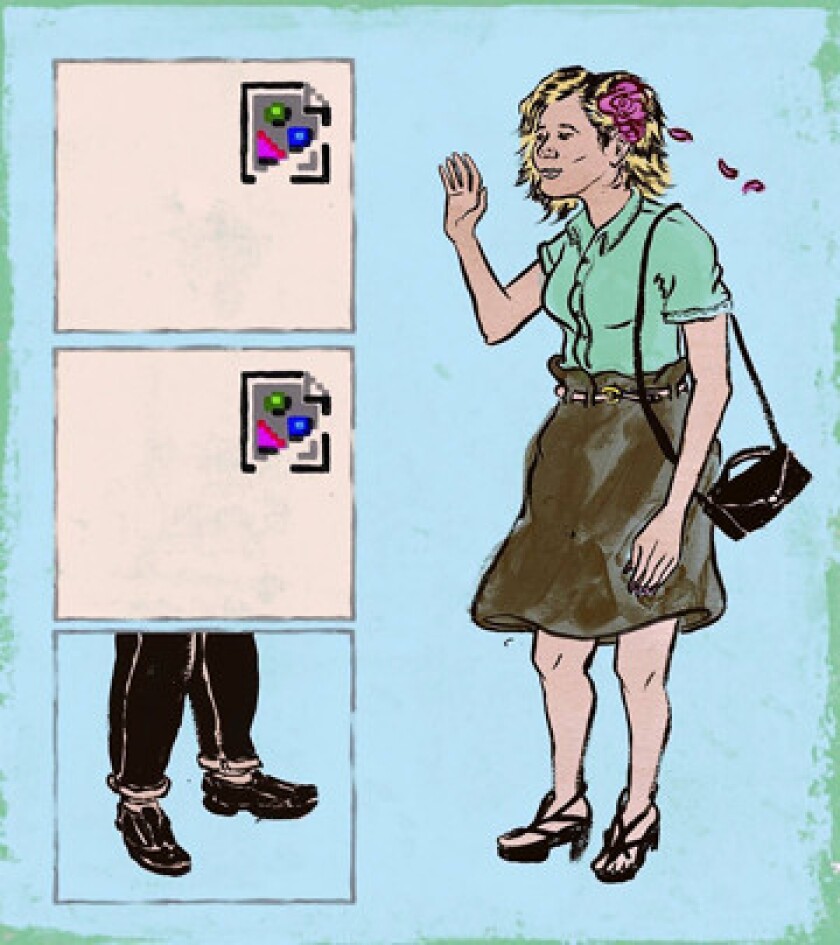 I am a girl of the new milieu. I have embraced technology with all of its bells and simulated whistles. I am wired to the max — Facebook- and Twitter-connected. My smartphone is plugged in to the outer reaches of the Internet. I purchase shoes, check out real estate and follow various friends on Pinterest. My electronic life has benefited me greatly in all but one area: online dating.
At first I drank the Kool-Aid like everyone else. It was easy, and I had a bevy of handsome, well-educated, highly desirable dudes to choose from — or so I thought. Here are a few of my online escapades:
Exhibit A: Leigh, mid-30s, divorced, two kids. He emailed; I emailed in return. I found him refreshing. He wasn't still spewing about his ex; they were actually pleasant to each other and co-parenting their children. I thought that was admirable. He was funny and light in his communications, so I thought, "Why not?" when he asked me out for coffee and cheesecake. He was a gentleman — accommodating, and pleasant in person.
At first our dates were textbook. We met in busy places: lunch at El Cholo, a stroll around the Norton Simon Museum, a fun day of bike riding in Santa Monica. After a few of those day outings, our first dinner was at Sushi Roku. I started to feel comfortable enough to begin dating him on a regular basis.
Then, after a couple of months, I started noticing Leigh would disappear for days at a time. No call. No email. I wasn't too put off at first. I had already met some of his extended family six weeks in, so I wasn't alarmed — until the first night he stood me up and didn't call afterward for days.
Needless to say, after my anger subsided, I forgave him.
We continued, although now I was starting to sense that his stories had holes. After he said he was on his way, he would arrive an hour or so late. He showed up in different cars. I was becoming suspicious.
He stood me up a second time but called six hours later. That prompted me to start digging. I found out that Leigh didn't live where he said he did. He wasn't technically divorced, and "Leigh" was one of several names he used. I didn't know who I was dating. I was done.
I swore off online dating for a while, but after some time, I gave it another shot.
Exhibit B: David. I was looking for a dance partner, and I was very specific in my profile. David's smile flashed across my screen — tall, handsome and Latino, professing moves that would set the dance floor on fire. I was in.
We agreed to meet at El Floridita restaurant on Vine, where we could get acquainted over dinner and dance to a live salsa band.
When we met at the door, I was caught up in gorgeousness. His smile was warm; his eyes, smoldering. His body was lean and solid. But it was an epic fail! This lovely, handsome man couldn't dance his way out of a paper bag. He had talked such a good game in his emails. But I was embarrassed, disappointed and livid.
When I asked him why he'd lied, he spun some story about wanting to go out with me because he thought I was pretty. His talk of dance was to reel me in. "I dance in clubs. Isn't that enough?" he asked. But I couldn't bear to stick around to see what else he was going to lie about.
Exhibit C: Ron, who didn't even make it to coffee-date status. Ron and I had met on dating site A (which shall remain nameless). We shared a few emails. He told me he was caring for his Down syndrome brother — who had seen my photo and urged him to contact me. Ron wrote a few cute stories about his sibling, and they tugged at my heartstrings.
The more I began to ask questions about his brother and his illness, the more Ron began insisting that we meet. He started to sound rather desperate and needy. Then, in one email, he mentioned that he had taught his brother about sex by watching pornography. Which was, to put it mildly, a red flag. I ceased communication with Ron immediately.
A year later, trying my luck on another dating site, I received a brand-new email from Ron (and his brother). He gave me the exact same story about how his Down syndrome brother encouraged him to email me. He didn't remember me at all, typing out the same old tired lies as before. So I emailed him back and asked how he and his brother were enjoying their adventures in porn.
I never heard from Ron again.
There it is: exhibits A, B and C. That's why I'm not interested in what the World Wide Web has in store for my dating life now. I absolutely refuse to allow my love life to enter into unharmonious union with online dating sites. I'd rather take my chances on real-life interactions. Online dating is one brave new world that this technology queen is going to shun.
Nicole Christopher is an author and photographer in Burbank.
L.A. Affairs chronicles dating, romance and relationships. Past columns are archived at latimes.com/laaffairs. If you have comments to share or a story to tell, write us at home@latimes.com.
---