Where to pick up some great bread for the holidays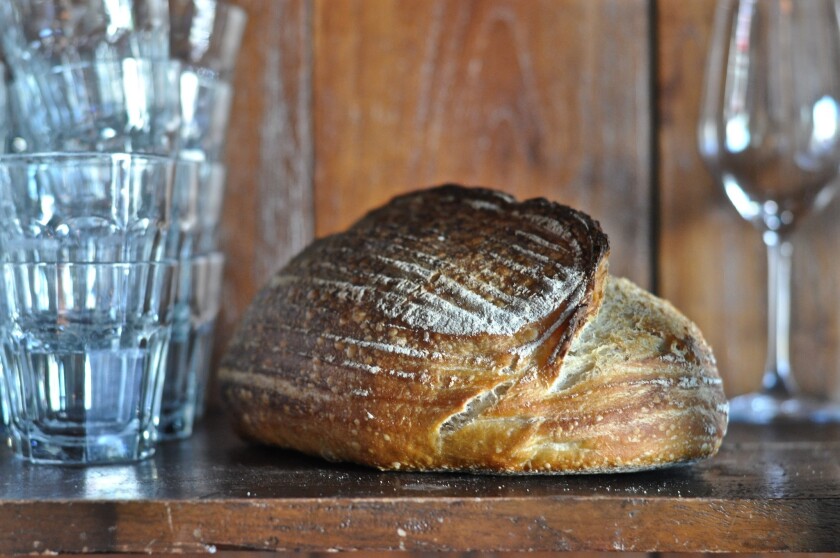 Unless you're the sort of person who copes with holiday stress by baking, you may not want to get up super early on Thanksgiving to bake your own bread. Rolls or quick bread maybe, but burnished sourdough boules? Not so much. Which is why bread can be a very good thing to pick up while you're doing your last minute shopping today.
Lucky for us, there are some very good restaurants and bakeries around town that are baking excellent bread. A basic round of country white, pain au levain or sourdough is likely as essential for the feast as a good bottle of wine. And you'll need a good loaf for one of those meals before the feast we tend to forget about, and which can work far better when arranged around a loaf or two — just add cheese and fish, for example, or make toast. Toast!
>>The ultimate Thanksgiving guide with recipes, tips and more
While there are a growing number of places baking good bread around town, here are four stand-outs. A reminder: bread is a daily, inherently ephemeral thing, so if you have specific needs, it's best to call ahead to make sure bakers have what you want on hand. Also, check out what's come out of the ovens — if not one loaf, then another — as bakers may be baking with flours they've just sourced, adding whole grains to old recipes, or trying out new things for the holidays. And in the unlikely event that you have leftover bread? One word: stuffing.
Bread Lounge — Ran Zimon has been baking bread in his bakery near the corner of 7th and Sante Fe long before the area became a food destination (thank you, Bestia). Zimon, a native of Israel who baked in Suzanne Goin's kitchens before opening his own bakery, uses his own levain in his breads, including his excellent baguettes and country whites, which come in two sizes. The shop is mostly a window into the large bakery (check out the MIWE deck ovens), and you can find pastries and sandwiches, as well as multigrain and nut breads. 700 S. Santa Fe Ave., Los Angeles, (213) 327-0782, www.breadlounge.com.
Clark Street — Baker Zack Hall has been selling his loaves at Grand Central Market for the last year or so, lately from a prettily rustic wooden cart near the Broadway side of the market (go to the end of the Egg Slut line and look for bread). Hall bakes miches, whole grain and country white boules, Swedish ryes and various baguettes, as well as smaller breads on occasion. Hall baked at Proof and Kenter Canyon, sends his breads to Trois Mec, and has a fondness for whole grains and Scandinavian baking techniques — thanks partly to frequent pilgrimages to Sweden, his wife's native country. 317 S. Broadway, Los Angeles, (310) 780-3510, www.facebook.com/clarkstreetbread.
Gjusta — Open for a little over a year in Venice, Travis Lett's companion restaurant to Gjelina is notable for many things — particularly its impressive baking program. Thus there are shelves of smoked fish, vinegars and the fritatta of the day, and more filled with repeating loaves of nicely burnished bread. The sourdough country loaf is one of the best in town at the moment, baked very dark and with a terrific flavor. There's more, of course: sprouted ryes, breads made with hemp and buckwheat and porridge. And yes, get some baklava croissants while you're there. 310 Sunset Ave., Venice, (310) 314-0320, www.gjusta.com.
Republique — It is fitting, of course, that you can get some pretty great loaves of bread at the former home of Nancy Silverton's La Brea Bakery. Pastry chef Margarita Manzke is baking some terrific breads, in addition to the stunning pastries on display when you walk into the restaurant during the day — dark golden loaves of sourdough, great baguettes and whole grain breads made with flour they often source from local millers. If you stay for breakfast after picking up some bread, you can order that morning's bread with jam and butter, or parked atop a Staub pan of shakshuka. 624 S. La Brea Ave., Los Angeles, (310) 362-6115, republiquela.com.
Because taking pictures of food is almost as much fun as eating it, on Instagram @latimesfood.
ALSO:
13 wines for the holiday table at $25 or under
Ramen, Nagoya-style, at the new Anzutei ramen shop
---
Get our weekly Tasting Notes newsletter for reviews, news and more.
You may occasionally receive promotional content from the Los Angeles Times.