Nutella pastries and schnitzel: BierBeisl Imbiss opens downtown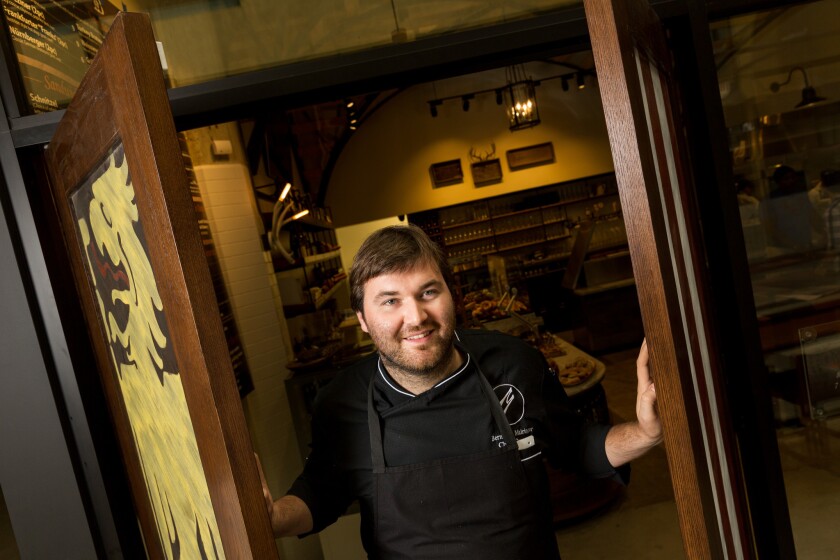 Originally slated to open in February, BierBeisl Imbiss, the casual Austrian restaurant from Bernhard Mairinger, will finally open in the Spring Street Arcade downtown on July 9.
What took so long? Contractor problems, says Mairinger. No surprise there.
But now the door is painted with the flag of Mairinger's home region in upper Austria. Outside in front, chairs are lined up along a skinny wooden counter. In the wholesale bakery next door, two young master bakers from Austria are busy perfecting recipes for the special breads and seasonal pastries that will be served in the restaurant and available for takeout. Shelves are stacked with wine glasses and giant beer steins. And as of last week, training began for newly hired waiters and kitchen staff.
How do you spell BierBeisl, a manager calls out to the dozen or so new hires assembled at the stammtisch, or regulars' table in the middle of the restaurant. B. I. E. R. B. E. I. S. L., they shout back, as they study the newly minted menu. A chef explains the dishes and the talk of schnitzel, sausages on buns and Sacher Torte has everybody hungry.
What exactly is an imbiss? "Imbiss stands for snack. In Austria, an imbiss stand is just a little shack with a window where you go to pick up a sausage and a can of beer or soda. They're all over the place in crowded city centers, at train or metro stations — anywhere there is late-night foot trffic for people to stop by for a quick bite," explains Mairinger.
"Here, I want to take imbiss to another level, with proper seating and food made from scratch from good ingredients. We try to be as organic as possible. We're also using only recyclable, compostable utensils, cups, plates and bowls."
Behind the counter where customers will queue for pastries and freshly prepared sandwiches, a waiter practices making einspanner. That's a typical Viennese coffee made with a double shot of espresso and topped with lots of unsweetened whipped cream and a dusting of cocoa powder.
Once BierBeisl Imbiss opens each day at 8 a.m., you'll be able to order an einspanner (or a cappuccino or latte) with a flaky pastry layered with walnuts and hazelnuts, a snail with marzipan topped with a braised peach and vanilla cream, and other seasonal morning pastries. There will be fold-over Danish-style pastry with goat's milk farmer's cheese — and croissants filled with Nutella.
"There's hundreds and hundreds of pastries we can make," says Mairinger. "And the same with breads."
The bakery will turn out regional Austrian breads and sandwich rolls too. The crusty house bread is enriched with pork lard and flavored with caraway and coriander seeds. Grist & Toll in Pasadena is milling a special rye flour for the 100% rye bread. The bakers are doing organic pretzels too, including one flavored with Gruyère cheese and pumpkin seeds.
Until 2 a.m., you'll be able to order classic Austrian sandwiches on a choice of breads or buns. Schnitzel is either turkey or pork, served on a choice of breads with marinated cucumbers and lingonberry spread.
Mairinger is excited about a couple of new sausages he's commissioned from Continental Sausage in Glendale. One is a peppery pork breakfast sausage called Grillwurst that can be seared at a higher temperature without bursting.
The other is the popular Austrian street food sausage called Bosna. And he's doing it just like it's done in Salzburg, on a special bosna roll. Flavored with garlic, turmeric and curry, the pork and veal sausage is yellow. And it comes on that roll with brown mustard and ketchup, paper-thin raw red onions and a dusting of curry powder. "It's incredible," says Mairinger.
The chef remembers the days as chef at Patina when he and his crew finished up work at 1 a.m., and they ended up eating tacos from a truck every night because nothing else was open downtown. He's hoping BierBeisl Imbiss will attract an industry and late-night crowd.
The Austrian-style Börger (burger) may be a big draw. It's a 50-50 blend of Snake River Farms pork and beef with a fried egg on top, a smear of heirloom tomato confit ketchup and a couple of pepperoncini peppers on a homemade bun.
What's to drink? Austrian beer, of course, even one with Mairinger's own label that he's making with a brewer near his hometown. He'll have 10 beers on tap, with two of them rotating out monthly. Beer will come in 10-ounce, 16-ounce, 33-ounce and 66-ounce glasses or steins. The latter is actually two 33-ounce glasses. And they'll all be the same price for the same size. He'll even give you a discount if you buy 10.
Mairinger is not encouraging people to consume 10 beers at a time — the idea is to sell 10 "chips" (something like poker chips) at a time. When you want a second beer, instead of standing in line to pay again, you'll simply step up to the bar and hand over a chip and get your beer. And they never expire.
In order to encourage customers to try different wines, and not just choose by the cost, all the white wines are the same price by the glass or bottle. The same goes for the reds. Right now most are from Austria, but he's also collaborating with Santa Barbara County winemaker Andrew Murray for a Syrah called "Tous Les Jours" (everyday) and a Pinot Noir called "Stammtisch."
With the construction delayed for so long, Mairinger had plenty of time to refine the BierBeisl Imbiss concept. To carry all your food to the table, he designed — and patented — a special wooden tray with inserts for a wooden vase to hold bread or French fries, a beer flight of three, or for wine drinkers, a slot a wine glass slides into so it won't topple over. Each tray is emblazoned with an order number.
Want to take a guess where the next BierBeisl Imbiss will show up? Meanwhile, Mairinger is negotiating for a space on the Westside to relocate his now-shuttered fine dining restaurant BierBeisl.
BierBeisl Imbiss, Spring Arcade Building, 541 S. Spring St., Los Angeles, (213) 935-8035, www.bierbeisl-imbiss.com.
Follow @sirenevirbila for more on food and wine.
---
Get our weekly Tasting Notes newsletter for reviews, news and more from critics Bill Addison and Patricia Escárcega.
You may occasionally receive promotional content from the Los Angeles Times.