Coachella 2014: Night + Market, Sugarfish, Outstanding in the Field and more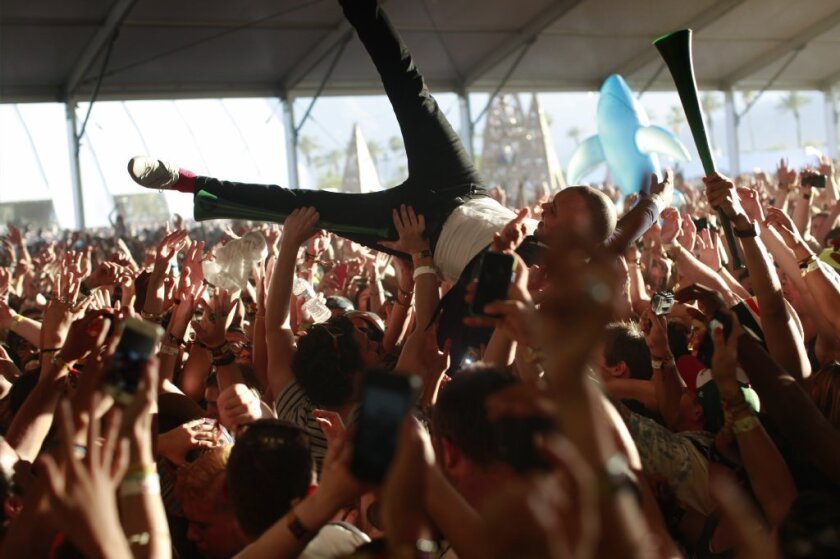 This year's dining options at the Coachella music festival, where about 90,000 people are expected to descend upon the desert town of Indio over two April weekends, will include more than Epic Burritos, Spicy Pie, Kogi and Ruth Chris Steak House. Among the expanded food options are restaurants including Crossroads, Mexicali Taco & Co., Beer Belly, Night + Market and more, along with a special Outstanding in the Field event featuring chefs such as the Tasting Kitchen's Casey Lane, Sotto's Steve Samson and Superba Snack Bar's Jason Neroni.
For those traveling 120 miles from Los Angeles, "you don't have to change the way you eat when you eat at Coachella. If you want to eat at Sugarfish, go to Sugarfish. If you want to eat at Night + Market, go to Night + Market," says Coachella founder Paul Tollett.
Night + Market and Sugarfish are among the dozens of Los Angeles restaurants that will populate the festival. Tollett notes that Coachella's dining options have expanded each year, and this year the venue also will include an additional five acres.
In the Terrace area of Coachella: Crossroads, Strippedback UK, Mexicali Taco & Co., Night + Market and in a 21-and-older section, Mohawk Bend, Beer Belly and Tony's Darts Away. The Terrace also will feature yurts -- each 400 to 500 square feet, with seating -- that will house Stumptown, Salt & Straw Ice Cream and local crafters curated by Artisanal LA, including Bon Puf, Sweet Clementine's, the Fancy Boyz, Crazy Go Nuts!, Le Bon Garcon, Z Confections, YES Bar, Crème Caramel LA and Dried & True Beef Jerky.
For VIP pass holders who have access to the Rose Garden, there will be four bars from Cedd Moses, including Honeycut, Seven Grand Whiskey Bar, Caña Rum Bar and Las Perlas. Rose Garden dining options include pop-ups from Sugarfish, the Church Key, Josef Centeno Group (Bar Ama, Baco Mercat, Orsa & Winston) and Semi Sweet Bakery.
Roving dinner Outstanding in the Field will for the first time host an event at a music festival. A Coachella package that includes the dinner is now available for purchase online at coachella.com: $225 for dinner only, dinner with a three-day general-admission pass for $600; or dinner with a three-day VIP pass for $1,024. The dinner will include a cocktail from Goldie's or Eveleigh, beer and wine, and four courses served family-style and cooked by Casey Lane (The Tasting Kitchen), Steve Samson (Sotto), Charlie Parker (Freddy Smalls), Jason Neroni (Superba Snack Bar), Rory Herrmann (Broad Museum Restaurant) and Clark Staub (Full of Life Flatbread).
"There's just an explosion of great food in Southern California right now," Tollett said. "With great music we want great food, and we're always trying to enhance Coachella on all fronts."
There's something for everyone, he said, whether the festival-goer is on a budget, just wants a three-minute stop for pizza on the way to the next set, or is in the mood for a multi-course meal.
For early morning and late-night eats, campers at the festival can snack on comfort food from Short Order and coffee from Stumptown and Clover Juice.
Also, Tollett said, Spicy Pie is still there.
For more information about Coachella dining, go to www.coachella.com/specialtyfoodcraftspirits.
ALSO:
Chef of the Moment: Alain Passard comes to L.A.
Farmshop's Joshua Drew to open Cordoba in Los Feliz
Golden Road Brewing's new easy-drinking lager 329 Days of Sun
---
Get our new Cooking newsletter.
You may occasionally receive promotional content from the Los Angeles Times.