Alvin Cailan and Bruce Kalman lead the chef lineup at Coachella. Plus how to buy last-minute festival wristbands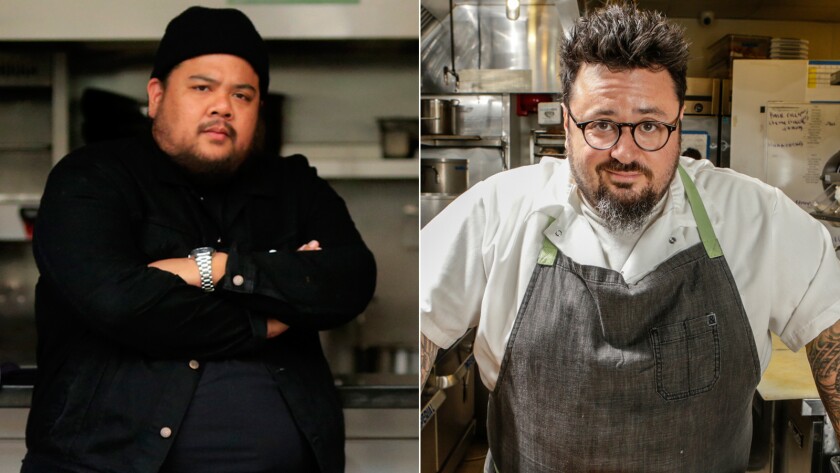 It may be hard to believe, but it's actually time to start thinking about the Coachella Valley Music and Arts Festival again. And it's also time to decide how well you'll be eating at this year's festival, which takes place April 14-16 and 21-23 at the Empire Polo Club in Indio.
Under the direction of Culinary Director Nic Adler, the festival has become one of the most exciting places to eat in the state, with chefs from across the country headed to the desert to participate in the fourth iteration of the Outstanding in the Field pop-up dinners at Coachella. The pop-up dinner crew is known for creating elaborate dinner experiences in unexpected places, including inside secret sea caves and rooftop gardens. At the festival, picture a long table set with a tablecloth, actual dinnerware and wine glasses, in a VIP area.
The dinners will take place each night of both weekends of the festival, headlined by some of L.A.'s best chefs. This year's dinners will feature Neal Fraser (Redbird), Alvin Cailan (Eggslut), Nakul and Arjun Mahendro (Badmaash) and Bruce Kalman (Union), joined by Donnie Masterton (the Restaurant in Mexico), Paul Kahan (the Publican in Chicago), Jamie Bissonnette (Toro in NYC and Boston), Jamie DeRosa and Bissonnette's partner Ken Oringer. And that's just the lineup for the first weekend.
"Early on in the festival, I was like calling and begging them [the chefs] just to even listen to our pitch," said Adler, whose father is Lou Adler, the producer who opened the Roxy on Sunset Boulevard in 1973. "The chef, music festival thing has really grown in a few years."
The second weekend will feature dinners by Jet Tila, Perry Cheung (Phorage), Louis Tikaram (E.P. & L.P.), Vartan Abgaryan (71 Above), Charles Olalia (Ricebar), Eduardo Ruiz (formerly of the now-closed (Corazón y Miel), Nyesha Arrington (formerly of Leona), Antonia Lofaso (Scopa Italian Roots) and Dakota Weiss (Estrella).
"With Alvin and Nakul we have some super new school guys that are really breaking the rules," said Adler. "And then we have Bruce, who I feel wrote the rules, so it's a nice mix this year."
Outstanding in the Field pop-up dinner tickets are $225 and include dinner and beverages. You'll need a wristband to the festival to get into the dinners. If you don't have one yet, ticket packages that include a wristband to the festival and an Outstanding in the Field dinner are available for purchase online.
"The Coachella backstage, instead of just guitarists from different bands hanging out, it has turned into 20 chefs that are all looking over to see what the other is doing, and hanging out after their shifts, watching the shows," said Adler.
"For me it's been amazing to see Ray Garcia [Broken Spanish] laughing with Steve Samson [Sotto] while Jason Neroni [Rose Cafe] walks by. That's my kind of backstage."