Why you're drinking cucumber watermelon mojitos after work tonight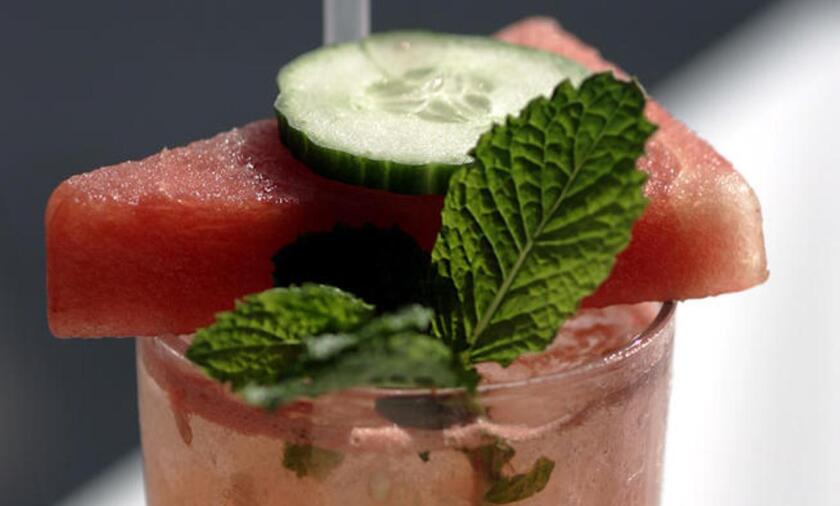 You don't need a special holiday -- or a magical hour -- to lift a celebratory cocktail. Sometimes, just making it through the day is enough. Today, let there be cucumber and watermelon mojitos.
Muddle fresh watermelon with sliced cucumber, mint, lime juice and simple syrup in a cocktail shaker. Add some soju (you can substitute rum if you'd like) and shake your creation with ice. Strain the cocktail into a tall glass garnished with additional watermelon, cucumber and mint before serving.
CUCUMBER WATERMELON MOJITO
Total time: 5 minutes | Serves 1
Note: Adapted by Ryan Magarian from a drink developed for Katsuya. Make a simple syrup by boiling granulated sugar in an equal amount of water until the sugar dissolves; allow to cool.
4 triangles seedless watermelon, about 3 inches high and 1 inch thick, divided
7 cucumber slices, divided (6 of them seeded, 1 for garnish)
3 large sprigs mint, divided
1 1/2 ounces soju
3/4 ounce fresh lime juice
3/4 ounce simple syrup
1/2 ounce ginger ale
1. In a shaker, add 3 watermelon triangles, 6 slices of cucumber, 2 sprigs of mint, the lime juice and the syrup. Hand press with a muddler.
2. Add the soju and fill the shaker with ice. Shake vigorously for 6 seconds.
3. Strain over fresh ice into a tall glass and top with the ginger ale.
4. Place a watermelon triangle and a cucumber slice on a toothpick and place in glass for garnish along with a sprig of mint.
Each serving: 97 calories; 0 protein; 13 grams carbohydrates; 0 fiber; 0 fat; 0 saturated fat; 0 cholesterol; 2 mg. sodium.
Love cooking as much as I do? Follow me @noellecarter
ALSO:
Sign up for our In the Kitchen newsletter
From one rotisserie chicken, 25 dinner ideas
Game on: 3 great recipes for your next tailgate party
---
Get our weekly Tasting Notes newsletter for reviews, news and more.
You may occasionally receive promotional content from the Los Angeles Times.