Wines to buy in the aftermath of the California wine country fires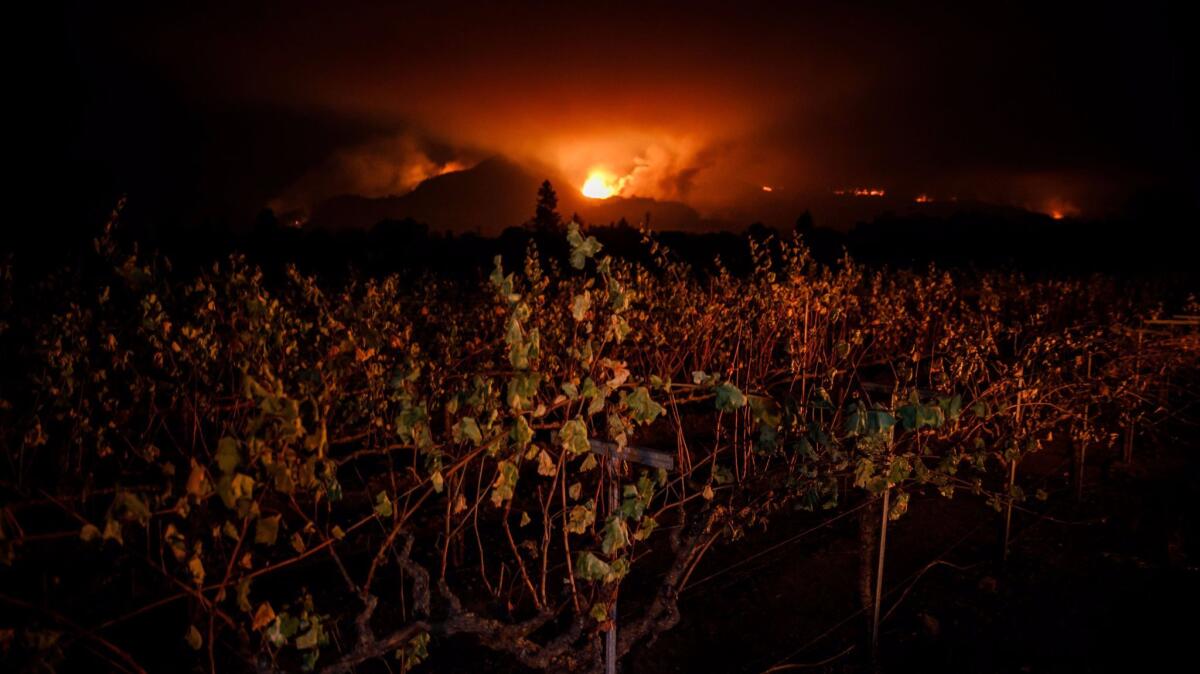 The Northern California wine country fires have been extinguished. The devastation is almost incalculable in its long-term impact. But one thing that's sure is that the residents of Sonoma and Napa counties are ready to rebuild and move on.
The valleys are still full of great inns, bars, getaways, resorts, shops and especially restaurants: Oenotri, the French Laundry, Bouchon, Bistro Jeanty, Redd and Press have all reopened, as has Compline, a wine bar founded by master sommelier Matt Stamp (with Ryan Stetins), which opened one month before the fires erupted. Go buy a bottle there.
Don't worry about the smoke
Consider spending some of your discretionary wine income on wines from the affected areas. Please do not worry about smoke taint. That is a bridge to cross in a year or two, if at all. Even if it does become an issue, it has zero effect on what's on the shelves and warehouses right now. The wine you'll see in the marketplace for at least the next six months will not have been near so much as a wisp of smoke. So buy with confidence.
Sonoma strong
Of the thousands of structures lost in the fires, the vast majority came from the county: hundreds of workers lost homes, cars, possessions. Nearly everyone has a story of loss, or one once removed.
A relatively few number of wineries were destroyed by fire, but Domaine Carneros, Frey (in the Redwood Valley), Nicholson Ranch and Chateau St. Jean sustained damage; Paradise Ridge, a small winery that mostly relied on tasting room sales, was completely destroyed.
One of the oldest wineries in the county, Gundlach Bundschu, a winery established on Sonoma Mountain in 1858 by German immigrants, lost a family residence built in 1906, though the winery was spared. Gun Bun (as it's known) makes a number of heritage wines from older vineyards, but my perennial favorite is its old-vine Gewürztraminer, anchored by plantings that go back to the late '60s. It's always floral and yet generous in its citrus flavors, supple and firm, a go to for a Thai feast (about $18, widely available).
The Zin Brigade
Zinfandel might be considered something of an endangered species in Northern California at present, when growers can get several times the price-per-ton for Cabernet Sauvignon. Many Zin sites have been relegated to the margins of Napa and Sonoma.
At least three important Zinfandel producers were affected by the fire. Lagier-Meredith Vineyard on Mt. Veeder is primarily a producer of Syrah but makes Malbec, Mondeuse and a darkly suave Zinfandel it calls Tribidrag, a name for the variety in its ancestral region on the Dalmatian Coast. The Lagier-Meredith Tribidrag is about $45 at the winery, lagiermeredith.com.
Storybook Mountain Vineyard in Calistoga stood in the path of the Tubbs fire as it roared across the western reaches of Calistoga. Proprietor Jerry Seps lost stores of his reserves. A huge loss, since these are consistently among the most structured, elegant, refined Zinfandels in California. You'll find his Mayacamas Range Zin at Total Wine, K&L Wine Merchants, and Hi-Time for about $35.
Finally, Sky Vineyards, a Zin house at the top of Mt. Veeder, lost its homestead, though the winery was spared. Sky Vineyards founder Lore Segal is living in a tent inside the winery while rebuilding plans take shape.
Sky Vineyards Zins are marvelously rustic, gripping red wines, gruffly reflective of their mountain terroir. They're sparsely distributed in Southern California — you can buy a few older vintages at Augustine Wine Bar in Sherman Oaks — barring that, order directly from the winery, skyvineyards.com (about $40).
If price is no object
The image of Signorello's winery, its stone walls issuing a column of fire, has become one of the iconic images of the fires. But the brand is still open for business, and most of its wines were stored off the property. The 2014 Cabernets and Bordeaux blends are in the market, made in an unabashedly powerful, oak-driven style, so if you like your Cabs big, go big with Signorello. Other smaller boutique brands such as Palmaz, Pulido-Walker and CAVUS lost some buildings and some vines; most of these are on the high end (from $100-$175) and would make a statement at Christmas dinner.
Then there's Mayacamas, a winery established in 1889 and run in a stubbornly traditional fashion for 45 years by one man, Robert Travers. Mayacamas was sold in 2014 to a consortium of investors who refurbished the estate and one of its outbuildings into a hospitality room. That building was destroyed in the fires, and it's been reported that the wine from the 2017 vintage may have also been affected. Which leaves the current vintage of 2013 for you to consider (about $125, at Wally's, John & Pete's, Vendome and elsewhere), an August, traditional wine from one of Napa's most prestigious and heralded properties.
White Rock Vineyards, which was destroyed by the Atlas fire, has a similar story, founded in 1870 and revived a century later by Henry and Claire Vandendriessche. For years they made just an estate Chardonnay and a Claret, both traditional, classical, quietly graceful wines from another Napa era (about $60 for the Claret, at Wine Country, Wine House and K&L Wine). They're still in business, says the family, "charred but stalwart," and their wines, not to mention their resolve, are worthy of your attention.
ALSO:
Thanksgiving recipes from our food writers' home kitchens
20 casserole recipes, perfect for fall and Thanksgiving planning
Check out these Hungarian Isler cookies, and enter our Holiday Cookie Bake-off
Get our L.A. Goes Out newsletter, with the week's best events, to help you explore and experience our city.
You may occasionally receive promotional content from the Los Angeles Times.