One chef's road from addiction and fine dining to the teaching kitchen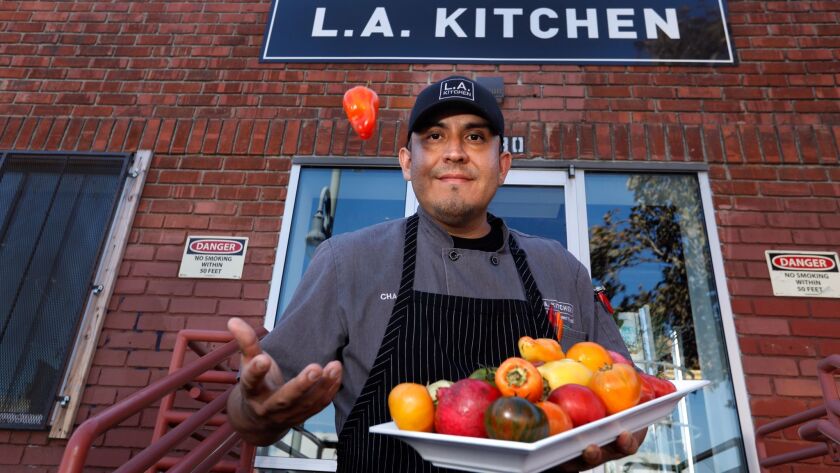 When Charlie Negrete started working in restaurant kitchens as a teenager, he was already an addict. Growing up in East Los Angeles, he'd witnessed so much drug use among his family members that he saw nothing unusual about developing a meth habit in middle school. He was thrilled when the owner of the Alameda restaurant where he was washing dishes at 15 started getting him high after work.
Negrete was also getting promoted — from dishes to making salads, then on to the dessert station — and it seemed a nice life. He figured it would be cool to end up like the restaurant's owner one day, a guy "walking around with a glass of wine and a joint. Nice cars in the driveway."
For a while Negrete had that life, cooking at restaurants such as Drago Centro and the Jonathan Club and closing down bars every night of the week. Now at 38 and four years sober, Negrete has found something much more compelling than a nice life. He's found his life's work.
Negrete is the chef instructor at L.A. Kitchen, a nonprofit that runs a program that trains formerly homeless or incarcerated adults alongside kids aging out of the foster care system to begin their culinary careers. For the last 10 months, he's presided over four classes, usually consisting of 15 people each, and helped launch them onto a path he's long been passionate about.
Negrete's journey toward L.A. Kitchen began when he managed to get clean at 32, after multiple suicide attempts and accidental overdoses, using what he calls "The One-Step Program."
Negrete has found something much more compelling than a nice life. He's found his life's work.
"I ended up doing this one thing that they call church, Bible and Jesus. So that really was my saving grace," he says.
Negrete's call to a career change came from that place of clarity. At first, it took him out of the kitchen entirely. After his father's death, two years into Negrete's sobriety, Negrete reinvented himself as a drug-and-alcohol counselor.
"I get a phone call out of left field, and it was the police department saying that, 'Hey, we found your father homeless in an alley in Corona. Deceased.' They send me the autopsy report, and it was a bad situation right there."
But the rehab facility where he was working shut down abruptly, three days after Negrete and his wife went into escrow on a house. He needed paying work, stat, so he ended up back in the kitchen, this time working at Bottega Louie, where "the floors are literally gold-engraved."
It was purely by chance — a friend who saw a Craigslist ad — that Negrete's dream job found him.
"The people are coming off the streets, homeless, just like my father," Negrete says of his students. "People coming out of addiction, like me. People coming out of jail, like me. And they're gonna get trained in a career that I have been thriving in practically my whole life? It all just married together."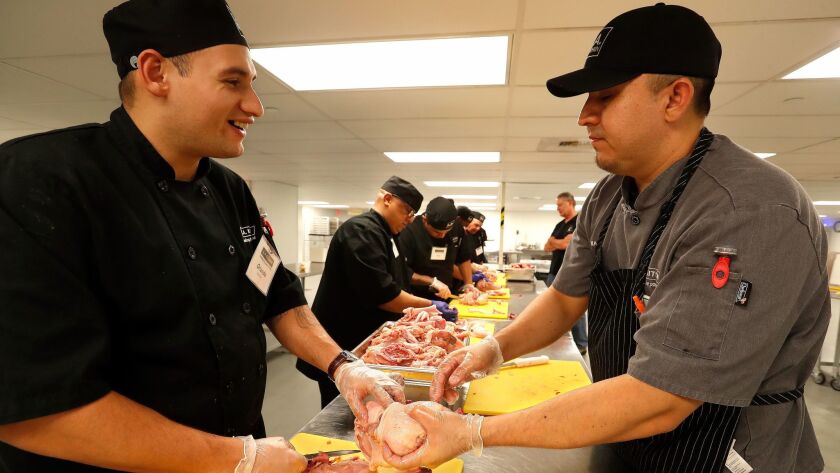 Negrete levels with his students immediately about where he's coming from and what he can offer them.
"On Day One, I give them all of this. I give them all my worst, all my crazy. And I say, 'Look. I'm giving you 110% percent of me, and I'm expecting the same from you guys.'"
Negrete is an accomplished chef but had no training as a teacher, so he relied on his military background — he spent four years in the Navy between ages 18 and 22 — as well as a deep well of industry connections to help him create the structure of a curriculum.
"I only have eight weeks with them, and I want them to learn everything," he says. "So I get with my buds, like, all right, we've hired prep cooks, we've hired dishwashers. We've promoted prep cooks to line cooks, we've promoted line cooks to lead lines. We've promoted people to sous chefs. We know what it takes."
What it takes is a relentless stream of questioning on every aspect of kitchen life. "What's a blanch? What temperature does water boil, simmer, freeze? What is a steam? What are three ways you can steam in the kitchen? Sear? Maillard reaction: What temperature? Stock. That could go into many things, stock, a whole encyclopedia, but I give 'em five. So when they get to the internship site, they're not super-green. They're telling me that they're training dudes, so I'm, like, that's what's up."
On subjects on where he's not an expert, Negrete calls on old colleagues to supplement his knowledge. Once a week, he brings in a guest chef from a Los Angeles restaurant: Recently, chef Sang Yoon of Father's Office and Lukshon taught a class on liquid nitrogen in the test kitchen. José Andrés, the Spanish chef whose restaurants include the Bazaar in Beverly Hills as well as many restaurants in Washington, D.C., spoke about inspiration, motivation and new projects. And Sarintip "Jazz" Singsanong from the Thai restaurant Jitlada was the one to teach students about her country's cuisine.
Negrete also has former students return to give testimonials and assure the current class that he isn't kidding about just how challenging and fast-paced a professional restaurant kitchen is.
"I used to be chasing cooking for people who had the most money," Negrete says. He'd come home and brag about it, telling his wife, "Look who I cooked for!" Negrete says things are different these days. "Now it's, like: Look who I get to cook for and get to train. I see a piece of me and my father and my family in every single graduate."
---
Get our new Cooking newsletter.
You may occasionally receive promotional content from the Los Angeles Times.