Cooking for comfort? Anthony Bourdain's rich lasagna Bolognese is one of our favorites
Like many fellow cooks, I came of age reading Anthony Bourdain's "Kitchen Confidential" while studying in culinary school in 2003 and planning for a career around food. Bourdain's book was a glimpse into the down-and-dirty-world of real kitchens. While the newly formed Food Network revolved around well-lit, stylized re-creations of recipes for the home cook using a captive audience and magic words like "Bam!," Bourdain showed what it was like to work in the sweaty, curse-filled trenches of the real world — but still managed to make it seem cool.
Bourdain was found dead Friday in his hotel room in France, according to CNN. The chef, writer and T.V. host was there working on an episode of his show "Parts Unknown."
I'll never forget my first true line job. It was in New Orleans, at the height of Mardi Gras, and I worked the fryer and garde manger stations. The cooks were too close for comfort, the room was hot and sweaty, and adrenaline and drugs made the atmosphere seem like a Lewis Carroll-inspired fever dream. It was brutal. And possibly the best time of my life. I still have scars on my arms — tattoo-like memories from frying ingredients that went into probably every dish that went out the kitchen window. There are the friendships I forged with misfits like me in the trenches, particularly Paul, the cook who taught me my station, and the only one I would trust with my knives. (And, incidentally, one who spent 18 years behind bars for murder before coming to work at the restaurant.)
I have many of Bourdain's books, but it's his cookbooks that tie me most closely to the kitchen, and, in a sense, to him. His "Les Halles" is a great cookbook, full of quintessential bistro-style recipes like his simple but wonderful take on Moules Marinieres. But it's his last cookbook, "Appetites," that I keep coming back to when I want to cook for friends. He has an unapologetically rich lasagna Bolognese, heavy on the bechamel, and made with the perfect trinity of pork, veal and beef. Bookended with chicken livers and tons of cheese, it's almost too rich, and just perfect when you're craving a needed plate of pure comfort under a layer of melted mozzarella. Which is what so many of us need now.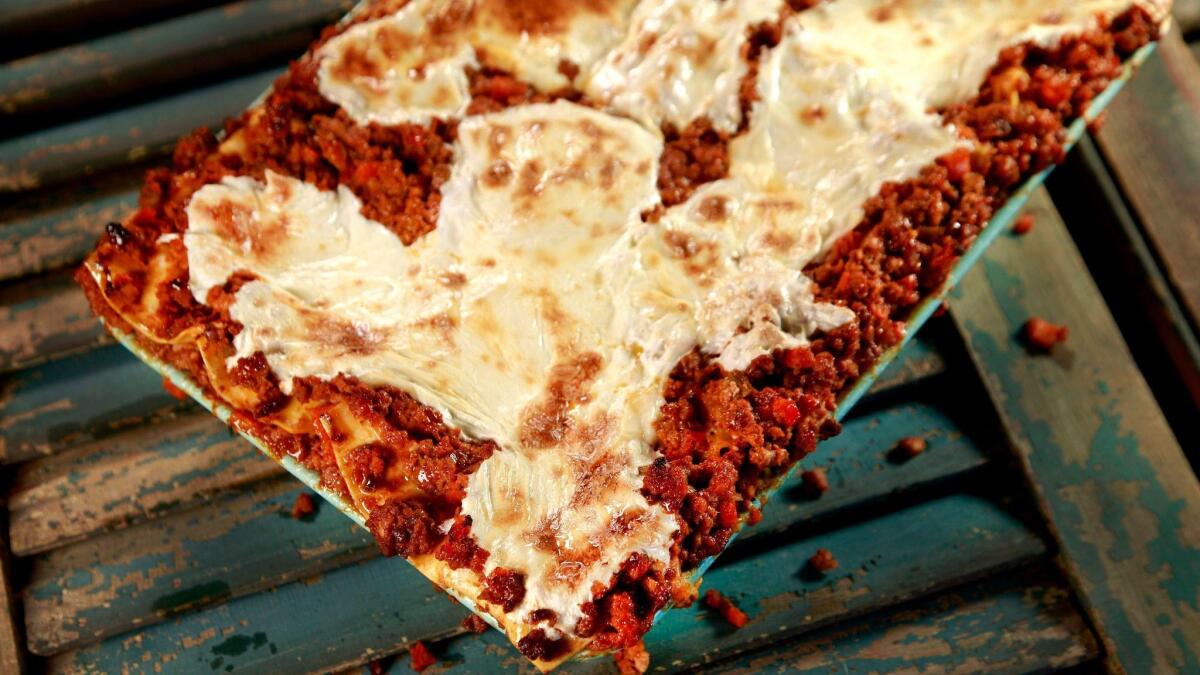 Total time: About 4 hours, plus cooling time | Serves 12 to 16
Note: Adapted from a recipe in "Appetites: A Cookbook" by Anthony Bourdain.
BECHAMEL SAUCE
6 tablespoons butter
6 tablespoons flour
1 quart milk
Salt and pepper
Pinch freshly ground nutmeg, optional
1. In a medium, heavy-bottom saucepan, heat the butter over medium heat until it foams and subsides. Whisk in the flour and stir it well using a wooden spoon, incorporating it into the butter until a dry paste forms (a roux). Reduce the heat and continue to cook and stir, taking care not to let the mixture brown.
2. Meanwhile, in a large saucepan, bring the milk to a simmer, then gradually whisk it into the pan with the roux, continuing to whisk until the mixture is smooth. Season with 1/2 teaspoon salt and a pinch of pepper, or to taste, along with the nutmeg, if using. Continue to cook over medium-low heat, stirring regularly, until the sauce is thick enough to coat the back of a wooden spoon, about 10 minutes. This makes about 4 cups bechamel.
LASAGNA BOLOGNESE
3 tablespoons olive oil, divided
1 large white or yellow onion, finely chopped
2 large or 3 medium carrots, finely chopped
3 ribs celery, finely chopped
4 garlic cloves, finely chopped
½ teaspoon fresh thyme leaves
Salt and freshly ground black pepper
½ pound chicken livers, trimmed of connective tissue and fat and finely chopped
¾ pound ground beef chuck
¾ pound ground veal
¾ pound ground pork
¾ cup tomato paste (about 6 ounces)
1 cup Vermentino, Trebbiano or other Tuscan white wine
1 ½ cups milk
2 bay leaves
About 1 pound dry, flat lasagne noodles
4 cups bechamel sauce
¾ cup finely grated Parmigiano-Reggiano cheese
6 ounces fresh mozzarella cheese, thinly sliced
1. To make the Bolognese sauce, in a medium, heavy-bottom pot, heat 2 tablespoons oil over medium-high heat. Add the onion, carrots, celery, garlic and thyme and season with ½ teaspoon salt and several grinds of pepper, or to taste. Cook, stirring regularly using a wooden spoon, until the vegetables are tender and have released their juices, 7 to 9 minutes. Stir in the livers and cook over high heat for 2 minutes, then add the beef, veal and pork, stirring and breaking up over high heat. Season with 1 teaspoon salt and several grinds pepper, or to taste. Continue to cook over high heat until the meat is brown, stirring regularly and scraping the bottom of the pan as necessary to keep the meat and vegetables from scorching.
2. Once the meat is browned, stir in the tomato paste over medium heat. Cook for about 20 minutes, stirring regularly, to marry the flavors. Add the wine, bring to a boil and cook until the wine is reduced by half, then add the milk and bay leaves and bring to a boil. Reduce the heat to a simmer and cook for 1½ to 2 hours, stirring occasionally. You may need to add a bit of water (or chicken or veal stock, if you have it) to thin the sauce if it thickens too much.
3. Taste the sauce and season with 1 teaspoon salt and several grinds of pepper, or as needed. Remove from heat and stir to release the steam and allow it to cool slightly. Skim the fat off the top with a ladle and discard.
4. Heat the oven to 350 degrees.
5. Coat the inside of a 13-inch by 9-inch (or similar size) baking dish with the remaining tablespoon oil. Cover the bottom of the dish with a layer of bechamel. Sprinkle over some grated cheese, then top with a layer of noodles. Top the noodles with a layer of Bolognese sauce, and repeat with the bechamel, grated cheese, noodles, and Bolognese until the pan is filled to the top. The top layer should be Bolognese, dotted with bechamel, with thin slices of mozzarella laid across the top.
6. Place the baking dish on a foil-lined sheet pan and bake in the oven until the lasagna is browned on top and beginning to bubble, about 50 minutes. Remove and set aside to cool. If you must serve it the day you've made it, set it aside to rest for 15 minutes before slicing. For best results, allow the lasagna to cool completely and refrigerate overnight. The next day, reheat at 350 degrees, covered loosely with foil, until bubbling. Remove from heat and rest 20 minutes before serving.
Each of 16 servings: Calories 452; Protein 24 grams; Carbohydrates 33 grams; Fiber 2 grams; Fat 23 grams; Saturated fat 11 grams; Cholesterol 120 mg; Sugar 8 grams; Sodium 574 mg
If you or a loved one is considering suicide, please call the National Suicide Prevention Lifeline at (800) 273-8255.
Get our L.A. Goes Out newsletter, with the week's best events, to help you explore and experience our city.
You may occasionally receive promotional content from the Los Angeles Times.