This Navy vet turned fishmonger is smoking and curing some of L.A.'s best sustainable seafood
Brandon Gray is the culinary director at Michael Cimarusti's Cape Seafood and Provisions.
(Myung J. Chun / Los Angeles Times)
The cold smoked salmon pastrami is inspired by Brandon Gray's Los Angeles childhood, in honor of Langers.
(Myung J. Chun / Los Angeles Times)
A black gill rockfish from Santa Barbara is cleaned at Cape Seafood and Provisions.
(Myung J. Chun / Los Angeles Times )
Smoked scallops at Cape Seafood and Provisions.
(Myung J. Chun / Los Angeles Times)
Striper collar and cheeks, from top, smoked salmon collar and cheeks and smoked albacore at Cape Seafood and Provisions.
(Myung J. Chun / Los Angeles Times)
Cape Seafood and Provisions leaders, from left, culinary director Brandon Gray, chef and owner Michael Cimarusti and Ehder Dominguez, the manager and head fishmonger in the kitchen.
(Myung J. Chun / Los Angeles Times )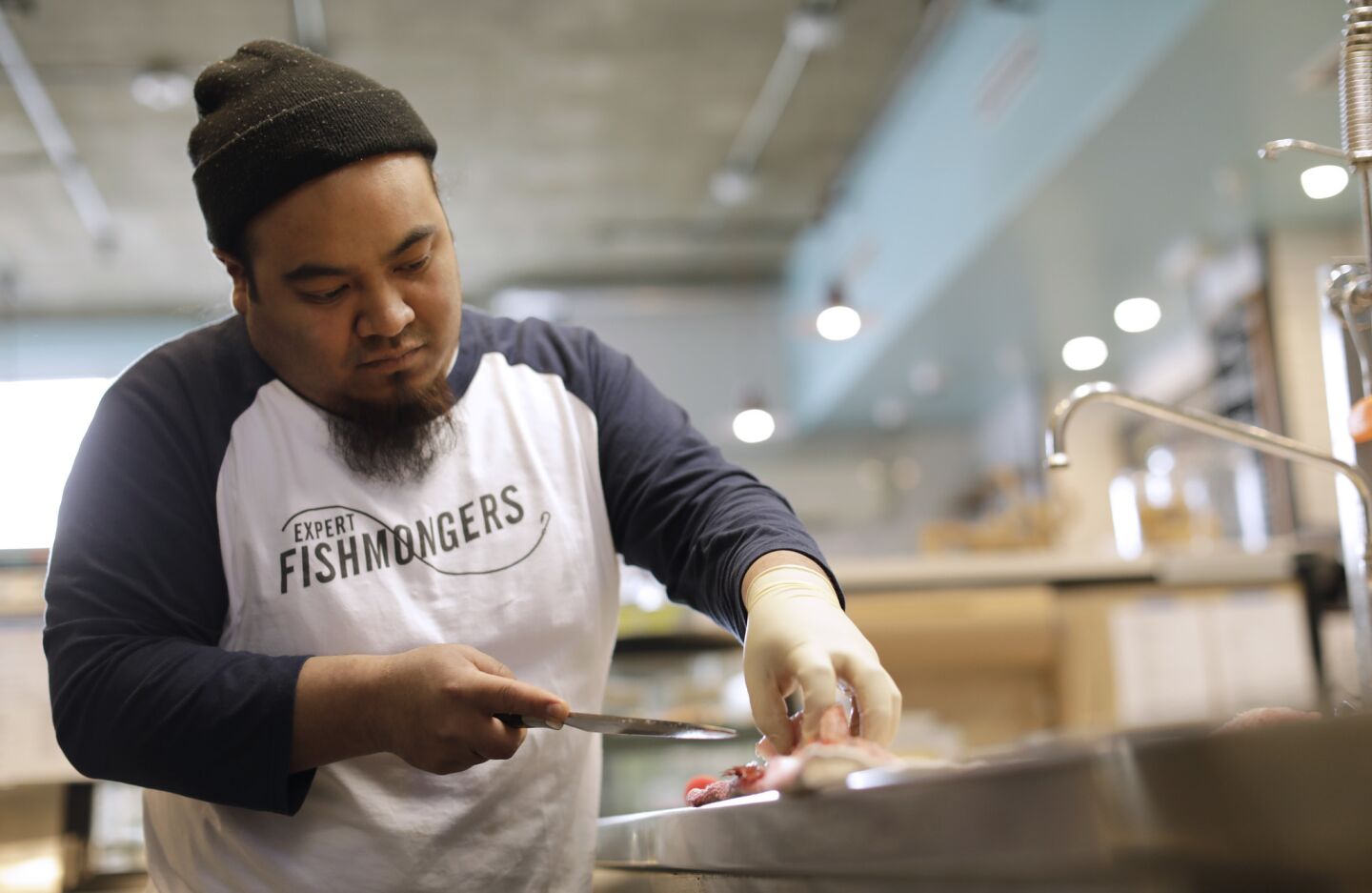 Ehder Dominguez, manager and head fishmonger at Cape Seafood and Provisions, cleans a black gill rockfish from Santa Barbara.
(Myung J. Chun / Los Angeles Times)
Smoked teriyaki salmon at Cape Seafood and Provisions.
(Myung J. Chun / Los Angeles Times)
Cape Seafood and Provisions sells responsibly caught, sustainable seafood.
(Myung J. Chun / Los Angeles Times)
Watching television changed Brandon Gray's life. In November 2010, Gray was 26, a former military cook about to graduate from culinary school at the Art Institute in Santa Monica. He spotted Anthony Bourdain on the show "No Reservations" talking about a place called the Royal Mail Hotel in Australia's Grampians National Park. The food there had completely blown Bourdain's mind: The kitchen delivered simple vegetable preparations, but did them exquisitely. As Gray remembers it, Bourdain asked: "Who in the world is making carrots taste this good?"
"I just remember looking at that, and I was, like, 'Who is making carrots that taste this good?'" Gray recalls. "I bought a one-way ticket to Australia the next day."
For the record:
3:40 p.m. April 2, 2018The headline for an earlier version of this post said that Brandon Gray had served in the Army. He was in the Navy. Also the story said that Cape Seafood and Provisions opened in fall of 2016. It opened in March that year.
Eight years later, the instinctive respect for raw product that led him Down Under is still Gray's guiding ethos in his work as culinary director of the West Hollywood shop Cape Seafood and Provisions, where he is responsible for conceptualizing and executing an array of prepared foods, including fish tacos, seafood salads and what is likely the city's largest variety of wild-caught smoked fish.
Cape Seafood is the retail arm of chef Michael Cimarusti's sustainable seafood mini-empire, which also includes the fine-dining restaurant Providence and the more casual Connie and Ted's. Like them, Cape sources its fish through a program called Dock to Dish — Cimarusti helped establish the L.A. chapter — which buys seafood from local, small-scale fishermen, mostly working the waters off the coast of Santa Barbara. The catch that's on display at Cape reflects what's in abundance that day and week; it shifts and changes with the season and the weather.
This variability is why Cimarusti wanted a chef on-site when he was first putting the Cape team together: If they were heavy on something, he figured, a chef could make it into a prepared dish and introduce it to customers that way, rather than as an unfamiliar pound of raw product. This strategy would be good for the bottom line and also for the zero-waste sustainability mission that all of Cimarusti's projects share. Gray had worked under Cimarusti at Providence for several years, so the chef offered Gray the position and let him run with it.
Since Cape opened in March 2016, Gray, in partnership with head fishmonger Ehder Dominguez, has turned the shop into a destination for more than just fresh fillets. Regulars return time and again for fish tacos or lobster rolls, some so devoted that Gray has to remind them not to pigeonhole themselves with just one dish.
At first glance, Gray and Dominguez are an odd pairing: Dominguez is short and round, Gray tall and lean, like a couple out of a nursery rhyme. But they share the important stuff: a deep respect for their mentor and for Cimarusti's commitment to sustainability; an abiding curiosity about all things food and cooking; and a willing, relentless creativity that always keeps things interesting.
Dominguez, who grew up in Oaxaca, once brought some hominy into the shop.
"What am I gonna do with hominy?" Gray asked. "Pozole!" Dominguez replied. "You never tried pozole?" Gray hadn't, but the next day he came in with recipes in hand, ready to learn. The dish isn't on the menu anymore, but customers still ask about it wistfully.
There are dishes inspired by Gray's Los Angeles childhood as well, such as a pastrami-cured salmon sandwich he developed to "pay Langers some respect." But what he loves most in food are "things that mature over time:" cold-smoked fish, pickles, preserved lemons and fermented hot sauce. His spin on a Bengali chutney is what Gray considers the signature element of Cape's fish tacos, which count Seth Rogen among their fans. And Cape Seafood is one of just two L.A. restaurants — the other is N/naka — that makes katsuobushi (dried, fermented bonito) in-house.
Gray's willingness to experiment has been good for him but also for the larger Providence restaurant group. A growing number of his dishes have made it to the mother ship, the Providence kitchen, including his bottarga (cured fish roe).
"We do a dish with this with handmade trofie," Cimarusti says of pairing bottarga with pasta, "And then we do a rockfish broth, which is the fish that this bottarga comes from. A Santa Barbara uni and then bottarga shaved on at the end. That's a classic Italian idea, but it's full of local flavors, so it's translated into something that tastes like L.A."
For Gray, the big guy's approval means everything. "The day he walks into the shop and walks right out, those are great days for me," Gray says. "It's, like: Oh man, we did something great today! The days that he's here for a limited amount of time or the days he doesn't even come in, those are the days where it's, like, he believes in us; he trusts us to run the shop."
Gray wants to open his own place eventually, but he's in no hurry; the horizons of Cape will keep extending to accommodate him for a while yet. What he's looking forward to right now is coming up much faster: summer, when fish are abundant and diverse.
Dominguez agrees: "I don't like to bring anything that other seafood markets have," he says. "Oh, see I don't care about other people," Gray cuts in. "I won't even go to, like, the Whole Foods."
So he doesn't even check out the competition? Ever? "For what?" Gray asks rhetorically. "'Cause there is none. I'm not even lying. There's no competition."
Cape Seafood and Provisions, 801 N. Fairfax Ave., Los Angeles, (323) 556-2525, cape-seafood.com
---
Get our L.A. Goes Out newsletter, with the week's best events, to help you explore and experience our city.
You may occasionally receive promotional content from the Los Angeles Times.