Where to get tacos and more great Mexican food from Jonathan Gold's 101
Of the many terrific places to eat on Jonathan Gold's 101 Best Restaurants, where can you go for a great taco or a bowl of fideo, maybe pescado zarandeado or aguachile, Sonora-style cooking or a Paloma cocktail? Here are the 11 Mexican restaurants on this year's 101.
Taco María
Taco María may be the most unlikely great restaurant in Southern California; a mall place, descended from a food truck, with a scattering of rough-hewn tables, a comfortable patio and piles of Mason jars. It would be easy to mistake Taco María for a genteel enchilada place instead of a restaurant with a $75 prix-fixe tasting menu and a young chef, Carlos Salgado, esteemed by some of the finest culinary minds in both California and Mexico.
Guerrilla Tacos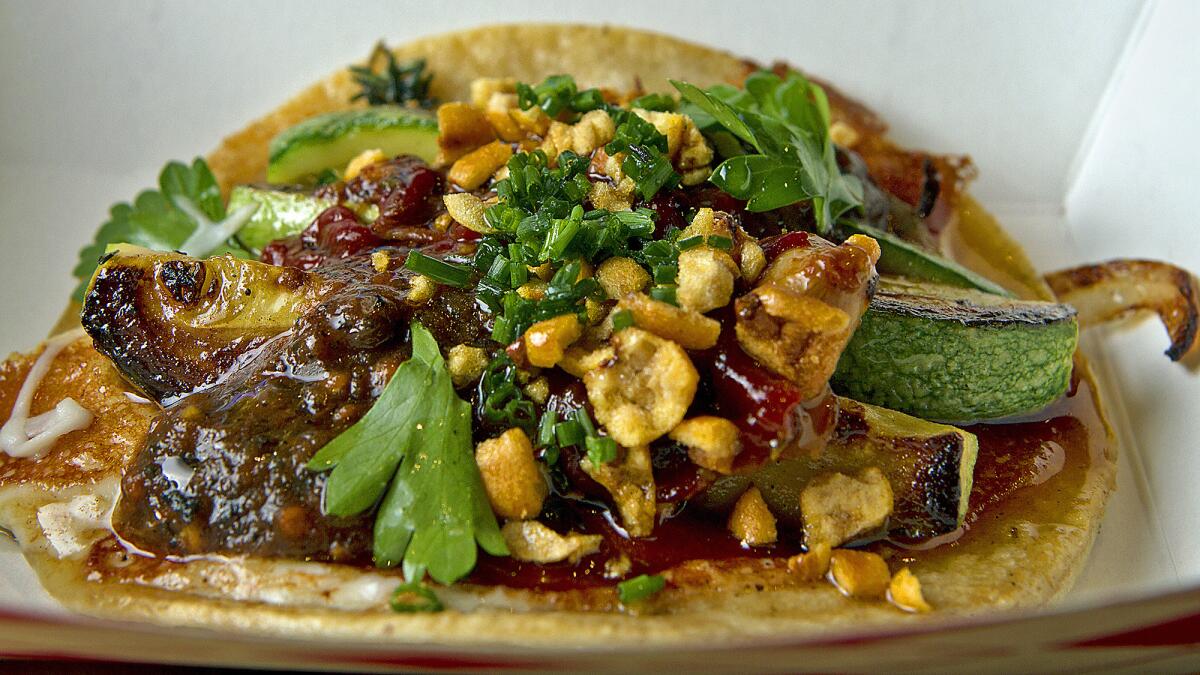 Guerrilla Tacos is perhaps the most vivid illustration of what is possible in Los Angeles, a chef who worked with the likes of Gary Menes, Walter Manzke and Alain Ducasse ditching the world of fine dining to make tacos in a truck: carnitas made from sustainable Cook Pigs Ranch pork, tostadas with the same Santa Barbara uni sushi chefs covet, swordfish tacos with peak-season Brentwood farmers market corn — even the occasional Perigord truffle quesadilla. It's essentially a $115 tasting menu, except the ingredients are served on tortillas, the sauces are both fresher and better, lunch is maybe 10% of the price, and you eat it sitting on a curb.
Salazar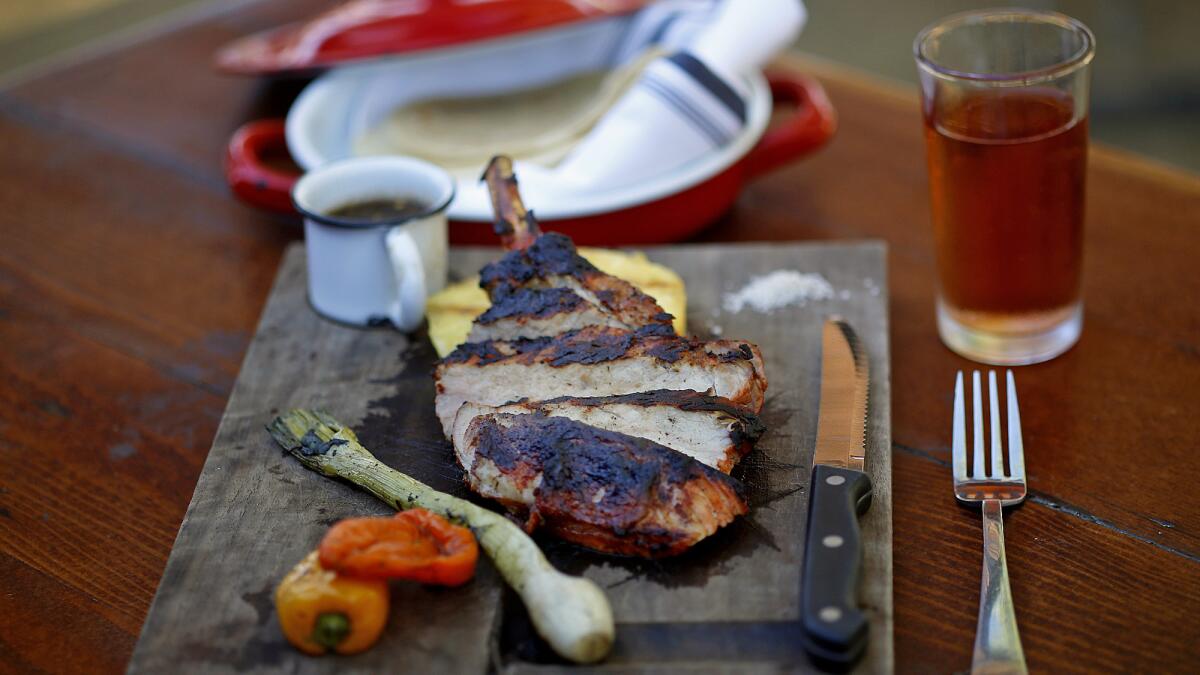 Salazar is something else — a laissez-faire composition of tables, chairs and desert plants arranged around a gravel drinking area, and a former auto-body shop converted into a smoke-filled aquarium where Esdras Ochoa flips steaks and chops on his crank-operated Santa Maria-style grill. Ochoa's carne asada is simple but perfect, grilled over blazing hot mesquite, chopped and stuffed into a flour tortilla. His marinated pork al pastor is sweet, slightly charred, with a bit of burnt pineapple. You can supplement the tacos with a cocktail of cold, wild-caught shrimp from the Gulf of Mexico, an anchovy-forward Caesar salad, or a gooey potato purée.
La Casita Mexicana
It is located in a stretch of Bell that to Westsiders might as well be outer space. The moles tend to be more suave than pungent; the cooking more pan-Mexican than regional, although it is strongly rooted in the flavors of Jalisco and Michoacan. But at some point during your meal you start to realize that you may be eating enchiladas, but they are wonderful enchiladas, made with thick, freshly made tortillas, saturated with an unusually delicious chile sauce, stuffed with earthy cotija cheese. There are beautiful braised beef shanks, lightly pungent house-dried cecinas, and crackly taquitos sauced with mole. You can get cactus-stuffed cheese wrapped in plantain leaves — queso Azteca — or lovely fish fillets dabbed with chile and cooked in corn husks. Some people wait all year for the special menus served around Christmas and during Lent.
Broken Spanish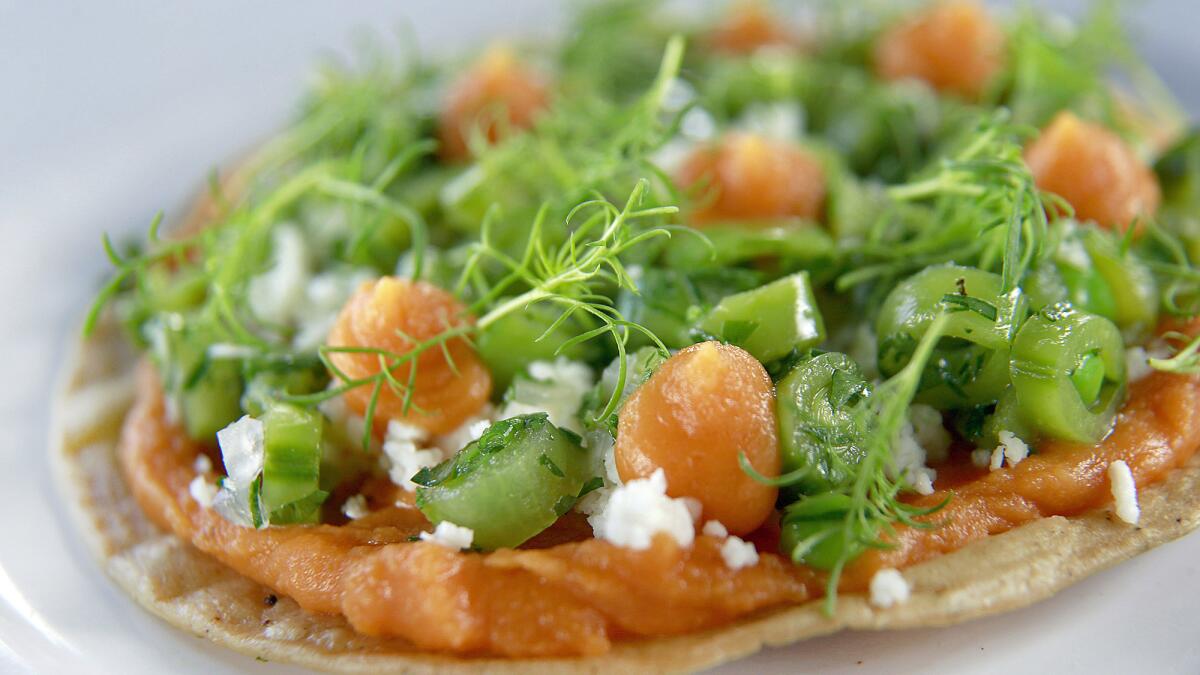 Ray Garcia cooked for years in somber hotel kitchens, but in food circles he was probably best known for the wild, transgressive Mexican dishes he came up with at chef's events — his technique and his farmers-market fixations are high-end California French, but his palate is pure Eastside pocho. And Broken Spanish, probably the best restaurant within walking distance of Staples Center, is a statement restaurant; the flavors of the Mexican kitchen banged around until they bleed: tamales stuffed with lamb neck and chicken thighs enhanced with cockscombs, sweet potatoes cooked with pig tail and green beans sauced with ground grasshoppers.
Grand Central Market
Owner Adele Yellin has managed to renovate the old market, a downtown fixture since 1917, without losing the splendid carnitas from Villa Moreliana, the dried chiles at Valeria's or the gorditas from Roast to Go. There has been controversy. But people on both sides of the gentrification debate seem to agree on the carnitas at Tacos Tumbras a Tomas.
Guelaguetza
There are a lot of Oaxacan restaurants in Los Angeles now, and it is possible to debate the merits of the mole coloradito at one and the molotes at another, but Guelaguetza remains the most accomplished Oaxacan restaurant in the United States.
Coni'Seafood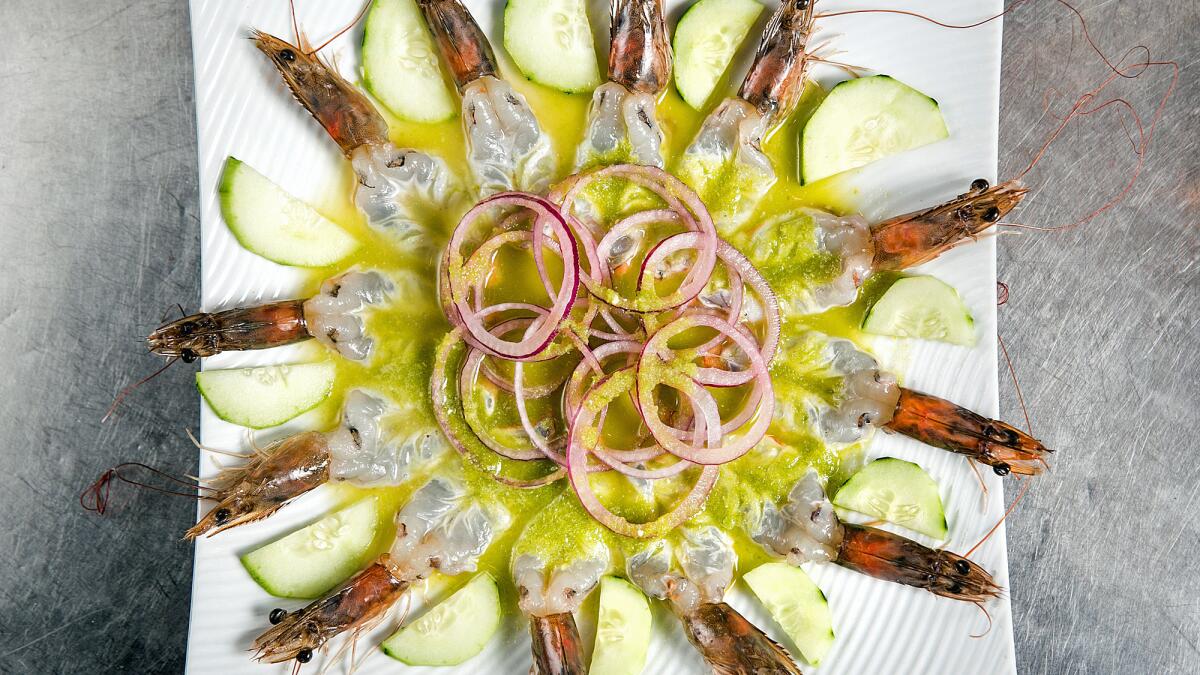 Some people I know are always trying to figure out excuses to visit Coni'Seafood, where it is pleasant to spend a long, lazy afternoon in the Sinaloa-style mariscos parlor eating smoked-marlin tacos, crunchy chicharrones de pescado, and the spicy shrimp ceviche called aguachile, moistened with a green jalapeño purèe.
Colonia Publica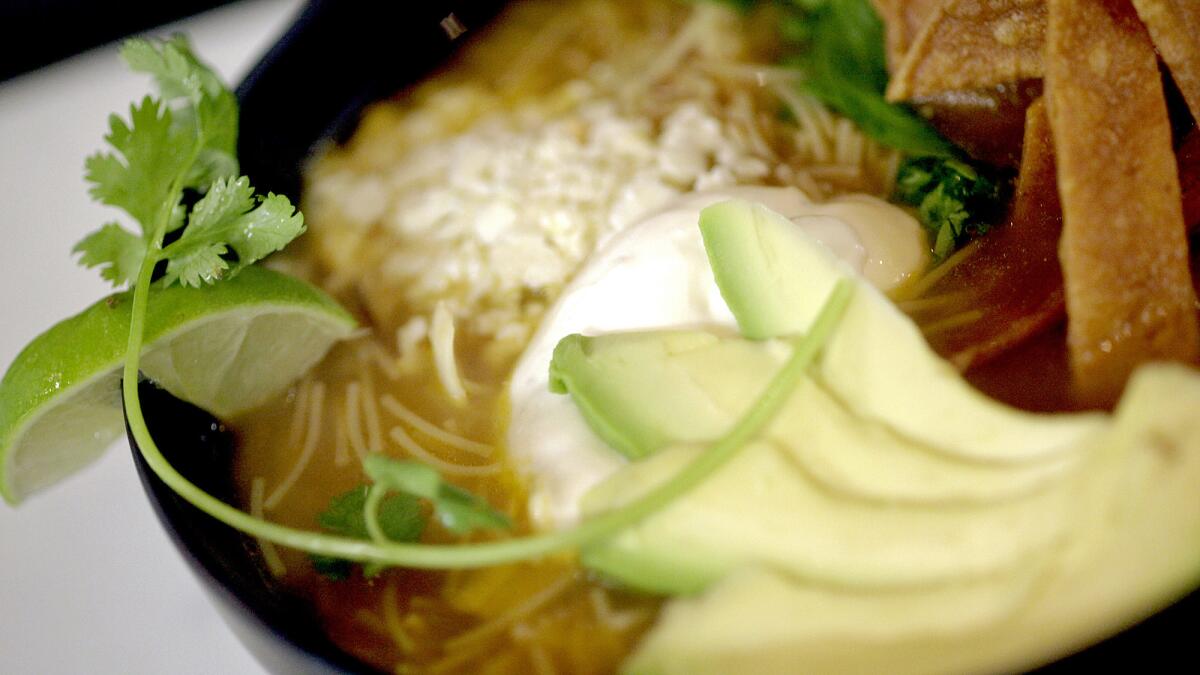 In Mexico and the Mexican diaspora, where fideo is synonymous with home cooking, it is more of a soup, but almost infinitely customizable, with almost any kind of chile, meat, vegetable or garnish a cook could imagine. When you settle into a booth at Colonia Publica, basically a bar with a large michelada selection, you are handed a checklist asking exactly what you would like to put into your basic bowl (which you can get vegetarian if you like): chicken, shrimp or smoked sausage; crunchy fried pork rinds or greasy crumbles of chorizo; mushrooms or queso fresco; chopped chiles or juicy pico de gallo — or possibly all of the above.
Mariscos Jalisco
If you want to understand Los Angeles in a single bite, you should probably escape that line at Pink's and find your way down to the Mariscos Jalisco truck out in Boyle Heights. Order a taco dorado de camarones — you can get away with a simple "shrimp taco." The taco will be fried crisp around the edges but slightly leathery toward its middle, moistened with a fresh chop of tomatoes and onions, with a bit of ripe avocado on the side. When you chomp into it, the sensation is of salt and corn and clean oil, a hint of spiciness, a bit of tartness from toasted cheese, and then the subtler crunch of well-handled shrimp.
Chichén Itzá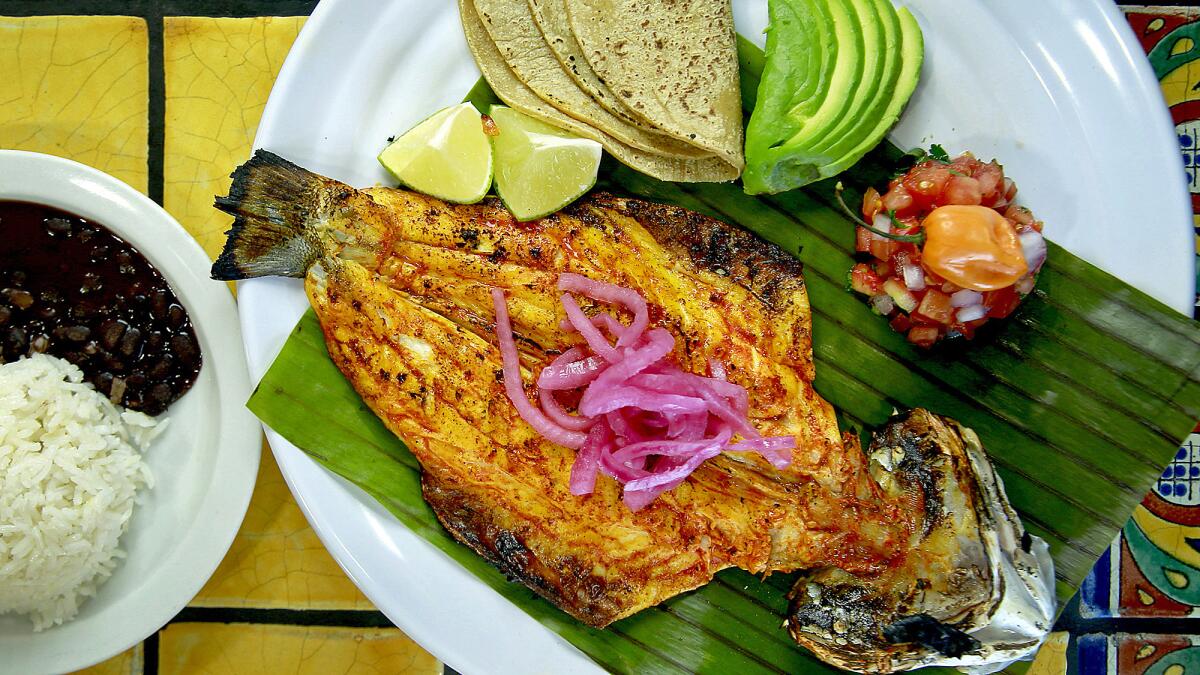 Chichén Itzá, a lunch counter in the La Paloma complex near USC, is the most serious Yucatecan restaurant in town, specializing in Mayan dishes like codzitos, egg-stuffed papadzules, and cochinita pibil that may have pre-dated Columbus, as well as modern Yucatecan dishes such as poc chuc and the Merida version of Lebanese kibbe. Wash it down with vivid-green drink made from the chaya leaf or the refreshingly tart agua fresca made from guanabana.
Get our weekly Tasting Notes newsletter for reviews, news and more.
You may occasionally receive promotional content from the Los Angeles Times.