Where to get your aguachile fix: Four L.A.-area restaurants with great versions of the 'chile water' dish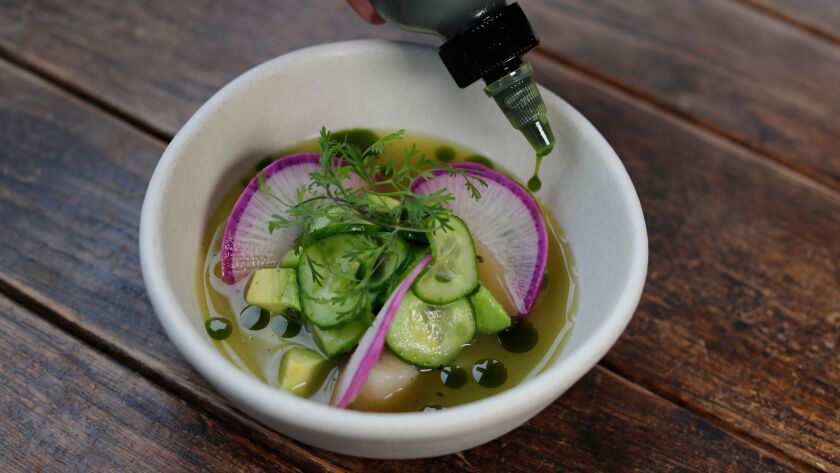 There's no secret to aguachile. The name, chile water, describes the dish just about perfectly. At its best, it is a study in simplicity, pulverized chiles in liquid, a few sliced vegetables, and enough lime to pucker your lips and cook a handful of shrimp. Its creation is generally credited to the coastal northwest of Mexico, usually Sinaloa but also sometimes Nayarit. It's traditionally served on or with tostadas, and it is best enjoyed on hot afternoons and at hungover lunches, preferably paired with the largest, crispest lager you can find.
Modern aguachile can take several forms, with different chiles depending on the chef's preferences or region of origin. Most often in L.A., it's made with jalapeño or serrano, but also sometimes with Sinaloa's chiltepin, little fireballs with a slow-burning intensity, or perhaps you will find the floral punch of habanero from the Yucatan.
There are plenty of fabulous versions of aguachile around town at all levels of refinement and price, from a folding table under a bridge in Eagle Rock to a trendy restaurant in West Hollywood. Here are four excellent options.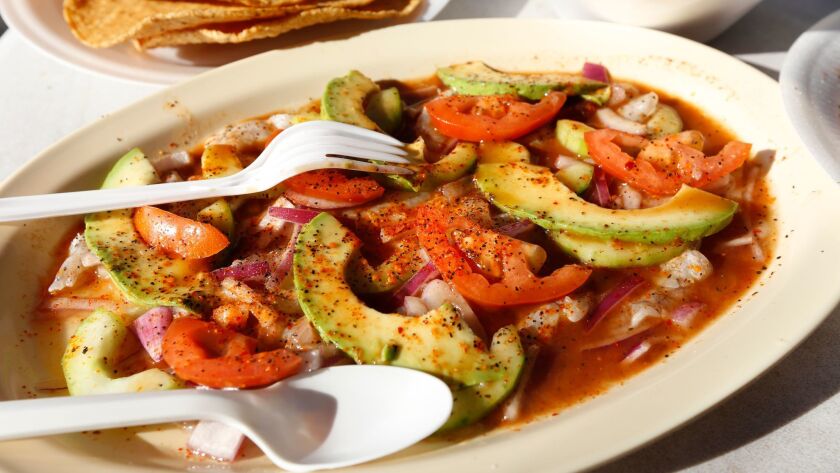 Mariscos El Faro
On sunny afternoons at Highland Park Rec Center, crowds gather in two places — on the blacktop for pickup basketball games and just on the other side of the fence at the El Faro truck, a Mazatlan-style seafood specialist. People lean against the chain link fence with Styrofoam cups of seafood coctel, and they sit on red plastic stools with plates of ceviche. El Faro also serves shrimp empanadas and the rare salt-cured seabass dish callo de lobina, but the highlight is aguachile.
They will ask you if you want it spicy, and when you answer in the affirmative — you always want it spicy — it will come out with a generous sprinkling of ground chiltepin chile powder, a fiery coating of red dust on top of the avocado, cucumber, onion and shrimp. Those chiles are difficult to come by and more expensive than most, but they are essential to El Faro's Mazatlan-style mariscos. They paint the dish an angry red instead of the more common green — chiltepins are green when fresh, but red when dry — and they give it enough punch to leave your lips buzzing. 6139 N. Figueroa St., Highland Park; www.mariscoselfaro.com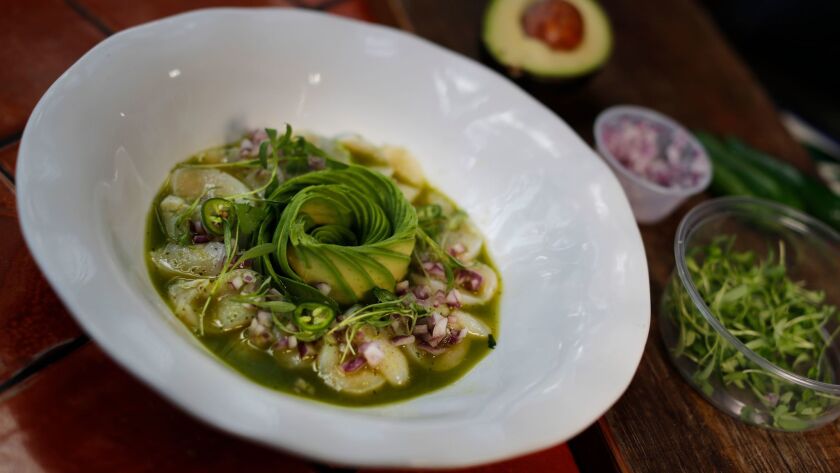 Holbox
Aguachile is a food that originated in the northwest of Mexico, so you would be forgiven for overlooking the version at Holbox, chef Gilberto Cetina Jr.'s broadly Yucatan-focused seafood stand in the Mercado la Paloma, in favor of some of the less common specialties. It's understandable to be tempted by the pata de mula or the octopus tacos or the whole grilled branzino. But to ignore the aguachile for too long would be a mistake.
At Holbox, the dish is made with scallops from Baja, decorated with a scattering of finely chopped red onion, a sprinkling of herbs and at the very center a swirling galaxy of thinly sliced avocado. It is not the most traditional aguachile in town, and it could never be mistaken for crunchy drinking food, but you'd be hard-pressed to find a version with more focused intensity of flavor. 3655 S. Grand Ave. No. C9, Los Angeles, (213) 986-9972, holboxla.com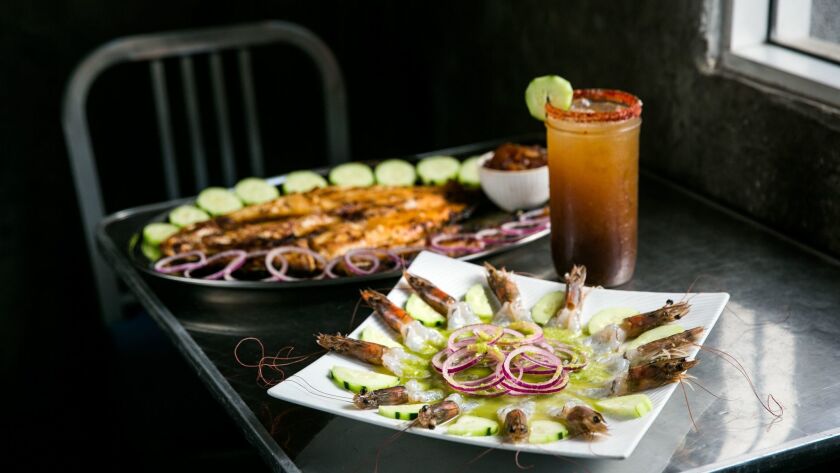 Coni'Seafood
Coni'Seafood, at its original Inglewood location and at the new Del Rey outpost, may be the best marisqueria in town. It's a little fancier than most, spiffed up with a slate gray and blue color palette and dark wood tables, a clean design aesthetic and some elevated plating, but it is a casual seafood palace at heart.
Coni'Seafood is probably best known for its whole grilled snook pescado zarandeado, but Connie Cossio's Nayarit-style specialties run across two long menu pages, featuring smoked marlin tacos and several ceviches and as many permutations of shrimp in sauce as you could possibly want. Among all those excellent options, though, the aguachile stands out. It arrives on a broad platter, a dozen head-on shrimp arranged in a ring around the edge like hour markers on a clock. The aguachile is delicate here, plenty flavorful but easier on the spice than other versions. The excellent quality of the shrimp is its defining feature, sashimi-tender and sweet but still punchy enough to stand up to an extravagant michelada. 3544 W. Imperial Highway, Inglewood, (310) 672-2339 | 4532 S. Centinela Ave., Del Rey, (310) 881-9644, coniseafood.com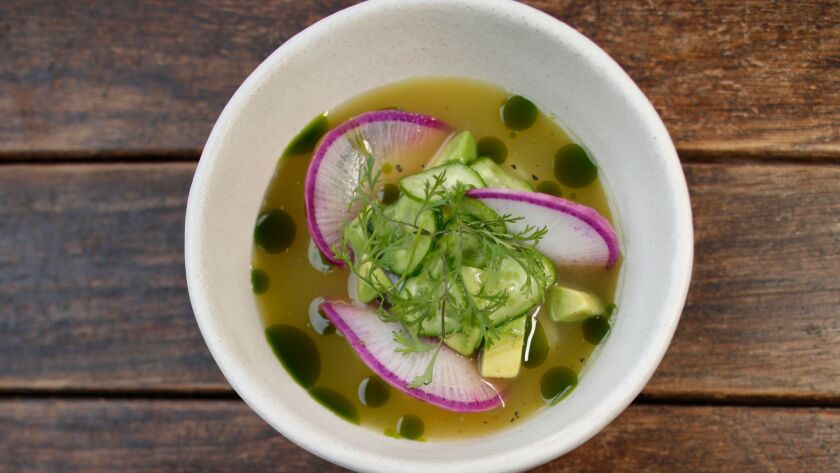 Taco María
Taco María doesn't need much introduction — chef Carlos Salgado's Alta-Chicano restaurant is a fixture near the top of Jonathan Gold's 101 Best Restaurants list — but in addition to the tasting menus and tacos, the eatery serves phenomenal aguachile. Sometimes, it's on the tasting menu, but it's always available at lunch or on Tuesday nights during a la carte service.
Taco Maria's aguachile is made with scallops instead of shrimp, sliced thin and arranged into a pale island in an electric green sea. There's a scattering of greenery on top, a fistful of herbs and vegetables camouflaging the scallop below. The broth is bright and spicy but also sweet and full of lime. The scallop is lovely, but it's the broth that sticks in your mind, the kind of thing you eat with a spoon when the scallop is gone. Is the relatively small portion worth the price of three to five aguachile tostadas at other places? That depends on your mood, your finances, what kind of day you're having. It's extravagant, but so are the flavors. And we could all use a little extravagance once in a while. 3313 Hyland Ave, Costa Mesa, (714) 538-8444, www.tacomaria.com.
---
Get our weekly Tasting Notes newsletter for reviews, news and more.
You may occasionally receive promotional content from the Los Angeles Times.