There are many great soon tofu restaurants in Koreatown, but Surawon stands apart by making its own tofu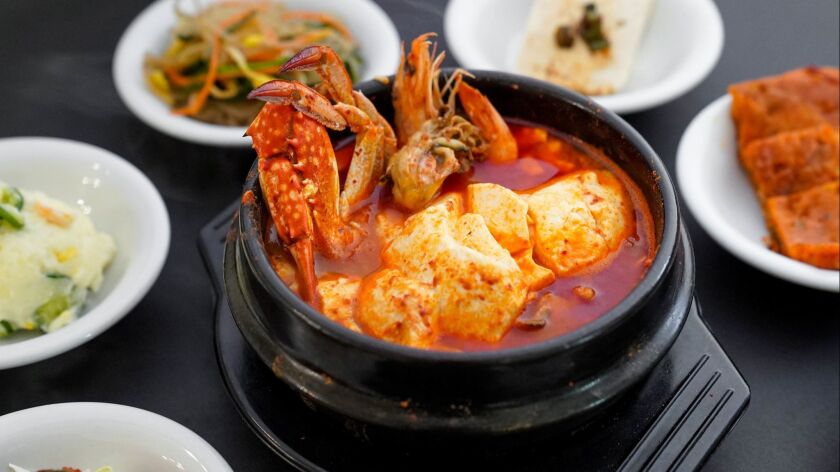 It's noon at Surawon Tofu House in Koreatown and the tables are jammed with lunch-breakers absorbed by the growing pileup of gurgling bowls and vibrant banchan amassing before them. Cactus-shaped chandeliers dangle overhead, one of a few relics that reveal the space's former life as a Mexican restaurant.
Surawon isn't entirely new itself, at least in name. It operated for almost a decade as a Korean restaurant under this same mononym before reopening in August as a sundubu-jjigae restaurant with artisan ambitions.
It now stands apart as KTown's only soon tofu house to actually make its own tofu in house.
The family-run restaurant comes from Sunny Lee, whose parents have a long local history as restaurateurs, having opened Koreatown legends such as the Prince and Shilla Buffet.
They did their best to dissuade their daughter from entering the tough industry they'd endured. So Lee went to college and obtained a degree in psychology. After her parents announced their retirement 10 years later, she followed a lifelong fascination with food to bring something new to the neighborhood.
"There are already well-established and successful soon tofu restaurants here that are now household names," Lee says of the restaurants that specialize in the soft, custard-like tofu known as soon tofu. "I knew that if I was going to open a soon tofu restaurant, I needed to do something different that no other restaurants offered."
She set out on a studious path that eventually led her to the Korean countryside to learn traditional cooking methods while fine-tuning her recipes. Making tofu using the typical yellow soybean led her to wonder what would happen if she made it from the lesser used black soybean instead. The results were "delicious," she says, the black soybeans transforming the end result into a "nuttier" tofu. Surawon prepares these two types of tofu in the kitchen daily. Both versions are non-GMO and organic.
The yellow soybean tofu comes standard in any of the restaurant's soon tofu bowls. The black soybean tofu costs an additional $1.50.
The fiery soon tofu is available with expected accompaniments such as pork, beef and seafood, as well as ham-and-cheese and an option with beef dumplings.
The modestly sized stone bowls are noticeably more packed with tofu than many of the town's deeper basins. Large, ephemerally soft lobes saturate every bowl of bubbling broth, fished out still wobbling under a molten red varnish.
Accompanying banchan include a fat, impossibly good, marinated mackerel, kimchi and a small brick of the yellow soybean tofu, reminiscent of fresh paneer. Buchimgae pancakes are stitched together with charred leeks, pearlescent squid and mussels.
The menu also features entrees and combos featuring whole fish, bibimbap, various bulgogi and spicy seasoned crab.
The galbitang may be an obligatory order. Available with the customary short rib or, at half the price, as a jagged fortification of beef back ribs jutting from bone broth, a tangle of glass noodles below, its concentrated beef flavors are mystifyingly pure.
But in an age when taqueros are hyper-focused on the source of their masa, and famous bakers on the origin of their grains, the restaurant similarly slows down the supply chain to honor a crucial building block of one of Korea's most beloved dishes.
"Surawon has been a blessing for me in so many ways," says Lee. "It is the product of a lot of hard work that was fueled by my lifelong passion of opening my own restaurant."
2833 Olympic Blvd., Los Angeles, (213) 383-7317, surawontofu.com.
---
Get our weekly Tasting Notes newsletter for reviews, news and more.
You may occasionally receive promotional content from the Los Angeles Times.