What's up with all the zhoug at restaurants around town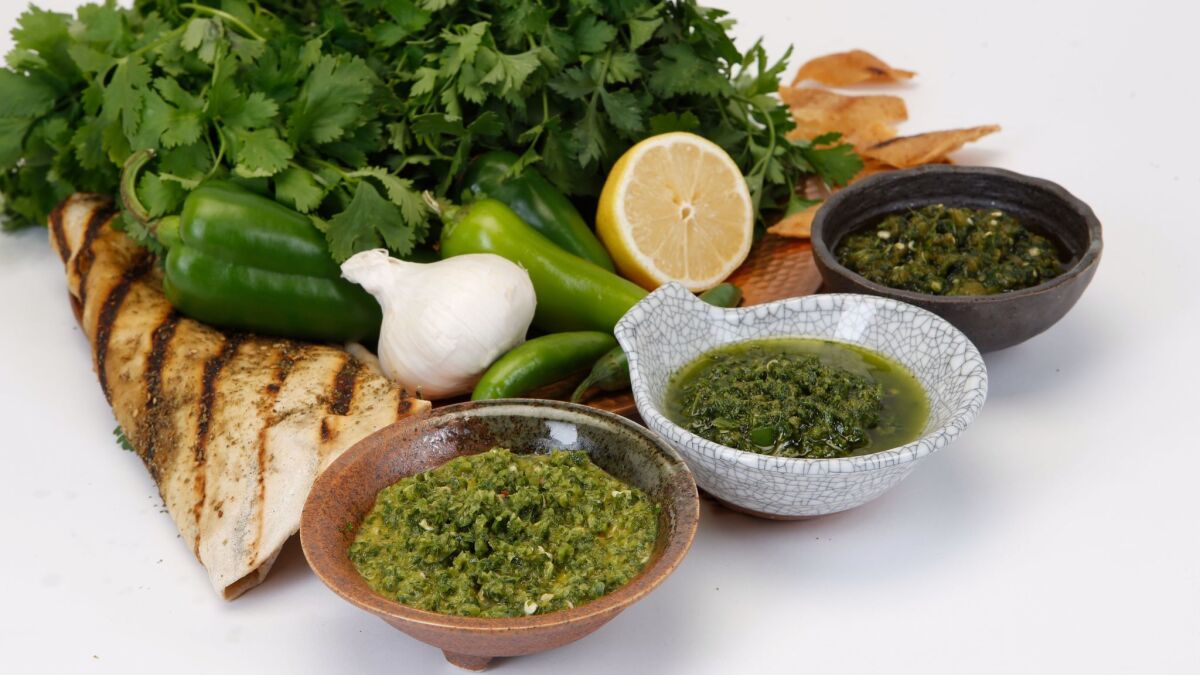 The first thing you need to know about zhoug, that chunky, herb-laden, garlic bomb of a hot sauce that probably seasoned your last falafel, is that it hails from Yemen. Everything else, including how it's spelled, which spices are essential and what herbs don't belong, is grounds for bickering. But the Yemenite origin of zhoug is one thing that everyone — even in the Middle East — can agree on.
Zhoug, schoug, s'chug, however you want to spell it, is having a moment in Los Angeles, a serendipitous trend born from L.A.'s rapid proliferation of Middle Eastern-leaning restaurants, many of which have ties to Israel, where tens of thousands of Yemenite Jews put down roots in the early 1950s. Zhoug is one of the multitude of hot sauces that fall under the umbrella of harif, the Hebrew word for spice, and it is as crucial to Tel Aviv's falafel and shawarma shops as ketchup is to Southern California's burger joints.
"Israelis are spicy people, they want that caliente," says Elad Zvi, who oversees the Exchange in downtown L.A.'s Freehand Hotel, a Tel Aviv-inspired restaurant where chef Alex Chang cooks Israeli food through the lens of Southern California and his Chinese Mexican roots. So on every table you'll find harif -- a bowl of harissa, gussied up with Mexican chile morita and Korean gochugaru, alongside Chang's vibrant green zhoug. "I want someone to slap me with my food," Zvi says, which sums up the punch you feel after dressing a bite of hummus and pita with a spoonful of Chang's cardamom-heavy zhoug. "It's kind of like you wear it; you take a bite and that's it — you're going to smell like it all day."
Zvi's thirst for spice is a sentiment that feels right at home in Los Angeles, where taquerias are judged on their salsas and waiting two hours for mouth-numbing wontons at Chengdu Taste carries a certain cachet. Angelenos don't simply crave spice, they understand its many forms.
Zhoug, with its vibrant heat and herby freshness, fits seamlessly in our landscape. The characteristic ingredients — cilantro, chiles and garlic — are pantry staples in most Southern California kitchens, whether they veer Mexican, Thai or Vietnamese, but it's the heavy-handed garlic and the addition of dry spices such as cumin, coriander, cardamom or caraway, that lend zhoug its unique character.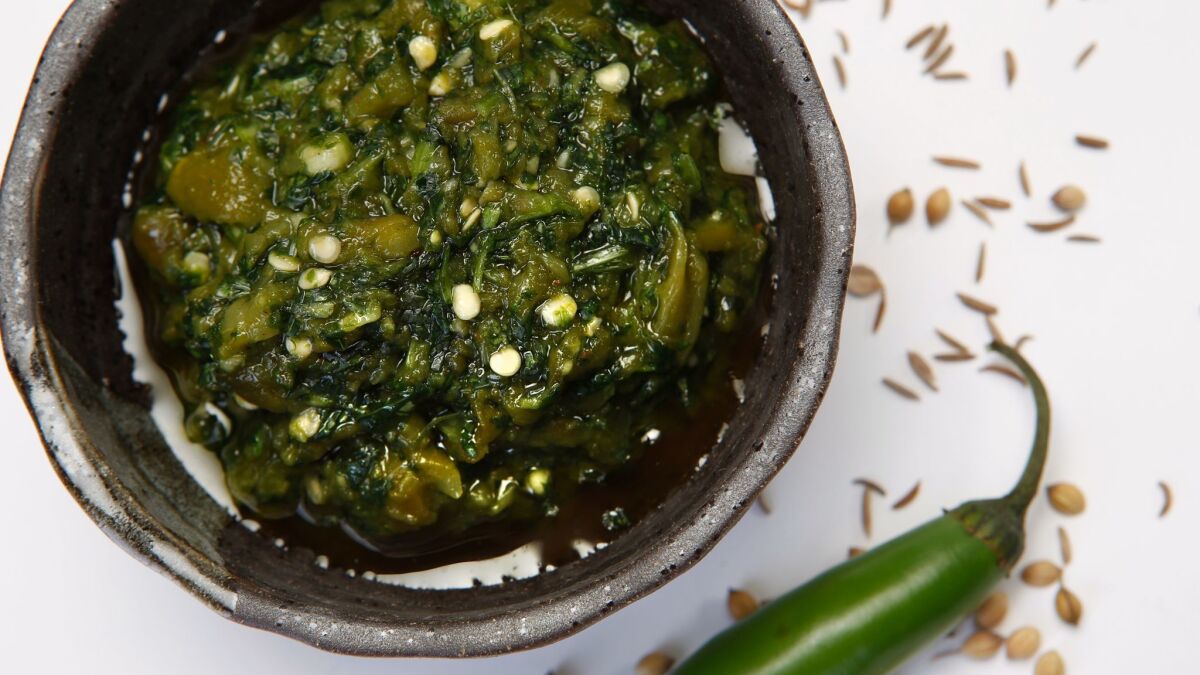 "It's just so good," Conor Shemtov says. "It's herby, it's spicy, it's smoky, it's garlic-y and salty enough where you can put it on anything." He pauses for a moment before adding, "It's life." At Shemtov's restaurant Mh Zh in Silver Lake, diners weather long waits and questionable chairs for soul-nourishing bowls of "hummus with pickled things" and "lamb ragooooooo." The menu, which is Sharpie'd on a brown paper bag, makes no mention of zhoug (partly because Shemtov's staff has trouble pronouncing it) but when you order the ful, it shows up on top of the hearty Egyptian bean stew, ready to shake you back to life.
Shemtov's latest project is to find a plot of land where he can grow the chiles he grew up eating at his family's home in Israel.
"It's a huge undertaking," he says of chili farming, but the idea is to be able to grow enough to supply the restaurant's zhoug output year-round. Until he sows those seeds, he's using a mix of Anaheims, jalapeños and serranos, which he insists don't pack the same punch.
Drive down Sunset Boulevard toward Los Feliz and you'll get to Kismet, where chef Sara Kramer's spreadable, burnt red zhoug is a family heirloom, a recipe passed down from the Israeli mother of her father's best friend. Thick with árbol chiles and black peppercorns, a too-big bite will send you reaching for labneh, which is exactly how Kramer grew up eating it in her Israeli Peruvian mother's kitchen. So when you order the breakfast plate with malawach (a Yemenite flaky bread), tomato, labneh and zhoug, it's a combination that Kramer says is "very much a childhood memory."
For Louisiana-born Scott Zwiezen at the cult falafel-favorite Dune, enlightenment came when an Israeli fire technician noticed Zwiezen making chermoula during a routine appointment at Elf Cafe. "He told me it reminded him of zhoug," so Zwiezen began experimenting, and before long that technician was bringing the chef herbs from his garden and critiquing Zwiezen's early trials. Now the Atwater outpost of Dune, one of three in the growing mini-chain, tears through between 50 and 80 pounds of chiles a week just to keep up with demand.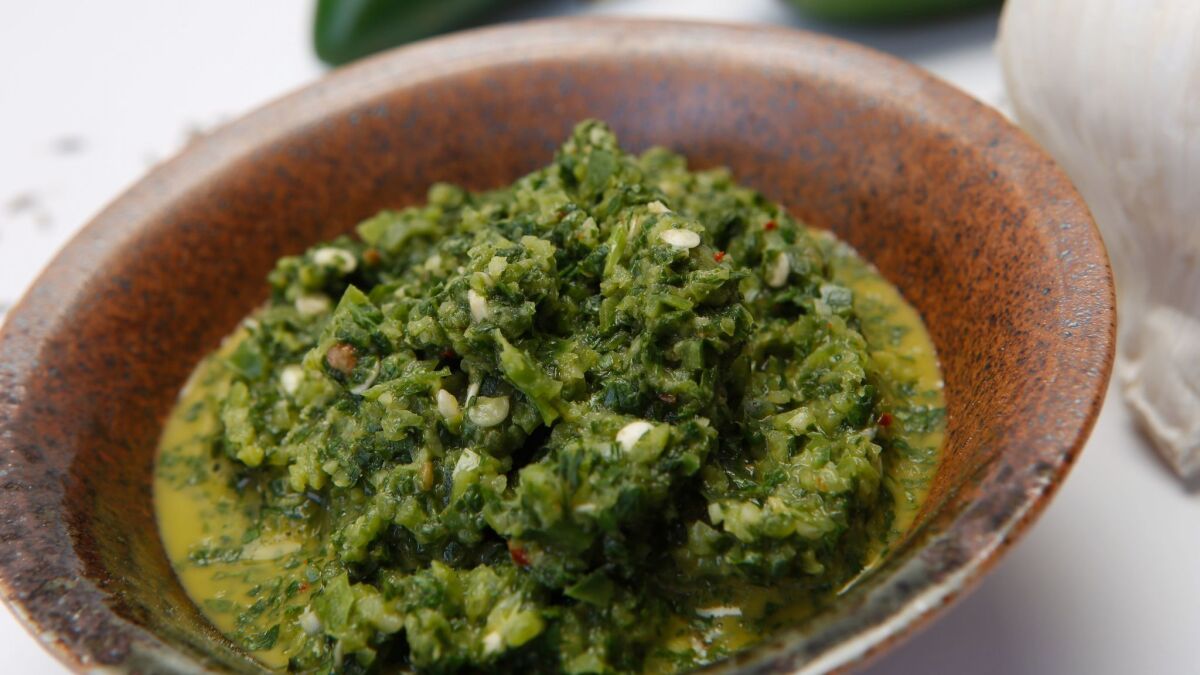 Like all regional spice blends, there are as many zhoug recipes as there are people who make it, and conversations surrounding what defines the Yemenite condiment can feel as divisive as any discussion regarding the Middle East. Do you sear the chiles? Roast your garlic? Toast your spices? Is it green or red or brown? Opinions abound.
"Making zhoug without cilantro is like making hummus without chickpeas," Lior Lev Sercarz says while braiding challah in the kitchen at the Exchange, where he visited last month to promote his book "The Spice Companion."
The Israeli-born chef and owner of the spice shop La Boîte in New York City has become the spice whisperer to every celebrity chef in America, so when one of his chef clients was tired of making a fresh batch of zhoug every day, he challenged Sercarz to come up with a blend. The result, named Shabazi after a famous Yemenite poet and the Tel Aviv neighborhood that bears his name, is based on what Sercarz says are the essential flavors of zhoug: cilantro, garlic, chiles and a little bit of clove and cumin.
"When I talk about spice blending I always talk about this paradox of salt and pepper," Sercarz says. "The salt and the heat can come from different sources, and zhoug is the Yemenites' answer."
The conversation with Sercarz led to an email exchange with Gil Hovav, author of "Candies From Heaven," and according to some, "Israel's leading foodie." Could he define the rules of zhoug? Or at least explain how to spell it?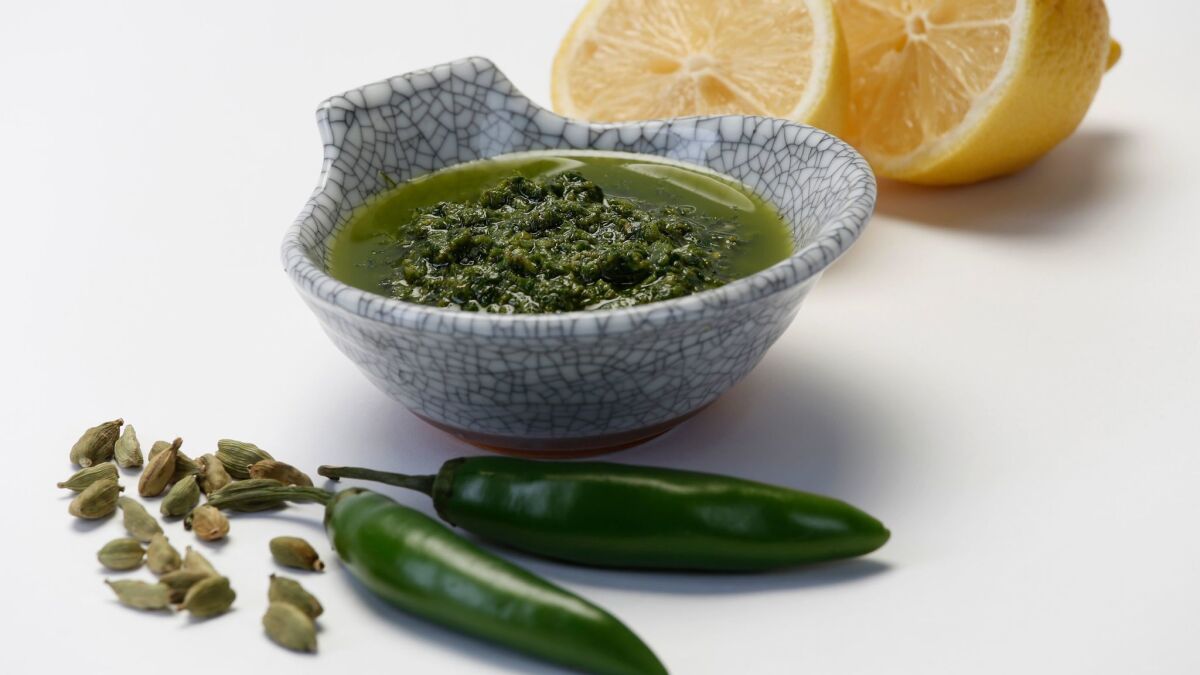 "The root S-H-Q in Arabic, Yemenite and Hebrew refers to eroding or grinding. SAHUQ in Yemenite is eroded," he wrote, clarifying that Q and G share the same Yemenite pronunciation, which is how you get "sahug," or "zhoug." As for the rules, "green zhoug does not contain oil," he wrote, and zhoug should be made in a mortar and pestle, hence the meaning, eroded, "because you grind and erode the ingredients to get a paste."
But rules, of course, are meant to be broken, and seemingly every zhoug in Los Angeles has oil and is chopped with the high-powered motor of a Robot Coupe or a Vitamix. And like Israel, California is a land of plenty where immigrants bring deep roots and replant.
When asked about the rules of zhoug at the Exchange, Zvi suggested that it had to be vegetarian. "You can't go adding fermented shrimp or something like that." Across the table, Alex Chang's wheels were spinning. "But that would taste pretty good, wouldn't it?"
---
Get our L.A. Goes Out newsletter, with the week's best events, to help you explore and experience our city.
You may occasionally receive promotional content from the Los Angeles Times.