Review: Much of Italy disdains Tuscany's cooking, but Jonathan Gold revels in it
Restaurant Critic
When I was asked what I'd like my last meal on earth to be, a question that used to come up with alarming frequency, my eternal answer involved lunch at Costachiara, a now-closed rural trattoria near the industrial town of Montevarchi, Italy.
You sat at long wooden tables outside an old farmhouse, the occasional chicken pecking at your ankles. You assembled an antipasto plate from an endless line of eggplants, roasted peppers, tiny cured fish, fresh pecorino, squashes, charred greens, beans in oil, sliced fennel sausage, maybe slices from a roasted prosciutto, and continued with a plate of hand-rolled pici, like thick spaghetti, moistened with a sauce made from wild boar. The house Chianti, made from the shaggy vines surrounding the farmhouse, cost six bucks. And finally the owner would come over to the table in his bloody apron and carve the massive, dripping-rare fiorentina steak he'd been cooking upstairs in the fireplace. Grease-smeared, wine-drunk, surrounded by my family and the friends I love, those long summer afternoons were perhaps the happiest I have ever known.
I bring this up by way of saying that you tend to eat pretty well in Tuscany, although plain, unadorned Tuscan cooking is disdained by people from pretty much every other part of Italy. But it is also true that when I was asked to come up with a dozen foods that define the region, the way that pizza is connected with Naples, spaghetti carbonara with Rome, saffrony risotto with Milan and pesto with Genoa, I fell short.
Aside from a few bready soups (ribollita, pappa al pomodoro), thick steaks, boiled beans and a stew made by simmering beef shank with ungodly amounts of black pepper, few dishes immediately popped into mind. Sandwiches stuffed with boiled lampredotto, the fourth stomach of the cow. Cured lard. The greater Modena area may be home to the world's most famous cheese, the world's most famous cured meat and the only Italian restaurant ever to have been named the best in the world; Florence has to settle for Dante, Giotto and Leonardo da Vinci.
Does this matter when you are sitting down to a proper Florentine lunch of puréed chickpeas with tiny ditalini pasta, a perfect plate of spaghetti with lemon and cured mullet roe and a plate of fried rabbit with thick potato chips at Cammillo, a fragrant trattoria not far from the Masaccio frescoes in the Brancacci Chapel? Do you care that your snootiest friends may fail to be impressed by the soft, sloppy lampredotto panini at Da Nerbone in Florence's San Lorenzo market, which just may be the finest tripe sandwiches on the globe? Is there any fancy pleasure more profound than a simple bowl of zolfini beans, the only bean native to Italy, at Il Canto del Maggio in Penna Alta, just up the hill from one of the few fields where they are currently grown?
If you have been to your share of world food events, including last year's L.A. Times Food Bowl, you may have run into Dario Cecchini, who sometimes thinks of himself as the most Tuscan man alive. He has lived almost all of his life in Panzano, the Chianti village where his family had been the local butchers for six generations. He shows up at events with a Tuscan horn and the knowledge that the evening will not pass without the recitation of at least a verse or two of Dante. He held funeral services for the fiorentina when the cut was briefly banned by the European Union in reaction to an outbreak of mad cow disease. When you drop by his Panzano butcher shop, Antica Macelleria Cecchini, you have to fight through crowds chomping on fennel salame and throwing back water glasses of rough Chianti wine if you want to inspect the beef, some of it teased into cuts the rest of Tuscany stopped cooking two generations ago.
"To beef, or not to beef!" roars Cecchini.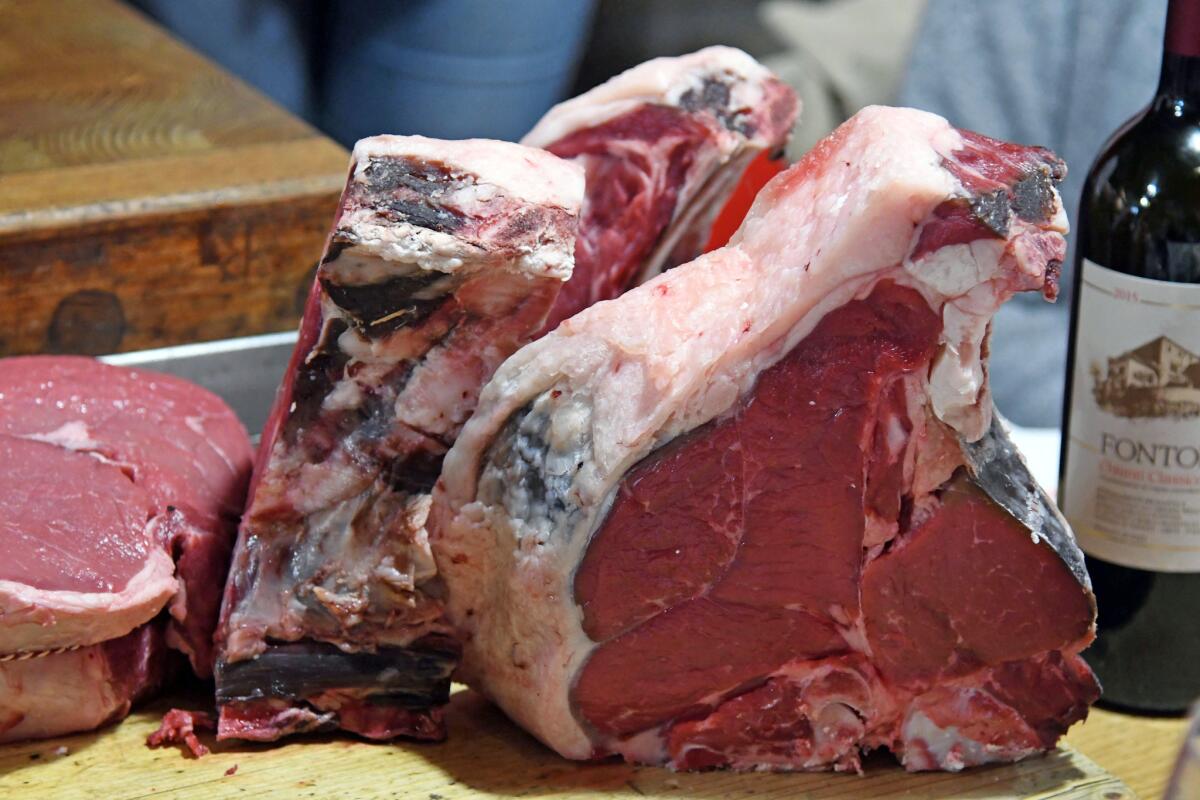 "To beef!" you are surprised to hear yourself hollering back at him.
A decade or so ago, guessing that travelers might pay for the kind of experience he was giving away for free in his store, he opened the restaurant Solociccia across the street, a beefy, fixed-price restaurant that specialized in making thrifty, Tuscan use of the tendons and odd bits that tended to sell less well than the steaks that inspired his fans to drive the hour from Florence. A couple of years later, Cecchini opened the Officina della Bistecca above his shop — at the time, I said it seemed more like an educational institution than a restaurant, where the tutorials were given by men in bloody aprons and old-fashioned motorcycle goggles, in a meat-strewn space that looked more like an abattoir than a restaurant. If you ate inside, you were never more than a few feet from a carcass and young men with very large knives.
Was the experience different when I went back recently? Not really — there is now a vegetarian menu! — but it didn't need to be. There was a dish of herbed salt and local olive oil to dip raw vegetables in; dripping slabs of skirt steak; a chewy, intensely beefy steak tartare; and slivers of well-cooked beef from a part of the steer I couldn't quite puzzle out. I'm pretty sure there were platters of tonno del Chianti, pork confited in olive oil until it had both the appearance and texture of jarred tuna, although by that time I was more interested in the baked, foil-wrapped potatoes that you broke open and stuffed with a melting knob of Cecchini's cured lardo — burro del Chianti, he calls it.
The fiorentina — sliced from bones big enough to use as weapons, bloody and pulpy and juicy and charred — is served with a small bowl of pale zolfini beans.
"Twenty-five euros a kilo," Cecchini bellows. "As glorious as the steak!'' You're not sure you can manage another mouthful of food, but you ease a few beans onto your plate.
And then he grabs the largest of the fiorentina bones, leaving a trail of gory droplets in his wake, and slams it onto my nearly empty plate. I will apologize to all of you now — I nodded weakly, eased off a sliver, and passed the behemoth to the woman sitting next to me. She took a selfie with it. I do not think Dario wants to be my friend.
Dario Cecchini's memorably bloody Tuscan steakhouse above his butcher shop.
11 Via XX Luglio, Panzano, Chianti. Dial 011, then 39 055 852020; dariocecchini.com
50 euros per person, wine included
Lunch daily at 1 p.m.; dinner daily at 8 p.m.
Get our L.A. Goes Out newsletter, with the week's best events, to help you explore and experience our city.
You may occasionally receive promotional content from the Los Angeles Times.