Jonathan Gold's 10 best dishes of 2017
Restaurant Critic
I'm wondering whether there has ever been a dining year quite like 2017 here in Los Angeles. The most interesting new kitchens seemed to be either in fantastically expensive tasting menu restaurants or in food courts; they stock their wine lists with either dreary classics or puzzling natural wines; and fill their pantries with farmers market vegetables or the product of their own backyards. Some of the best food came from what marketing people call brand extensions, others from the world of haute cuisine. As always, inspiration came from nearly every part of the world. Can 2017 be summed up in 10 dishes — 10 dishes that don't happen to include well-done steak, double ice cream and Big Macs inhaled in silence? We'll try.
Beans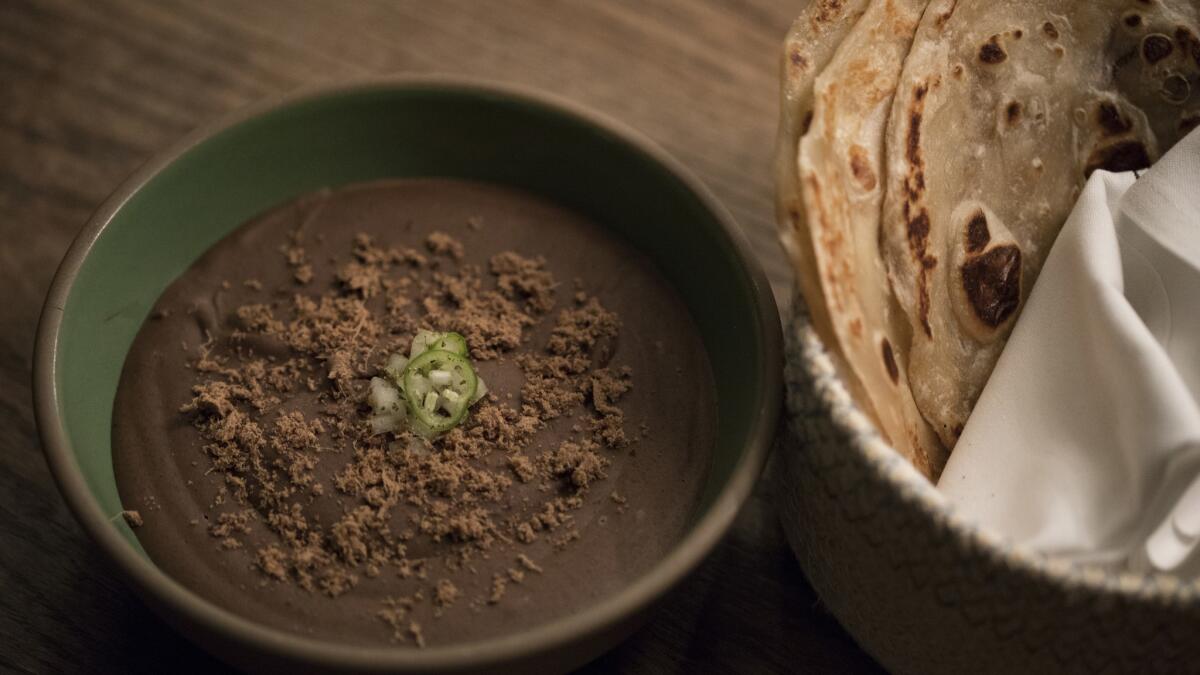 Verlaine, it must be said, is among the last places you would expect to experience the particular kind of bliss that beans and tortillas can provide. It is built into the former Rat Pack hangout Dominick's. Its chef, Diego Hernández, is one of the greatest in Mexico. It has been called "Noma with tacos." But the soft-fried black beans here are undeniable — creamy, singing with herbs, fragrant with the slightly high aroma of dried beef and spiked with bits of fresh cheese. They are served with tiny just-made flour tortillas served scorching-hot from the griddle. And while it may be the most expensive dish of beans you will ever put on your AmEx card, if you are calculating pennies per unit of pleasure, you still come out way ahead. 8715 Beverly Blvd., West Hollywood, (424) 288-4621, Verlaine.la.
Mozzarella sticks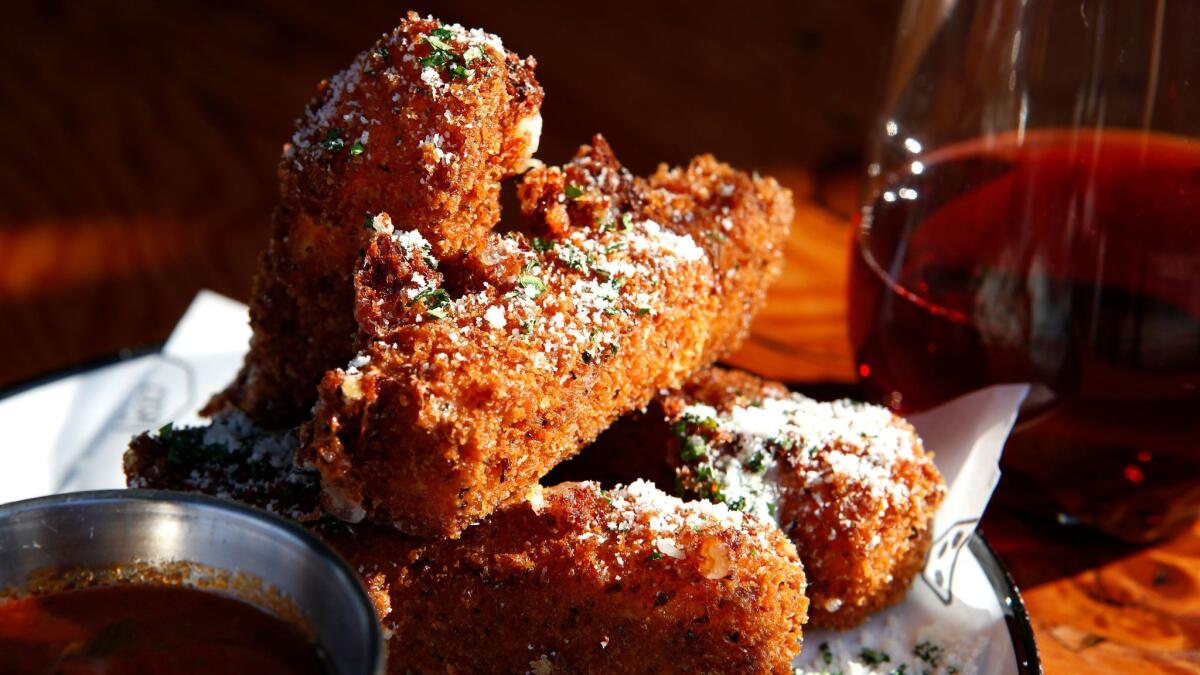 Kitty-corner from the original Burrito King, Cosa Buona is the kind of place the anti-gentrification guys like to gripe about, with natural wine, farmers market broccolini and a presence on OpenTable. Its chef, Zach Pollack, runs the witty Northern Italian restaurant Alimento. Its menu features a calzone named in homage to renowned Campania pizzaiolo Franco Pepe. But Pollack isn't re-creating obscure dishes from Caiazzo, he's perfecting the mozzarella stick: stout, juicy and encased in a shaggy, ultra-crisp coat. The transition from shattering crunch to suave ooze is shocking even the tenth time around, as is the subtle, woodsy fragrance from the cheese Pollack smokes himself. There is a little pot of the house marinara sauce for dipping if you go in for that sort of thing. And then you can dive into a sausage pizza or a plate of chicken parm. It is the best of all possible worlds. 2100 W. Sunset Blvd., Los Angeles, (213) 908-5211, www.cosabuona.com.
Dinuguan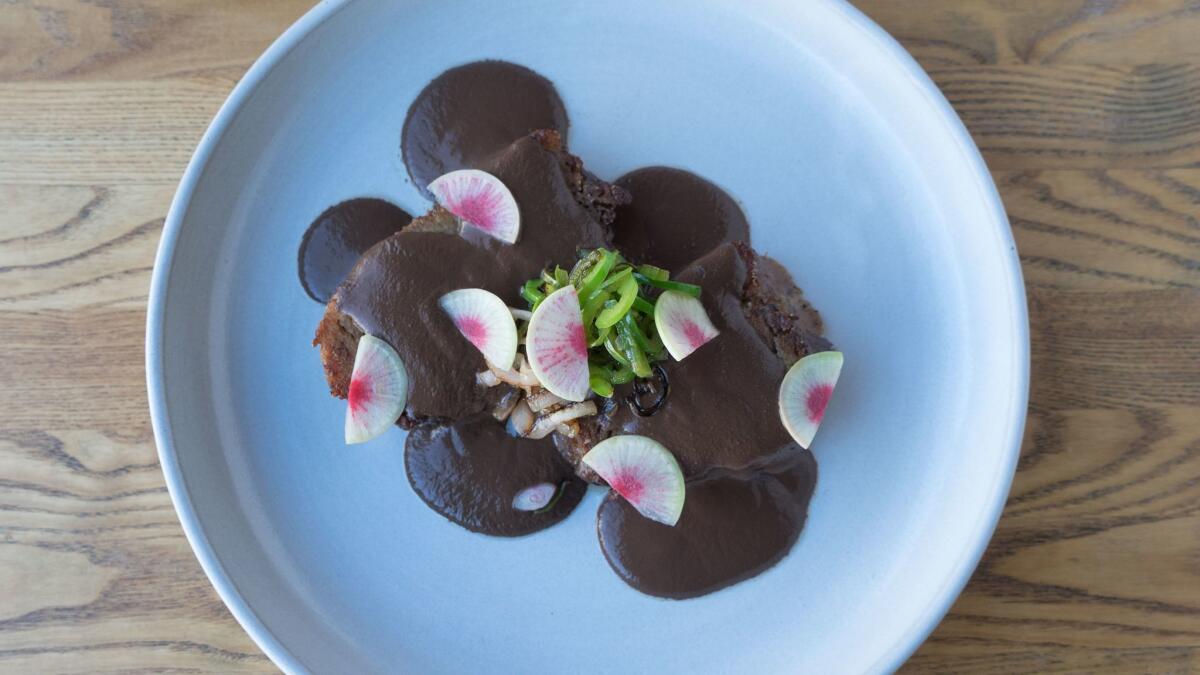 We have been talking about the Filipino food renaissance for so long that it is almost a surprise that it has finally arrived, with dozens of devoted young chefs, a fair number of fine new restaurants and the distinct possibility that the local idea of great pie at the moment may lean more towards buko and pili nut than toward coconut cream and pecan. Still, until I started going to Irenia, Ryan Garlitos' Filipino bistro in Santa Ana, I never thought it would be possible to rehabilitate dinuguan, a stew of pig innards in a super-pungent sauce made with pork blood and ground liver that is usually one of the most fearsome dishes in the Filipino arsenal. But Garlitos lightens the cocoa-dark sauce so that the blood and liver become no more than fleeting, coppery hints of bitterness, and he replaces the guts with crisp-edged slices of roast pork. 400 N. Broadway, Santa Ana, (657) 245-3466, www.ireniarestaurant.com.
Tokyo turnips with butter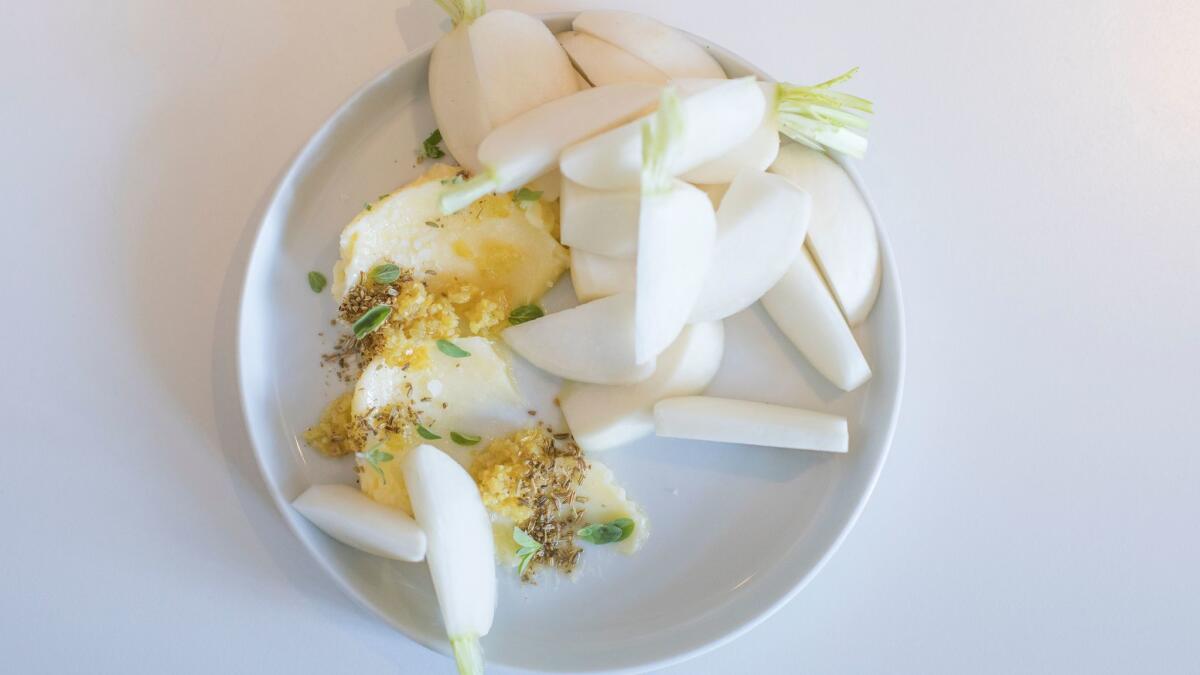 At Kismet, the aesthetic of co-chefs Sara Kramer and Sarah Hymanson is totally up to date. The tahini is made with sunflower seeds, the dining room smells of za'atar, and Aleppo pepper flows like water. They ferment things. They use all the right vegetables. They split the difference between borek and b'stilla, and make it work. The specialty at dinner is whole roast rabbit; at lunch, a series of dishes they subtitle All the Things. But sometimes, especially around sundown, all you want is a glass of wine, bread, and a plate of tiny, neatly bisected raw turnips, which you dip into a dab of sweet butter glazed with salty-tart preserved lemon. If anything, it will hone your appetite for the chickpea tagine to come. 4648 Hollywood Blvd., Los Angeles, (323) 409-0404, www.kismetlosangeles.com.
Blood clams
Holbox does its best to please anyone in the mood for seafood, and you will probably be as happy with the fried-shrimp tortas, the fish tacos and the little empanadas stuffed with dogfish as you will at its sister restaurant Chichén Itzá a few yards away. But Holbox, also run by Gilberto Cetina Jr., exists to serve ceviches, shellfish and seafood inspired by its namesake, a sliver of an island just off the coast of Mexico's Quintana Roo state. And as much as I love the surf clams marinated with bitter orange, the tostadas with yellowtail and uni and even the spectacular shrimp cocktail, what I find myself daydreaming about are Cetina's iced blood clams on the half-shell: blood-colored juices flavored with chiles and finely minced onion, an extreme savoriness slashed with a few drops of citrus. Even if you've had these at the famous Baja street stands, these may come as a revelation. 3655 S. Grand Ave. #C9, Los Angeles, (inside the Mercado La Paloma complex), (213) 986-9972, www.holboxla.com.
Neo-Margherita pizza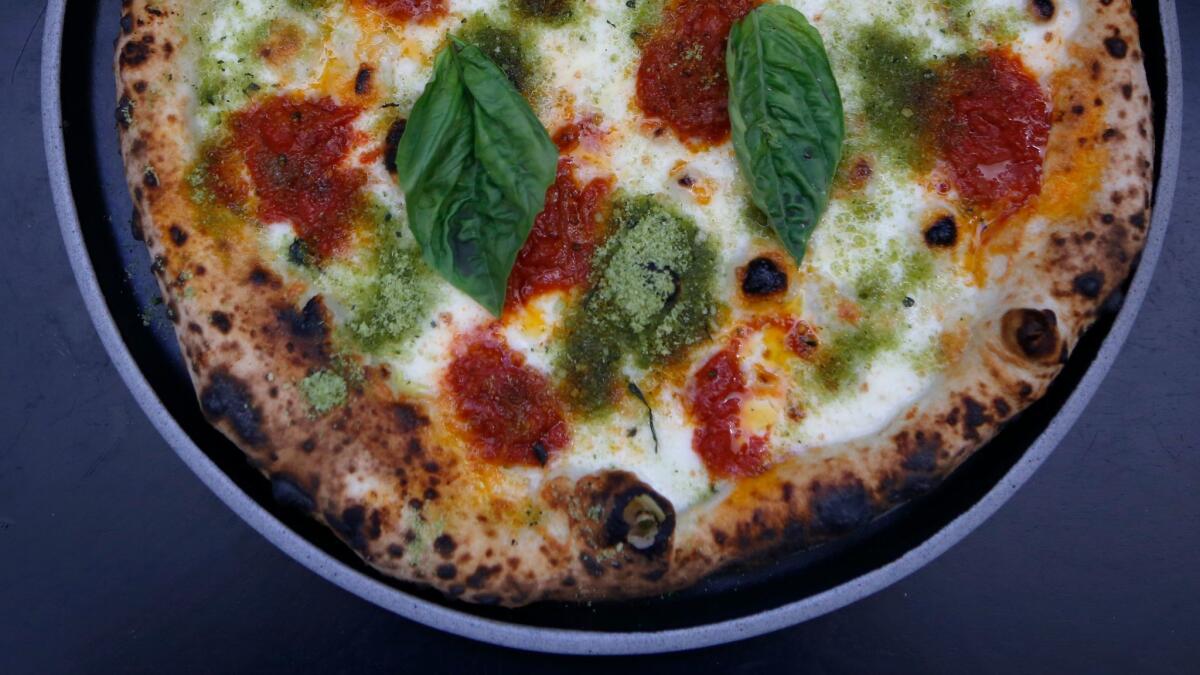 The Wolfgang Puck effect on American pizza is well known, redefining it into a vehicle for whatever ingredients happen to be delicious and fresh in the market. But pizza is changing in its Neapolitan motherland too — a pizza at La Notizia or Pepe in Grano is a pizza transformed. In Los Angeles, the place to experience the new pizza revolution is Pizzana, run by Daniele Uditi, who has worked at some of the best pizzerias in Italy. He kneads his dough by hand in an old-school wooden basin, he allows it to ferment for nearly two days, and he cooks it in a traditional wood oven. And his Neo-Margherita, a take on the Neapolitan classic, is astonishing — cheese, a bit of oil and caramelized San Marzano tomatoes the chef brings in himself, dusted with toasty herb-infused breadcrumbs. When you bite into the pizza, hot from the fiery wood oven, there is a crackle, a crunch, and a blast of intense, licoricey greenness that is almost impossible to achieve with a scattering of mere leaves. If you're skeptical, the regular pizza Margherita is pretty good too. 11712 San Vicente Blvd., Los Angeles, (310) 481-7108, pizzana.com.
Stuffed lamb intestines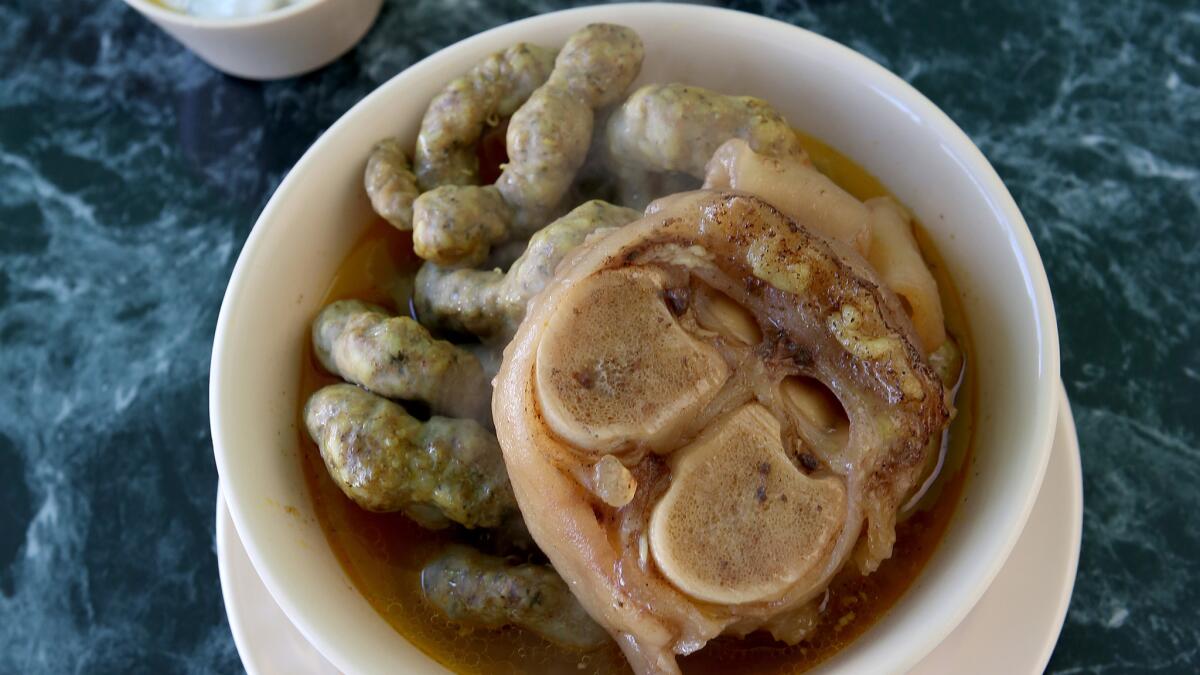 Is there an uglier bowl of food than Kobee Factory's stuffed lamb intestines? I'm guessing not — the twisted gray mass looks exactly like what it is: the gnarled, knotted insides of a sheep turned out into the inside of a bowl of cinnamon-spiced broth. But Waha Ghreir's Syrian home cooking is nothing if not delicious. And her version of the dish turns out to be a delicate, mild rice-filled sausage. The dents and kinks are where the cooks carefully pressed out the air bubbles so the sausage could cook evenly. It has a pleasant chewiness and a deep if restrained flavor that is less sheepy funk than the kind of umami you may associate with French charcuterie. Are you probably going to get the stunning bulgur-lentil dish mujadara, the yogurt-y breakfast bowl called fatteh, or the restaurant's namesake kobee instead? No doubt. 14110 Oxnard St., Van Nuys, (818) 909-2593.
Minestra nel sacco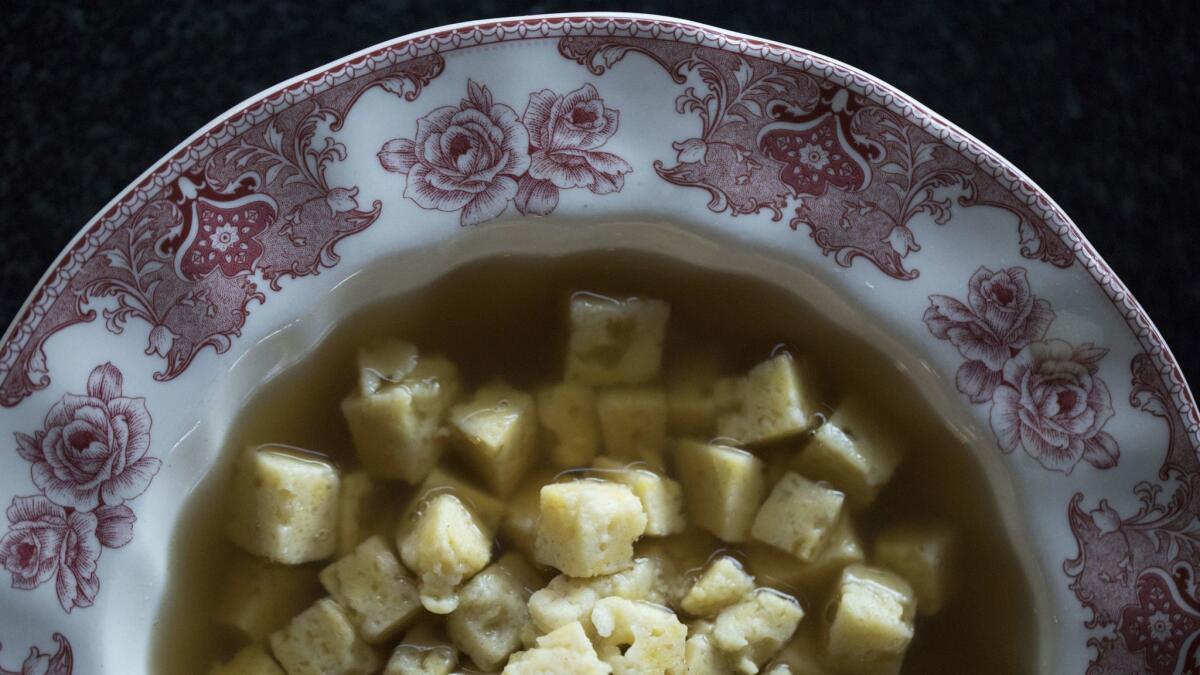 As much as the restaurant conversation here has turned toward New Asian, Modern Mexican or Israeli-influenced cooking, it seemed as if half the major openings this year have been Italian. And first among them is probably Steve Samson's Rossoblu, a startlingly large Bolognese restaurant in the new City Market South complex. Minestra nel sacco is an odd specialty for Samson to feature — in Bologna, the plain, sack-cooked dumpling is a staple of fancy home cooking. (In restaurants everybody gets the more involved tortellini in brodo instead.) But at Rossoblu, when the square little Parmesan dumplings are released from their cloth bag into a bowl of the broth in which they have been boiled, the dish is positively exotic — Bolognese grandmother cooking introduced into a city where few Bolognese grandmothers exist. Would I be pushing things if I confessed that the minestra nel sacco reminded me a lot of the Xi'an bread-in-soup dish called paomo? In Los Angeles, things are complicated. 1124 San Julian St., Los Angeles, (213) 749-1099, www.rossoblula.com.
Hirame
If you were looking for the oddest dish being served in an American restaurant right now, you might start with the fish course at Jordan Kahn's Vespertine, a dish that nudges the idea of culinary abstraction dangerously close to the singularity. It doesn't look like fish, for one thing — it looks rather like an empty bowl, coarse and pebbly inside and out, of a blackness deep enough to suck up all light, your dreams and your soul. The server, wearing a severe frock like something out of "The Handmaid's Tale," will walk away before you discover that the flounder has been pounded thin, crusted with charred-onion powder, and pressed into the bowl over a kind of porridge studded with minced shallot, perfumy bits of pickled Japanese plum, and bright, crunchy bursts of acid that could either be finger-lime vesicles or chopped stems of the wildflower oxalis. You are not sure exactly what you are eating. You are not meant to know. You have traveled from darkness into light, and that is enough. 3599 Hayden Ave., Culver City, (323) 320-4023, vespertine.la.
Pressed duck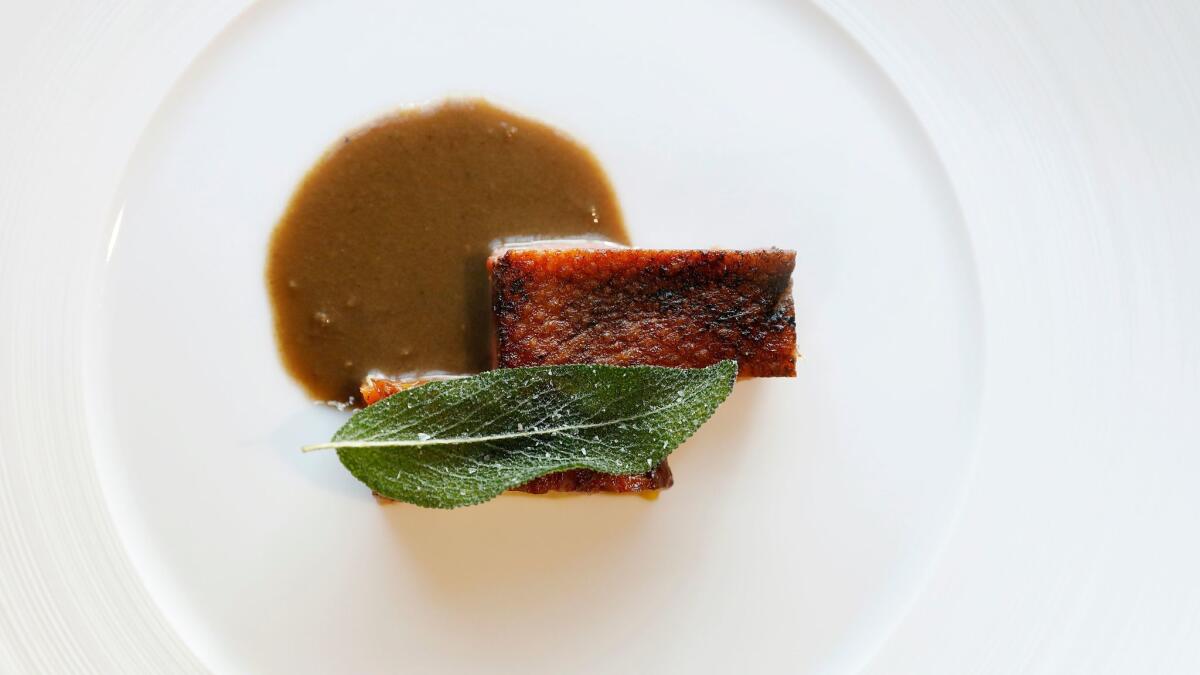 One of the best things I've ever eaten was a pressed squab Chicago's restaurant Next, a bloody par-roasted bird whose magrets and legs were carved off on a tableside cart and its carcass put into an elaborate hand-cranked press to be squeezed like an orange. Ten minutes later, the finished dish and its tar-black sauce, famously one of the most glamorous preparations of Escoffier, were brought out from the kitchen. Dialogue, an ultra-seasonal new tasting-menu restaurant whose entrance could pass for a supply closet, is the current project of Dave Beran, the former chef of Next, and right in the middle of the intimate open kitchen is exactly the gleaming duck press you may have hoped to see. Not quite as much is made of the spectacle, but the pressed duck on the fall menu is splendid, a few slivers of crisp-skinned breast and a puddle of the sauce, the grandest dish of French cuisine lovingly reproduced on the second level of a sticky mall food court. Magnificent. 1315 Third St. Promenade, Santa Monica, www.dialoguerestaurant.com.