Review: How Thomas Ortega is redefining what Mexican food looks like at Playa Amor and Amor y Tacos
Pescado zarandeado, a 1.5-to-2-pound striped bass, cilantro, red onion, lemon, garlic, smoky chipotle, pico de gallo, corn tortillas, rice and beans.
(Jay L. Clendenin / Los Angeles Times )
Beef short rib birria, with charred carrots, caramelized onion rings, roasted tomato chile broth, cilantro, corn tortillas, rice and beans.
(Jay L. Clendenin / Los Angeles Times)
New Mexico green Hatch spaghetti, with garlic cream, Hatch chile, chives and pecorino cheese.
(Jay L. Clendenin / Los Angeles Times )
Chile relleno burger, with Angus beef blend, cheese-stuffed Anaheim chile, remoulade, red leaf, tomato, grilled onion on a brioche bun.
(Jay L. Clendenin / Los Angeles Times)
Pork belly tacos, with grilled onion, chipotle, aji verde, cilantro, mint, chile lime peanuts and cotija.
(Jay L. Clendenin / Los Angeles Times)
Mole tot poutine, with tater tots, mole negro, queso, crema, cilantro, radish and onions.
(Jay L. Clendenin / Los Angeles Times)
Fresh corn tortillas are made in front of diners.
(Jay L. Clendenin / Los Angeles Times)
Estilo Puerto Nuevo lobster, a roasted 1-to-1.25-pound Maine lobster, pico de gallo, clarified butter, chipotle salsa, rice, beans and fresh flour tortillas.
(Jay L. Clendenin / Los Angeles Times)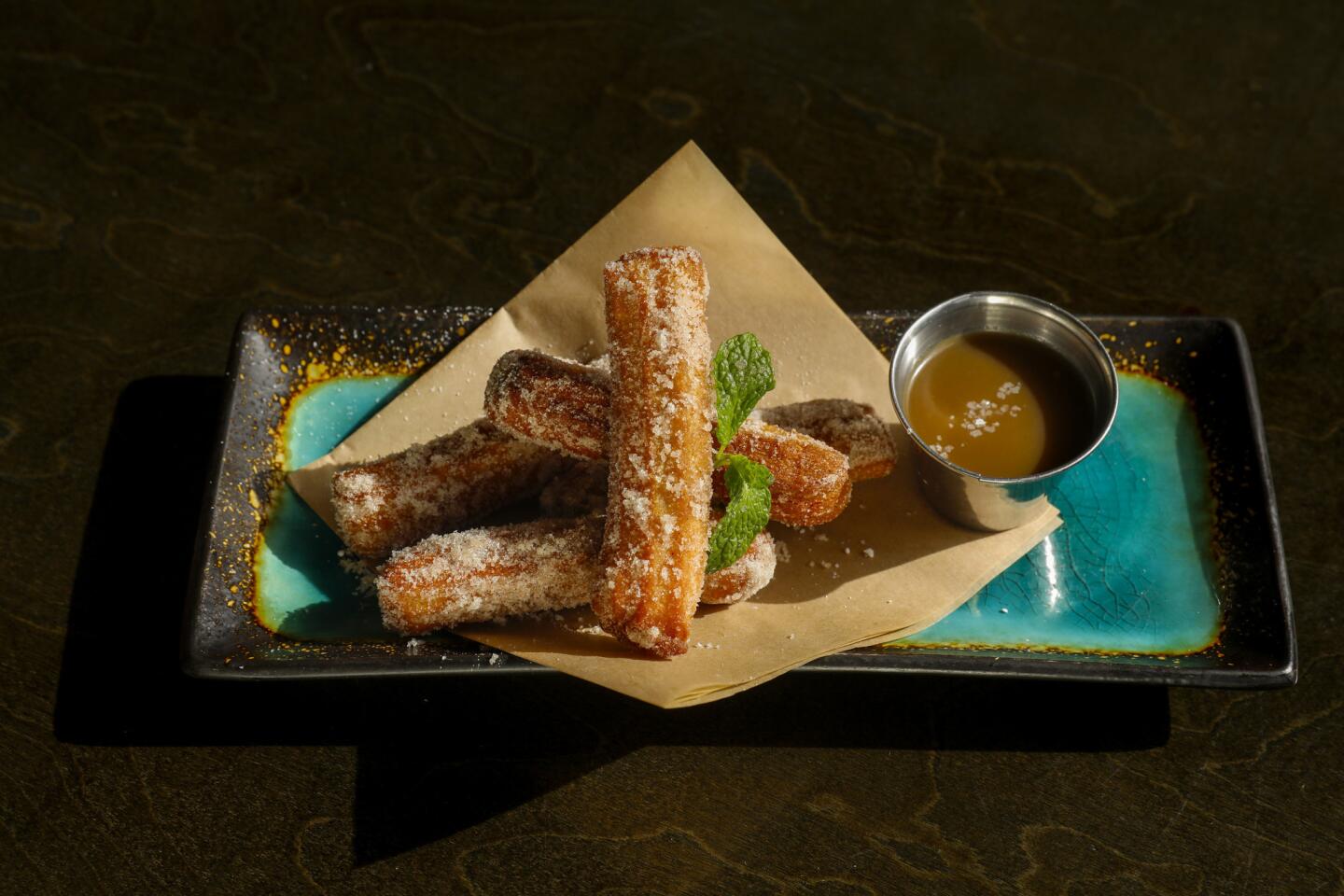 Churros with salted caramel.
(Jay L. Clendenin / Los Angeles Times)
The mango con chile cocktail, with Sauza blue silver tequila, mango purée, limeade, agave chamoy, chile powder, infused salt rim and mango candy.
(Jay L. Clendenin / Los Angeles Times)
Ceviche mixto, with fresh Albacore, bay scallops, Mexican white shrimp, pico de gallo, citrus juice, guacamole, roasted garlic aioli, cabbage, cotija and corn tostadas.
(Jay L. Clendenin / Los Angeles Times)
A variety of plates, including Puerto Nuevo-style lobster, center.
(Jay L. Clendenin / Los Angeles Times)
The Playa margarita, with Silver tequila, limeade, agave, pineapple juice, orange liqueur, orange and lime muddle and infused salt rim.
(Jay L. Clendenin / Los Angeles Times)
Chef Thomas Ortega, left, and lifelong friend and business partner Todd Tsujioka are seen at Playa Amor in Long Beach.
(Jay L. Clendenin / Los Angeles Times)
A look inside Playa Amor.
(Jay L. Clendenin / Los Angeles Times)
Restaurant Critic
If you have been following the Chicano Cuisine guys, the homegrown chefs who have embraced Mexican American cooking that represents the tastes of Los Angeles, you know that their restaurants are some of the most vibrant in town at the moment, as happy to embrace the churro as an elaborate Oaxacan mole, their mom's barbacoa as a plate of marinated clams. Carlos Salgado, Ray Garcia and Wes Avila have all placed on top 10 lists, earned national attention for their creative dishes and cooked in festivals around the U.S. and Mexico.
To the list, you should probably add Thomas Ortega, a veteran of Spago, Lucques and Water Grill who has run Ortega 120 in Redondo Beach for the last 10 years. More to the point, he is the auteur of Amor y Tacos in Cerritos and Long Beach's Playa Amor, two restaurants that are redefining what Mexican food might look like in California, as informed by his Cerritos upbringing as they are by chefs like Suzanne Goin or Michael Cimarusti, using organic produce and grass-fed meat, unafraid to introduce unfamiliar flavors and ingredients to customers who may have dropped in looking for an enchilada plate. Has his chef de cuisine Jon-Erik Carpo cooked at places like Robuchon? It goes without saying.
If you visit both restaurants, it is easy enough to see them as two sides of Ortega's personality, or more to the point as the tiny devil and angel sitting on his shoulders as if he were in an old Tom and Jerry cartoon.
At Playa Amor, there is a careful take on the Sinaloan slow-grilled fish dish pescado zarandeado, made with sea bass instead of snook. At Amor y Tacos, there are melting slabs of pork belly glazed with Mexican Coke. Playa Amor features a lovely plate of spaghetti sauced with puréed roasted Hatch chiles enriched with garlic, pecorino and cream. Amor y Tacos is famous for Ortega's interpretation of Dodger Stadium's infamous Doyer Dog, a full pound of crisp-skinned hot dog on an oversized bun wetted with short-rib chile, mayonnaise and mustard. Playa Amor serves a version of Thai mussels in which the curry is spiked with green mole; Amor y Tacos, fried calamari frosted with smoky-sweet chile sauce.
Although most of the dishes are the same at both restaurants, including crunchy toasted grasshoppers spritzed with lime, tiny Brussels sprouts charred into caramelized submission, and the same lovely, long-cooked short-rib birria that tops the Doyer Dog, the personality of each menu is almost as distinct as the difference between Amor y Tacos' dark dining room lined with wrestling posters and the double-height glass walls of Playa Amor, looking out onto a pond.
Does a bracing, spicy michelada mean something different in a Cerritos strip-mall restaurant hard by a martial arts dojo than it does in an marina-adjacent mall steps from a Pilates studio? Does an ear of blackened, chile-sprinkled street corn read differently in a restaurant whose customers may never have seen grilled corn on an actual street than it does in a place where the phrase "elote man corn" inspires nostalgia? Do people who hang out on boats expect to see kale, charred octopus and Soyrizo when they go out for lunch?
The menu at Amor y Tacos describes Ortega's cooking as Pocho Cuisine. (You can think of it as a cheerfully lowbrow angle on what Taco Maria's Carlos Salgado calls Chicano Cuisine.) Ortega serves fideo, the tomatoey noodle soup at the heart of Mexican American moms' cooking; a homey Caesar salad; and grandmother-style fried tacos filled with ground beef, shredded lettuce and crumbled cotija cheese. I am not sure why, but I kind of love the chilaquiles he makes with Doritos, in which the chips dissolve into the chile, adding a high note of the toasted-corn funkiness you smell every time you open a bag. (There are shards of the house's sturdy fried tortillas in the mix to add the necessary crunch.)
You can get tacos stuffed with the usual carnitas, carne asada and battered fish at both restaurants, but where Playa Amor offers tacos with Soyrizo and potatoes, Amor y Tacos has delicious tacos stuffed with rajas, with leathery strips of burnt cheese — and even with hoisin sauce, pickles and roast duck, a clever backward play on the pancake-wrapped Beijing duck bundles you find at Chinese restaurants.
Both restaurants feature a tortilla maker working her comal just inside the front door — the scent is irresistible, and the fresh, hot tortillas are swell. Both restaurants are most famous for their mole tot poutine, which is a mass of freshly fried tater tots mixed up with black mole, crunchy aromatics and a molten mass of Oaxacan cheese.
But finally, at Playa Amor, you can spend an afternoon drinking Negra Modelo and noshing on Ortega's Mexican/Southern shrimp and grits, made with house-ground hominy; chicken mole where the crisped bird instead of the Oaxacan sauce is the star; or the kind of pork belly nachos where you end up leaving most of the bland, salty pork belly on the side of the plate.
You will want to try the riff on the famous lobsters in Puerto Nuevo, the seaside village a few minutes south of Tijuana whose streets are lined with restaurants selling the dish. He uses Maine lobsters instead of the Baja spiny lobsters, and he fries them a little less intensely than they tend to in Puerto Nuevo, but they are juicy and delicious, served with salsa, freshly made tortillas, and a slosh of melted butter. If you have ever wondered why Puerto Nuevo lobster isn't as easy to find in Southern California as Baja specialties like Caesar salad, fish tacos and clam cocktails, the version at Playa Amor will make you as happy as the churros you are inevitably going to get for dessert.
::
Amor y Tacos
LOCATION
13333 South St., Cerritos, (562) 860-2667, amorytacos.com.
PRICES
Starters $5-$12; tacos $12.75 (for three); main courses $13.50-$21; desserts $8.
DETAILS
11 a.m. to 10 p.m. Mondays to Thursdays; 11 a.m. to 1 a.m. Fridays and Saturdays; 10 a.m. to 9 p.m. Sundays. Credit cards accepted. Full bar. Lot parking.
RECOMMENDED DISHES
Mole tot poutine; burnt-cheese tacos; Doritos chilaquiles; chile verde.
Playa Amor
LOCATION
6527 E. Pacific Coast Highway, Long Beach, (562) 430-2667, www,playaamorlb.com.
PRICES
Starters $8-$15; tacos $11-$15.75 (for three); main courses $12-$42; desserts $7.
DETAILS
11:30 a.m. to 10 p.m. Mondays to Thursdays; 11:30 a.m. to midnight Fridays and Saturdays; 10 a.m. to 9 p.m. Sundays. Credit cards accepted. Full bar. Lot parking.
RECOMMENDED DISHES
Shrimp and grits; beef short rib birria; Puerto Nuevo-style lobster.
Get our L.A. Goes Out newsletter, with the week's best events, to help you explore and experience our city.
You may occasionally receive promotional content from the Los Angeles Times.