The top 10 recipes of 2015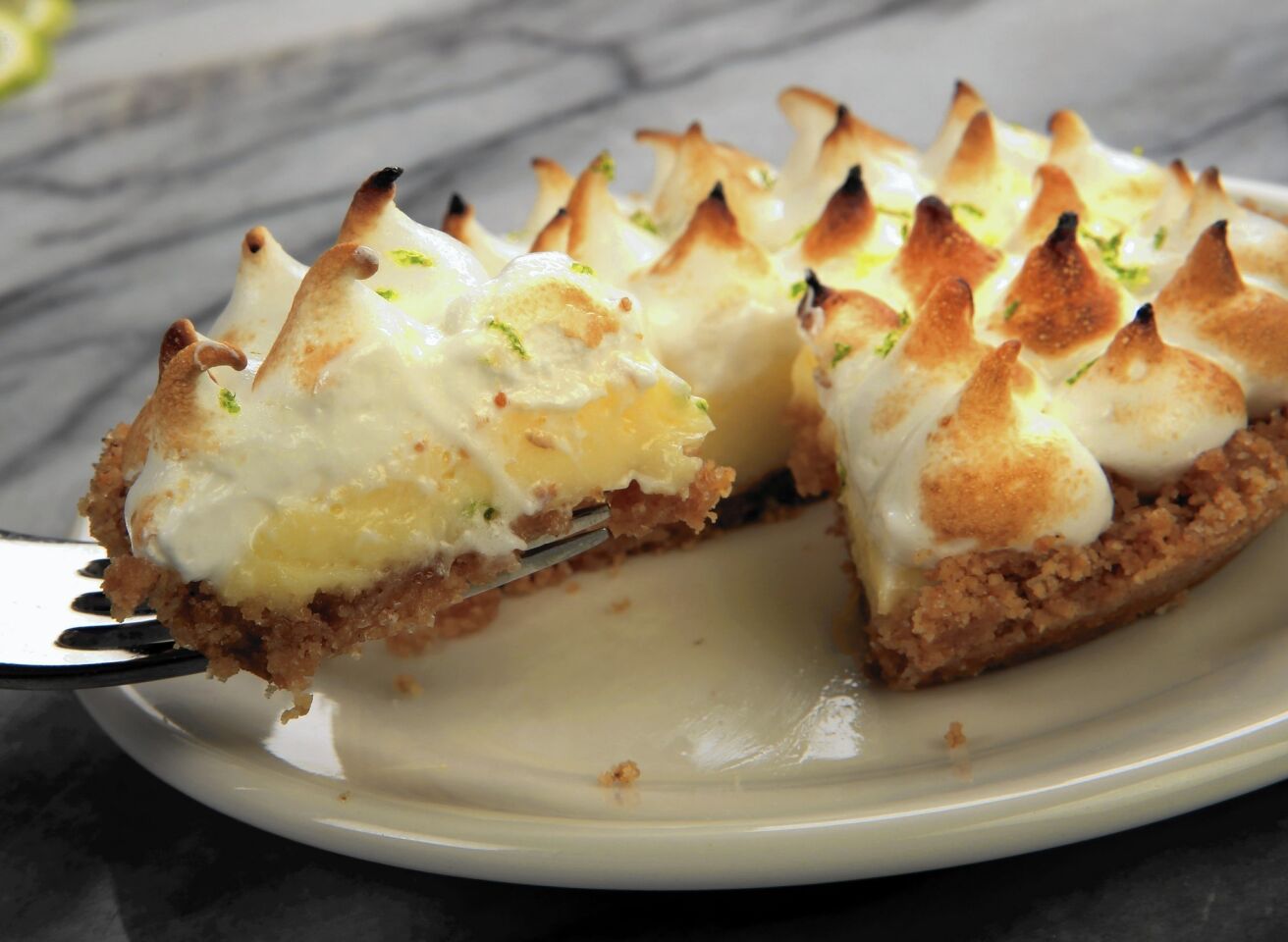 Fishing with Dynamite's cute little Key lime pies. Get the recipe.
(Glenn Koenig / Los Angeles Times)
Homemade Panda Express-style orange chicken.
(Kirk McKoy / Los Angeles Times )
Oatmeal cookies from Sycamore Kitchen, topped with coconut toffee. Get the recipe.
(Ricardo DeAratanha / Los Angeles Times)
This year has seen a wealth of great food in this town. There have been some spectacular dishes on restaurant menus — meticulously constructed grain bowls, examples of the continued prominence of vegetable cuisine, more high-end barbecue and taco experiments. In The Los Angeles Times Test Kitchen, we testenot a few of this town's best restaurant dishes, as well as a number of dishes that we develop ourselves. These are dishes that represent the techniques that home and professional cooks are using, and that feature the remarkable ingredients what we have available to us in Southern California, dishes that exemplify the way we're eating in Los Angeles right now.
SIGN UP for the free In the Kitchen newsletter >>
Every year we pick 10 recipes from the last 12 months that we really loved, recipes that we tested in the kitchen, sometimes a number of times, to get them just right. If we've come up with them ourselves, we try them out on each other, on the copy editors and writers in other sections, gathered around the stoves in the Test Kitchen. If we've gotten them from restaurants, we maybe go eat them again, and adjust the recipes with the help of the chefs who created them — to get them just right for the rest of us who want to duplicate the dishes in our own kitchens. So here are our 10 favorites from this year's recipes. Because with a good recipe, everybody's kitchen is a Test Kitchen.
Recipe: Perfecto Rocher's paella verda
You may have cooked paella before, but Spanish chef Perfecto Rocher, who has cooked his paellas at Smoke.Oil.Salt and Lazy Ox, does not make your average pan of rice. He uses Iberico ribs and rabbit, fava beans and artichoke hearts, saffron and pimenton, and he cooks the stuff over a fire he builds around cinder blocks in his backyard. It's an amazing dish — definitely worth sourcing your own rabbit and cinder blocks — and, we thought, the best dish that went through the kitchen this year.
Recipe: Grilled cheese with marinated tomatoes
Though complicated regional dishes can be amazing, so can the simple things, versions of the comfort food we grew up with. Test Kitchen Director Noelle Carter's version of a grilled cheese sandwich has a few bells and whistles, notably marinated tomatoes and smoked cheese, but is at heart kid food — kind of spectacular kid food.
Recipe: Key lime pie from Fishing With Dynamite
A key lime pie, like many specific pie recipes, can run the gamut from great to mediocre, given its history and tradition, and all its components. The version from Fishing With Dynamite, chef David LeFevre's Manhattan Beach seafood restaurant, is one of the great ones. It's built with graham cracker crust, lime custard and brûleéd meringue, and installed in tiny tart pans and dusted with lime zest. Did we mention that they're individual sized?
Recipe: Homemade Panda Express orange chicken
How many of us harbor a secret (or not so secret) love for fast food, particularly certain classic dishes, cravable things that we order by default or seek out at odd hours. Deputy Food Editor Jenn Harris is hardly alone in loving the orange chicken from Panda Express — but she decided to do one better, and come up with a recipe to make it at home. And this way? You don't have to get back in line for more.
Recipe: Sycamore Kitchen's oatmeal cookies
Karen Hatfield is one of this town's finest pastry chefs. Her chocolate pie at Odys & Penelope is something we dream about, and her pastries at Sycamore Kitchen nearby are consistently stunning. But it was her oatmeal cookies, which are topped with homemade coconut toffee, that we couldn't stop eating when we got the recipe, thanks to a reader's request. Yes, these are pastry chef cookies — and worth the extra effort.
Recipe: Sweet potato tacos with leeks and almond salsa
If you've spent much time at Wes Avila's splendid taco truck Guerrilla Tacos, you'll probably have ordered the chef's vegetable-focused tacos. Because although Avila does amazing things with meat and seafood, his vegetable cooking is superb. The sweet potato taco is not a simple recipe — Avila has a fine dining background, after all — but it's well worth the making, which includes charred leeks and an almond salsa.
Recipe: Super-crisp roasted potatoes
When Russ Parsons reviewed J. Kenji Lopez-Alt's new cookbook, "The Food Lab," the recipe that really caught his attention — and all of ours too, after we tested it — was that for super-crisp roasted potatoes. The potatoes are cooked, then coated with either olive oil, bacon or duck fat (reason enough to make them!), then roasted until they're, well, super-crisp indeed. We ate them like candy.
Recipe: Pork apple sausage stuffing
Restaurant critic Jonathan Gold spends more time in the kitchen than you might think, especially during the holidays. For Thanksgiving, one of his favorite dishes to make is his take on Bruce Aidells' stuffing recipe, made with apple sausage, lots of bread and aromatics — and fresh chestnuts. Because though the holiday bird is important, it's often the sides that can be revelatory.
Recipe: Connie and Ted's roasted carrots
There's a surfeit of riches on the menu at Michael Cimarusti's West Hollywood clam shack, if you can call the Providence chef's more casual seafood house that. But among all the seafood dishes, don't forget the vegetables. This recipe for roasted carrots is extraordinary. The carrots are roasted with olive oil, then sautéed with rosemary butter, and then topped with black-pepper-laced crème fraîche. It is most definitely not your average plate of carrots.
There's something about a good fillet of salmon that's hard to beat, especially when you sauté it skin-on, don't overcook it, and pair it with the right kind of seasoning. Instead of the usual herbs or spices, this recipe uses tea. Not ordinary tea, but the Japanese tea genmaicha, which includes toasted rice. It's a simple recipe, but the flavor is extraordinary.
---
Get our weekly Tasting Notes newsletter for reviews, news and more.
You may occasionally receive promotional content from the Los Angeles Times.