Recipe: Soup with winter greens and chickpeas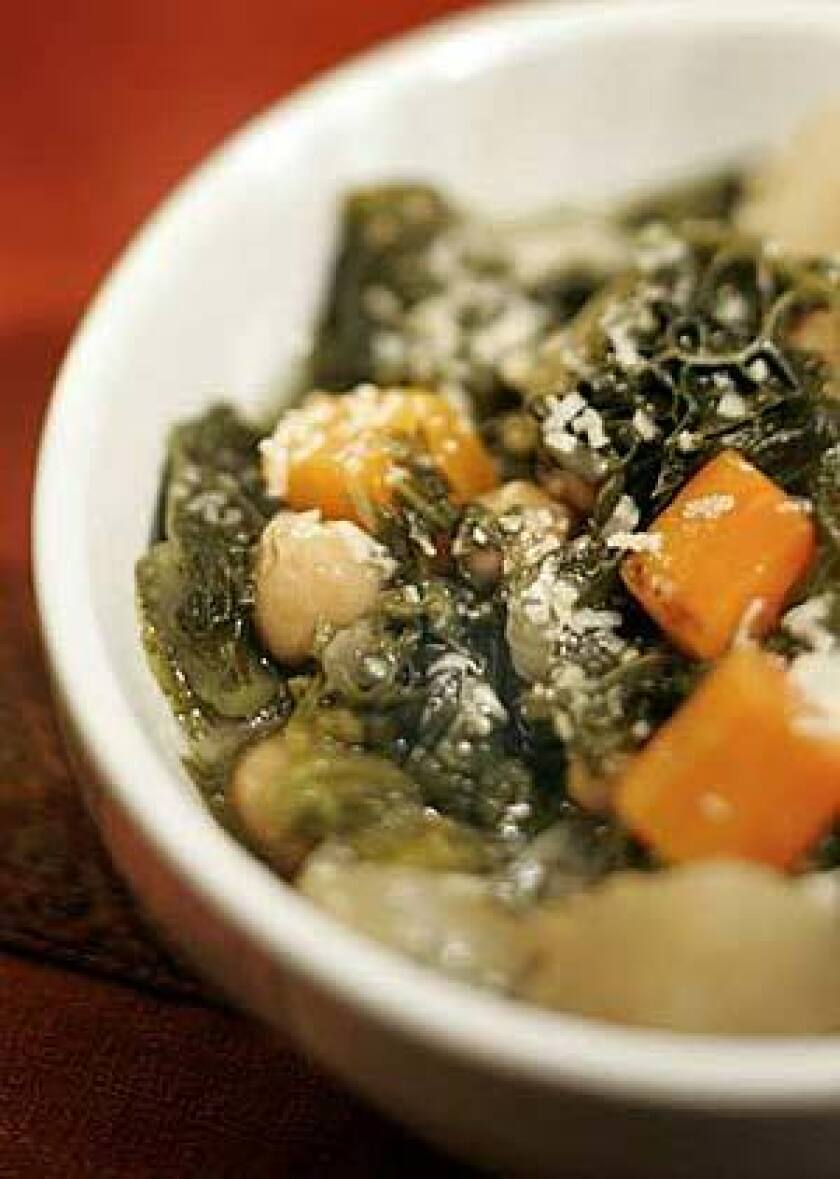 ---
Our recipes, your kitchen: If you try this or any other recipe from the L.A. Times Test Kitchen, we would like to know about it. Upload pictures of the finished dish here.
---
Total time: About 1 hour, 30 minutes
Servings: 8
VIDEO Click here to watch Times Food Editor Russ Parsons make this dish.
1/4 cup olive oil
2 carrots, diced
1 stalk celery, diced
1 onion, diced
1 turnip, diced
4 cloves garlic, minced
1 pound chopped mixed greens (mustard, kale, turnip, etc.)
Salt
1/2 teaspoon minced rosemary
1 (16-ounce) can chickpeas, rinsed and drained
1/3 cup grated Parmigiano-Reggiano, or more, to taste plus additional to pass at the table
16 slices baguette, toasted
Freshly ground pepper
1. In a heavy soup pot, warm the olive oil over medium-low heat. Add the carrots, celery, onion and turnip, cover and cook until they have softened and become aromatic, about 20 minutes. Stir in the garlic and cook until fragrant, 2 or 3 minutes.
2. Add the mixed greens, a big handful at a time, stirring and giving them time to soften and shrink before adding the next handful.
3. When all of the greens have cooked, add 8 cups of water, one-half teaspoon salt, the rosemary and chickpeas. Bring to a simmer over medium-high heat; cover and lower the flame to maintain a simmer. Cook until the broth is deeply flavored, 45 minutes to 1 hour.
4. When ready to serve, stir in one-third cup Parmigiano-Reggiano and season to taste with salt and pepper. Arrange two toast slices in the bottom of each warm soup bowl and ladle the soup over the top. Sprinkle with more cheese to taste. Serve immediately, passing a bowl of cheese to be added at the table.
Each serving: 235 calories; 7 grams protein; 31 grams carbohydrates; 6 grams fiber; 9 grams fat; 2 grams saturated fat; 3 mg. cholesterol; 432 mg. sodium.
---
Get our weekly Tasting Notes newsletter for reviews, news and more.
You may occasionally receive promotional content from the Los Angeles Times.