Review: Aburiya Raku, a Vegas star, brings its coveted Japanese food to West Hollywood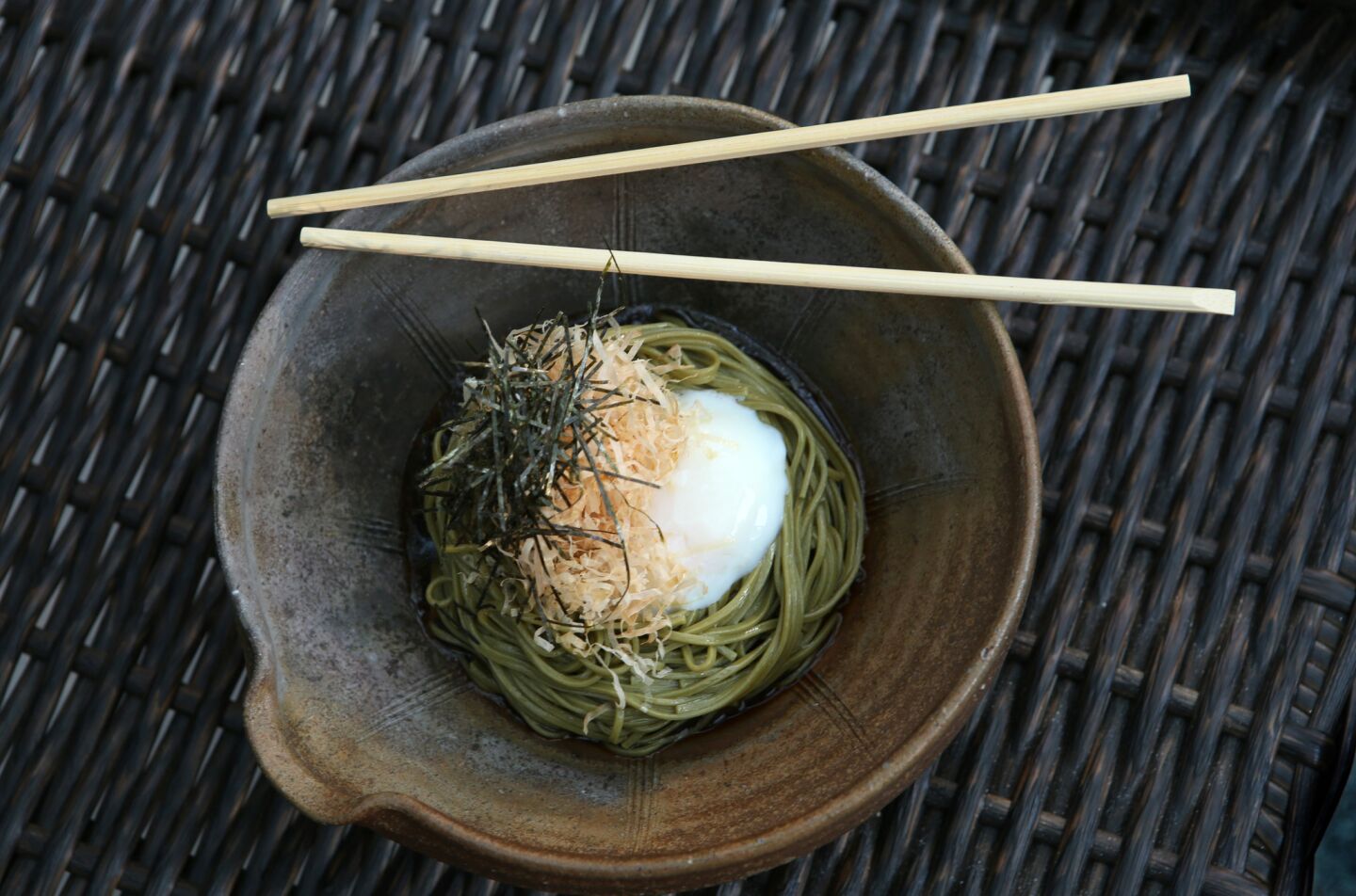 Bukkake Cha Soba (Cold Green Tea Soba with Poached Egg).
(Glenn Koenig / Los Angeles Times)
Aburiya Raku in West Hollywood.
(Glenn Koenig / Los Angeles Times)
The interior of Aburiya Raku in West Hollywood.
(Glenn Koenig / Los Angeles Times)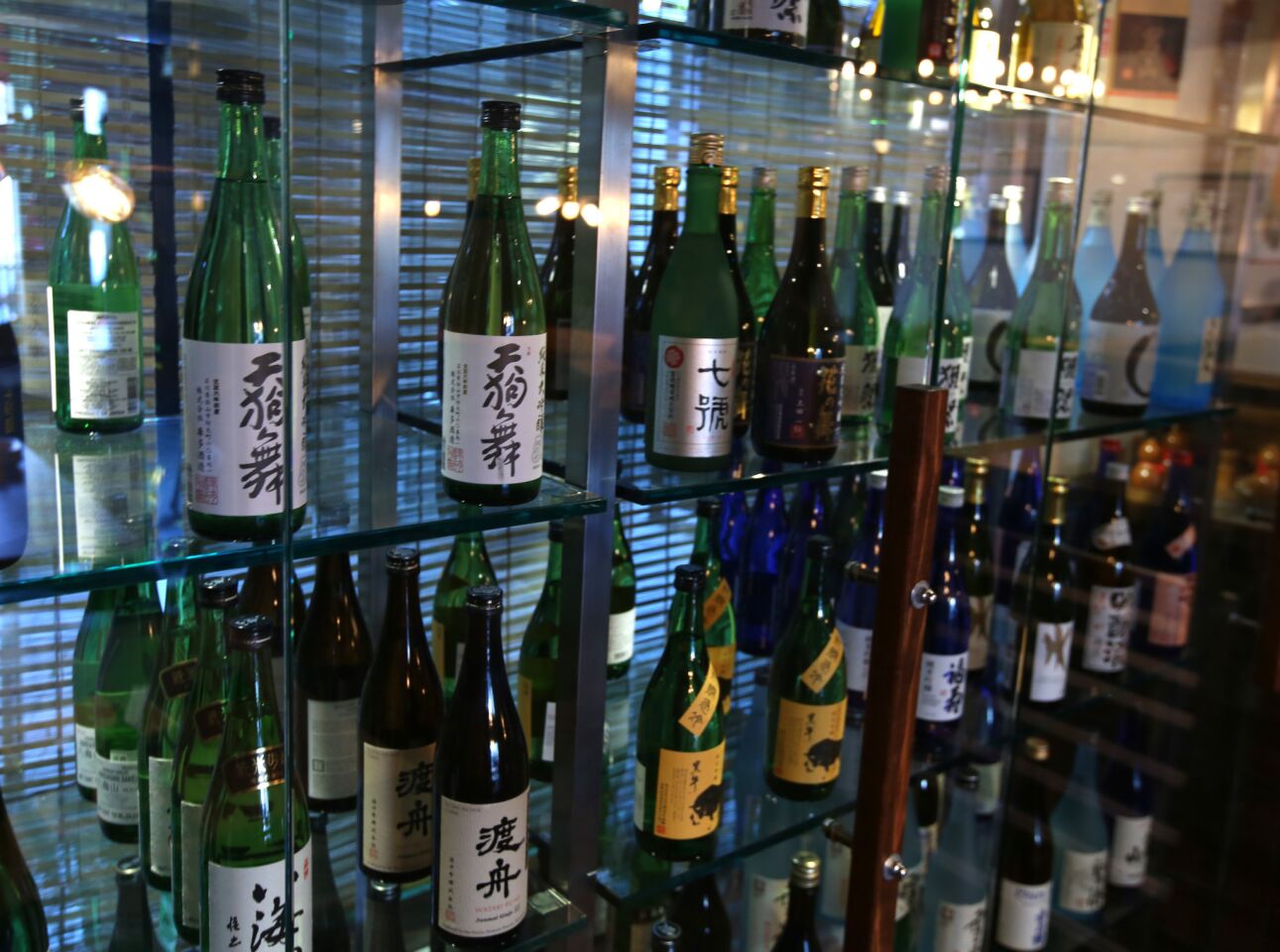 The sake selection at Aburiya Raku.
(Glenn Koenig / Los Angeles Times)
A list of the fresh fish and dishes available for dinner on a recent night.
(Glenn Koenig / Los Angeles Times)
The sushi bar at Aburiya Raku.
(Glenn Koenig / Los Angeles Times)
Chef Shin Okamoto preparing for the night's diners.
(Glenn Koenig / Los Angeles Times)
Some of the fresh fish available for dinner.
(Glenn Koenig / Los Angeles Times)
Isaki, whole fish seasoned with Japanese sea salt from Hokkaido and grilled over Binchotan charcoal.
(Glenn Koenig / Los Angeles Times)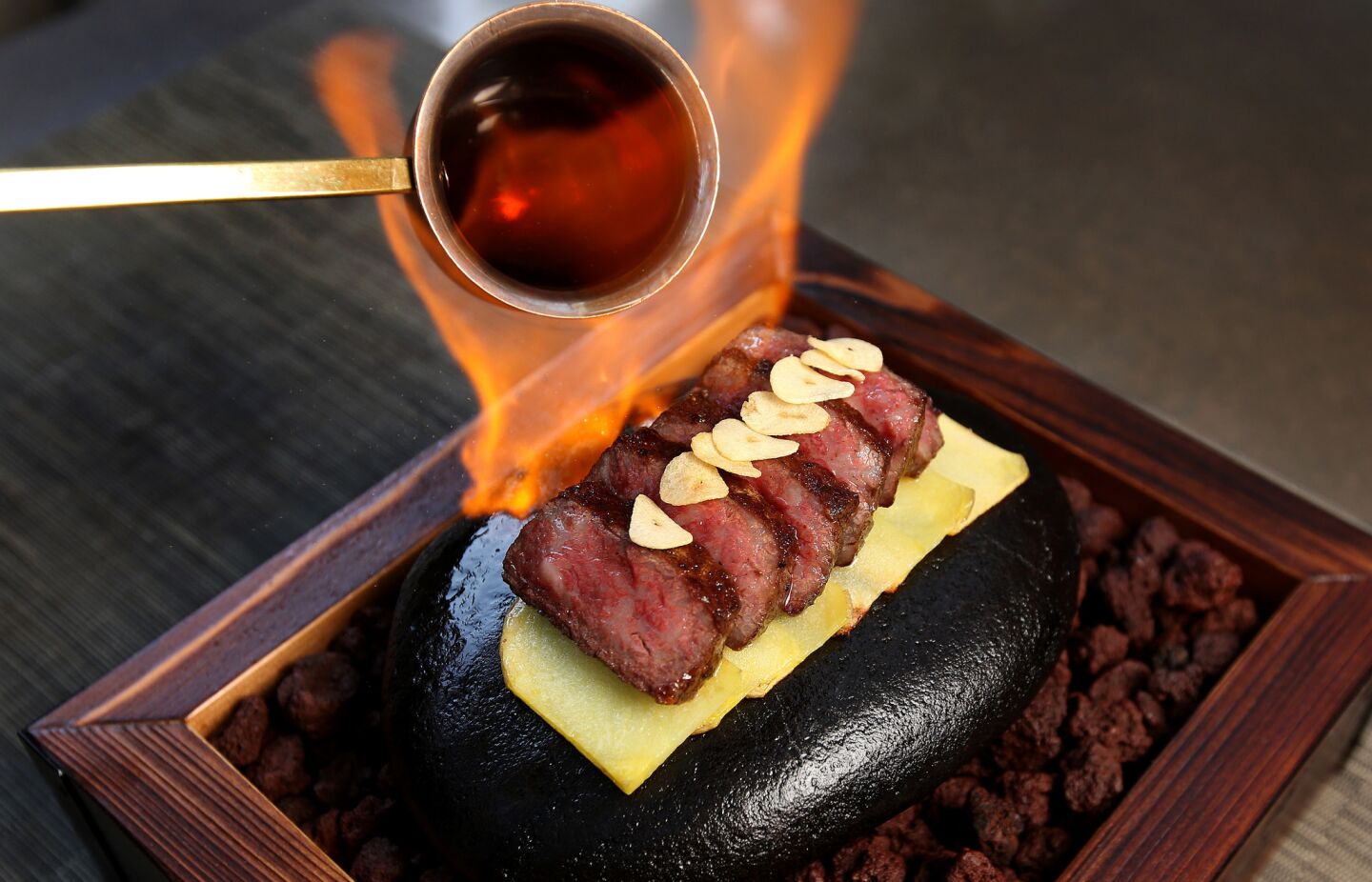 Satsuma Wagyu Ribeye Stone Steak served on a hot stone and flambéed with Hennessy.
(Glenn Koenig / Los Angeles Times)
Salmon Kamameshi, clay pot rice with salmon, salmon roe, ginger and Asian mint leaves.
(Glenn Koenig / Los Angeles Times)
Robata grilled tomato, foie gras with glazed soy-based sauce and duck with balsamic soy sauce.
(Glenn Koenig / Los Angeles Times)
Home made agedashi tofu, deep-fried style, served with bonito-based broth.
(Glenn Koenig / Los Angeles Times)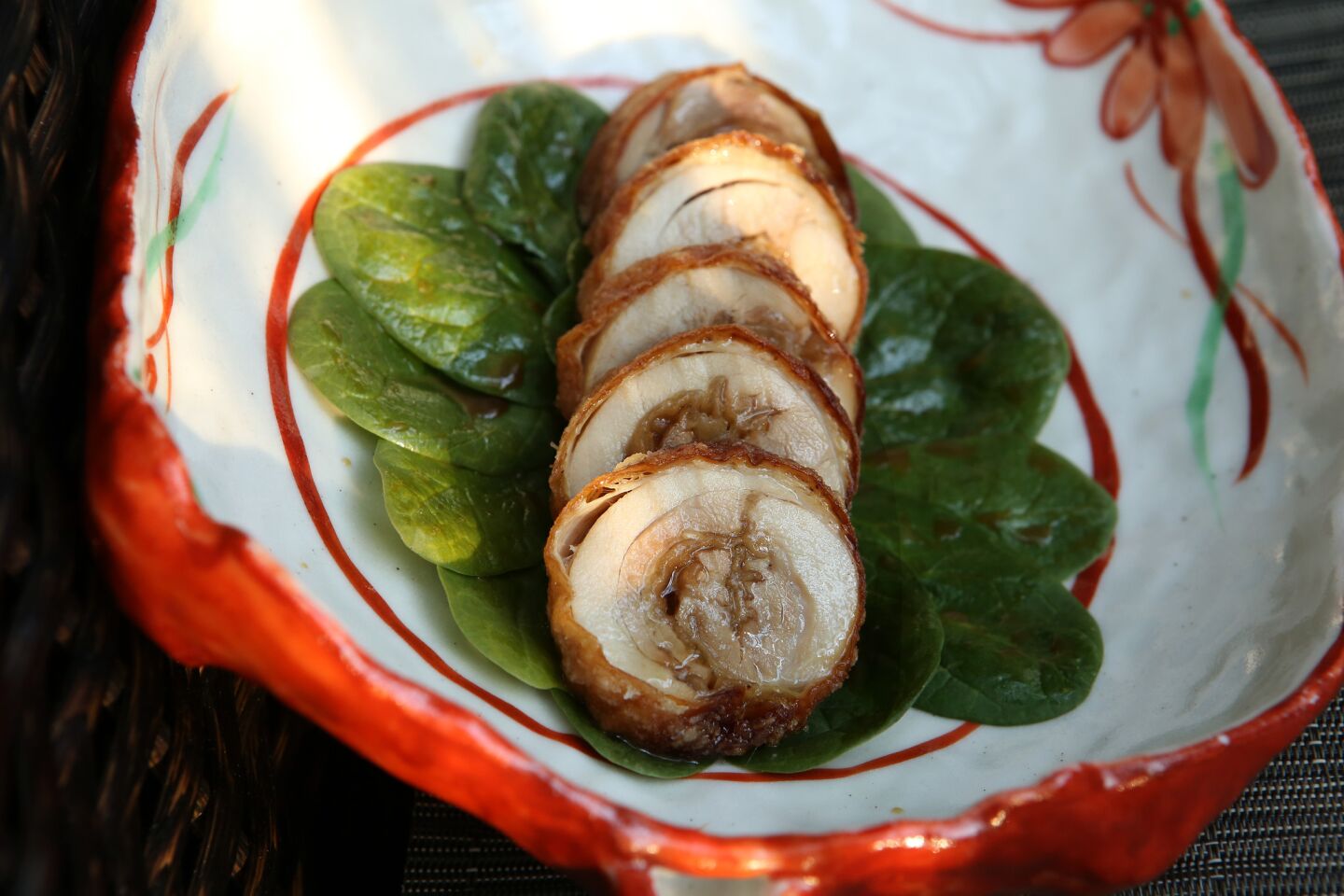 Juicy, deep-fried asajime chicken.
(Glenn Koenig / Los Angeles Times)
Sashimi moriawase (assorted sashimi plate) served with fresh wasabi, marinated seaweed and pickled chrysanthemum.
(Glenn Koenig / Los Angeles Times)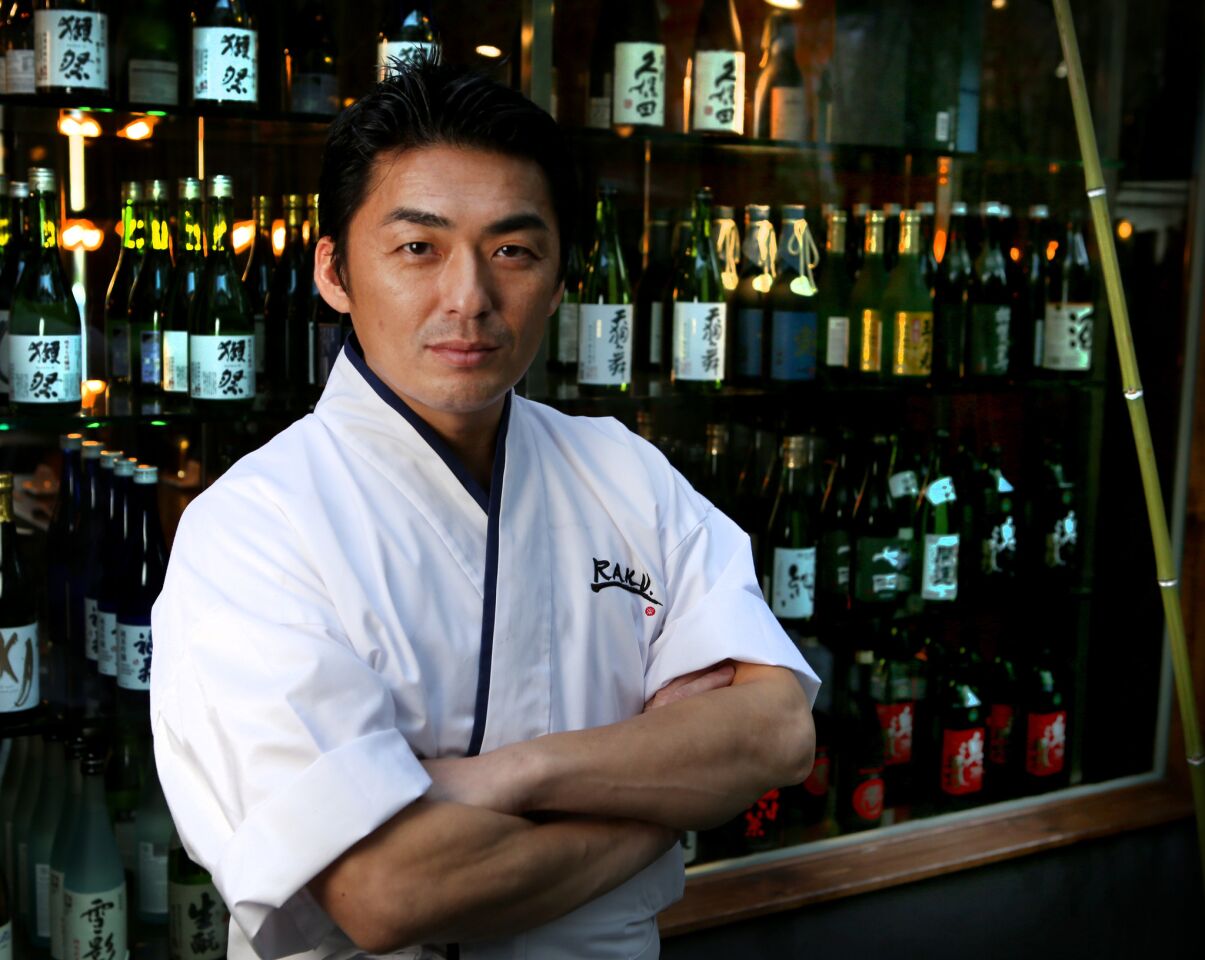 Owner-chef Mitsuo Endo at his restaurant Aburiya Raku in West Hollywood.
(Glenn Koenig / Los Angeles Times)
Los Angeles Times Restaurant Critic
If you keep up with the food magazines, I'm guessing you know about the original Aburiya Raku, even if you've never quite made it out to the place. It's the loud, informal Japanese restaurant in Las Vegas' tiny Chinatown, nearly as famous for its foie gras rice bowls and beef liver sashimi as it is for its fanatical following of chefs. A paragraph about its grilled rice balls and Kurobuta pork cheeks often finds its way into articles otherwise devoted to the resort-based outposts of famous French chefs, as if to prove the writer knows there's culinary life outside the hothouse conditions of the Strip. If you are a certain kind of food person, it is impossible to imagine a trip to Vegas without at least one after-midnight visit to Mitsuo Endo's cheerful izakaya.
When a West Hollywood branch of Aburiya Raku was announced last year, it was hard to know what to think. Before the restaurant opened in Las Vegas, there wasn't much in the way of serious Japanese food in that city; in some parts of Los Angeles, it is easier to find sushi than a cheeseburger. L.A. goes to bed earlier than Vegas. And while there have always been decent sushi bars in West Hollywood, the area is pretty far from the Japanese strongholds in Little Tokyo and the South Bay.
But when you walk into the new restaurant, it feels less like Las Vegas than like Japan, framed in rustic dark wood, dominated by its open kitchen, banging the traditional-instrument Japanese pop occasionally known as "sham rock." There is a bit of the vibe of a private club: the hostess is apt to be a bit chilly until she determines that you really do have a reservation. The sweet, leafy aroma of Japanese charcoal hangs in the air.
Like any decent izakaya, Aburiya Raku has a bit of a learning curve. There is a wood-framed menu, one side listing the cold and hot dishes that will probably make up most of your meal, the other, the roster of items from the grill. There is a long, illustrated list of cold sake, most of which will be new to you — I kind of liked the Three Dots, whose vaguely autumnal fragrance went nicely with grilled meats. (The server comes over with a selection of sake cups from which to choose, which is a nice touch.) After you sort of figure out what you might want for supper, another server drags over a whiteboard on which the day's specials will be scrawled: maybe a hamburger steak, served in a sizzling vessel with a sticky mushroom-soy glaze; maybe grilled orbs made from chopped shrimp and vegetables; oysters; and almost certainly a list of fish — including, unfortunately, the inevitable (and severely threatened) bluefin tuna. And you order too much. You always order too much. The leisurely paced meal stretches out for hours. And against all odds, you are happy.
Aburiya Raku may not be the best izakaya in the Greater Los Angeles area — top five, I'm guessing — but it is a place you want to be.
So you try a tatami sardine salad, which is a little like a Caesar salad garnished with crunchy mats made from dried sardines; and a plate of tempura-fried ice fish, which might remind you of wispy French fries with eyes; crunchy asparagus wrapped in bacon; live scallops sauteed with butter and soy; or a bowl of the vinegary Japanese pickles called sunomono.
The kitchen has a small sub-specialty in firm, house-made tofu with the consistency of fresh cheese, drained like ricotta in woven baskets and served plain (sprinkle it with a bit of finely ground salt flavored with green tea) or as agedashi tofu, delicately fried and served in broth. My favorite is probably the oyaji, which apparently means something like "old-dude style," served with a mass of wilted mustard greens and what I can only describe as the Japanese equivalent of Spicy Chile Crisp, the crunchy Chinese condiment.
If you order a whole fish from the specials board, say a sea robin or the firm-fleshed grunt called isaki, it will be served first as sashimi, with a dab of freshly ground wasabi and a bit of pickled chrysanthemum as palate cleanser, and later fried, its crisp skeleton arching above a jumble of fried filets.
You could probably make an entire meal at Aburiya Raku out of nothing but meat and fish cooked on the charcoal grill: chunks of chicken breast wrapped in thin, crisp sheets of its own skin; chewy bits of Kurobuta pork cheek; meltingly rich slivers of pig ear; beef dabbed with wasabi or duck breast sweetened with a few drops of balsamic vinegar. You'll probably want the slab of salmon belly, skin blistered and crunchy, served with grated daikon and marinated salmon roe. You will definitely want the tsukune: fluffy meatballs of ground chicken formed into the shape of Louisville Sluggers.
At which point it is probably time for grilled rice balls in broth with super-tart ume, or possibly a bowl of the delicate egg custard flavored with a bit of foie gras, sluiced with an inch of hot broth, topped with a slice of grilled duck breast and served with a matful of iced fresh noodles to dip into it.
It's not on the menu, but the best possible ending to a meal at Aburiya Raku may be the kamameshi, a kind of wet Japanese pilaf cooked in a heavy iron pot with salmon and herbs, a dish that is simultaneously filling and refreshing. If you forget to ask for it at the beginning of the meal — it takes 40 minutes to cook — you can always console yourself with the green tea crème brûlée.
::
Aburiya Raku
The noted Las Vegas Japanese izakaya opens an outlet in West Hollywood.
LOCATION
521 N. La Cienega Blvd., West Hollywood, (213) 308-9393, raku-grill.com
PRICES
Tofu $4-$12.50; salads $9-$17; cold dishes $6-$15; hot dishes $5.50-$12; robata skewers $3-$20; special dishes often more.
DETAILS
Open 6 p.m. to 2 a.m. Mon.-Sat. Credit cards accepted. Beer, wine and sake. Valet parking.
RECOMMENDED DISHES
Oyaji tofu; fried ice fish; butter-sautéed scallop; salmon belly; cold udon with foie gras egg custard; kamameshi; green tea crème brûlée.

---
Get our weekly Tasting Notes newsletter for reviews, news and more.
You may occasionally receive promotional content from the Los Angeles Times.