Barrel & Ashes a crackling fine take on Texas barbecue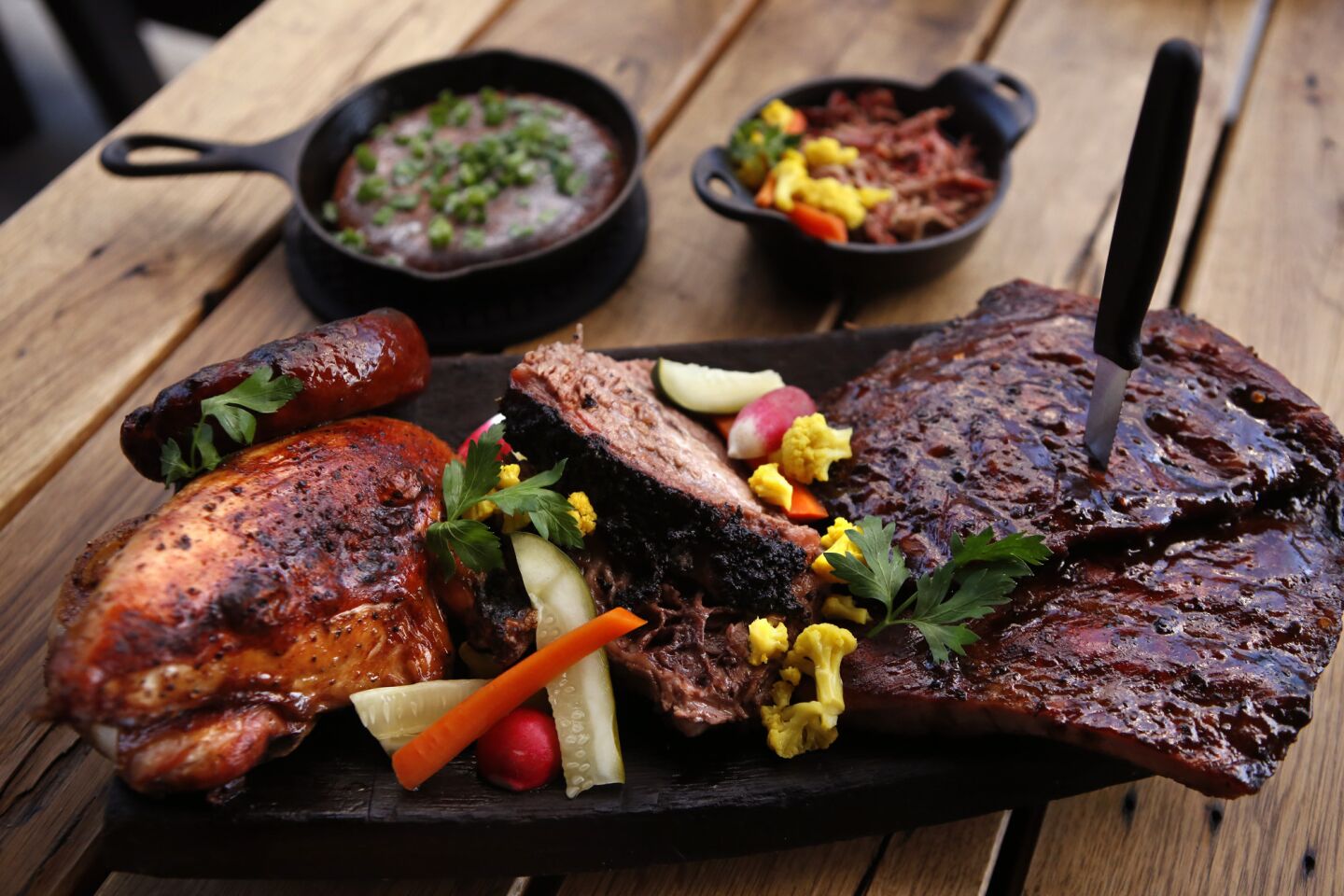 Round out a combo platter of smoked meats with hoe cake, a buttery corn bread dish, and a side of pulled pork at Barrel & Ashes.
Jonathan Gold's 101
(Genaro Molina / Los Angeles Times)
Devon Handy and her husband, Alex, dig into the spare ribs at Barrel & Ashes.
(Genaro Molina / Los Angeles Times)
Frito pie with chili, cheddar, sour cream and green onions is on the menu at Barrel & Ashes.
(Genaro Molina / Los Angeles Times)
Pear and endive salad is one of the starters on the menu.
(Genaro Molina / Los Angeles Times)
The Best Damn Chick'n Sandwich with coleslaw, jalapeno, pimento, cheese and milk roll is on the menu.
(Genaro Molina / Los Angeles Times)
A Free Bird, left, and a Horse's Neck are two of the highballs available at Barrel & Ashes.
(Genaro Molina / Los Angeles Times)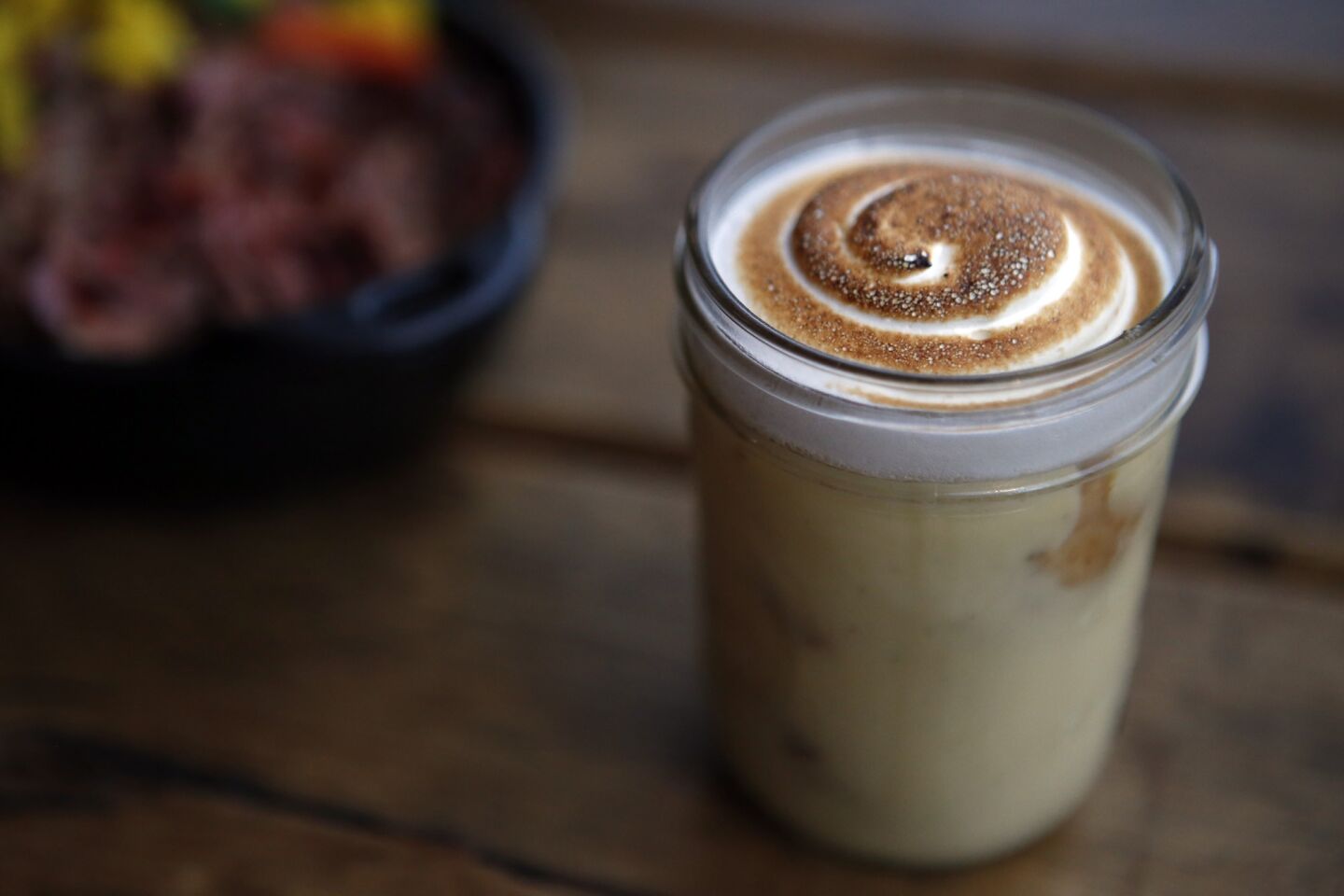 Banana pudding is a favorite on the dessert menu.
(Genaro Molina / Los Angeles Times)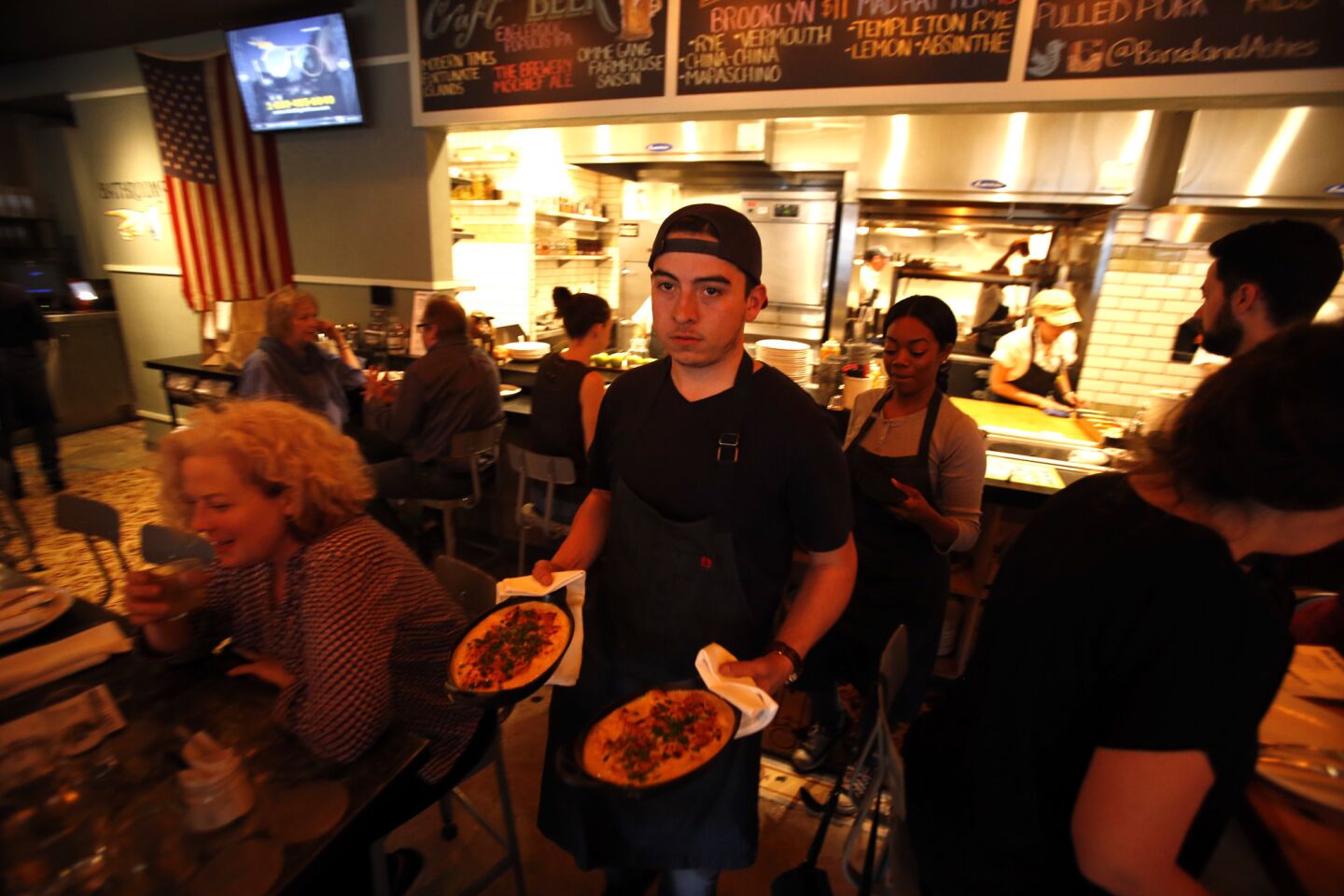 Expediter Gilbert Castillo delivers a couple of plates of food at Barrel & Ashes.
(Genaro Molina / Los Angeles Times)
Chef Rory Hermann, chef de cuisine Michael Kahikina and chef Tim Hollingsworth are part of the creative force behind Barrel & Ashes.
(Genaro Molina / Los Angeles Times)
Los Angeles Times Restaurant Critic
When you talk to the masters of Texas barbecue, men and women who measure their lives in cords of post oak and fatty beef by the ton, you will hear about convection rates and sedimentation, humidity and wind, and the way fat renders in April as opposed to the way it renders in May. You learn about the complexities of brisket, a cut made up of two separate muscles that react to heat as if they were from two different planets. You'll hear a lot about the aging of split logs, the role of black pepper in crust formation, the perils of both over-smoking and under-smoking, and the difficult consistency of subcutaneous fat. Plus, if you're doing the job correctly, you have to show up to work around 1 a.m., before the bars have even closed. Barbecue is hard.
In Texas, even being a fan of barbecue is hard. An early lunch at Franklin in Austin, the best pit in the state at the moment, involves getting to the restaurant at 7 a.m. in order to be in position to order when it opens at 11. Snow's, 50 miles outside of Austin, serves only on Saturday mornings and is often sold out before 10. A Texas aficionado thinks nothing of driving hours to the barbecue shrines of Taylor, Lockhart or Luling, and the hushed, smoky chambers are often compared to Santiago de Compostela or Lourdes.
Barrel & Ashes is easy. Or rather, Barrel & Ashes is meant to be easy; a Texas-style barbecue restaurant with a convenient location in Studio City, cheerful valet parking and reservations readily available on OpenTable. Some of the seating is at long communal tables, but it is pleasant enough if you're OK with sitting on bar stools, and you may catch a glimpse of the lenticular clouds of meringue crowning the banana pudding or a can of Icelandic beer flavored with bilberries. There are even forks, which at the best Texas places are used only when eating cole slaw and dessert.
Barrel & Ashes is owned by Bill Chait, whom you may know from Bestia, Short Order, Sotto and half a dozen other palaces of funky-fresh Los Angeles cuisine. The restaurant used to be Spark Woodfire Grill and has been remodeled to resemble the box that Spark Woodfire Grill probably came in. Bill Chait knows what you like.
There are fluffy, crunchy pork rinds dusted with chile, a Caesar salad enhanced with kale, and a composition of pear, goat cheese and endive. Julian Cox, probably best known for his smoky, pungent cocktails at Chait's late Rivera, came up with the whiskey drinks, scrawled on the blackboards, some of which, like the ginger ale-enhanced Horse's Neck, exist outside the restaurant's environs, and some of which, like Bee's Nuts, with honey, walnuts and stout, probably don't. As in several real Texas barbecue joints, you will find Frito pie — a bag of Fritos split open and filled with beef chili, sour cream, shredded cheese and rings of jalapeño pepper, which, depending on your mood, is either disgusting or the best thing you have ever eaten. Depending on the amount of whiskey I have consumed, I have gone both ways.
Tim Hollingsworth, the chef at Barrel & Ashes, did not make his reputation with Frito pie. He spent a dozen years working for Thomas Keller at the French Laundry, the last four of them as chef de cuisine. He represented the United States at the Bocuse d'Or competition, placing sixth. He moved to Los Angeles to open the upcoming restaurant in the Broad museum for Chait. Hollingsworth was born in Texas, and his name sounds as if it could belong to a white-hat country music singer, but the last place you might expect to find him is running a new barbecue pit.
So this is the point in the review where I am supposed to put forth (1) the populist idea that a chef with three Michelin stars has no business mucking around with barbecue or (2) the elitist idea that a chef with three Michelin stars is wasting his time mucking around with barbecue. The juxtaposition of barbecue and advanced classical technique seems pretty ridiculous.
But barbecue is perhaps the most important of American working-class foods — cheap cuts of meat and trees made superfluous by the clearing of land combined into a drippy, rich, overwhelming foodstuff more delicious than anything that lands on a billionaire's table. It's the taste of the American frontier. And the gradations of technique are almost infinite, easily as complex as anything French cuisine might require.
While space, fire regulations and the watchful eye of the Air Quality Management District may mean that the ancient pits of Lockhart are impossible to duplicate in Los Angeles, Hollingsworth so far seems like a scholar of the craft, running certified Angus briskets through the smoker until they emerge tar-black and crusty, yet juicy and approaching that magic point between chewiness and tenderness that is so difficult to reach. The crackly skinned hot links from Electric City Butcher in Santa Ana are terrific. I find the spareribs too soft under their bark, and the slab of pork short ribs, made from Heritage Berkshire pork, is a little flabby, but that brisket, the hardest cut to master, is genuinely good.
The beans are fine, cooked with slabs of what could almost be called pork belly confit. And in Texas, you will never find anything remotely like Hollingsworth's hoe cake — a kind of crisp-edged, pudding-y corn bread cooked with an immoderate amount of butter and served sizzling in a hot black-iron skillet, a dish as rich, sweet and satisfying as a slice of good barbecue. Los Angeles is big enough to embrace the pleasures of Barrel & Ashes as well as the pleasures of Bludso's. Just ask the AQMD.
::
Barrel & Ashes
A Texas-style barbecue restaurant run by a white-tablecloth chef in Studio City.
LOCATION
11801 Ventura Blvd., Studio City, (818) 623-8883, barrelandashes.com
PRICES
Snacks, $4-$18; starters, $9-$13; sides, $4-$7; meats, $9-$31; desserts, $7-$10.
DETAILS
Dinner, 5 to 11 p.m. nightly; lunch, 11 a.m. to 3 p.m. Mondays to Fridays; brunch, 9 a.m. to 2:30 p.m. Saturdays and Sundays. Credit cards accepted. Full bar. Valet parking.
RECOMMENDED DISHES
Hoe cake, brisket, jalapeño-cheddar sausage, banana puddin
---
Get our weekly Tasting Notes newsletter for reviews, news and more.
You may occasionally receive promotional content from the Los Angeles Times.