Food and wine apps for iPhone and Android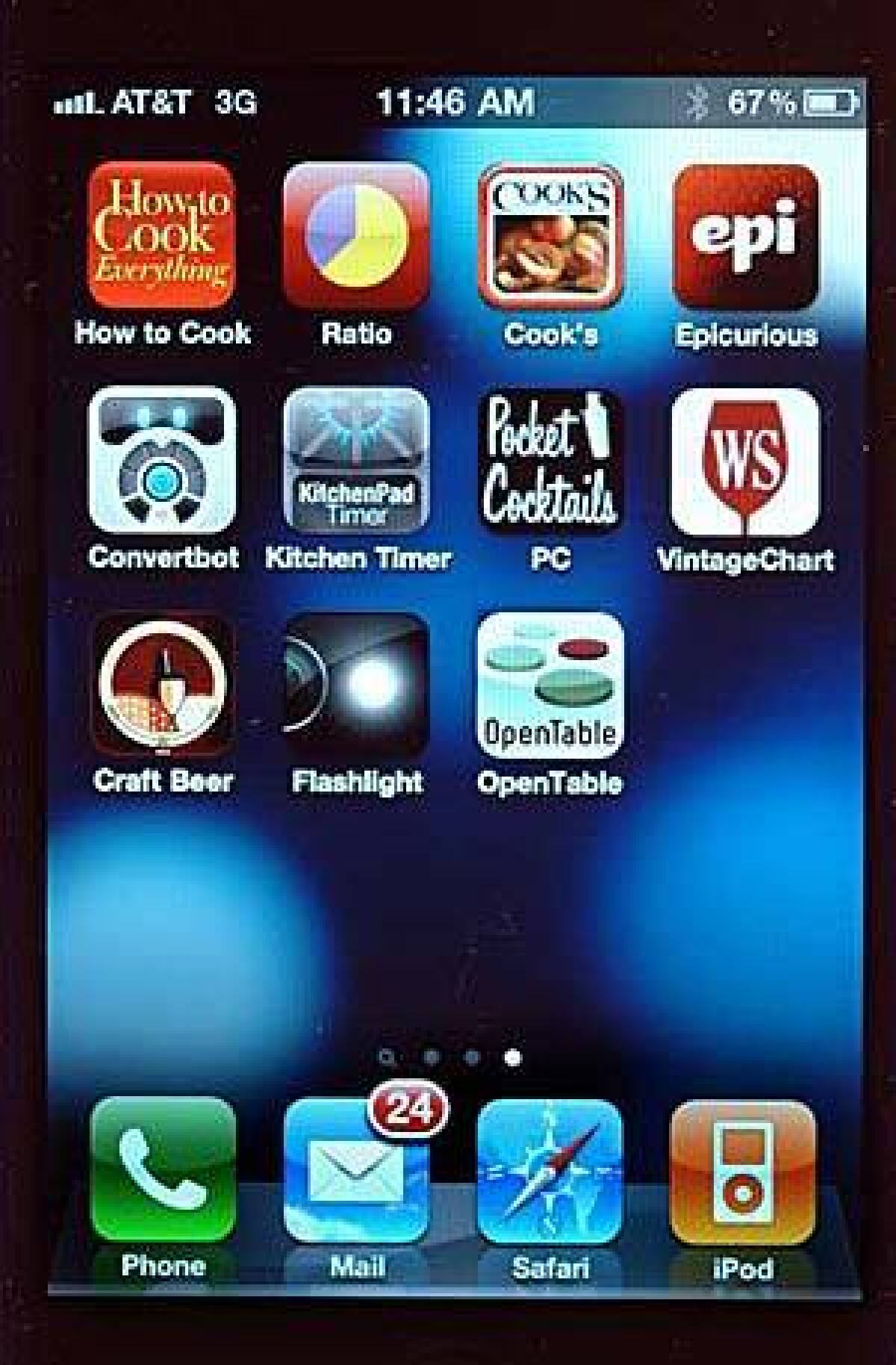 Los Angeles Times
When I first got my iPhone, I was thrilled to discover Convertbot, which made it fun and easy to convert ingredient quantities or temperatures from my British cookbooks. That app, it turned out, was just a taste of the onslaught of food and wine apps to come — so many, you'd have to be a full-time app tester to try them all out. (Unfortunately, I have another job.)
But I do try a lot. Here are apps for the iPhone that I've found most useful. Several are also available on the Android platform.
---
DISCUSS: What? We overlooked your favorite food app? Let us know in the comments section below.
---
Flashlight (More Blu Sky), $0.99: First essential for dining out: being able to read the menu or wine list. This app lights up your iPhone like a torch, shining a beam onto the page without disturbing the rest of the dining room. Brilliant. For iPhone4 only, but there are lots more flashlight apps out there for both platforms.
OpenTable (OpenTable Inc.), free: Make restaurant reservations from anywhere with this easy-to-use app from the site that was brought down by foodistas trying to ace a reservation for LudoBites 6.0. Easy as pie to get a confirmed res. And just as easy to cancel as to make one, maybe even easier. So no more excuses for being a no-show. For iPhone and Android.
How to Cook Everything (Culinate Inc.), $4.99: Though a free How to Cook Everything Essentials app exists (with 107 recipes), spring for the paid app based on New York Times' columnist Mark Bittman's bestselling book. It's like having that giant tome in your pocket — all 2,000 recipes — to consult on a whim or in an emergency. At the market and stumped for what to cook? Look it up, find a recipe and, with one click, unload the ingredients into a shopping list. Great design, easy to read and use. Nifty feature: timers included within the recipe. Check out Bittman's Picks, the author's list of favorite recipes from various categories. For iPhone.
Ratio (Ruhlman Enterprises Inc.), $4.99: This one is based on Michael Ruhlman's book "Ratio: The Simple Codes Behind the Craft of Everyday Cooking." Keep this baby close and you can wing it almost anywhere, recipe-free. On vacation and yearning to make biscuits or brine a pork loin? Whip out this app and you can calculate proportions of ingredients needed. Most useful: Ruhlman's suggested variations on a theme and the ability to save your notes on what worked — or didn't. In the works: a dedicated baking app. For iPhone and now Android.
Cook's (America's Test Kitchen), free: From Cook's Illustrated magazine, this collection of recipes may be free, but unless you become a member of CooksIllustrated.com for a $34.95 annual fee, you won't be able to unlock the majority of it. You'll also miss a number of the magazine's handy taste tests of ingredients. Try it with a free one-day pass. Recipes are all thoroughly tested in consummate Cook's Illustrated style, which means you won't be wasting time with any duds. Stronger on regional American cooking than any more exotic cuisines. A plus: a shopping list feature and clean, easy-to-navigate design. For iPhone.
EPI (CondéNet), free: Epicurious Recipes lets you search 25,000 recipes from the archives of Bon Appétit and the late Gourmet. The range of recipes is broad, and if you're stuck for a recipe for Jerusalem artichokes or kohlrabi, you'll surely find something here. Search by main ingredient, course, cuisine or season. A wonderful resource when you don't have your library of cookbooks nearby. You can also save favorites to a folder and dump ingredients into a shopping list. For iPhone and Android.
Convertbot (Tapbots), $0.99: Clever app that converts weight, volume, temperature and much more from one measurement to another. Fast and elegant. For iPhone.
KitchenPad Timer (Prativo Group Inc.), $1.99: Not so swift at multitasking in the kitchen? Here's an app that manages multiple timers for your stovetop and oven, four each, which should be more than enough unless you're catering Prince William's wedding. So as not to confuse the cook, each can be tagged with what's cooking and at what temperature. And you can see which stage everything — stock, ragù, apricot jam, duck — is at all on one display. It gives at least the illusion of control, which may serve to soothe culinary anxiety. For iPhone.
Pocket Cocktails (Pocket Cocktails Inc.), $0.99: Speaking of pockets, here's your faithful cocktail primer with photos and recipes for hundreds of drinks. Best section is the classics, with recipes for drinks such as the Greyhound, Moscow Mule, Sazerac, plus a separate martini section (available as a free app as Top Martini Recipes). Complete with tips on chilling glasses, muddling, creating garnishes. A suggestion: Lose the cutesy shooters section and an embarrassingly brief, pretty useless wine and beer section. (But maybe more is to come in an update?) Cute: Shake your phone (which will make a sound like a cocktail shaker) to choose a random drink recipe. For iPhone, with an HD version for iPad.
Vintage Chart+ by Wine Spectator (Wine Spectator Custom), free: For those who encounter a situation frequently (as in high-end wine lists) in which they need to check or compare wine vintages, this is the app for you. Wine Spectator gets it right with this elegantly designed application. Search by country or region, or both, but more fun, by zooming in on a topographic world map — Anderson Valley, Douro, South Africa. Not every wine region in the world is represented, so the app can seem a bit thin if you're into Hungarian Tokaji or Chinese Chardonnay. As for accuracy, vintage info is based on hundreds, if not thousands, of tastings by the wine magazine's staff over a number of years, distilled into a sentence or two. For iPhone.
Craft Beer App (Affect Global LLC), $0.99: Explore American craft beers with this crafty app. I immediately looked up Allagash Tripel Reserve and found detailed info and tasting notes, including the recommended serving temp (40 to 50 degrees). A beer expert might quibble with the choices and notes, but for budding beer lovers, this could be useful, if only to impress your friends with your newfound expertise. And it costs less than a few sips of beer. For iPhone.
Get our L.A. Goes Out newsletter, with the week's best events, to help you explore and experience our city.
You may occasionally receive promotional content from the Los Angeles Times.