Farmers Markets: From the LAPD to artisanal olive oil
Mark Mooring of Buon Gusto Farms sells olive oil pressed from olives he grows in Ventura.
(David Karp)
Purple kohlrabi grown by Fairview Gardens in Goleta.
(David Karp)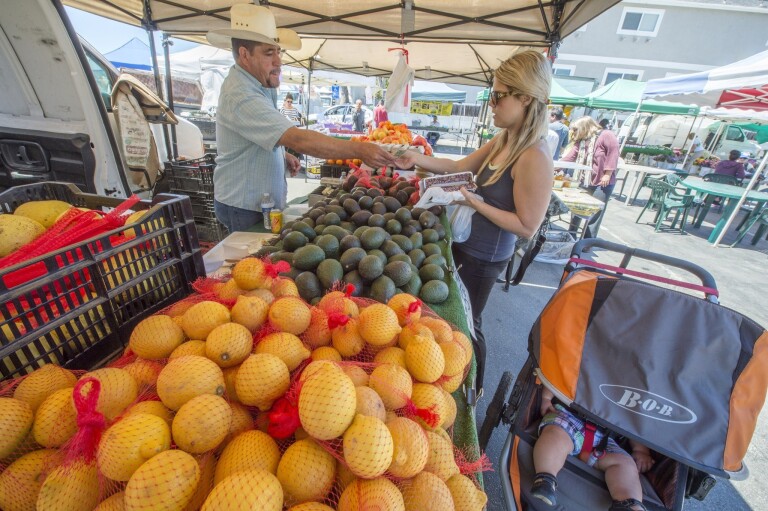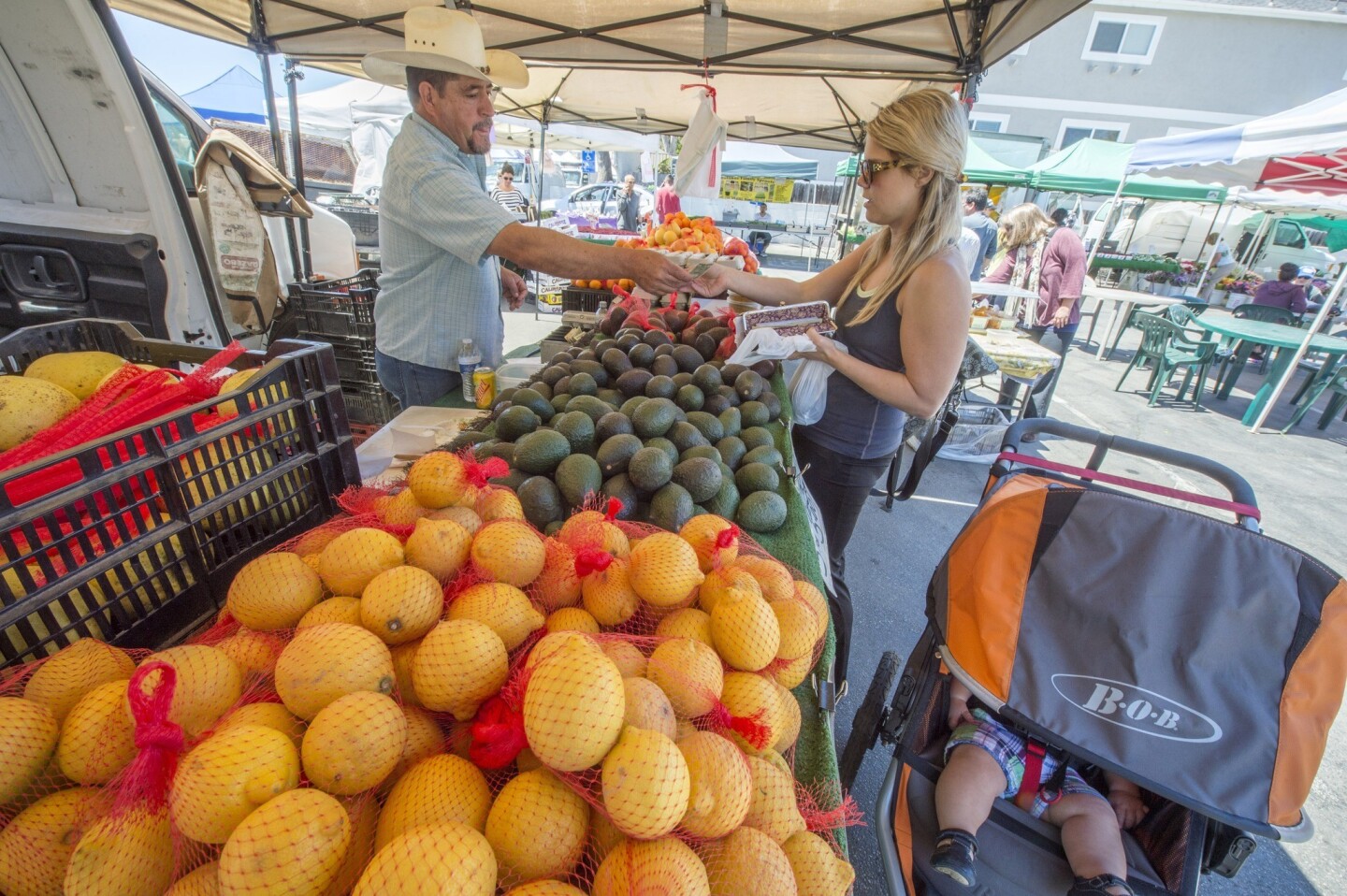 Valley Center Growers sells citrus and avocados grown in Valley Center.
(David Karp)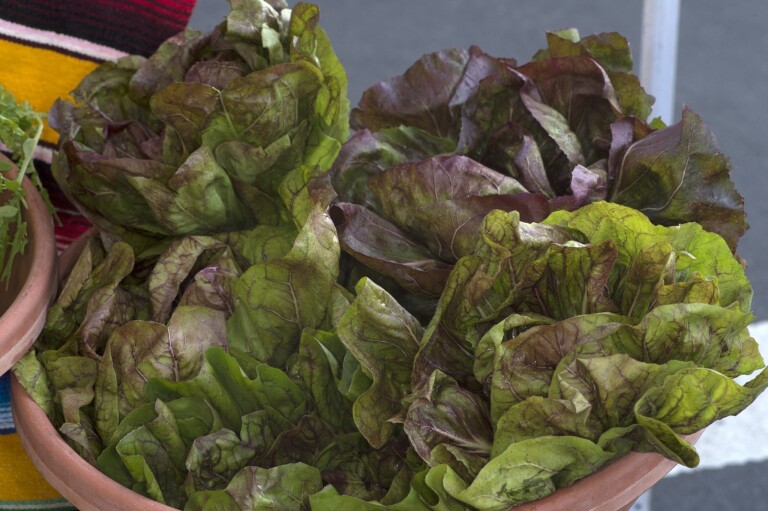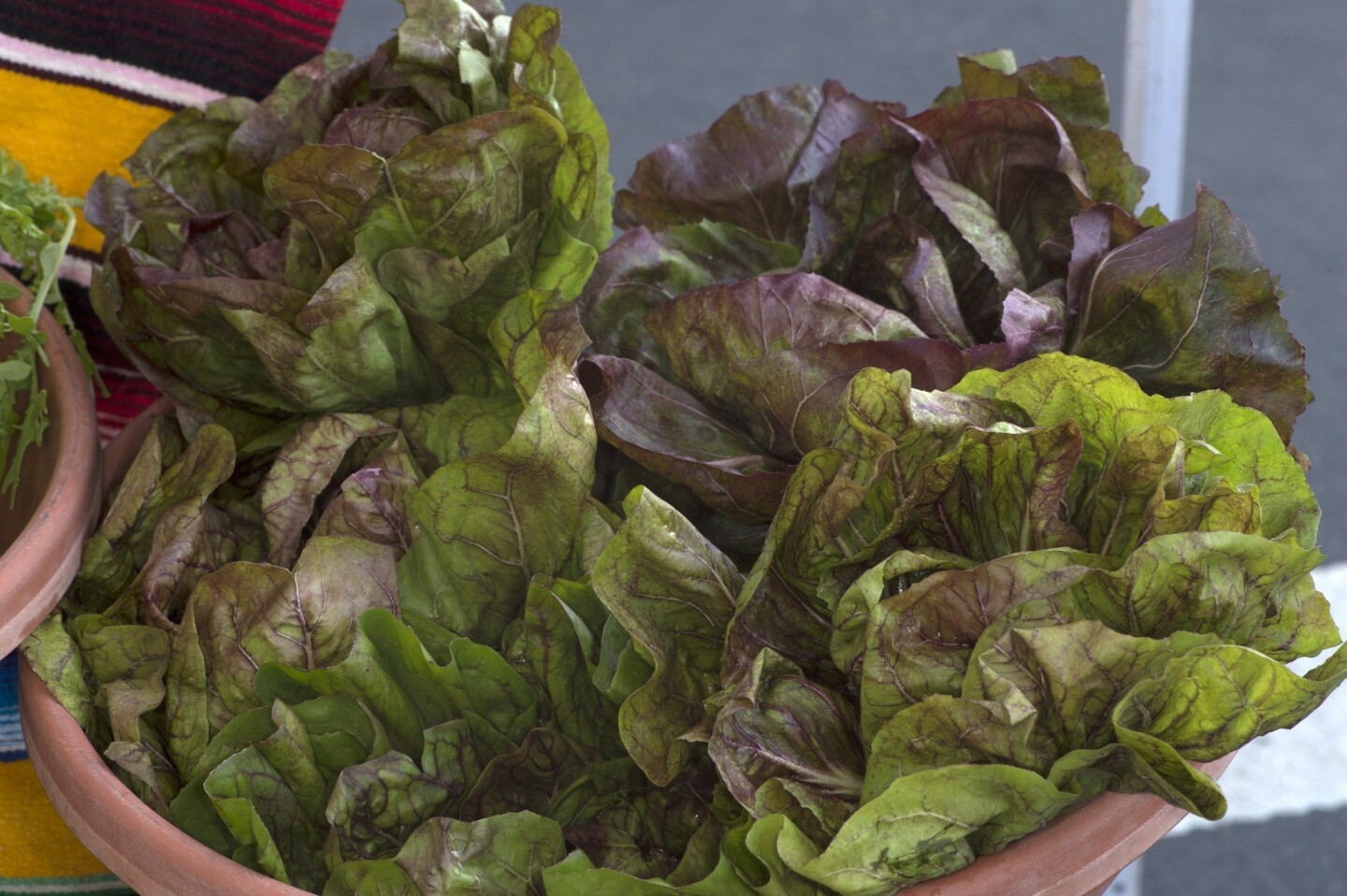 Radicchio grown by Windrose Farm in Paso Robles.
(David Karp)
Bok choy grown by Underwood Family Farms of Somis and Moorpark.
(David Karp)
Treviso radicchio grown by the Garden of..... (Shu and Debby Takikawa) in Santa Ynez.
(David Karp)
Santiago Morelos sells herbs, vegetables and greens grown by Gourmet Specialties in Santa Paula.
(David Karp)
Santiago Farms of Nipomo sells Albion strawberries.
(David Karp)
A shopper picks out spinach grown by Domingo Farms in Arroyo Grande.
(David Karp)
White mulberries grown by Mud Creek Ranch in Santa Paula.
(David Karp)
Traditionally, working folk dreamed of retiring to California to grow citrus, or more recently wine grapes, but these days the second career crop of choice appears to be artisanal olive oil. Fresh, local oil is all the rage; universities and industry groups help guide aspiring growers, and once their groves start bearing, many sell at farmers markets, where they earn premium prices and enjoy schmoozing with shoppers. Mark Mooring of Buon Gusto Farms followed an unusual version of this path, from starting the Los Angeles Police Department K-9 Platoon to growing olives in Ventura, where he produces richly flavored, award-winning oils.
Mooring grew up on Ocean Front Walk in Venice, in a home filled with the culture and cooking of his Italian American mother and grandparents. After earning degrees in business and public administration from USC, he worked from 1972 to 1993 for the LAPD. In 1980 he co-founded the LAPD K-9 unit (motto: "You can run, but you can't hide"), one of the first in the Southland, after Inglewood and Santa Monica. From 1998 to 2006, he served as chief of protective services at the Santa Clara Valley Medical Center. Then he retired from public law enforcement and worked part time on his own business, Proper Authorities, which specializes in security consulting, workplace violence prevention and private investigations.
"I don't have one of those big pensions you hear about, so I've had to keep working," Mooring says.
But he felt it was time to transition to more relaxing work, so he built a home on 200 acres of virgin land in a gorgeous canyon east of Ventura and researched what he could grow there profitably.
Mooring settled on olives, which suited the climate, and could be established with less investment than wine grapes. Five years ago, after taking courses on olives at UC Davis and hiring a consultant, he planted 2,200 trees, about 12 acres. He selected a dozen Italian and Spanish varieties, including Taggascia, Maurino, Moriaolo, Frantoio and Arbosana. He particularly benefited from the advice of Ron Asquith of Ojai Olive Oil Co., who he says taught him everything he knew about growing and pressing olives.
As the trees began bearing two years ago, he made two blends: mild, buttery California Coastal ($19 for 8.5 ounces), a little peppery on the back end; and robust, herbaceous Buenaventura ($24 for 12.7 ounces), ideal for bread dipping and finishing. His 2012 Buenaventura won first prize and best in show at the Ventura County Fair. He also offers four flavored oils, with garlic, basil, Meyer lemon and mandarin.
Mooring, who is 62, will soon plant 1,000 more trees and hopes that within the next few years he will be able to focus entirely on the orchard. He is one of five professional olive oil producers in Ventura County and among the closest to Los Angeles of high-end growers.
Aided by his son, Giovanni, he sells his certified organic oil at the Thousand Oaks, Ventura (Saturday) and Channel Islands farmers markets, and expects to start at Santa Monica Main Street within a few weeks.
New Marina del Rey market
A new farmers market opened Thursday morning in a parking lot next to Mother's Beach in Marina del Rey. Just a few feet from the sand at its southern end, it's a postcard-perfect location, rimmed by palm trees, sailboats, condos and schoolkids playing beach volleyball.
This is the first farmers market sponsored by the Los Angeles County Department of Beaches and Harbors, which in 2011 secured an amendment to the local council guidelines to allow such activities on the site, said Carol Baker, a division chief for the department. It hopes the market will appeal to local residents, tourists and beach-goers, she added.
Last year the department started featuring food trucks on Thursday nights at the beach location. It then solicited proposals from 30 farmers market operators, received five bids, and selected Southland Farmers' Market Assn. This organization, which used to be an alliance of independent farmers markets, now serves as a vehicle for its director, Howell Tumlin, who runs 11 local markets.
Thursday's market had 17 farmers, generally of reputable quality, and 10 food stalls. The selection is modest in size but enough to cover most of the basics, including standard and Asian vegetables, meat, eggs, honey, apples, citrus and berries.
Chua Xiong and her husband, Dao Moua, display a super-fresh array of vegetables, including Italian and purple basil, amaranth, bok choy, bitter melon leaves and pea tendrils, all grown in Clovis.
An agronomist who immigrated from Bolivia to Nipomo, Raul Taborga of Denny's Organic Farms, sells sugar snap peas, asparagus, spinach, celery and Albion strawberries.
Jose Brigido Gama of Valley Center Growers offers Star Ruby grapefruit and Valencia oranges, both of which are starting to sweeten in his area of San Diego County. Pedro Gallardo of Fallbrook has Hass avocados, approaching peak quality in the district.
Next week David Avila will bring Andy G cherries, discovered in 1998 by a neighbor, Robert Hurlbut, as a sport of Early Burlat, the standard early-season variety. It ripens about a week earlier, but like Burlat it is small and soft, and can't compare with later, top-drawer varieties such as Brooks and Bing. Still, the flavor of dark, ripe specimens is decent, and it's worth buying a few to whet the appetite for cherry season. Avila grows about an acre of the variety, which he'll offer for about two weeks.
Marina del Rey farmers market, Mother's Beach parking lot, Admiralty Way and Via Marina, 9 a.m. to 2 p.m.Thursdays.
---
Get our weekly Tasting Notes newsletter for reviews, news and more.
You may occasionally receive promotional content from the Los Angeles Times.