Recipe: Johnny's spinach balls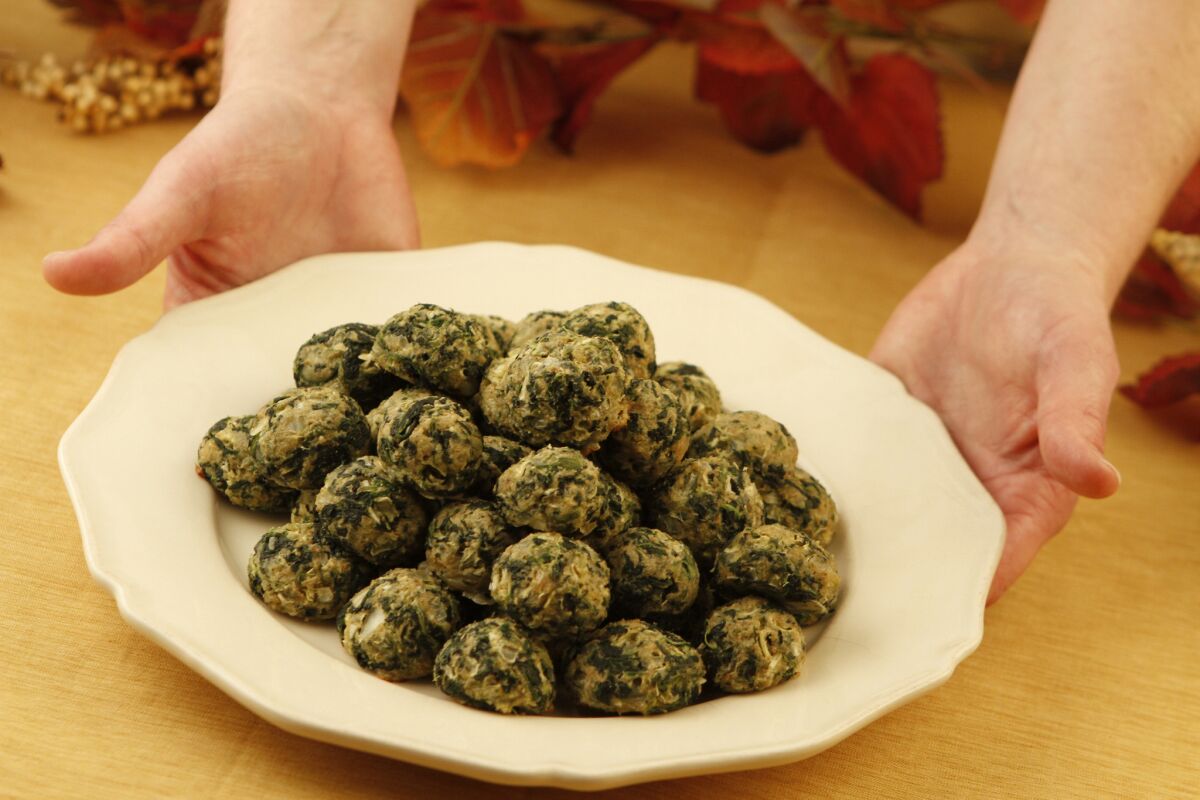 Johnny's spinach balls
Total time: 45 minutes, plus chilling time for the spinach mixture
Servings: Makes about 4 dozen spinach balls.
Note: From Johnny Thibeault. He sometimes adds bacon to the mixture before forming; if desired, stir in 1/2 cup chopped fried bacon before forming the spinach balls.
---
Our recipes, your kitchen: If you try any of the L.A. Times Test Kitchen recipes from this week's Food section, we want photographic evidence: Click here to upload pictures of the finished dish.
---
2 (10-ounce) boxes frozen chopped spinach, thawed
2 cups Italian bread crumbs
1/2 cup grated Swiss cheese, more if you prefer (up to ¾ cup)
1/4 cup grated Parmesan cheese
1/2 to 1 onion, finely chopped
1 clove garlic, finely chopped
4 eggs, beaten
1/4 cup plus 2 tablespoons (¾ stick) butter, melted
1. Squeeze any excess water from the thawed spinach and place the spinach in a large mixing bowl.
2. Stir in the bread crumbs, Swiss cheese, Parmesan cheese, onion, garlic, eggs and butter until thoroughly combined.
3. Cover and chill the mixture until it is firm enough to form into balls.
3. Heat the oven to 350 degrees. Line 2 cookie sheets with foil, and lightly oil the foil.
4. With a spoon, scoop enough of the spinach mixture to form balls approximately 1 inch in diameter. Roll the mixture into balls and place on the foil-lined cookie sheet, spacing them 1 to 2 inches apart. Repeat until all the mixture is used.
5. Bake the sheets, one at a time, until lightly browned and firm, 15 to 20 minutes.
6. Cool slightly before serving.
Each of 4 dozen spinach balls: 45 calories; 2 grams protein; 4 grams carbohydrates; 0 fiber; 3 grams fat; 1 gram saturated fat; 23 mg cholesterol; 1 gram sugar; 142 mg sodium.
---
Get our L.A. Goes Out newsletter, with the week's best events, to help you explore and experience our city.
You may occasionally receive promotional content from the Los Angeles Times.