Roussanne, a Rhône Valley white wine that's both maddening and majestic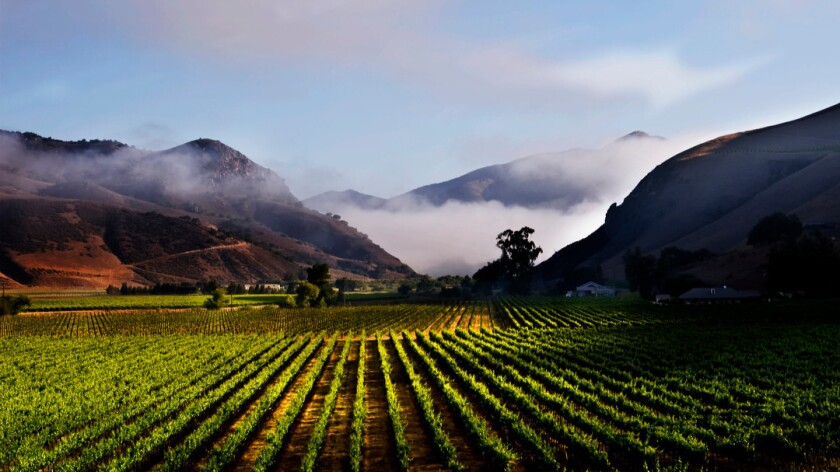 Winemaker Bob Lindquist of Qupé, one of California's preeminent Rhône Rangers, came to the grape variety Roussanne late, perhaps because it is regarded as the most maddening of the Rhône Valley's whites. He was already making Viognier and a quietly spectacular Marsanne, arguably the country's best, a variety with at least some of Roussanne's memorable features. But Roussanne eventually lured him in. "I love Marsanne," says Lindquist, "but Roussanne just has more complexity, more depth, more richness, more perfume." To him, there was no question which was the better grape.
So a little more than 10 years ago he planted a hilltop mesa at Bien Nacido Vineyards, in Santa Barbara County. Indeed, the variety has seduced more than a half-dozen Santa Barbara winemakers in the region with its siren song, established players such as Craig Jaffurs, Andrew Murray, Sashi Moorman (Stolpman), and a host of new ones, such as Larry Schaffer (Tercero), Peter Hunken and Amy Christine (Holus Bolus). They're drawn to this grape like Ulysses to the sirens, no matter how difficult it is to grow, to ripen, and to sell. It's the sort of wine that guarantees a lifetime of mystery, for winemaker and wine lover alike. That's because Roussanne is a changeling. In the glass it's as forward as fruit salad one moment, muted and savory the next, texturally weighty, with a kind of natural ambiguity of flavor that actually becomes more pronounced as the wine ages.
John Alban was the earliest to tie himself to the mast; he was the first to plant Roussanne in California in the modern age, in nearby San Luis Obispo County. The debut of Alban Vineyards Roussanne in 1991 may have been the first occasion when the word "Roussanne" appeared on a wine label, even though the grape has been grown in France and Switzerland in appellation bottlings for hundreds of years.
Alban's estate wine inspired other plantings. The variety thrives in Santa Barbara County, in an array of climates, which is what passes for normal in the Central Coast's famous transverse valleys. Here the mountain ranges are oriented east to west and not north to south, offering vineyard land unimpeded contact with ocean breezes, cool temperatures, fog incursions and patterns of respiration that are unique to this part of the California coast.
Thus the two main sources for Roussanne in Santa Barbara, Stolpman Vineyards, in Ballard Canyon, and Bien Nacido Vineyards in the Santa Maria Valley, are distinctly different in their heat accumulation, and offer a marked contrast in style. Stolpman is the warmer site, and can produce heady and rich wines. The winery sells fruit to other wineries, but its own bottling, l'Avion, has long been the county's most opulent (though the current vintage, 2013, shows some intriguing restraint).
Bien Nacido Vineyards' site is cooler, and the fruit maturation slower, leaving grapes longer to develop flavors. Hang time roughly equates to textural volume, explains Holus Bolus' Peter Hunken, who makes a Bien Nacido bottling. "The longer you let it hang, the more volume you get in the mouth," he says, "the more golden, bruised apple flavors, the more unctuous the texture."
But all that unctuousness, says Bob Lindquist, can be supported by good acids. "Roussanne holds its acidity," he says, "it can be made in a rich style without being heavy."
Part of the reason Roussanne has such an odd range of flavors is the way it responds to sunlight in periods of peak ripening, just before harvest. It's typical of the grapes exposed to the sun to turn a reddish, russet color (the name comes from "roux" or "rouge," French words for red), though it's not uncommon for a single cluster to be russet, golden and green all at the same time, multiple ripenesses that correspond to an itinerant array of flavors. At Stolpman Vineyards, Vineyard Manager Ruben Solorzano seeks to resolve uneven ripeness by literally hand-turning each cluster in October, so that the shaded half receives late-season sunlight. Others hope to strike a golden mean between full ripeness and not so much.
Not surprisingly, Roussanne delivers contradictions in the glass, with flavors and sensations that seem at once exotic and indeterminate. The fruit tends to fall into the pear and peach spectrum, though mango and pineapple make appearances, as do quince and apple, grapefruit and pomelo, even a kind of creamsicle orange. Other flavors — chamomile, hazelnut — often compete, but what's odder still is that the predominant flavor seems to change: One moment you're getting herbal tea; the next, narcissus; the next, an altogether fleeting fruit sensation.
Often Roussanne goes into the bottle in a kind of embryonic state, says Craig Jaffurs. "It's not immediately expressive as a young wine," he says. "It starts out almost like vinous water, and you think, 'Oh my God, I've ruined this.' But then the honey notes show up, the floral notes; it gets deeper, I mean it physically gains weight, and you get a subtle minerality. There's this seriousness that comes."
This too — seriousness — is not something Americans always seek in their wines. As such, Roussanne is something to graduate to. But rewards come to the patient. If you don't want to wait, try a blend, such as Andrew Murray's summery Enchanté, in which he blends Roussanne with Grenache Blanc, the latter providing some lift and lemony flavor to the Roussanne. "Roussanne can lack freshness," says Murray, "and Grenache Blanc sometimes lacks a bit of depth. Together they just sing."
2012 Qupé Bien Nacido Hillside Estate Santa Maria Valley Roussanne — Bob Lindquist holds his Roussanne back in the cellar to let its flavors evolve. This takes an evening to unfurl, starting off nutty and pearlike, becoming more detailed with air, a dusty mineral savor coming through. About $40 at Wally's and Wine Country.
2014 Jaffurs Stolpman Vineyard Ballard Canyon Roussanne — A wine that leads with juicy, creamy peach and orange scents, accented by a topnote of night jasmine. The flavors are generous and lush, the texture rich and emollient, but the wine closes with a pleasing firmness. About $30 at Manhattan Fine Wines.
2014 Holus Bolus Bien Nacido Vineyard Santa Maria Valley Roussanne — This wine displays Roussanne's cooler side, with citrusy notes of pomelo and lime, deepening to ripe pear with air. It's firm and floral, the mouthfeel unquestionably Roussanne-like, with a savory finish of chamomile and chalky minerals. About $33 at K&L Wine Merchant and Lincoln Fine Wines.
2013 Stolpman Vineyards Ballard Canyon L'Avion Roussanne — This is a heady, mouthfilling, mildly tropical white, with scents of honeysuckle and pineapple in a kind of uneasy poise. The flavors are ripe and juicy, but there's more energy than richness in the texture in 2013, with a firm phenolic grip. About $38 at Silverlake Wines and the Wine House.
2014 Andrew Murray Santa Ynez Valley Enchanté White Blend — Murray used to blend Roussanne and Marsanne in his Enchanté blend, but now pairs his Roussanne with Grenache Blanc. The result is Roussanne with some nerve, a nutty, pear-and-peach core of fruit propelled by the lemony lift of Grenache Blanc, and more acidity than in a straight Roussanne bottling. About $28 at Manhattan Fine Wines and K&L Wine Merchant.
---
Get our weekly Tasting Notes newsletter for reviews, news and more.
You may occasionally receive promotional content from the Los Angeles Times.