Culinary SOS: Chilled avocado and watercress soup with shrimp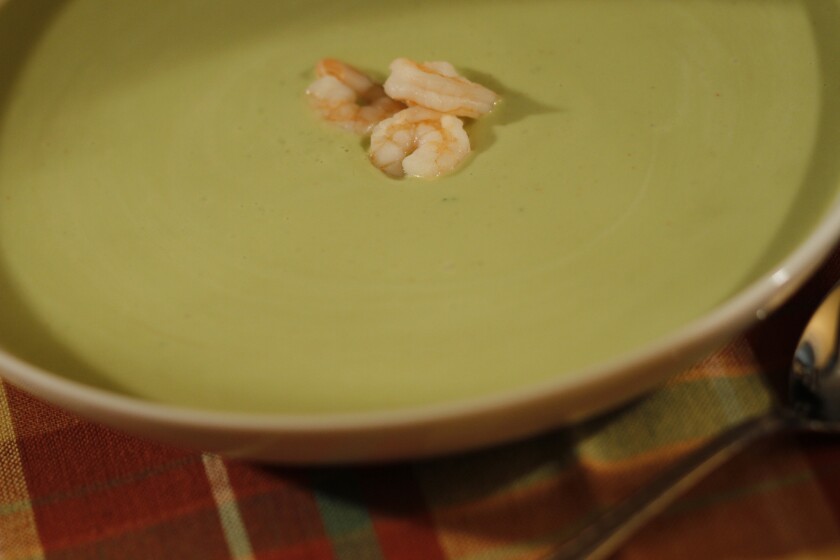 Dear SOS: We recently ate at Jake's Grill in the Governor Hotel in Portland, Ore. They served an avocado watercress soup that was outstanding and unique. Could you please find this recipe for us?
Mary and Jerry Mihld
Redlands
Dear Mary and Jerry: Jake's Grill was happy to share its recipe, which combines avocado and watercress in a wonderful harmony of flavors. We've adapted the recipe below.
Chilled avocado and watercress soup with shrimp
Total time: 35 minutes
Servings: 8
Note: Adapted from Jake's Grill in Portland, Ore. The restaurant serves this soup with crayfish instead of shrimp.
1 bunch watercress
1 bunch cilantro, plus 8 sprigs of cilantro for garnish
3 cups chicken broth (vegetable broth may be substituted)
4 avocados, peeled and seeded
1 cup sour cream
2 cups plain yogurt
3/4 teaspoon ground cumin
1/4 teaspoon ground coriander
1/4 teaspoon cayenne pepper
1/4 teaspoon salt
1 pound cooked and shelled medium shrimp
1. In a blender, purée the watercress, cilantro and broth. Set the mixture aside for 10 minutes to steep, then strain, discarding the solids and reserving the liquid.
2. Rinse the blender, and purée the avocados, sour cream, yogurt, cumin, coriander and cayenne until smooth.
3. Pour the purée into a bowl set over an ice bath and whisk in the reserved watercress liquid, 1 cup at a time. Continue to stir until well-chilled. Season with salt. This makes about 61/2 cups of soup.
4. Pour the soup into bowls, and divide the shrimp among the bowls. Garnish each with a sprig of cilantro and serve immediately.
Each serving: 311 calories; 18 grams protein; 14 grams carbohydrates; 7 grams fiber; 22 grams fat; 6 grams saturated fat; 127 mg. cholesterol; 6 grams sugar; 623 mg. sodium.
SOS REQUESTS: Send Culinary SOS requests to noelle.carter@latimes.com or Culinary SOS, Food section, Los Angeles Times, 202 W. 1st St., Los Angeles, CA 90012. Please include your name, phone number and city of residence.
noelle.carter@latimes.com
---
Get our weekly Tasting Notes newsletter for reviews, news and more.
You may occasionally receive promotional content from the Los Angeles Times.