Recipe: Strawberry crostata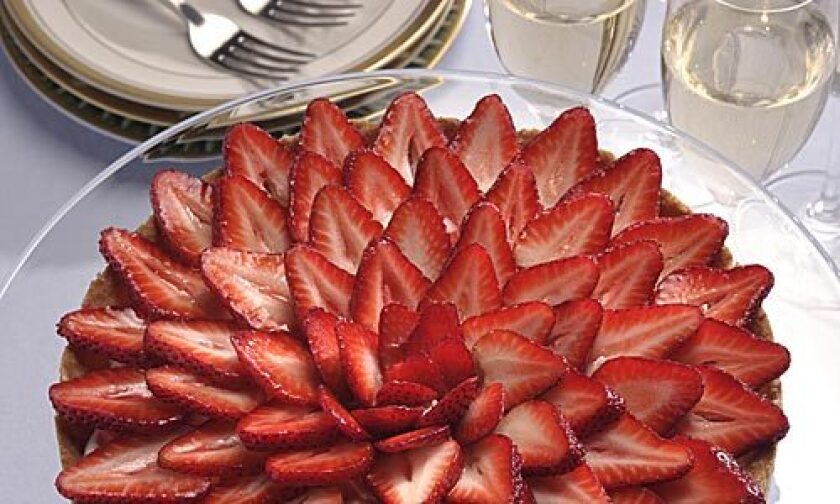 Total time: About 45 minutes plus 1 hour, 30 minutes chilling
Servings: 8
1 1/4 cups flour
1/4 cup sugar
1/2 teaspoon kosher salt
1 teaspoon grated lemon zest
10 tablespoons butter
1 1/2 cups imported Italian mascarpone cheese
About 2 pints ripe strawberries, hulled and thinly sliced
1/4 cup red currant jelly
2 tablespoons Cointreau
1. Combine the flour, sugar, salt and lemon zest in a mixing bowl. Cut the butter into half-inch thick slices and add to the bowl. Using the tips of your fingers or a pastry blender, work the ingredients together until the mixture resembles coarse crumbs. Add a scant tablespoon or two of cold water and toss until the mixture just clings together. Gather into a ball. Wrap tightly in plastic film and chill 30 minutes.
2. Transfer the dough to a 9-inch springform pan. Press out evenly across the bottom and about 1 inch up the side. Prick the bottom of the crust all over with a fork. Freeze 30 minutes. Heat the oven to 375 degrees.
3. Bake the crust until it is set and lightly browned, 25 to 30 minutes. Cool completely.
4. Spread the mascarpone evenly over the cooled crust. Arrange the strawberries decoratively over the top in overlapping rows.
5. Combine the jelly and Cointreau in a small saucepan and heat, stirring, until the jelly dissolves. Lightly brush over the strawberries to glaze. Chill 1 hour before cutting.
Each serving: 470 calories; 6 grams protein; 36 grams carbohydrates; 2 grams fiber; 35 grams fat; 20 grams saturated fat; 92 mg. cholesterol; 98 mg. sodium.
---
Get our weekly Tasting Notes newsletter for reviews, news and more.
You may occasionally receive promotional content from the Los Angeles Times.