66 Images
Signs of the Season
Dressed in Santa Claus outfits, two zoo workers feed penguins inside a cage at Dusit Zoo in Bangkok. The zoo introduced seven Peruvian penguins as its new members for visitors as a new year present.
(AP Photo/Apichart Weerawong)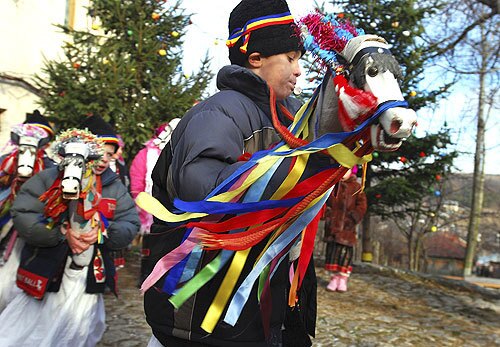 Dancers from the Romanian region of Moldova perform rituals for good luck in the New Year in Iasi, 450 kilometers north of Bucharest. In pre-Christian rural traditions dancers would visit house to house in villages singing and dancing to ward off evil.
(AP Photo/Paul Buciuta)
Traders throw balloons into the air to celebrate the year's final session of trading the at the Jakarta Stock Exchange.
(AP Photo/Irwin Fedriansyah)
A Christmas tree at the New York Stock Exchange lights up Broad Street in front of the exchange.
(AP Photo/George Osodi)
Food vendors display their goods as people make purchases for the upcoming New Year's holiday at the Oshodi open market in Lagos, Nigeria.
(AP Photo/George Osodi)
Russia's Grandfather Frost waves from a white cabriolet on Red Square in Moscow, as Moscow Mayor Yuri Luzhkov, right, looks on. Grandfather Frost arrived in Moscow after touring country's cities to take part in the New Year celebrations on Red Square.
(AP Photo/Misha Japaridze)
Preparations are under way for the traditional New Year's Eve celebration.
(STAN HONDA/AFP/Getty Images)
Chris Drilon, left, and Compton Alleyne install some of 72 new Waterford crystal "Hope For Peace" triangles on the Times Square New Year's Eve ball on the rooftop of One Times Square. The six-foot diameter, 1,070 pound crystal ball will serve as the centerpiece of the Times Square 2007 celebration.
(AP Photo/Kathy Willens)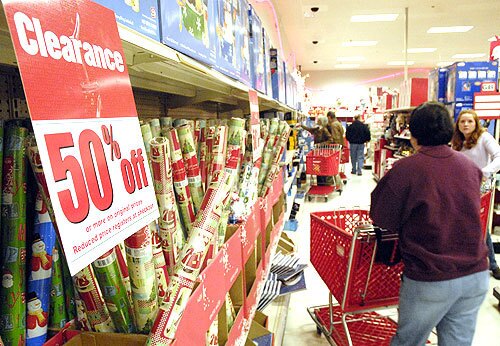 Shoppers check out after Christmas sales while shopping at Target in Little Rock, Ark.
(AP Photo/Mike Wintroath)
Shoppers crowd into Macy's on the day after Christmas in New York. The nation's retailers ushered in the post-Christmas shopping season on Tuesday by slashing prices even more on holiday items and stocking up on full-price merchandise.
(AP Photo/Seth Wenig)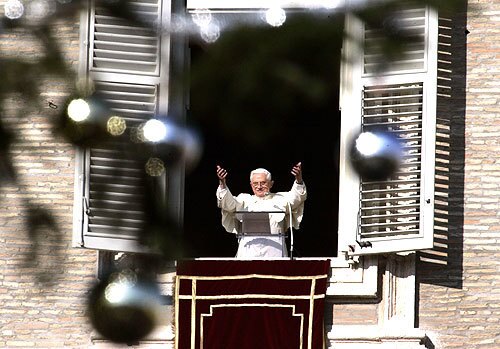 Pope Benedict XVI, framed by the decorations of the Christmas tree placed in St. Peter's square at the Vatican, blesses faithful during his Angelus prayer.
(AP Photo/Pier Paolo Cito)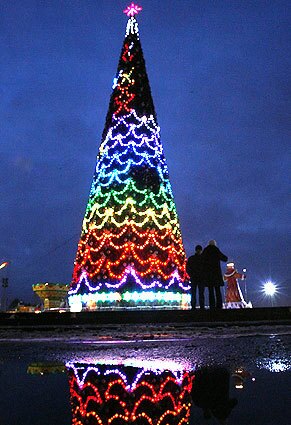 Muscovites walk past a huge decorated Christmas tree installed for New Year celebrations in Moscow. New Year is the most popular holiday in Russia, and is followed by the Orthodox Christmas on Jan. 7.
(AP Photo/Misha Japaridze)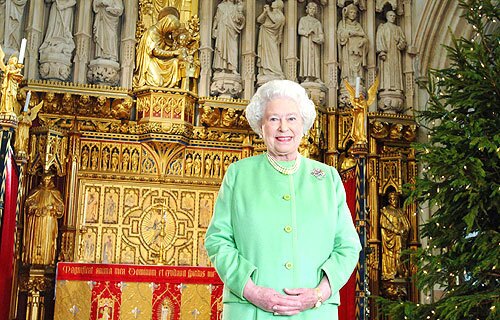 Britain's Queen Elizabeth II after filming this year's Christmas broadcast at Southwark Cathedral, south London. Queen Elizabeth II delivered her traditional pre-recorded annual Christmas message to Britain and the Commonwealth.
(FIONA HANSON/AFP/Getty Images)
People observe carp in a tub being offered by street vendors in Prague. Carp served with potato salad is the most popular Christmas dish in the Czech Republic, and there are still many customers who buy the fish alive to keep in bath-tubs ready for the day.
(AP Photo/CTK, Michal Dolezal)
A paltry Christmas tree stands between tents for the homless provided by the charitable organization Les Enfants de Don Quichotte (Children of Don Quixote), along Canal Saint Martin, in Paris, France.
(EPA/HORACIO VILLALOBOS)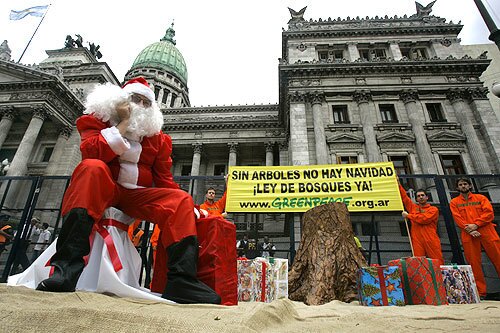 A Greenpeace activist dressed as Santa Claus sits next to a chopped-down Christmas tree in front of the Congress in Buenos Aires.
(AP Photo/Bullit Marquez)
U.S. Ambassador to the Philippines Kristie Kenney hugs an orphan after giving her a stuffed toy while helping distribute Christmas gifts to Filipino orphans during the traditional gift-giving gesture for the Yuletide Season by the 3rd Marine Expeditionary Brigade based in Okinawa, Japan.
(AP Photo/Bullit Marquez)
Biologist and diver Arndt Hadamek dives in a Santa costume to a nativity scene at the bottom of the six-meter-deep Atlantic pool at the Sea Life park in Speyer, Germany.
(EPA/RONALD WITTEK)
Some unique gifts at Washington's Union Station include this hand made Afro-centric Santa Claus ornament.
(TIM SLOAN/AFP/Getty Images)
Former president George H.W. Bush rings a bell for the Salvation Army Monday in Houston. Bush and former first lady Barbara Bush manned a kettle outside a popular Houston furniture retailer to promote volunteerism and raise money for the Salvation Army's 2006 Red Kettle Christmas Campaign.
(AP Photo/David J. Phillip)
A man dressed as a Father Frost (Santa Claus) walks along a Black Sea's coast in the Russian southern resort city of Sochi.
(DENIS SINYAKOV/AFP/Getty Images)
Rabbis Samuel Segal (L) and Jehuda Teichtal of the Jews of Berlin's Jewish Education Center build up a candleholder "Menorah" next to the city's landmark Brandenburg Gate.
(MARCUS BRANDT/AFP/Getty Images)
Performers sing Christmas carol at a shopping mall in Jakarta. Christmas brings a season of festivities to the people of this world largest Muslim populated nation, though only about nine percent of 224 million Indonesians are Christians.
(JEWEL SAMAD/AFP/Getty Images)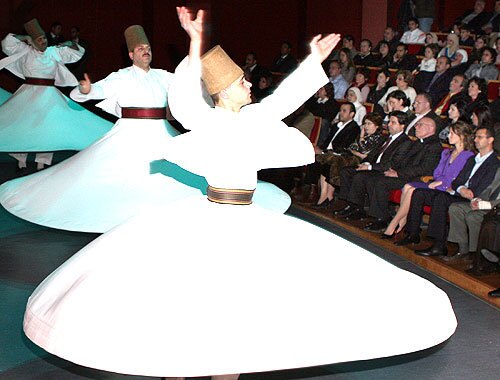 The Islamic Umayyad Chanting Association performing Mawlawi dances on stage at the Dar Al-Assad for Arts and Culture in Damascus. The Islamic Association in cooperation with the Christian Alfarah (Joy) Choir performed dances and chants to celebrate Christian Christmas and New Year's Day that coincide with the Islamic Eid Al-Adha.
(AP Photo/Bassem Tellawi)
White House Christmas tree lights frame the Washington Monument.
(AP Photo/Ron Edmonds)
Workers get ready to install a red star on top of a Christmas tree in downtown Stavropol, southern Russia, with a statue of Soviet state's founder Vladimir Lenin looking on.
(AP Photo/Semyon Danilov)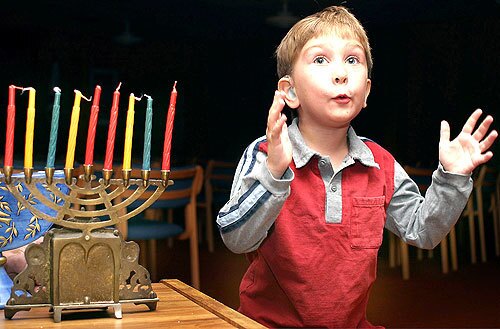 Ezekiel Swartz, 5, tells the story of Hanukkah at Temple Beth El in Las Cruces, N.M.
(AP Photo/Las Cruces Sun-News, Shari Vialpando)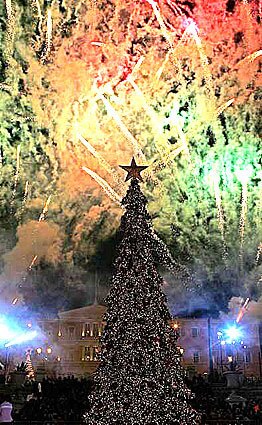 Fireworks explode over the Athens' Christmas tree during its launching ceremony at the central city's Syntagma square.
(LOUISA GOULIAMAKI/AFP/Getty Images)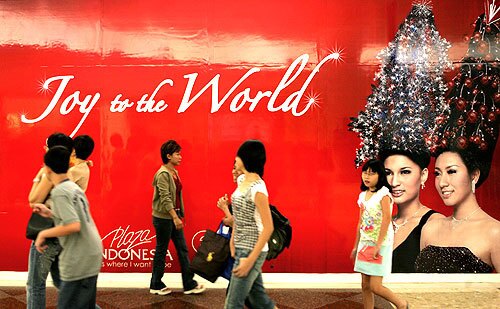 Shoppers walk past by a Christmas advertisement at a shopping mall in Jakarta, Indonesia.
(AP Photo/Dita Alangkara)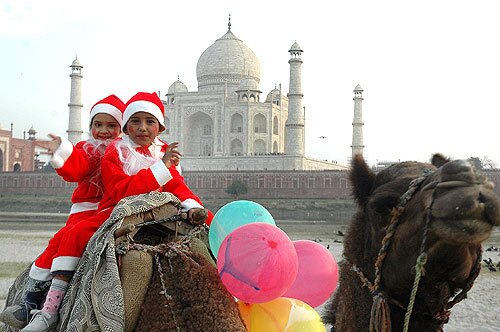 Two young children dressed in Santa Claus outfits ride atop a camel close to the landmark Taj Mahal monument in Agra.
(STRDEL/AFP/Getty Images)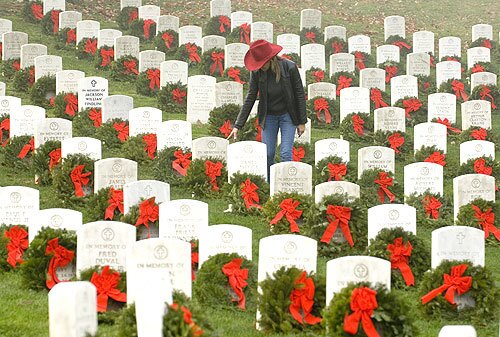 Leslie Morton of Paris, Tx., walks through Arlington National Cemetery outside of Washington, D.C. after laying Christmas wreaths.
(Pete Souza / Chicago Tribune)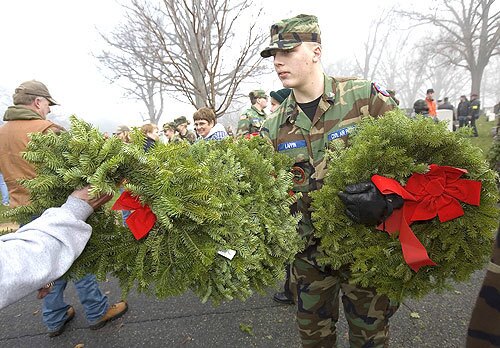 A member of the Civil Air Patrol volunteering, passes out some of the 5,000 donated Maine balsam fir holiday wreaths to volunteers. The wreaths will be placed on some of the 300,000 grave stones at Arlington National Cemetery.
(PAUL J. RICHARDS/AFP/Getty Images)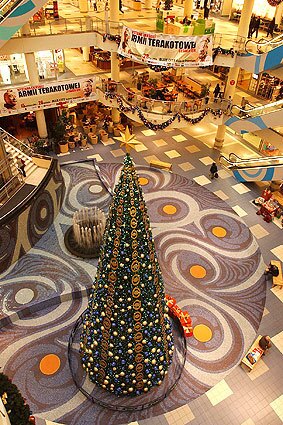 A shopping mall, festooned with Christmas decorations, stands near empty in Warsaw, Poland.
(AP Photo/Czarek Sokolowski)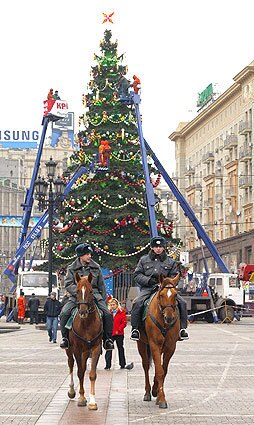 Mounted police officers patrol in front of a New Year Tree at the center of Moscow.
(ALEXANDER TITORENKO/AFP/Getty Images)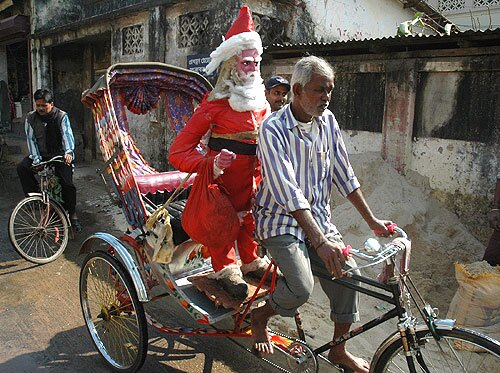 An Indian trishaw driver takes a statue of Santa Claus to a shop for Christmas decoration in Agartala, capital of India's northeastern state Tripura. Though the Hindus and Muslims comprise majority of the population in India, Christmas is celebrated with much fanfare.
(AP Photo/Ramakanta Dey)
Dog Queenie in the VIP dog boutique in Amsterdam. With christmas approaching dogs can now also be decorated.
(EPA/Evert Elzinga)
A giant star shining on the Dole mountain under a Skyguide radar station, in the mountains in the region of Jura, Switzerland.
(EPA/LAURENT GILLIERON)
Shoppers walk with bags near the Christmas Tree at Union Square in San Francisco.
(AP Photo/Jeff Chiu)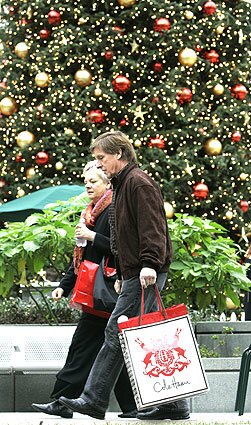 Shoppers walk with bags near the Christmas Tree at Union Square in San Francisco.
(EPA/Horst Ossinger)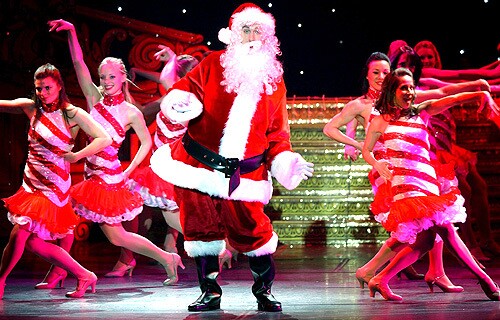 Dancers and a Santa Claus perform during a photo call of 'Broadway's Spirit of Christmas' show on the stage of the Capitol Theatre in Duesseldorf, Germany.
(EPA/Horst Ossinger)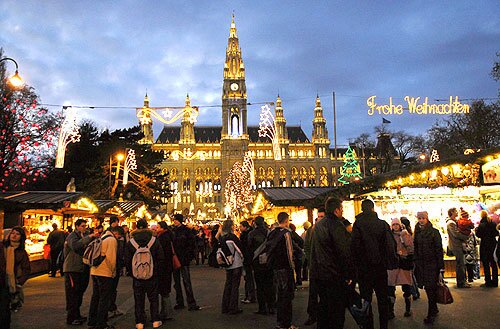 People look at Christmas decorations and seasonal illuminations during the opening of the annual "Christkindl" market on Vienna's City Hall Square which attract thousands of residents and tourists.
(SAMUEL KUBANI/AFP/Getty Images)
Radio City Rockettes (L-R) Shayna Harris, Cheryl Herbert-Cutlip, Megan Schenck and Lori Barber hold up four puppies from Long Island's North Shore Animal League America before the start of the Radio City Christmas Spectacular at Radio City Music Hall.
(TIMOTHY A. CLARY/AFP/Getty Images)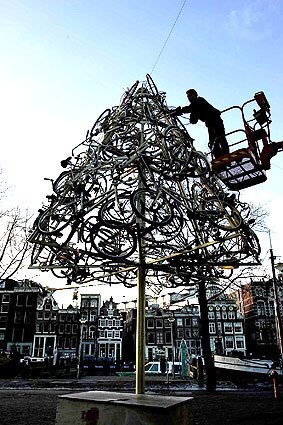 A man prepares a Christmas tree, made of bicycles welded together Amsterdam.
(EVERT ELZINGA/AFP/Getty Images)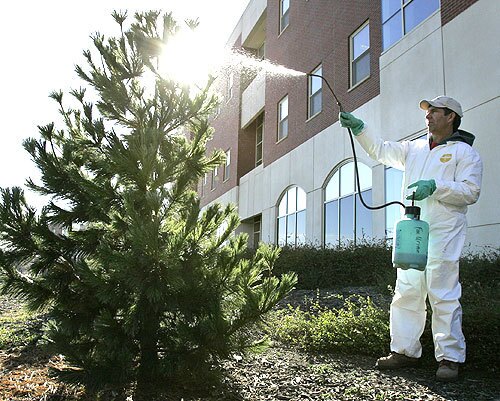 Kirby Baird of the University of Nebraska landscape services department in Lincoln, Neb., sprays a tree with fox urine in an effort to deter tree thieves who might chop down the tree and use it as a Christmas tree.
(AP)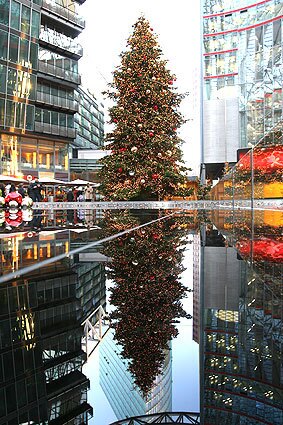 A Christmas tree is reflected in a fountain at Berlin's Potsdamer Platz square.
(JOHN MACDOUGALL/AFP/Getty Images)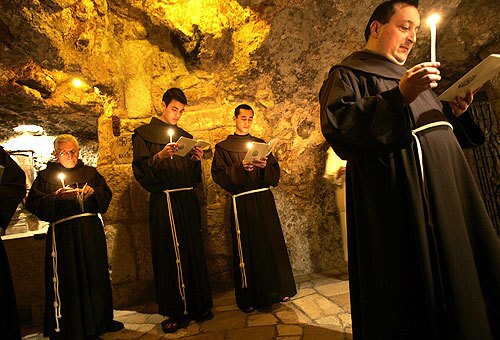 Catholic monks pray in the Grotto of the Church of Nativity, traditionally believed to be the birthplace of Jesus, in the West Bank town of Bethlehem.
(AP Photo/Emilio Morenatti)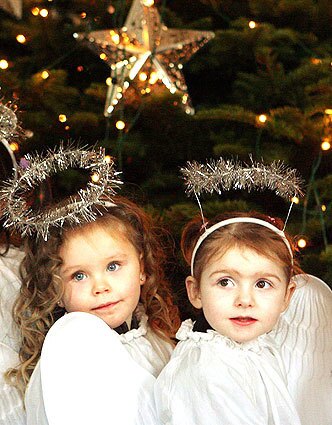 Children from St. Joseph's Nursery school in Maryland, Ireland, sing Christmas carols during the blessing of the live animal crib at Mansion House in Dublin, Ireland
(AP Photo / Niall Carson, PA)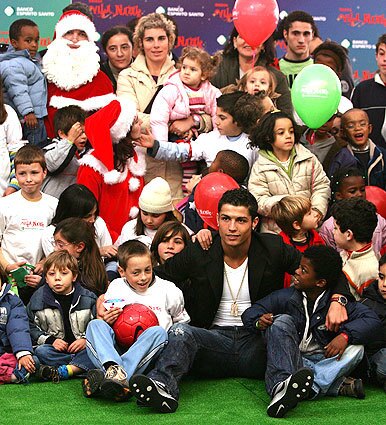 Manchester United's football player Cristiano Ronaldo distributed Christmas gifts to Portuguese children living in the area of Obidos, Portugal.
(Karl Walter/Getty Images)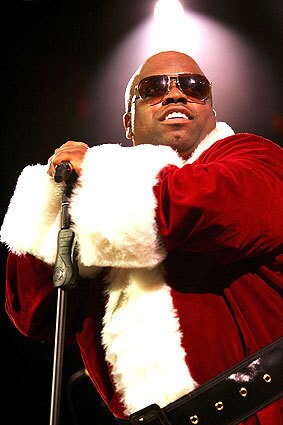 Cee-Lo of Gnarls Barkley performs at 106.7 KROQ's "Almost Acoustic Christmas" at Gibson Ampitheater at Universal Studios.
(Karl Walter/Getty Images)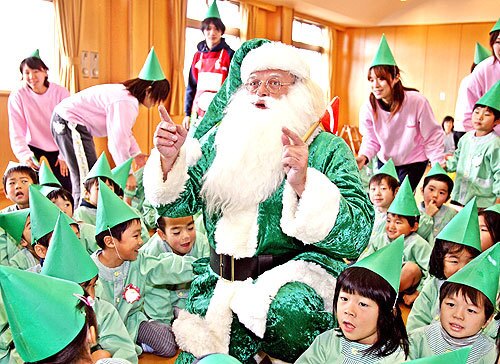 Santa Claus dressed in a green suit is surrounded by nursely school children as he gives out flower seeds at the Kozunomori nursery school in Narita city, suburban Tokyo.
(YOSHIKAZU TSUNO/AFP/Getty Images)
U.S. President George W. Bush sings Christmas carols with Attiyah Jenkins (L), Eartha Kitt (2L), Cathy Rigby (3R), Brad Oscar dressed as Santa Claus (2R) and Stephen Scott after the lighting of the national Christmas tree on the Ellipse.
(Getty Images)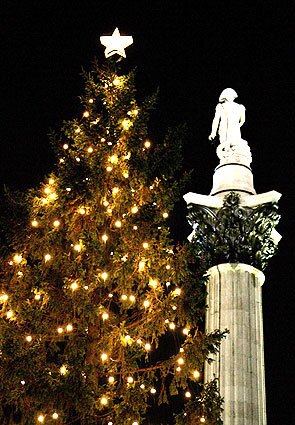 The star on the top of the Chistmas tree shines over Trafalgar Square next to Nelson's column in London.
(Getty Images)
St. Basil Cathedral is seen through a decorated Christmas tree at the Red Square in Moscow.
(Getty Images)
A giant Christmas tree stands inside Galleria Umberto I shopping mall in central Milan
(Getty Images)
A giant Christmas tree stands in front of Milan's Dome.
(Getty Images)
Four-year-old Moritz Fromm admires his traditional Christmas pyramid, an ornamental tower with tiny wooden figures on a rotating disc propelled by the heat of burning candles, at his home in Erfurt, eastern Germany.
(Getty Images)
The full moon rises over a lone decorated Christmas tree on Angel Island, as seen from Sausalito.
(AP Photo/The Chronicle, Frederic Larson)
Children dance around the biggest glass Christmas tree in the world, measuring 8.52meters in the Campo Santo Stefano square in central Murano, an island in the Venice lagoon. The tree was made by Venetian glass artist Simone Cenedese
(ANDREA PATTARO/AFP/Getty Images)
This picture has been chosen by Prince Charles and the Duchess of Cornwall for their Christmas card this year.
(EPA)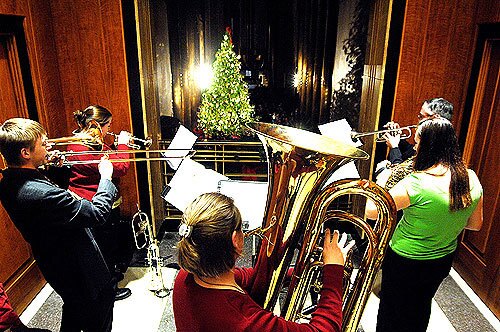 Members of the University of Mary Christmas Brass perform from the balcony during the lighting ceremony of the North Dakota State Christmas Tree.
(AP Photo/Bismarck Tribune, Mike McCleary)
Angel Zubia, of BGA Inc., secures a live Douglas fir Christmas tree from Oregon to the roof of a customer's car in El Paso.
(AP Photo/The El Paso Times, Rudy Gutierrez)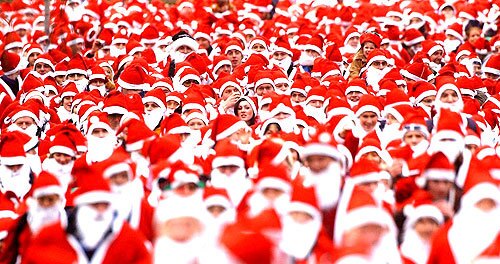 Some of the over 2,200 people dressed as Santa wait for the start of the traditional 1.5 km Great Scottish Santa Run in Edinburgh, Scotland, Sunday Dec. 10, 2006. Every year the Santa run raises money for the 'When You Wish Upon a Star' charity which charters planes to take children suffering with life-threatening illnesses to Lapland so that they can meet Father Christmas.
(AP Photo / Danny Lawson, PA)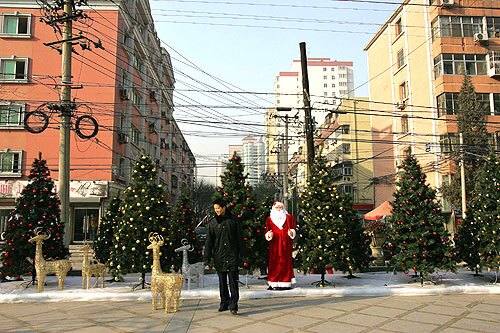 A Chinese man inspects a reindeer ornament to be set on the grounds where a new commercial center is being constructed in Beijing, China. Santa Clauses, Christmas trees and holiday ornaments that would have been a bizarre sight in the past are now common in urban china, where the icons of the religious festival tend to be used increasingly more for retail purposes than for religious reasons.
(AP Photo/Elizabeth Dalziel)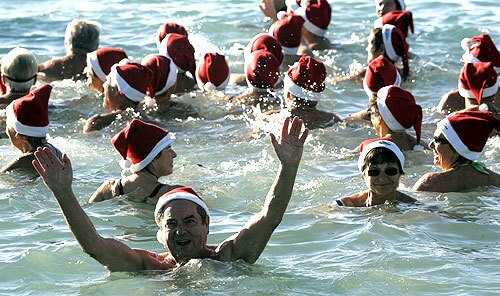 People take a swim in Cagnes sur Mer, near Nice, southern France, during the 8th Christmas bath. The water was 60.8 degrees
(AP Photo/Lionel Cironneau)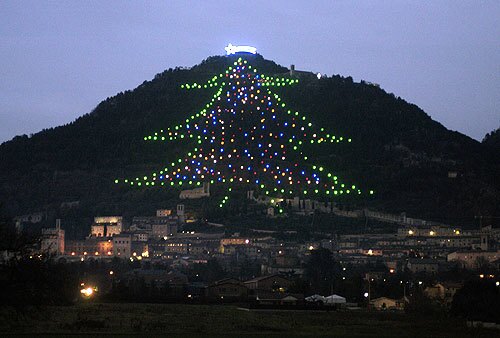 Lights form the outline of a Christmas tree on the slope of Mount Ingino, overlooking the Umbrian town of Gubbio, Italy.
(AP Photo/Leonetto Medici)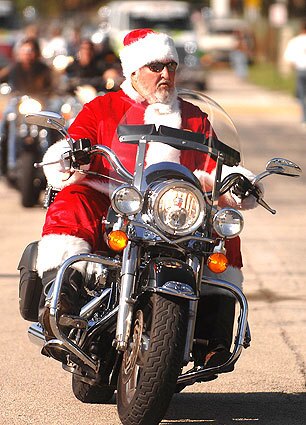 John Beasley from Pompano Beach, Fla., leaves parking lot at Pompano Harness Track in Pompano Beach, Fla. The track was the starting point for the 19th annual Christmas Toys in the Sun Run. The largest beneficiary of the event is the Joe DiMaggio Children's Hospital in Hollywood, Fla.
(AP Photo/South Florida Sun-Sentinel, Joe Cavaretta)