Review: Sqirl sticks to the very basics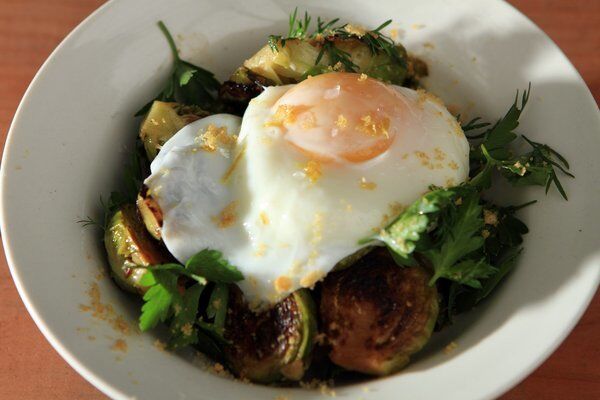 At Sqirl, breakfast can be roasted Brussels sprouts, mixed greens, Chicharron crumbs and a poached egg.
(Irfan Khan / Los Angeles Times)
Cocotte with Straus cream, Meyer lemon zest, fresh herbs and toast.
(Irfan Khan / Los Angeles Times)
Isaac Watters sips on Ethiopia coffee. Local roaster G&B provides the caffeine fixes at Sqirl.
(Irfan Khan / Los Angeles Times)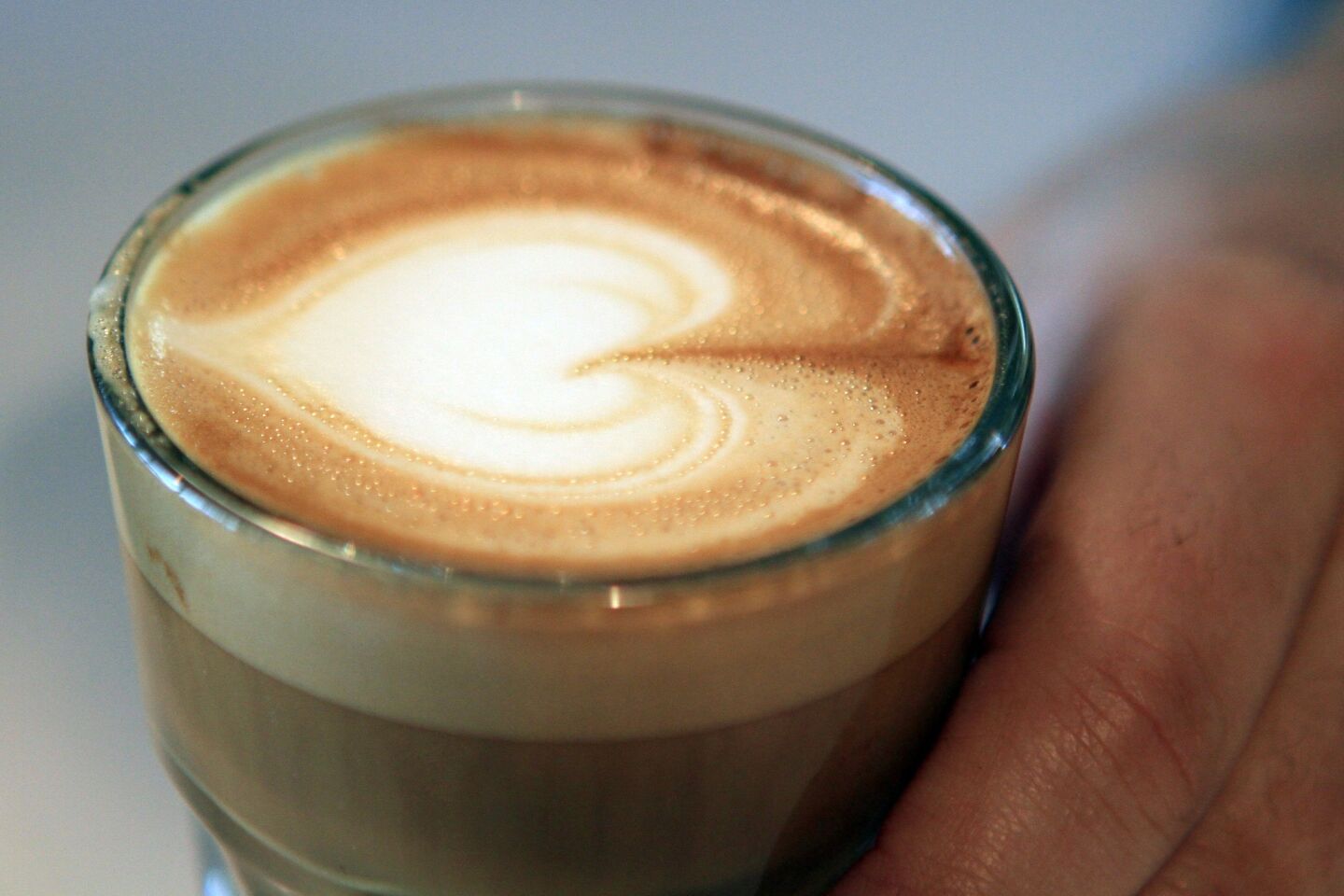 A short cup with Epic Espresso, 49th Parallel, from B&G roasters, served at Sqirl.
(Irfan Khan / Los Angeles Times)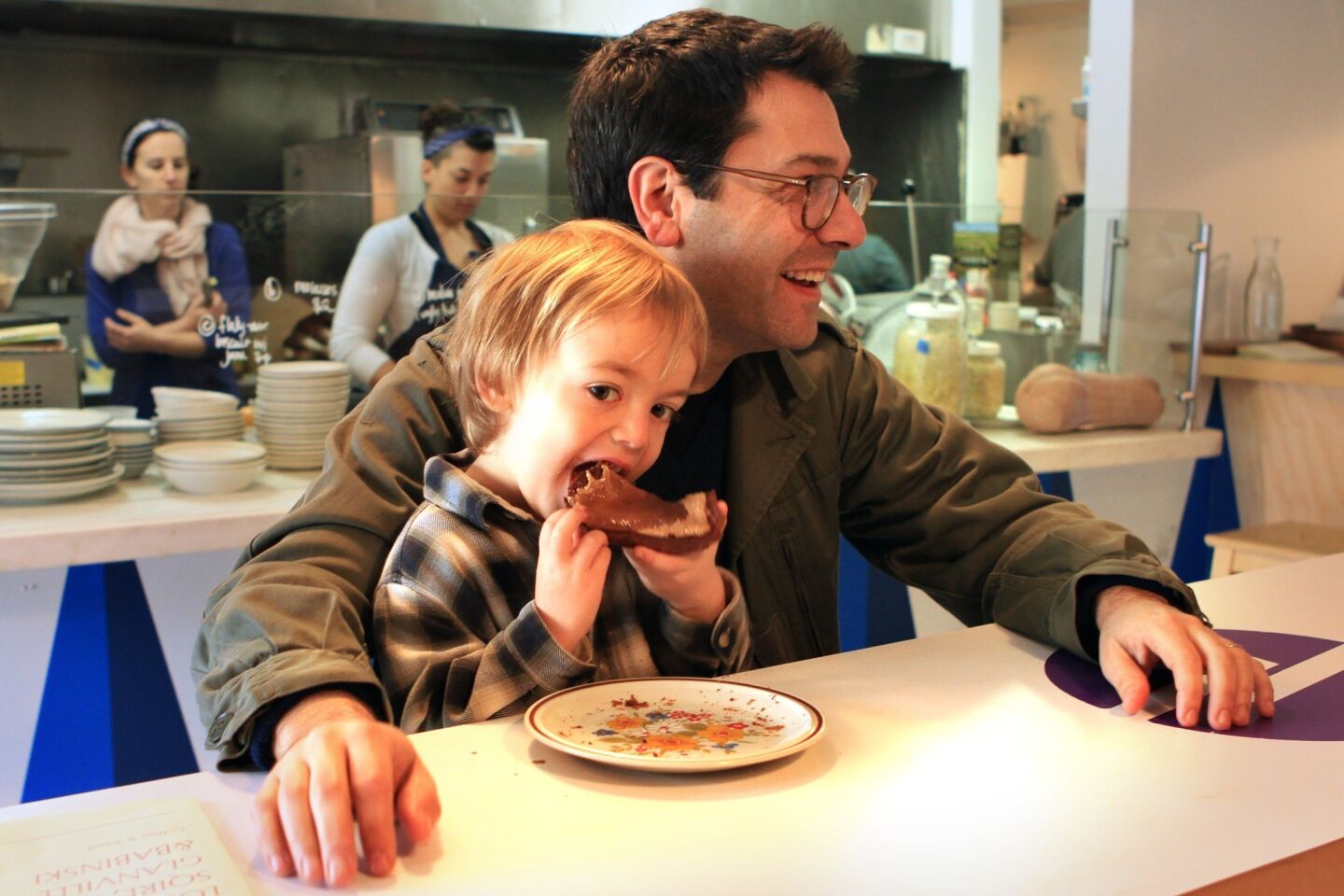 Andy Goldman's 4-year-old son, Morris, bites into brioche toast slathered with freshly milled almond and hazelnut butter and Gravenstein apple butter.
(Irfan Khan / Los Angeles Times)
Toast with Santa Rosa plum chutney and Baserri sheep's cheese.
(Irfan Khan / Los Angeles Times)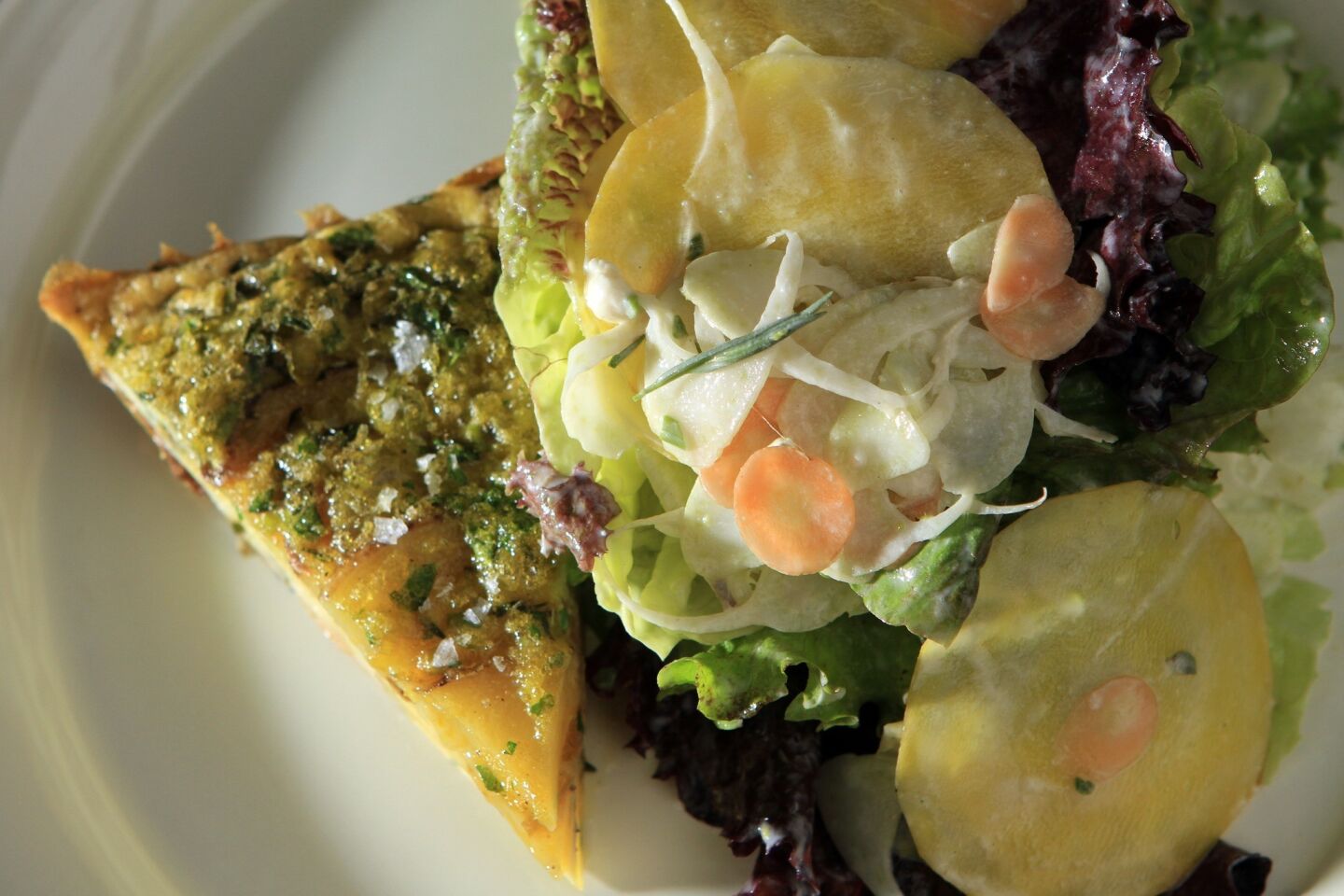 Tortilla Espagnola with Coleman greens and Point Reyes blue cheese.
(Irfan Khan / Los Angeles Times)
Malva pudding cake.
(Irfan Khan / Los Angeles Times)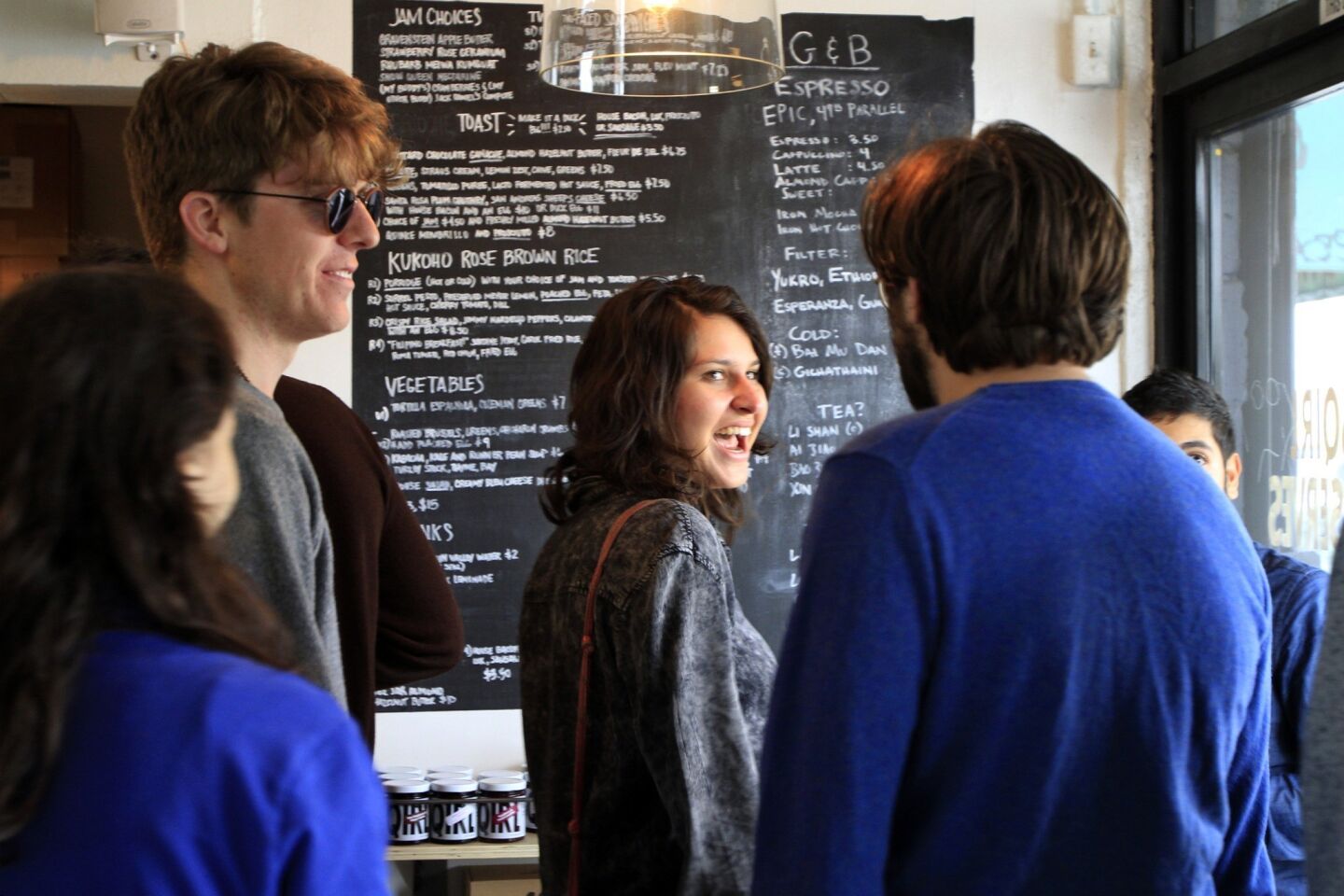 If you haven't had time to make up your mind from the chalkboard menu when you get to the counter, prepare to be grilled.
(Irfan Khan / Los Angeles Times)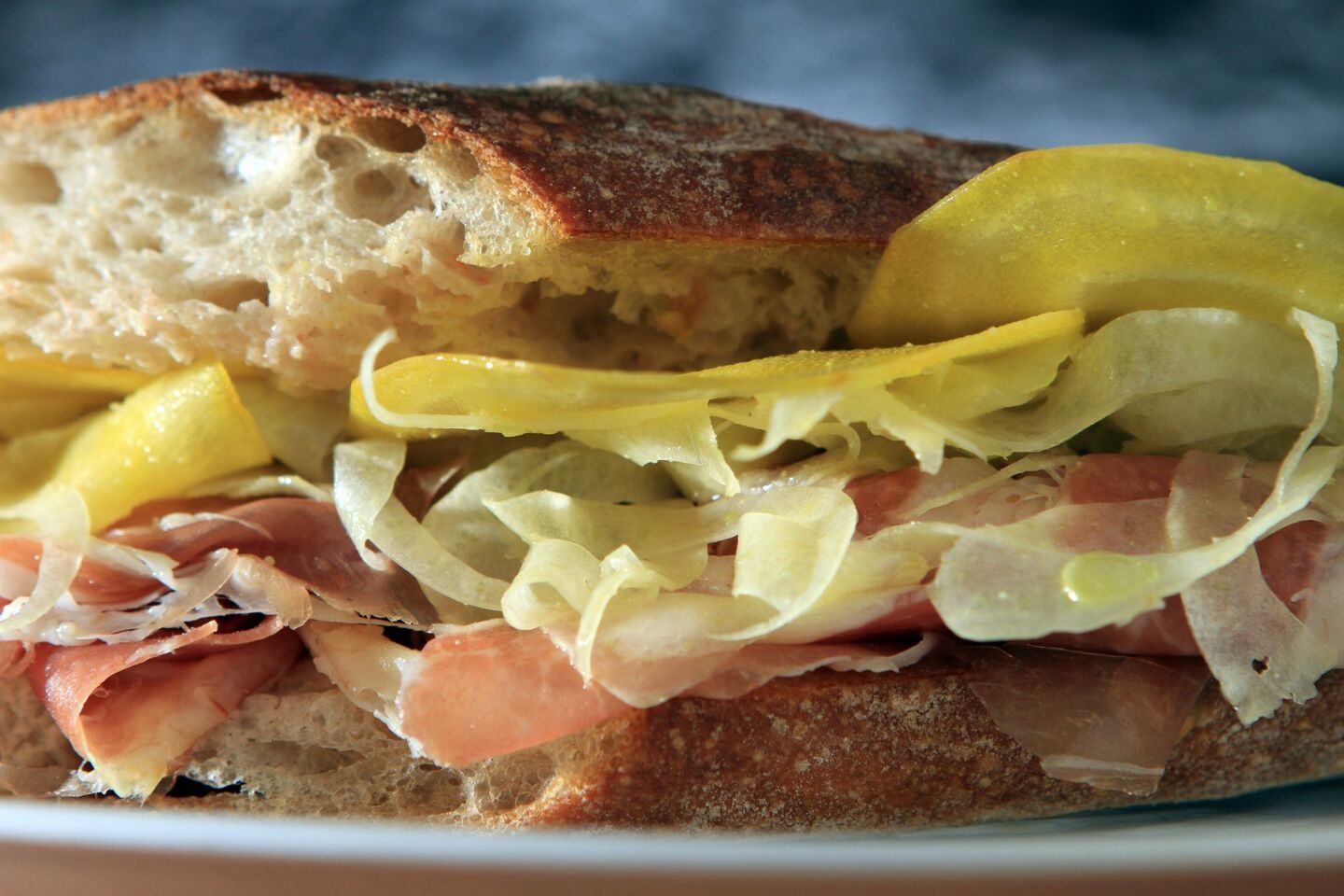 Tomato-rubbed prosciutto sandwich.
(Irfan Khan / Los Angeles Times)
Los Angeles Times Restaurant Critic
Isaiah Berlin, in his famous essay, once divided thinkers into two groups: hedgehogs, who know one big thing, and foxes, who know many things. Proust and Shakespeare. Separating writers into one camp or another has long been a sport of undergraduate humanities majors when the 2 a.m. pot of coffee starts to kick in.
The food world has always had a weakness for people who know one small thing — specialists. One of the pleasures of travel is being able to stop by the Singapore hawker stall whose family has been selling the same kind of noodles for three generations, the Umbrian stand that sells only porchetta, the South Korean alley where nothing but boiled pig's feet are sold. I still remember the astonishment, on my first trip to Spain, of stumbling into a cafe that sold nothing but toast. That toast, charcoal-broiled and spread thickly with good butter, was magnificent.
I was thinking about that toast the other day over breakfast at Sqirl, a sort-of cafe that Jessica Koslow carved out of a tiny East Hollywood storefront. Koslow, a former television producer, has become well-known in the last couple of years for her exquisite, expensive, small-batch jams, made from local fruit and sold in handsome hand-labeled jars. You seek out Koslow at the Altadena farmers market because you never quite know when her blueberry jam with thyme is going to be sold out for the year or whether the Warren pear butter will have just come in. She's pretty masterful at capturing the specific nuances of fruit, sweetness and dust (what winemakers call terroir), but the unpredictability of supply is part of the fun.
Get our weekly Tasting Notes newsletter for reviews, news and more.
You may occasionally receive promotional content from the Los Angeles Times.
Koslow is a micro-hedgehog: She captures the flavor of a season and a place in a jar. Her cafe exists to reanimate the flavors she preserves, to display them as they ought to be displayed: rice porridge with toasted hazelnuts and jam; rice tossed with tart sorrel pesto and preserved lemon; fried eggs with puréed tomatillos and house-fermented hot sauce, just a smidge of hot sauce.
When I started thinking about that toast I'd eaten in Madrid, I happened to be eating Koslow's toast, a thick slice of brioche, crisp yet crumbly, spread with a kind of mild chutney made from local Santa Rosa plums, edge to edge, corner to corner, in a layer much thicker than anyone would dare to put down on his own. On top of the jam, like the Earth's thin crust riding on its sea of magma, was a thin layer of shaved pecorino from Bellwether Farms in Sonoma, whose mellow, nutty funk sank into the tangy jam, and above that was a single slice of cooked bacon whose provenance I forgot to ask. (I could have gotten a lightly fried duck egg for a buck more if I had wanted one.)
I ate this toast outside in a sort of side yard next to the restaurant, chased with sips of milky espresso, in full earshot of the auto body shop up the street and the banda music pounding from the passing cars. It didn't just reflect a Silver Lake afternoon; it was a Silver Lake afternoon.
This is probably the part where I should list all the ways you would probably hate Sqirl. You will probably end up parking two blocks away, and when you get to the front of the line, you will be interrogated about your order, which you are expected to have decided by glancing at the chalked menu board, by a man with the pleasant yet insistent demeanor of the detective at the police station to whom you once reported a stolen iPhone.
There are six counter seats inside the cramped cafe and perhaps a dozen more seats between the chairs scattered on the sidewalk and the benches in the side yard. If the average Silver Lakian weren't lithe, it would be impossibly cramped. When the coffee is not served in water glasses — the coffee concession is run by local roasters G&B; — it is served in screwtop jelly jars if you want to take it to go, festooned with napkin bandannas so that you don't burn your fingers, or in tiny carafes, what they used to call "hottles"' at the Third and Fairfax Farmers Market, dressed in tiny print-cloth scarves. If you are the kind of person who tends to subtract points from your Yelp scores for service at a place that exists to sell jam and coffee, you are probably not going to like it here.
But if you enjoy chaos as much as you do toast smeared with chocolate ganache and almond-hazelnut butter; toast with poached egg, lemon zest and cream; toast served with quince paste and transparent slices of prosciutto; or toast crowned with fried egg and greens, Sqirl may well be your favorite place in the city — as dedicated to eggs and green vegetables as Animal is to dangling bits of swine.
At most restaurants you are content to sit back and eat. At Sqirl, you may be tempted to throw on an apron and roll out the biscuit dough. In this micro-hedgehog moment in cooking, perhaps that is the point.
Sqirl
In a world full of specialty restaurants, you can't get much more basic than toast. Or much better.
Location: 720 N. Virgil Ave., Los Angeles, (213) 394-6526, sqirlla.com
Prices: Toast, $4.25 to $10; rice bowls, $6.25 to $8.50; vegetables, $6 to $9.
Details: Open 7 a.m. to 3 p.m. Thursdays through Tuesdays (Closed Wednesdays). No alcohol. Credit cards accepted. Takeout and retail. Street parking.
---
Get our L.A. Goes Out newsletter, with the week's best events, to help you explore and experience our city.
You may occasionally receive promotional content from the Los Angeles Times.