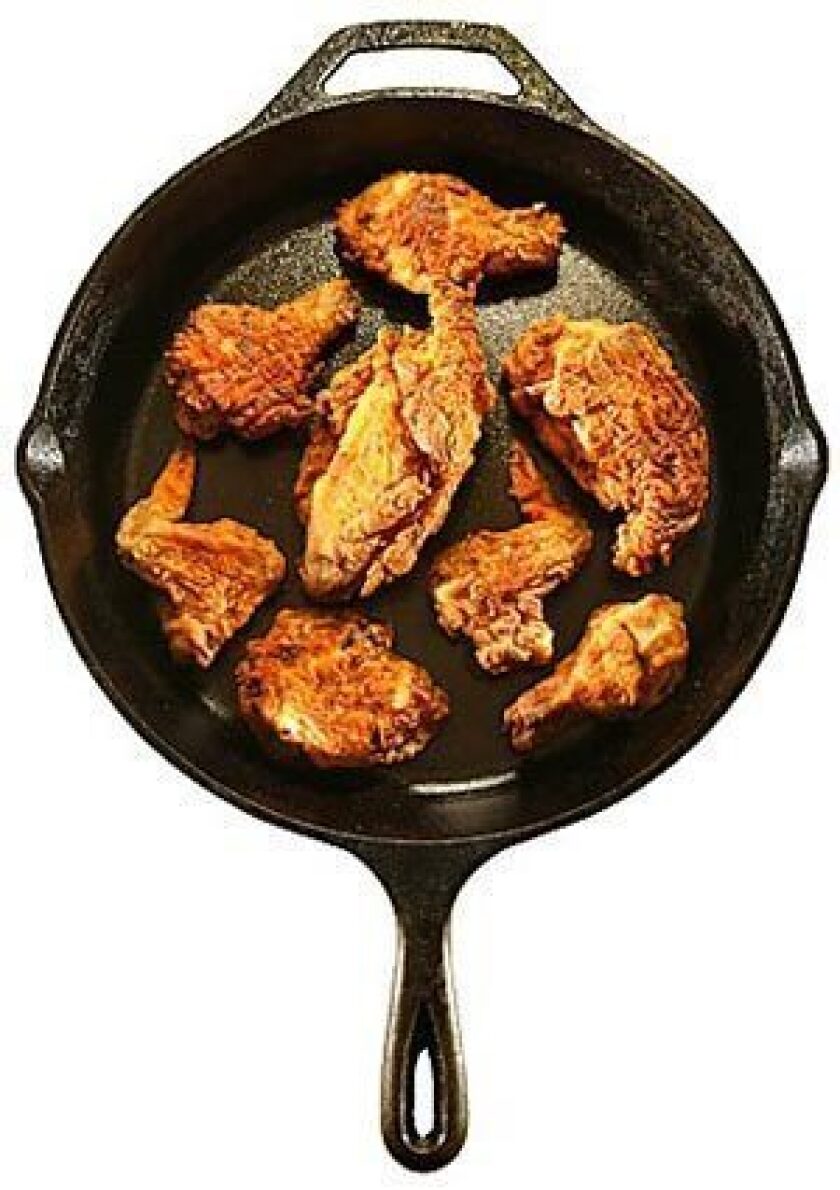 Done right, fried food is an art. Beyond creating a great crust, a dip in hot oil is perfect for keeping moisture in the food as it cooks, whether you're frying up a succulent batch of chicken, battered oysters or a sweet dessert. Properly fried foods should never taste "oily" -- no soggy doughnuts or oil-soaked French fries allowed -- and should never have a soft crust. Here are a few quick tips for becoming a true fry master:
Keep the oil at the right temperature. Oil that is too hot can burn the fried coating before the food is completely cooked inside. Oil that is too cool can soak into the food or coating before the food is completely cooked, making it soggy. Use a deep-fry or candy thermometer to make sure the oil stays at the right temperature.
Use clean oil. If you're frying a lot, filter the oil between uses. Discard dark or dirty used oil -- dirty oil can impart old, burnt flavors onto fresh food.
Use a neutral oil with a high smoking point, such as peanut or canola, rather than a flavorful olive oil. (The smoking point refers to the temperature at which the oil begins to break down due to high heat and can catch on fire.)
Use plenty of oil, and make sure you have enough room to fry. Use a big pot for deep-frying, and make sure the food -- and you -- are not cramped while working. Fry in batches, if needed, so the food does not stick together. And be sure to keep an eye on the thermometer whenever new food is added to fry, as this can temporarily bring down the temperature of the oil.
Have a cooling rack, paper towels or flattened paper bags handy to drain any excess oil off the food once it is fried.
Make sure your guests have plenty of napkins!

If you have any kitchen tips or questions you'd like me to explore, leave a comment below or shoot me an email at noelle.carter@latimes.com.
ALSO:
Go behind the scenes at the Test Kitchen
Back to basics: Fried chicken, made at home
Browse hundreds of recipes from the L.A. Times Test Kitchen
You can find Noelle Carter on Facebook, Google+, Twitter and Pinterest. Email Noelle at noelle.carter@latimes.com.
Crispy fried chicken
Total time: 1 hour, 10 minutes plus chilling times
Servings: 2 to 4
2 Cornish game hens, or 1 small (3- to 4-pound) fryer chicken
1 1/2 tablespoons kosher salt
Zest and juice of 1/2 lemon
1 1/2 teaspoons paprika, divided
3/4 teaspoon cayenne powder, divided
2 teaspoons brown sugar
1 teaspoon garlic powder, divided
1 teaspoon onion powder, divided
Tabasco, or other vinegar-based hot sauce
2 cups buttermilk, more if needed
2 cups flour
1 cup cornstarch
1 tablespoon baking powder
1 teaspoon table salt
1/2 teaspoon freshly ground black pepper
1/2 teaspoon cumin powder
1/2 teaspoon celery salt
Peanut oil
1. Wash the game hens or chicken and dry thoroughly. Remove the backbone from each bird (cook with the other pieces, or save for another use), and cut the remaining chicken into 8 pieces (2 breasts, 2 wings, 2 thighs and 2 legs — 9 if you include the backbone). If the breasts are large, cut each in half crosswise to make a total of 10 pieces.
2. In a deep, medium bowl, combine the kosher salt, lemon zest and juice, 1 teaspoon paprika, one-half teaspoon cayenne, the brown sugar, one-half teaspoon garlic powder and one-half teaspoon onion powder and a few dashes of Tabasco to form a rub. Add the chicken pieces to the bowl, massaging the rub all over each piece. Cover the bowl with plastic wrap and refrigerate overnight, or at least several hours.
3. The next morning, pour the buttermilk over the pieces and gently toss to coat; the buttermilk should barely cover the chicken; if not, add just enough to roughly cover. Cover the bowl again and refrigerate for 4 to 6 hours for game hen, 6 to 8 for chicken.
4. Season the flour: Place the flour, cornstarch and baking powder in a large bag, bowl or baking dish and season with the table salt and one-half teaspoon freshly ground pepper, one-half teaspoon paprika, one-fourth teaspoon cayenne, one-half teaspoon cumin, one-half teaspoon garlic powder, one-half teaspoon onion powder and one-half teaspoon celery salt, or to taste. Taste the flour, and adjust seasoning if desired.
5. About 1 hour before frying, remove the bowl from the refrigerator. Remove each piece from the buttermilk, shaking gently to remove any excess buttermilk (do not attempt to dry the pieces). Dredge each piece in the seasoned flour mixture, coating completely. Shake to remove the excess flour, and continue until all of the pieces are coated. Repeat with each of the pieces, so each is floured twice. Set the pieces aside on a rack to dry and warm to room temperature.
6. While the pieces are resting, prepare the oil: Place oil in a large, heavy-bottom soup pot to a depth of 3 to 4 inches or fill a deep fryer, and heat until the oil reaches 350 degrees.
7. Gently place the pieces in the hot oil, being careful not to crowd. Lower the temperature to 325 degrees and fry the pieces until crisp and golden brown and the meat is firm and opaque, about 8 minutes for game hen pieces and 10 to 12 minutes for chicken (timing will vary depending on the size of the pieces); a thermometer inserted in the meat will read 160 degrees when done. Remove the pieces from the hot oil and drain, skin-side up, on crumpled paper towels. Repeat until all the pieces are fried.
8. Serve the pieces hot or at room temperature.
Each of 4 servings: 829 calories; 37 grams protein; 82 grams carbohydrates; 3 grams fiber; 38 grams fat; 9 grams saturated fat; 170 mg. cholesterol; 3 grams sugar; 1,823 mg. sodium.
---