Culinary SOS: Brown Sugar Kitchen's waffle recipe
How to make Brown Sugar Kitchen's waffles. The breakfast diner on Mandela Parkway in West Oakland prepares waffles which are Tanya Holland's cornmeal-enhanced riff on Marion Cunningham's famous yeasted waffles.
Restaurant Critic
The best waffles commercially available, I am prepared to state, come from Brown Sugar Kitchen, a small, fragrant breakfast diner on Mandela Parkway in West Oakland.
The waffles, Tanya Holland's cornmeal-enhanced riff on Marion Cunningham's famous yeasted waffles, are crisp, light and so violently leavened that they threaten to leap from the waffle iron in which they are cooked. If you drive up from Los Angeles about 6 a.m., you can be at Brown Sugar Kitchen by noon. The hour you spend in line on a weekend morning will be the longest hour of your life.
Holland includes a splendid recipe for these waffles in her book "Brown Sugar Kitchen," and it works as well in my battered old waffle iron as it does at the restaurant. You mix the batter the night before, chill it in your refrigerator while you sleep, and stir in a bit of baking soda just before you pour it into your hot iron. (Remember to grease the iron well, or your first waffle will tear into delicious waffly shards when you attempt to lever it out onto a plate.) At the restaurant, Holland serves it with a sticky syrup made from boiled-down cider, but I always end up using good maple syrup instead, because I am lazy and I am a barbarian. They are the best waffles you will ever taste.
I still wouldn't rule out an early morning drive to Oakland, though. Holland tends to pair the waffles with insanely delicious herbed fried chicken, and you also get a shot at her shrimp 'n' grits.
Food Bowl Alert: Tanya Holland is participating in this year's Los Angeles Times Food Bowl. She will be cooking at Plant Power, The No Beast Feast on May 19 at 6:30 p.m. at the Coral Tree Plaza at Border Grill in Downtown L.A. Tickets are $150 to $250.
BROWN SUGAR KITCHEN'S CORNMEAL WAFFLES WITH APPLE CIDER SYRUP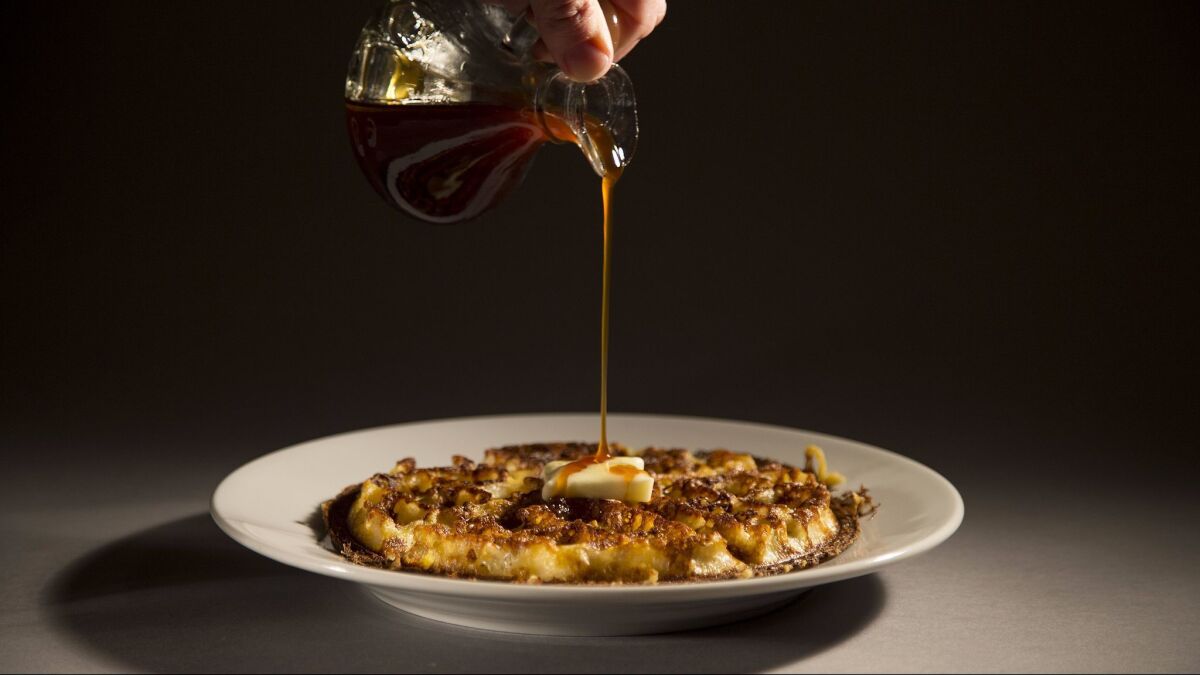 Recipe in our California Cookbook »
1 hour, 15 minutes, plus proofing time. Serves 12
APPLE CIDER SYRUP
1 ½ cups firmly packed brown sugar
1 ½ teaspoons apple cider vinegar
1 quart apple cider
2 cinnamon sticks
½ cup (1 stick) butter
In a large pot, combine the brown sugar, vinegar, cider, cinnamon and butter. Bring to a boil, then reduce the mixture to a simmer, and cook, stirring occasionally, until reduced to 1 ½ cups, about 45 minutes. Discard the cinnamon. The syrup can be made up to 1 month in advance; cover tightly and refrigerate until needed, then warm and stir well before serving.
WAFFLES
2 teaspoons active-dry yeast
¾ cup warm water
3 eggs
3 cups milk
1 cup cornmeal
2 cups plus 2 heaping tablespoons (9 ounces) flour
1 ½ teaspoons kosher salt
1 ½ teaspoons sugar
¾ cup (1 ½ sticks) butter, melted
Vegetable oil for the waffle iron
½ teaspoon baking soda
1. In a small bowl, combine the yeast and warm water. Set aside until foamy, about 10 minutes.
2. In a large bowl, whisk together the eggs and milk. In another large bowl, whisk together the cornmeal, flour, salt and sugar. Add the yeast mixture to the eggs and milk, then whisk in the flour mixture until thoroughly combined. Whisk in the melted butter until just combined. Cover the bowl with plastic wrap and refrigerate for at least 4 hours, up to overnight.
3. Heat the oven to 250 degrees. Heat the waffle iron and grease lightly with oil. Set a wire rack over a baking sheet.
4. Remove the batter from the refrigerator and whisk in the baking soda. Ladle some batter into the waffle iron, close the lid, and cook until the waffles are golden and cooked through, about 3 minutes or according to the manufacturer's instructions. This makes about a dozen waffles, depending on the size of your waffle iron.
5. Transfer the waffle to the rack to keep warm in the oven. Repeat with the remaining batter, placing the cooked waffles in a single layer on the rack.
6. Serve the waffles warm with warm apple cider syrup.
Each of 12 servings: Calories 498; protein 7 grams; carbohydrates 67 grams; fiber 1 gram; fat 23 grams; saturated fat 14 grams; cholesterol 103 mg; sugar 39 grams; sodium 252 mg
Note: Adapted from a recipe in "Brown Sugar Kitchen: New-Style, Down-Home Recipes From Sweet West Oakland" by Tanya Holland.
SOS REQUESTS: Send Culinary SOS requests to noelle.carter@latimes.com or Culinary SOS, Food section, Los Angeles Times, 202 W. 1st St., Los Angeles, CA 90012. Please include your name, phone number and city of residence.
Get our new Cooking newsletter.
Your roundup of inspiring recipes and kitchen tricks.
You may occasionally receive promotional content from the Los Angeles Times.