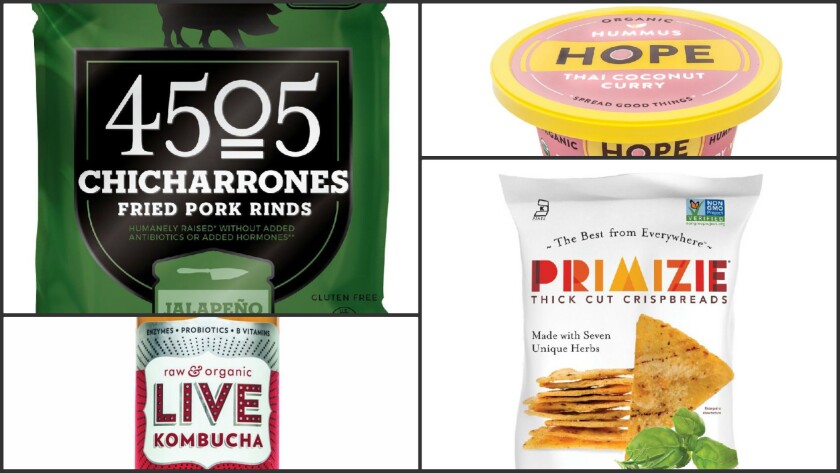 Snacks for the Super Bowl party table don't have to come with a side of guilt. Here are some ideas for smart and healthful swaps:
Primizie makes thick-cut crispbreads in flavors like Gouda and garlic, and chile and lime; a gluten-free version is made from whole-grain organic amaranth, quinoa and sorghum. Use them to dip into freshly made guacamole or as part of a cheese platter. $3.99 at Vons, Pavilions and Albertsons. primiziesnacks.com
A rich hummus wins over conventional cheesy dips. From Hope Foods come new versions like kale pesto (made with basil and hemp) and a Thai coconut curry (made with low-glycemic dried coconut). Surround with fresh veggies for a vibrant addition to the table. $3.99 at Sprouts, Whole Foods and Pacific Coast Greens. hopefoods.com
If you're counting calories, you're probably avoiding pork rinds. San Francisco company 4505 Meats created these chicharrones for those leaning toward a paleo/Primal, high-protein/low-carb lifestyle, for whom pork rinds are a perfectly respectable snack. They are made from antibiotic- and hormone-free meat sustainably sourced from small family farms. The result is a crunchy and light no-carb snack with just 80 calories a serving. Flavors include chili and salt, jalapeño cheddar and smokehouse. $3.99 at Whole Foods and Amazon.com. 4505meats.com
Stick a few of these into the ice chest next to the beer and diet soda: Live Soda is a probiotic-rich drinks that replicate the taste of your favorite not-so-great-for-you drink: among them root beer, cola and Pure Doctor, for those who can't kick the Dr Pepper habit. The drink doesn't have the typically potent taste found in many kombucha beverages. (Something company founder Trevor Ross is familiar with: He said he almost spat kombucha out the first time he tried it.) $2.59 at Ralphs, Sprouts Farmers Market, Bristol Farms, Rainbow Acres, My Fit Foods. drinklive.com
READ ON!
Caring for cuts, burns and scrapes: The rules have changed
4 L.A.-area running clubs that are way more than just running clubs
Zendaya explains why 'fearless' is the best compliment you can pay her
---