Is this what the doctor's office of the future will look like?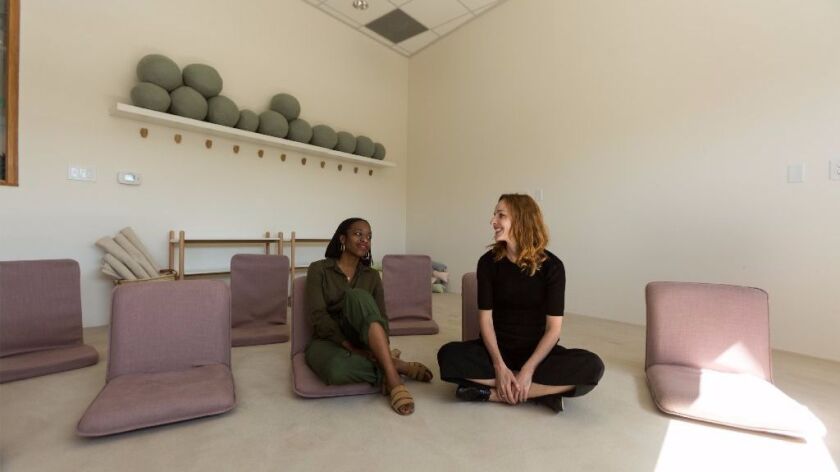 The new Forward medical clinic in Century City does not have a waiting room. The initial check-up with a doctor at Parsley, a new medical center in Playa Vista, involves a 75-minute meeting with a doctor and a session with a health coach. Loom, in Los Angeles, has a cozy space for clients to chat with a counselor about trying to get pregnant or dealing with a miscarriage.
As people tire of long wait times, rushed visits, a reliance on prescription medicines and dealing with the morass that is the insurance system, some doctors, practitioners and entrepreneurs — especially those trying to attract millennial customers — are finding another way to deliver wellness.
"How we think about health seems a little broken," said Adrian Aoun, chief executive of San Francisco-based health startup Forward, which opened a Los Angeles clinic at the newly revamped Westfield Century City last month. "It's as if we're passive participants in our health, waiting for something serious to happen before we dealt with it."
Aoun used his tech background — he ran the Special Projects division at Alphabet — in founding Forward. At the 1,900 square foot space, patients are given tablets upon check-in, then directed to a body scanner that, in under 60 seconds, gathers vitals that are then streamed to a wall-mounted flat screen in an exam room. The patient can change into the Lululemon robe provided, then go over stats with a doctor to formulate a medical protocol that addresses issues that are often overlooked or given short shrift during a typical doctor's visit, such as a deep dive into nutrition, fitness and sleep. Many labs can be done on-site, with the results ready in as little as 15 minutes. Patients get sent home with prescription medicine if need be. If there's a follow-up question, they're told they can expect an answer within two minutes.
The $149 monthly fee covers consults, labs genetic testing and the first fill of prescriptions.
Like many of these pioneers attempting to reinvent medical services, Forward does not accept insurance. Clients who have coverage can bill their insurance companies directly.
Specialty practices are also part of the shifts in how people are thinking about their health.
Loom, which opened in October, is more a resource center than a clinic. Co-founder Erica Chidi Cohen, a doula and lactation consultant, describes it as a continuation of the "progressive, contemporary, inclusive approach" to wellness. The 2,000 square foot space — with a further 2,500 square feet outdoors — holds classes and counseling sessions for anyone invested in reproductive health — whether she is they are trying to get pregnant, has had a miscarriage, is close to giving birth or needs support with a newborn.
"Things are very polarized in the reproductive health marketplace," she said. "We wanted to offer a prescriptive approach to the pregnancy and parenting experience. We believe in individuation, because nobody wants to do it the same way." There is no general fee — clients pay out-of-pocket for individual services.
It's in the arena of primary care that most of the disruption is happening.
The year-old Parsley — set up at a WeWork series of suites in Playa Vista — is predicated on data and, said chief executive and founder Robin Berzin, using that to "look at your life story."
A $150 a month membership fee covers an in-depth intake session, four follow-up visits, video chats, advanced biomarker testing, five wellness coaching sessions and unlimited messaging with the doctor. Parsley — which also has clinics in New York and San Francisco — has a data scientist on staff, which Berzin says helps doctors use diagnostic and genomic tools to prevent problems before they happen.
"We don't want to just triage a sinus infection," said Berzin. "We want to the change the root drivers of chronic disease, helping people to get off medication and live healthier."
Please consider subscribing today to support stories like this one. Already a subscriber? Your support makes our work possible. Thank you. Get full access to our signature journalism for just 99 cents for the first four weeks.
---