Mistakes I made — and lessons learned — on my first triathlon
I recently survived an ordeal so filled with physical anguish and emotional trauma I swore I'd never do it again. Having a baby? Worse: a triathlon. At least during labor, an epidural is an option.
When I signed up for my first triathlon, I thought, "How hard could it be?" I can swim. I can bike. I can run.
And besides, it was only a sprint or "baby" triathlon: 750-meter swim, 20-kilometer bike, five-kilometer run, nothing like those monster Ironman courses, which range in distance from "long" to "are you insane?"
My daughter, a member of the Cal Poly San Luis Obispo triathlon team, convinced me to sign up for the student-organized Lopez Lake triathlon in March. It was early January and I had 10 weeks to train. No problem.
For the first month, my training consisted of telling others about my upcoming race. Then, with only six weeks to go, I got serious.
I bought a new running shirt.
With four weeks left, I finally started working out. Unfortunately, I trained as if my event was a three-day festival, with snacks and siestas in between. I'd swim on Fridays, bike on Saturdays and run on Sundays. Never once did it occur to me, "Hey, imbecile, when you're done swimming, see how it feels to immediately get on that bike, and when you finish that, try some running."
As race day neared, I was filled with a mixture of anticipation, high hopes and delusion.
Reality set in the morning of the race. At the registration tent, I was greeted by a perky young woman. "Are you a volunteer?" she asked.
That was the first sign this triathlon might not go well.
There were others.
The lake was so cold my face refused to make contact with the water. I ended up dog-paddling 750 meters. (Perhaps I should have trained in something other than a heated pool.)
Halfway through the swim, a fellow swimmer had to loosen my wetsuit because I was feeling claustrophobic and on the verge of a panic attack. (Upside: new friend.)
On more than one occasion, the lifeguard on the paddle board asked, "Are you sure you're OK?"
When I finally dragged myself onto shore, the emcee announced, "Well, it looks like the last of the swimmers are finally coming in."
After the swim, instead of wrapping myself in a towel and curling into the fetal position (why can't that be the second leg of a triathlon?), I now had to cycle 20 kilometers … on a mountain bike, which I had convinced myself was just as good as a road bike.
It wasn't.
Which was probably why that 75-year-old woman I saw earlier and thought, "Dear Lord, I hope she can do this," passed me by.
Not to mention, the bikers in front of me kept getting smaller and smaller.
Eventually, the only ones left on the course were the volunteers. One just yelled, "You can do it." It was a more a question than a statement.
When I finally pedaled into the transition area, teary-eyed and sweaty, a photographer took my picture. Thank you for capturing my misery.
But the misery wasn't over.
It was time to run a 5K. With the strength of a newborn deer, I was off.
The course was uphill on the way out. The course was uphill on the way back. Toward the end, it was just me and the guy in the truck, picking up the traffic cones. (Upside: He did not pass me.)
There, miraculously, in the not-too-far-off distance, was the finish line. As I crossed it, the 75-year-old woman cheered for me.
Thirty minutes later, my bruised ego and I departed.
"Thanks for volunteering!" someone yelled.
"Never again," I said.
Then last week I got an email for another triathlon. The swim promised semi-warm conditions.
Yeah, right.
The bike course was hailed as scenic.
Not a chance.
The run was guaranteed to be flat.
Well …. maybe.
Epilogue: The writer, whose body temperature has recently returned to normal, is planning to participate in the Santa Barbara Triathlon in August. She plans to train more effectively and is determined to improve her performance. Additional goals include to not to be mistaken for a volunteer and swim with her face in the water. You can find January at Midlifebloomer.com.
Thinking about trying a tri?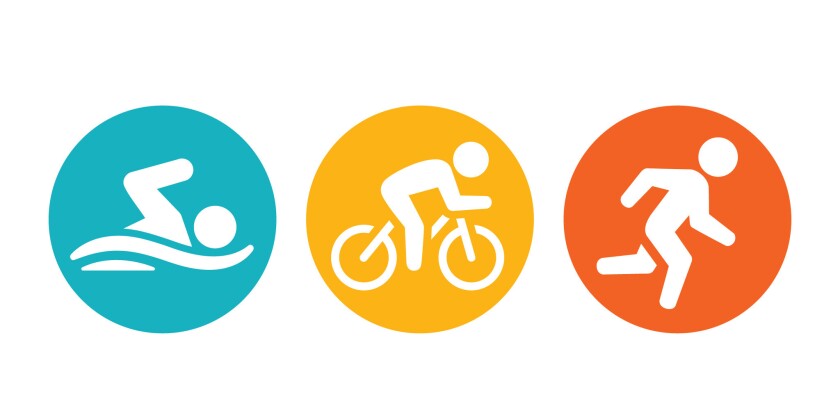 Triathlons started in San Diego in 1974 as a spirited challenge among buddies to see who would win a mash-up of swimming, biking and running. Since then, it has taken off, becoming an Olympic sport in 2000 and launching thousands of amateur and pro competitions every year.
Which one is right for you?
"Start with a sprint distance, even if your long-term goal is Ironman distance," said Caryn Maconi, spokeswoman for USA Triathlon, which sanctions races and oversees elite teams. "Doing the short one is good training and a good introduction to the sport."
Sprint or baby tris vary in distance but typically feature a short swim, at most a little over half a mile, five to 18.6 miles of cycling, and up to 3.9 miles of running. Complete newbies can start with a 60-minute indoor tri that's about time, not distance: 10 minutes swimming in the pool, 30 minutes on a stationary bike, and 20 minutes on the treadmill.
You also can try a variation, such as a duathlon (run, bike run), aquathlon (run, swim, run) and aquabike (swim and bike).
As you up your game, you may want to train for an Olympic triathlon (.93-mile swim, 24.8-mile bike ride, 6.2-mile run) or a half Ironman, a brand-name event that includes a 1.2-mile swim, 56-mile bike ride and 13.1 mile run — double all that for a full Ironman.
For athletes looking to change up their workouts, triathlon prep provides good low-impact cross-training. "By spreading your effort over three disciplines, you'll minimize getting burned out," Maconi said. "And you'll improve your flexibility and endurance."
The most important thing is to have a training plan and start at least eight weeks beforehand. You don't need to buy a high-end bike or wetsuit to start, Maconi said. Think about renting both or adapting gear you already have, like a mountain bicycle.
Find tips on how to get started and train as well as info on races for adults and kids at USA Triathlon's website, teamusa.org/USA-Triathlon.
— Mary Forgione
---