Fish oil supplements help heart disease patients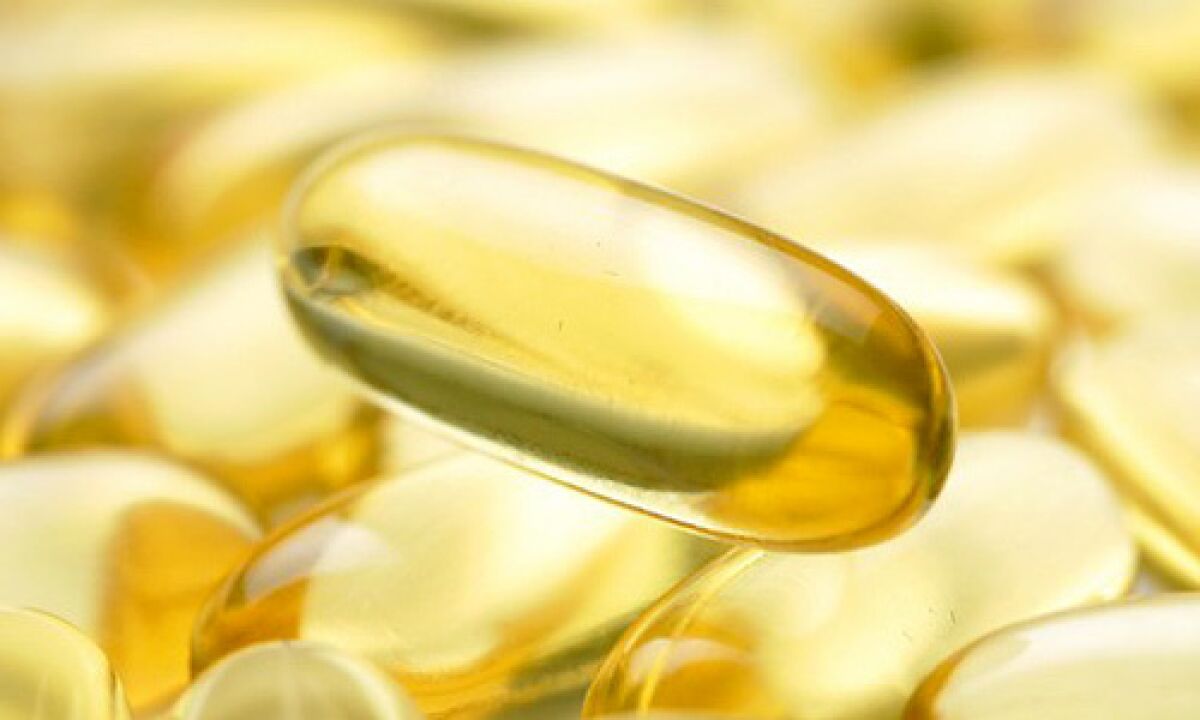 Special to The Times
The products: All over the world -- Japan, the Arctic, Anaheim, wherever -- people who eat a lot of fish seem to enjoy unusual protection from heart disease. Not everyone can manage a plate of salmon or sashimi every night, but there's another option: fish oil capsules, the fatty extracts of anchovies, sardines or salmon poured into a package of gelatin.
---
FOR THE RECORD:
Fish oil: A May 5 Health section article examining the benefits of fish oil supplements said that "the Food and Drug Administration considers fish oil to be a nutritional supplement, not a medication." Lovaza, available by prescription, contains high concentrations of fish oil omega-3 fatty acids and is FDA-approved for treatment of people with very high blood triglyceride levels (more than 500 milligrams per deciliter). —

---
Fish oil is loaded with two omega-3 fatty acids, docosahexaenoic acid (DHA) and eicosapentaenoic acid (EPA). Studies in humans and animals suggest that these nutrients can help prevent blood clots, lower blood pressure and encourage healthy heart rhythms. Heart patients in Europe often receive prescriptions for fish oil capsules along with their beta blockers and blood thinners. In the U.S., the Food and Drug Administration considers fish oil to be a nutritional supplement, not a medication, but many Americans still buy the capsules in hopes of prescription-strength benefits.
Fish oil capsules are available pretty much anywhere vitamins are sold. Some typical examples: Nature Made sells 100 2.5-gram capsules for about $10. Each capsule contains about 650 milligrams of DHA and EPA combined. Ten dollars will also buy 100 capsules of Puritan's Pride fish oil, which contains about 360 milligrams of DHA and EPA per capsule. Don't like the fishy flavor? Natrol sells fish oil capsules laced with lemon oil to take the edge off. Pushing that concept to its outer limits, a company called GO3 sells chewable, strawberry-flavored fish oil tablets for kids.
The claims: There's an unwritten rule in supplement advertising: Products with the most scientific merit tend to make the most low-key claims. Accordingly, labels and websites for fish oil products generally don't promise miracle cures. The label for Nature Made fish oil simply states that "consumption of omega-3 fatty acids may reduce the risk of coronary heart disease." Using slightly bolder terms, the Natrol packaging says fish oil will "support optimal health, including cardiovascular health."
The bottom line: Eating fish a couple of times a week is undoubtedly a healthful habit, says Dr. Thomas Pfeffer, a vascular surgeon at Kaiser Permanente Hospital in Los Angeles and the president of the L.A. chapter of the American Heart Assn. But that doesn't mean everybody should be stocking up on fish oil capsules, he adds. "It's always better to get nutrients from whole foods," he says.
According to Pfeffer, fish oil supplements have "no proven benefits" for people who don't already have heart disease, which leaves out the great majority of Americans. (Some experts believe that fish oil might ease rheumatoid arthritis, depression and certain skin problems, but the verdicts aren't in yet.)
For people recovering from a heart attack, fish oil capsules just might have the power to save lives. A 2002 Italian study of more than 11,000 heart attack survivors found that taking one capsule containing 850 milligrams of DHA and EPA each day cut the risk of death in the next three months by 40%. After four months, patients taking the fish oil were also 50% less likely to die suddenly, a clear sign that the supplements helped prevent dangerous arrhythmias.
A 2007 Japanese study of more than 18,000 patients with high cholesterol found that adding 1.8 grams of EPA each day to standard treatment with statin medications reduced the five-year risk of heart attacks, bypass surgery and other cardiac "events" by about 20%.
The American Heart Assn. officially encourages people who have heart disease to eat at least 1 gram of DHA and EPA combined each day, about what you'd get from 2 ounces of Atlantic salmon. Although the AHA says fatty fish is the best source of DHA and EPA, it also says patients can take fish oil capsules with their doctor's OK.
Patients with high triglycerides -- a type of fat found in the blood -- are the only ones who get a clear-cut recommendation to take fish oil capsules. For these patients, the American Heart Assn. suggests 2 to 4 grams of DHA and EPA each day.
Dr. Stuart Connolly, director of cardiology at McMaster University in Hamilton, Ontario, says there's a reason why neither the FDA nor Health Canada, that country's national health system, considers fish oil to be a pharmaceutical product. By any measure, he says, fish oil isn't likely to be as helpful as prescription medications.
But fish oil supplements are considered safe in recommended doses, and Connolly says he's "cautiously optimistic" that the supplements could be a healthful addition to medical treatment for heart disease.
Pfeffer says heart patients who want to try fish oil should probably stick with gelatin capsules containing about 1 gram of DHA and EPA combined per day.
Is there a consumer product you'd like the Healthy Skeptic to examine? E-mail the details to health@latimes.com.
Get our free Coronavirus Today newsletter
Sign up for the latest news, best stories and what they mean for you, plus answers to your questions.
You may occasionally receive promotional content from the Los Angeles Times.