Before & After: A massive front lawn is transformed into an inviting, low-water landscape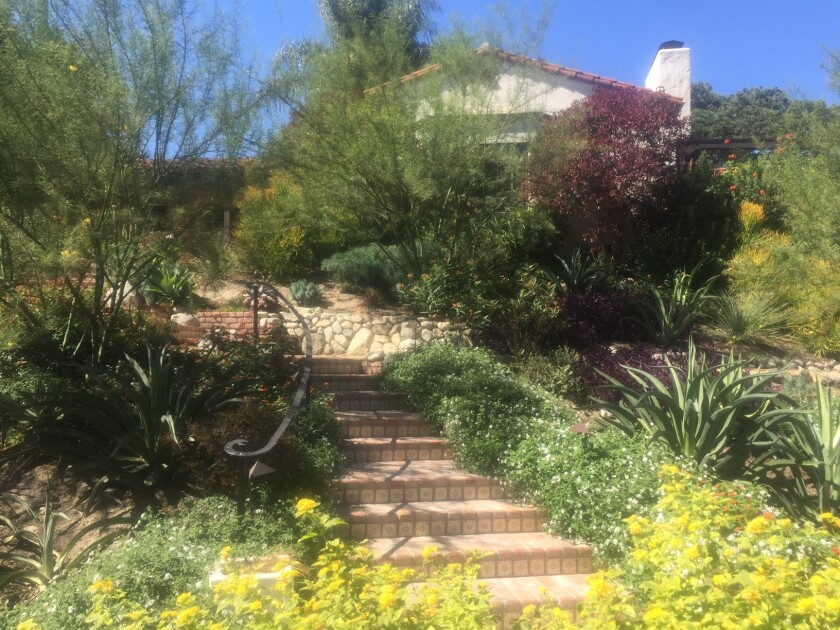 Amber Denker's Toluca Lake garden today is a hub for neighbors and wildlife. It features a new, inviting path to the 1924 Spanish home, where actor Gabby Hayes once lived.
(Lisa Boone)
The lawn before it was removed.
(Amber Denker)
The garden after the turn was removed.
(Amber Denker)
The garden today.
(Amber Denker)
A path of decomposed granite crosses the front yard. "It breaks up the space," says Denker. "It's fun to meander."
(Amber Denker)
A view of the former lawn, stripped bare, from the street.
(Amber Denker)
A side view of the house shows both the parking strip and front yard.
(Amber Denker)
An East Coast native, Amber Denker appreciates being able to garden year-round in Toluca Lake. "It is such a thrill to grow things and experiment," she says.
(Courtesy of Amber Denker)
Denker started with 1-gallon plants including rosemary, tradescantia pallida, lantana and senecio. She also added exotics like euphorbias, agaves, aloes, cordylines, Dasylirion wheeleri, grevillea, yucca rigida and golden barrel cactus. The terraced brick walkway, shown here, with Spanish tile risers, was the most costly addition.
(Amber Denker)
Now there's a clear path from the street to the house, part of homeowner Amber Denker's project to tear out thirsty grass, install a walkway, and go drought-tolerant.
(Amber Denker)
The parkway now blooms with heat-loving lantana.
(Amber Denker)
Amber Denker thinks like an artist when it comes to gardening, spending countless hours in her Toluca Lake backyard planting exotics and tropical plants. "It makes me feel like I'm painting my environment," she explains.
After hearing about the DWP turf removal rebate during the California drought in 2015, she was prompted to turn a critical eye to the massive lawn in front too.
The green hill was blanketed in turf, with no clear path from the street to the house where she has lived for more than 20 years. "People could never figure out how to get to the front door," she says. "I always wanted to put a pathway down the center of the yard." The rebate was the motivation she needed.
When the DWP approved the removal of 2,700 square feet of grass and 1,360 square feet of parkway in August — a move that resulted in a rebate of $8,625 — she had 120 days to implement her plan: tear out the thirsty turf, create access to the house, and install a California-friendly, drought tolerant landscape.
She worked with longtime gardener Jaime Dominguez to remove the dead lawn and line the hill with burlap mesh to prevent soil erosion. On top of the burlap, Dominguez added a layer of Forest Floor soil amendment to revive the soil.
After Denker drew up plans, Dominguez installed a drip irrigation system and Denker began planting 1-gallon containers of rosemary, purple Tradescantia pallida, lantana and senecio. Exotics such as euphorbia, agave, aloe, cordyline and grevillea add texture to the landscape while purple smoke trees and Palo Verdes trees lend height and color.
A simple S-shaped walkway Denker drew on a piece of paper was all that hardscape mason Dino Herrera needed to create a terraced brick walkway leading to the house. Offset with pretty Spanish tile risers, boulders and a custom handrail by Fatima Hooper, the entrance now offers visitors a warm welcome.
A second path, lined with decomposed granite, breaks up the space and creates a place for Denker to roam.
Near the street, a parking strip was removed and replaced with decomposed granite and senecio in alternating swathes. Inspired by some landscaping she saw outside Art's Deli on Ventura Boulevard, Denker surrounded the palm trees in yellow variegated leaf lantana. "It can pile up high at the base of the palm tree, which is very dramatic," she says.
Now, Denker's front yard is an inviting environment for neighbors and wildlife alike.
And even though she spent $20,000 out of pocket — more than she had anticipated — she isn't complaining.
"I have something that will add permanent value and joy to my home," she says. "The bugs are happy, the butterflies are happy, and I too am happy. I like to look out, drink my tea and just breathe."
Show us your garden makeover
We're highlighting yards and gardens that go from heavy water users to thrifty water sippers. If you've given your yard a drought-tolerant makeover, send "before" and "after" pictures to Home@latimes.com. We may include your yard in an upcoming Saturday section.
Twitter: @lisaboone19
For an easy way to follow the L.A. scene, bookmark L.A. at Homeand join us on our Facebook page for home and garden design, Instagram, Twitter and Pinterest.
ALSO:
Photos: Ready to scratch the grass? Here are 27 inspiring lawn-free yards
These 7 fire-retardant plants may help save your home
A whimsical, magical fairy tree brings smiles to an L.A. neighborhood
---