13 Images
A laid-back hippy vibe at the new Ace Hotel & Swim Club in Palm Springs
The new Ace Hotel & Swim Club (
www.acehotel.com/palmsprings
) is a stark departure from the Eames chairs and kidney-shaped coffee tables that typically define Palm Springs' midcentury style. Ace rooms have a back-to-the-land hippie sensibility, with walls and windows covered in tent canvas. Much of the furniture, including the leather chair and industrial dresser shown here, is vintage. Like the design-centric Ace Hotels in Seattle and
Portland
, Ore., the new Palm Springs lodging displays some clever ideas that could translate to the home.
(Ace Hotel & Swim Club)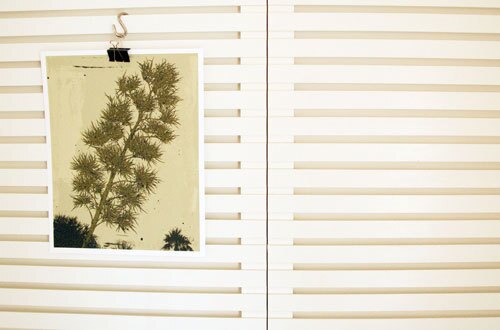 Inside the Ace Hotel's rooms, walls are clad in slatted wooden panels. Unframed photographs and works of art on paper dangle on bulldog clips that are hung on simple S-hooks. "They can be moved around quite easily to customize the look of the room for each new guest or by each new guest," says Roman Alonso, one of the creative directors of the
West Hollywood
design firm Commune, which borrowed the idea from a common retail design.
(D. L. Thompson and Jon Johnson / Ace Hotel & Swim Club)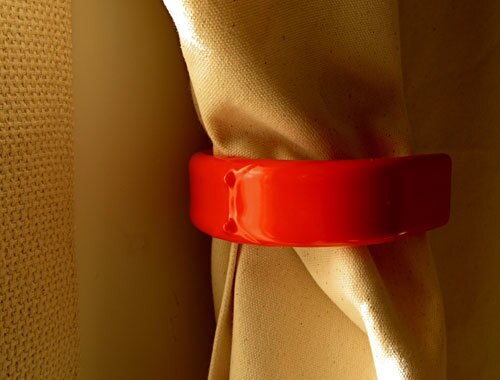 One of the clever and inexpensive design touches at the Ace Hotel in Palm Springs: an industrial hook — the kind that can be purchased at a hardware store — serves as a tieback for curtains made of canvas.
(David A. Keeps)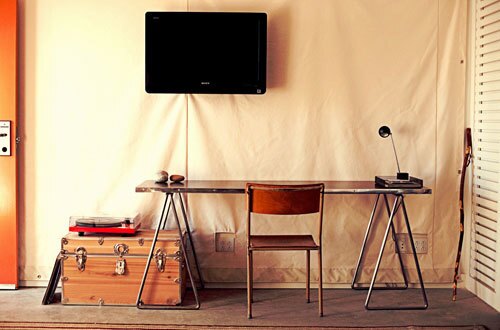 Walls covered in canvas give the rooms a safari vibe. Here, an unfinished wooden trunk and a campaign-style table are complemented with a vintage school chair and a record player.
(Ace Hotel & Swim Club)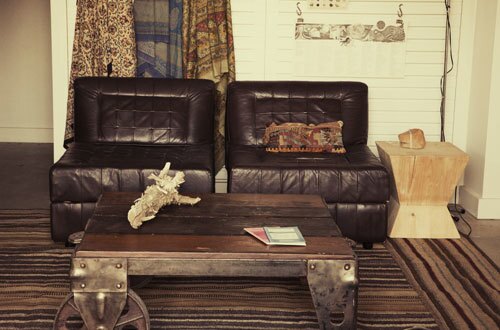 Each of the rooms at the Ace Hotel has different vintage pieces. "There is furniture from the '50s through '70s, but we are not being slavish to the midcentury modern look you expect to see in Palm Springs," says Ace founder Alex Calderwood.
(Ace Hotel & Swim Club)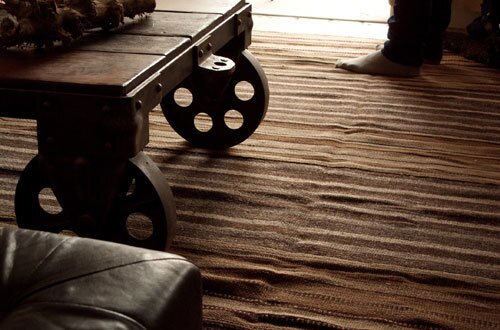 An industrial dolly serves as a coffee table.
(Ace Hotel & Swim Club)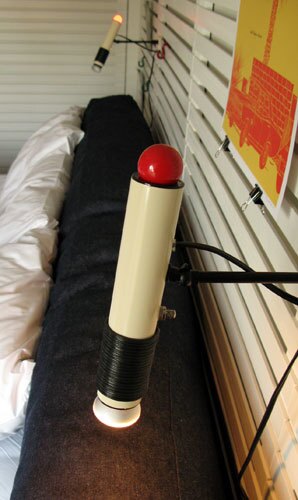 The Love light above the beds is a custom design by Robert Lewis, who has created products for
IKEA
. The adjustable fixture fits into the slatted wall behind the bed and two bulbs — red on top, white on the bottom.
(David A. Keeps)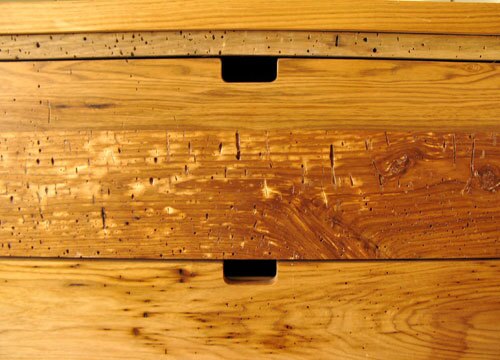 Among the rustic details: distressed drawer fronts.
(David A. Keeps)
Outside the shower, galvanized pipe fittings make for stylish alternatives to the usual towel hangers.
(David A. Keeps)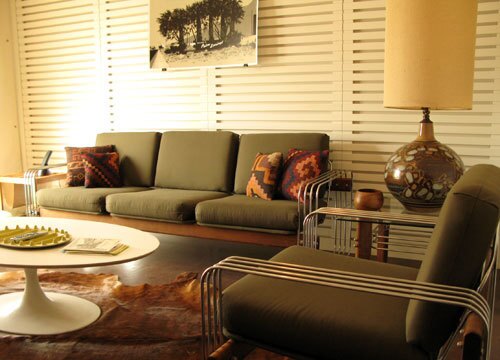 A suite at the Ace is furnished with a vintage wire and wood settee and club chair, kilim pillows and a period ceramic lamp. A cowhide rug rests on the cork tile floor.
(David A. Keeps)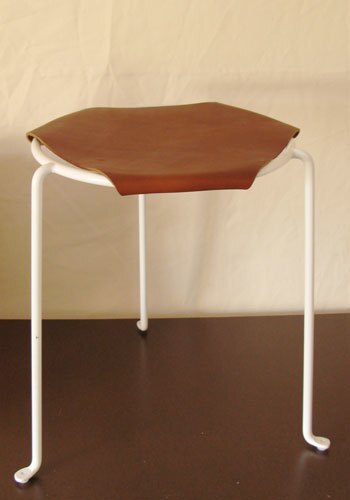 Architect Eugene Weston designed this stackable stool in the early 1950s. It has been reissued and updated with a white frame and leather stool by the
Silver Lake
store Ten 10 in Los Angeles, and it's found in every guest room at the Ace in Palm Springs.
(Ace Hotel & Swim Club)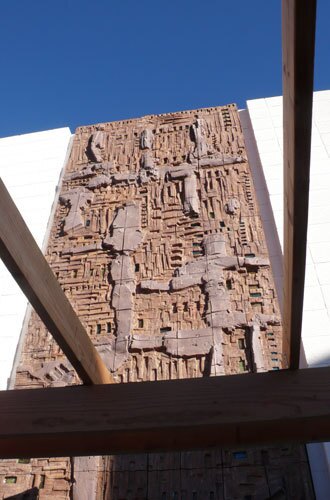 Tiles by the Fresno ceramic sculptor Stan Bitters form textural installations on outdoor fireplaces at the Ace Hotel.
(Ace Hotel & Swim Club)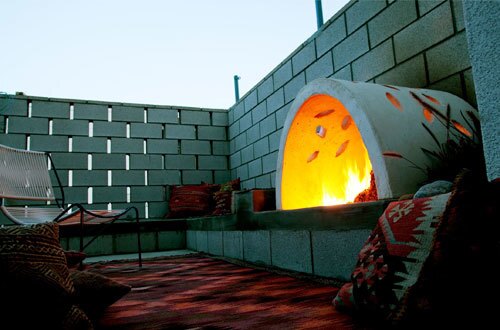 This patio gets warmed up with kilim rugs, pillows and a gas fire. Citing one of Palm Springs' foremost modernist architects and a 1960s counterculture icon, designer Roman Alonso calls the look "Albert Frey meets
Timothy Leary
." For more on Southern California's design scene, including shopping scoops and sales alerts, go to
latimes.com/thescout
.
(D. L. Thompson and Jon Johnson / Ace Hotel & Swim Club)