7 Images
The iconic holiday snowflake
snowflakes garnet hill cuddledown
Snowflake patterns, both literal and geometric, are a quick and easy way to add holiday spirit to a room. At left, Garnet Hill's Snow Star Needlepoint pillow cover, $48, is reminiscent of a Moroccan tiled floor. A 20-inch square hand-hooked snowflake pillow cover with red velveteen backing from Cuddledown is $64, insert not included.
(Glenn Koenig / Los Angeles Times)
pier one garnet hill target snowflakes lawson fenning
For more neutral interiors, there are rustic alternatives to wintry whites or icy blues. Here, an ottoman made from a Native American-style textile, $250 at Lawson Fenning, adds the basic form of a snowflake to roughly woven burlap. It sits on small woven throw rugs with a simple cross design that have an Indian accent; beside it is a raw wood sculpture that has a Scandinavian flavor, both from Pier One. The Nordic throw is from Garnet Hill. Ribbon ornaments are from Target.
(Glenn Koenig / Los Angeles Times)
snowflakes crate & barrel
Bold snowflakes adorn Crate & Barrel's holiday gift stocking, $24.95, with terry cloth embroidery on a 40% recycled wool front.
(Crate & Barrel)
snowflakes peter dunham hollywood at home
Interior designer Peter Dunham's Starburst linen print is an abstraction of a snowflake pattern. It sells for $113 per yard. A 17-inch square pillow made from the fabric, normally $275, will be marked down to $195 through December at Dunham's L.A. store, Hollywood at Home,
hollywoodathome.com
.
(Peter Dunham Textiles)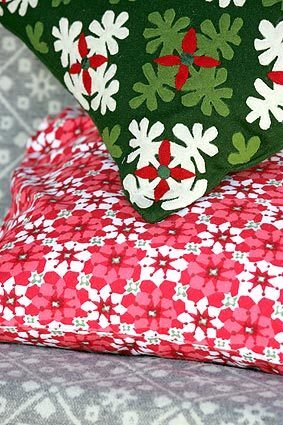 garnet hill crate & barrel snowflakes
Cozy fabrics are the customary partner for snowflake prints. The embroidered and appliqued felt yule pillow with a folkloric rendering of a snowflake is $32.95 at Crate & Barrel stores. A king-size Feliz flannel pillowcase, two for $30, turns poinsettias into a pattern for coordinating sheets, shams and comforter covers from Garnet Hill. In the background, a gray and white lamb's-wool Jacquard Nordic throw, $68, puts minimalist flakes in a diamond trellis; it's from Garnet Hill.
(Glenn Koenig / Los Angeles Times)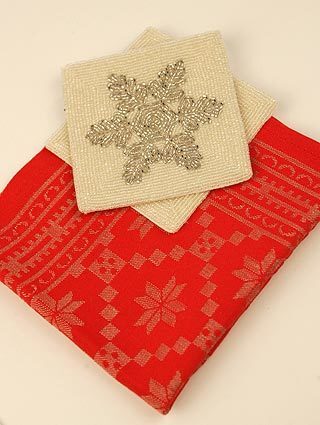 snowflakes garnet hill williams sonoma home
Woven in a Swedish mill by a company that has produced linens since the 17th century, this red cotton and linen Holiday Star napkin, $58 for a set of four, matches a runner and tablecloth from Garnet Hill. The beaded snowflake coaster, $32 for a set of four, is from Williams-Sonoma Home.
(Glenn Koenig / Los Angeles Times)
snowflakes garnet hill
The Balen cotton coverlet and sham take the snowflake pattern into Shaker country. The coverlet prices start at $118, and the sham is $40 at Garnet Hill.
(Maura McEvoy / Garnet Hill)