A tiny kitchen, but it lets at-risk girls work from seed to skillet
Urban farm manager Colleen Hennessey, second from left, teaches the girls at Taking the Reins about cooking what they grow. "The girls are going off to college knowing how to cook for themselves," she said.
(Anne Cusack / Los Angeles Times)
The new cooking structure at the equestrian center in Atwater Village is basically a tiny house on wheels. Jody Rather designed it like a trailer that can be moved at will.
(Anne Cusack / Los Angeles Times)
Program mentor Alyssa, top, watches as Elizabeth stirs eggs to make an omelette. The girls are using eggs collected from the nearby chicken coop as well as herbs and other produce from the garden.
(Anne Cusack / Los Angeles Times)
Elizabeth makes her first omelette as part of the Seed to Skillet program at Taking the Reins.
(Anne Cusack / Los Angeles Times)
The girls prepare a salad with Christmas beans they harvested on site.
(Anne Cusack / Los Angeles Times)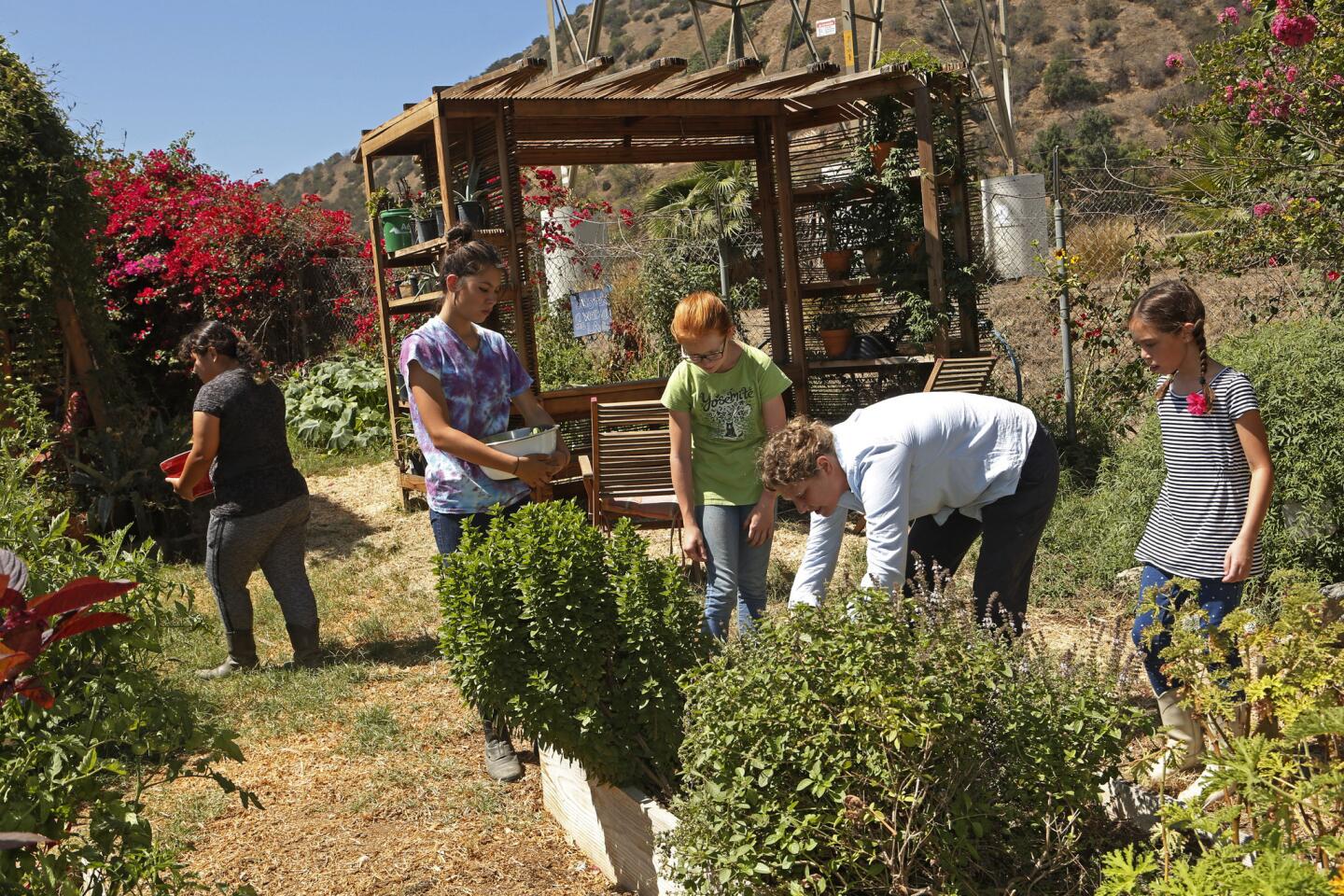 Urban farm manager Colleen Hennessey, second from right, explains various herbs to the girls as they harvest plants for cooking.
(Anne Cusack / Los Angeles Times)
Manuela picks beans for a salad.
(Anne Cusack / Los Angeles Times)
This Christmas bean harvested by the girls will be among the fresh food cooked in the Seed to Skillet program.
(Anne Cusack / Los Angeles Times)
A fresh salad of tomatoes, beans and herbs is a work in progress.
(Anne Cusack / Los Angeles Times)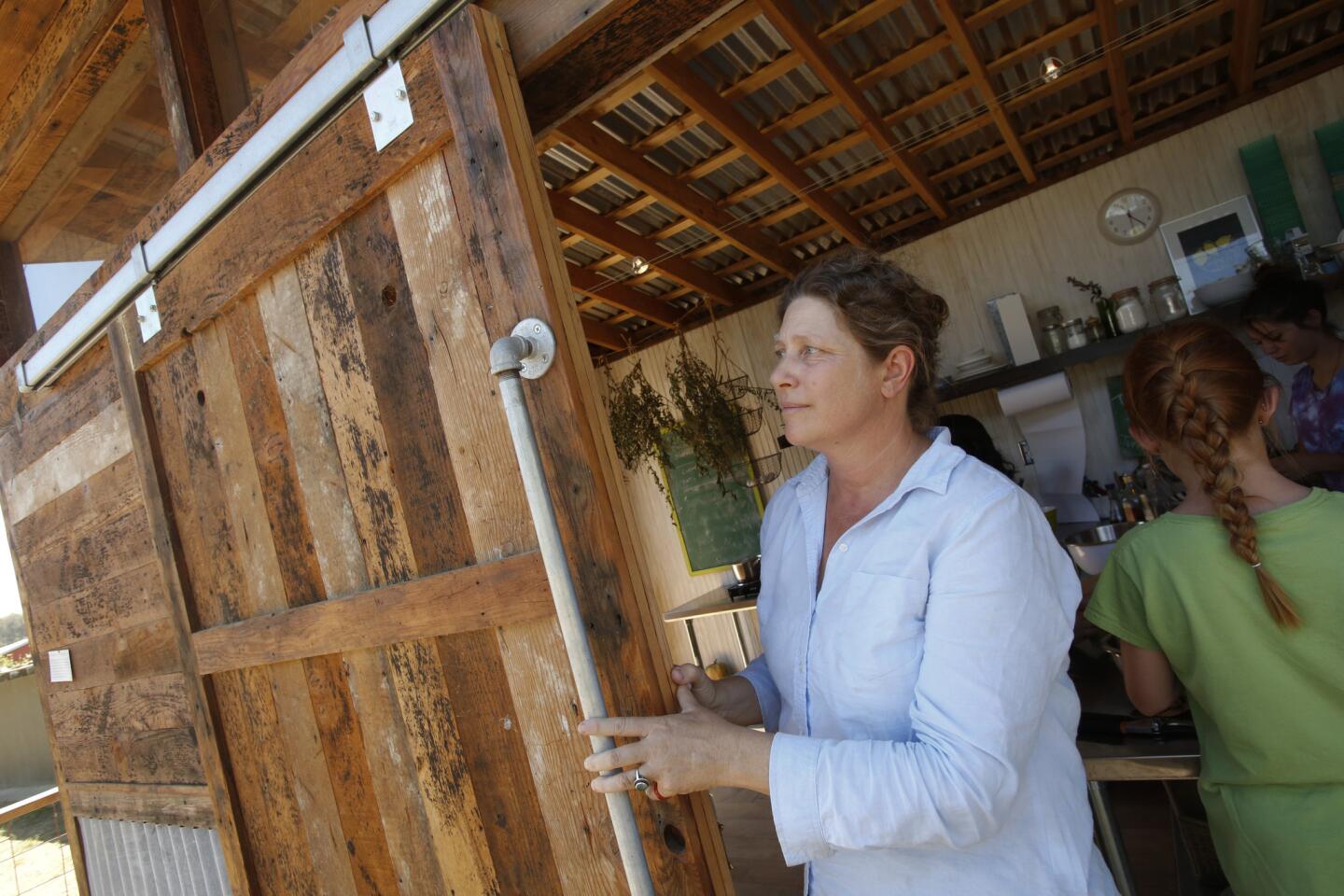 Urban farm manager Colleen Hennessey slides open the barn door of the new cooking structure at Taking the Reins in Atwater Village.
(Anne Cusack / Los Angeles Times)
Taking the Reins, an equestrian program for at-risk girls, received a $23,000 grant to build a kitchen for its seed-to-skillet program, which helps young women learn how to grow and prepare their own food.
The only problem: "I couldn't find anyone willing to build us a kitchen for that amount," said Jane Haven, executive director of the Atwater Village program.
Discouraged, she reached out to Taking the Reins' landlord, Jody Rath, who was once a project manager for a construction company.
Turns out he was just the man for the job.
Rath had always wanted to build a tiny house but never had the chance. This was his opportunity to experiment.
Tiny houses are about living smaller and more simply, but the movement is beginning to influence more than just lifestyle choices as it infiltrates the ways we think about design.
After sketching a "trailer kitchen" on a napkin, Rath and builder Tim Brooks created a tiny, temporary kitchen on wheels in just three months.
"We built it next door to the equestrian center and rolled it over," explains Rath. "We then paid a crane company $600 to hoist it over the barn and onto the property."
Rath says 25% of the kitchen components came from Craigslist — he found the 1965 trailer frame on which it rests for $400. On top of the frame they built a subfloor with reclaimed barn wood and added an exposed roof of corrugated steel.
"We tried to do everything with a sense of greenness to it," says Rath. "It has a gray-water system that goes to a 55-gallon drum that they can use in the garden."
The previous kitchen was designed and built by Woodbury University's Architecture + Civic Engagement Center students. The result was more of a shade structure than a working kitchen, however, and students cooked with a hot plate and used a garden hose for water. That project was profiled in the Home section last year and caught the attention of the nonprofit group Women Helping Youth, which offered the grant so that Taking the Reins could continue to expand its kitchen services.
The new kitchen is weatherproof but equally untraditional. There are no hard connections. Electricity runs from an extension cord. Students still cook with a hot plate.
The kitchen is elevated on wheels and surrounded by a deck, enabling the girls to look out over the garden and horse rink where they spend much of their time.
"It's almost like an observation deck," says urban farm manager Colleen Hennessey.
Inside, the efficient kitchen is equipped with a small refrigerator, commercial sink and stainless steel restaurant supply work stations. Four clerestory windows bring in extra sunlight and a barn door on wheels allows for privacy when necessary.
"It's much easier to host a class in here," says Hennessey.
Although open, the new kitchen is warm and cozy and serves as a safe place for the girls to do more than just cook.
"As our girls go off to college, they will know how to cook for themselves," says Hennessey. "If you can cook in college, then you'll be everyone's friend."
ALSO:
Holiday wreaths: Spread some cheer at your doorstep
9 must-have gadgets for the techie on your gift list