Behr predicts In the Moment will be the hot new hue in 2018
Kitchen walls painted with In the Moment are contrasted with white shelves and molding.
(Behr)
Paint swatch of In the Moment, Behr's 2018 pick for color of the year.
(Behr)
Room featuring a Behr color pallet including In the Moment, which is the company's color of the year. Wall: Extreme S530-6. Stairs: Ultra Pure White
(Behr)
Exterior walls have been painted with In the Moment to complement a dark green door and white trim.
(Behr)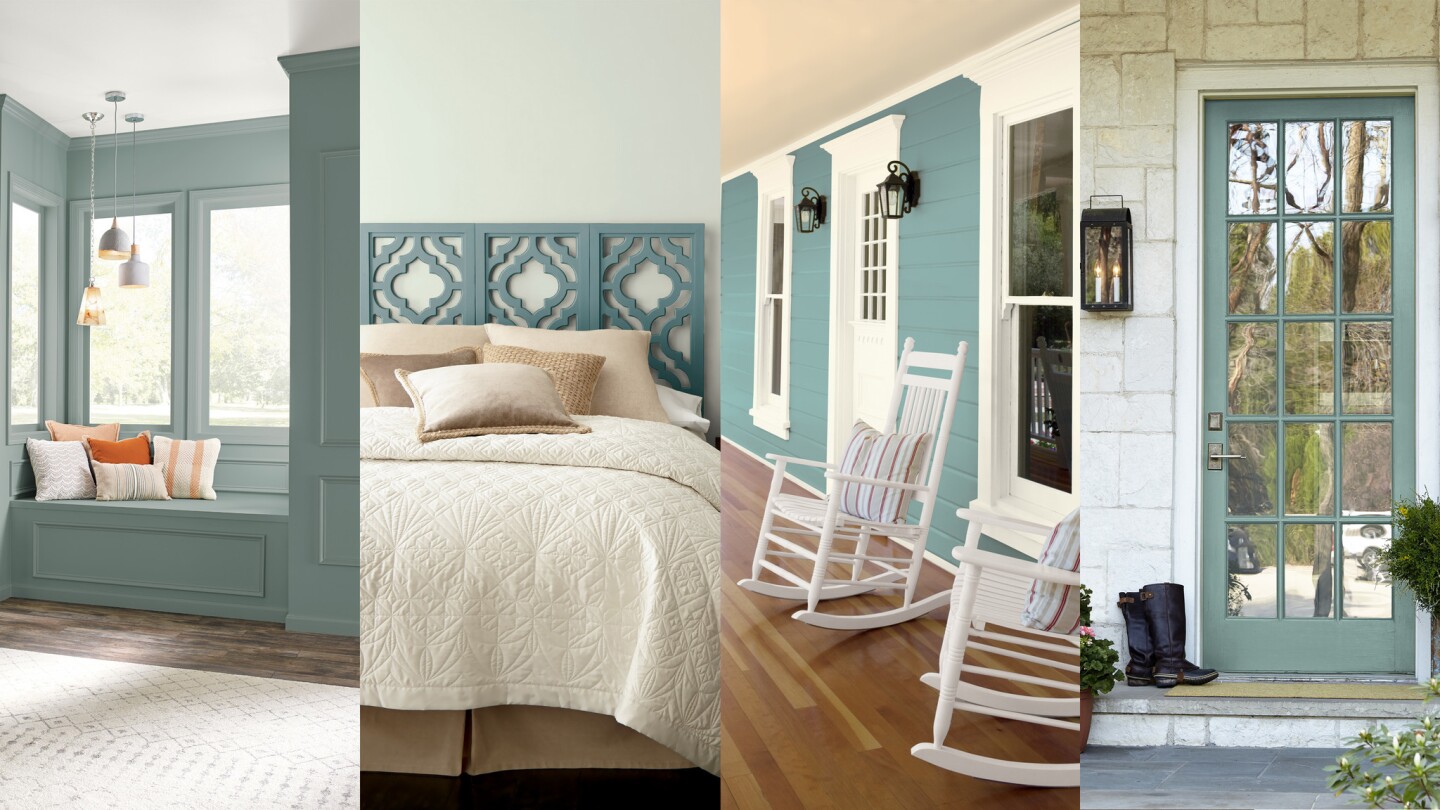 In the Moment color in a window seat and nook, left, bedroom, a front porch and a paned, cottage-style door.
(Behr)
In the Moment is more than a philosophy. It's the name of Behr's paint pick for 2018 Color of the Year.
The serene, blue-green color with a slightly gray cast represents the first time Behr has singled out a feature color from its annual list of 20 hot hues to watch.
And if you're thinking, "2018? But it's only September!" you're right. This year, Behr was one of the first major paint manufacturers to forecast an "it" color and corresponding trend direction for what we will be seeing in 2018. But it won't be the last.
Kind of like how holiday decorations are creeping onto store shelves before Halloween, competitive trend announcements are getting earlier and earlier, but I digress.
The "it" color, along with chosen trend palettes (a range of colors picked to work together), are important to note because they represent almost a year of researching global and cultural trends plus design world cues in order to pinpoint the exact hues and shades that will feel instinctively fresh and provide welcome updates in the months to come. The forecast also highlights colors you can expect to see popping up in product design.
"We've always tried to promote a range of colors where there's a little something in there for everybody," said Erika Woelfel, vice president of color and creative services for Behr. "This year, the color of the year is one of those statement colors that is really versatile and user friendly and works with just about any setting, interior or exterior."
The color guru added: "We feel like directionally, we've been living with a lot of gray in home decor for years, but we are seeing color families of blue on the rise and greens are becoming popular again … this color kind of fits into all of that."
The creative team was also inspired by coastal, beachy themes, trends in current sales and the continuing importance of the Danish idea of hygge, the concept of creating a warm, welcoming and cozy environment.
"That Scandinavian influence is key, and very universal," said Woelfel. "It's appropriate for the times we're living in these days."
Plucked from a palette of 20 trending colors, In the Moment is designed to be paired with bright, energetic accent colors like Behr's Civara, an orange-based red, "when you want to raise the energy in the room," said Woelfel, or combined with mellow neutrals like Soft Focus (white) or Kombucha (a sandy beige) for a more tranquil feel.
"It depends on the type of mood you want to create," she said.
Woelfel said her team named the trending colors with monikers like Unplugged, Spirit Warrior, Soul Search, Quiet Time, Life Is Good and Road Less-Traveled to correspond with the mindful-living trend that inspired their work.
"The names tell a little bit of a story to help describe what the color is meant to do," said Woelfel.
Here's to painting the world in shades of mindfulness and finding ourselves at home In the Moment.
Bonnie McCarthy contributes to the Los Angeles Times as a home and lifestyle design writer. She enjoys scouting for directional trends and reporting on what's new and next. Follow her on Twitter @ThsAmericanHome
ALSO
You've never seen a kitchen island sink like this
Is it time for America to embrace smart toilets and bidets?
---